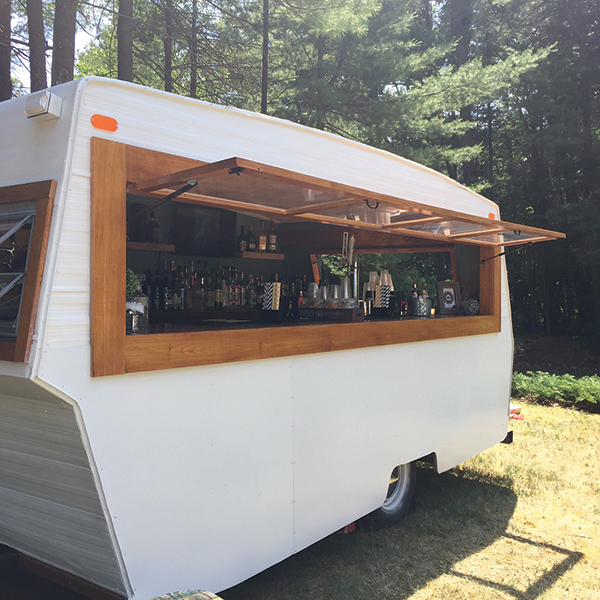 Meet the Entrepreneurs of the State's First Mobile Bar
By Lauren Daley
When Marco Marcelo and Thomas Keane arrive, they bring the party. That's because they're driving The Mobile Pub, a 14-foot 1962 Shasta Caravan, that has been meticulously converted into the state's first mobile bar. The Mobile Pub, based in Waterbury, Connecticut, offers a full-service bar and catering packages for everything from birthday parties to bachelor and bachelorette parties, large weddings to small groups of friends who just want something special for their summer barbecue. The entrepreneurs talked about how they got the wheels in motion on this mobile barroom.
THE BEVERAGE JOURNAL: How did you get the idea for The Mobile Pub?
Keane: At outdoor events, you often see food trucks (and caterers), but they're serving cocktails at a plastic table. It was lacking. Marco and I talked about the idea about a year and a half ago … and created the concept. [At the time] we worked together at a restaurant.
Marcelo: Right. We worked together [for] about five years as partners, and developed a nice little chemistry, and so we decided to go into this little venture together … It's given us a rejuvenation on bartending. It's been a joyride.
TBJ: How did you select a vehicle?
Keane: We didn't want an ugly, boxy truck — we wanted a great feel, a really good vibe. We found that we wanted a retro caravan — vintage campers are chic enough for a bride, but masculine enough for a [man's] 40th birthday party. So it took quite some time until we found [a vehicle] that had the right look. We went to Hudson, New York to look at campers … We looked all over the greater New England area. We ended up finding the perfect camper in Bozrah, Connecticut …
A lot of guests will come up to us and say, "I used to camp in something just like that!" or "That's so awesome," or "Let me look inside!" No matter what their age or background, when we drive by, people are like, "What is that? Let me see inside!" People smile. It's that whole fun, vintage style. People identify with that.
TBJ: What kind of events have you done so far?
Marcelo: A variety of events — weddings, birthdays, a Fourth of July party. We did a Jack and Jill [bachelor and bachelorette] party. We're not pinpointed. We're meeting all kinds of people, and it's been so fun. We're booked all over [Connecticut] for July and August.
Keane: Our phones have been going nonstop. We're grateful; the excitement and buzz has been so great … Our events have ranged in size from 40 people to a wedding of 150, so the scope of the parties we're doing changes. We recently got a call from someone who wanted to book us for an adult sleepover party. They were getting four or five food trucks, and inviting people over to pitch a bunch of tents. So this is for people who want to have fun. It's exciting.
TBJ: So how does it work?
Marcelo: The client selects a package, we try to customize it. When someone calls in, we get a feel of what they want, so they feel comfortable. We try to be as accommodating as possible … We have all the brand names, everything they might want. Or if a client said, "I love Tito's Vodka," we can do that.
Keane: For example, we just did a wedding where they wanted a mimosa bar. We try to get involved in local breweries, too. We buy from local distributors … We do have four different tap beers, and we've been trying to do cocktails on draft — there's a real movement in the mixology field towards that. So you make the mixed drink, and serve via tap. With a lot millennials, that's popular now.
TBJ: Do you serve food?
Marcelo: We do offer food. We have catering package, as well, and a variety of different options. We work with a third party for catering, so we can provide anything from pasta to seafood. The main thing now, in the summer, is grill packages. We grill on-site.
Keane: If people want a pig roast, or Italian food, or grilled chicken, we use different caterers for different things … We want to outsource the best. There's a real movement for a food truck wedding right now.
TBJ: Will you expand the business eventually?
Keane: We're already looking for another vintage camper. We have to find the right one again. We're looking for [circa] 1950 to 1970.
TBJ: What's the feedback been like?
Keane: "Wow."
Marcelo: The buzz has been heartwarming, to say the least. "What a great idea;" "This is gorgeous;" "You guys are going to be great." We try to connect with every guest at the party. It's been an enjoyable ride.
Keane: When you see little kids smile and ask if they can touch the caravan, when you hear grown adults say the words, "Awesome!" and "Cool!," it gets you excited. That's the really good part: when they light up. It makes you feel good.
Interview has been condensed and edited.