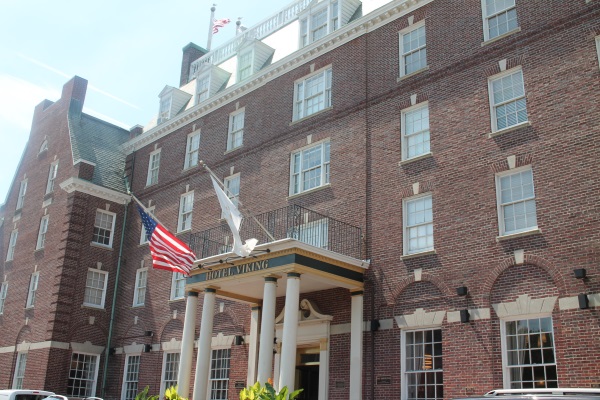 A Reflection on Past, Present and Future
By Lauren Daley
Since Newport's historic Hotel Viking turns 90 this year, it's an apt time to hear from two industry members who are helping lead the iconic hotel into the 21st century. Under the guidance of General Manager Robert Burnetti and Director of Food and Beverage Chef Kevin Thiele, the Victorian-era hotel has undergone a recent renovation, added innovative new cocktails, more wines and themed restaurant events, created the Viking Wine Festival, and increased their presence on social media.
All the while, the Viking has maintained its authenticity and dignity. On the National Register of Historic Places, Hotel Viking offers 208 elegant guest rooms and suites, two ballrooms, and dining and drinks at the hotel's award-winning One Bellevue Restaurant and Top of Newport roof deck bar. Hotel Viking offers 208 elegant guest rooms and suites, two ballrooms, and dining and drinks at the hotel's award-winning One Bellevue Restaurant and Top of Newport roof deck bar.
Burnetti, a Pennsylvania native, started as General Manager in 2015. He's worked in the hotel industry since 1985, after earning his Bachelor's Degree in Business Administration from Mansfield University in Pennsylvania.
Thiele, who lives in Bristol, R.I., started at the Viking as a chef after graduating from Johnson & Wales' culinary program in 2004. He then served as executive chef before starting his current position. Thiele was awarded "Chef of the Year" by the Rhode Island Hospitality and Tourism Association among other distinctions. The two weighed in on the Viking's past, present and future.
THE BEVERAGE JOURNAL: What drew you to the hospitality business?
Burnetti: After college, I was fortunate enough to land a job as a night auditor at the Marriott in Worcester … right when they built the Centrum [now DCU Center] there, and all the bands would come through. It was an exciting time for that hotel, and coming out of college, that was a big deal to see all the stars [who] would stay at there — Prince, Van Halen, Kiss, Joan Jett. That was 1986. The hotel business is so full of stories … that's what keeps me addicted.
TBJ: Why did you join Hotel Viking?
Burnetti: Oh gosh, it was always the prize when I moved to Rhode Island. I always had my eye on this hotel. I had a strong desire to work in Newport, at this hotel specifically. The more recent part of my career was spent at branded hotels, so to come to a hotel like this — independent, with a rich history, outside the bounds of a brand — it was an incredible opportunity.
TBJ: What's your favorite part of your job?
Burnetti: Just working here. This hotel has such an amazing history; it's been here 90 years, and just being part of its history is very exciting … I'm humbled by the staff here; some have worked here for as long as I've been in the business. We're collaborating to make the hotel better than it's ever been.
TBJ: Can you tell us about the history of the Viking?
Burnetti: We're actually in the process of archiving old photos [that can] speak to the history of the hotel, so when people ask about it, we can show them … JFK and Jacqueline Bouvier stayed here; they were married near the hotel [at St. Mary's Church in Newport]. Will Rogers, the American humorist, stayed here…
TBJ: How have you focused on the food and beverage side?
Burnetti: In any independent hotel, the food and beverage needs to stand out … and we've renovated One Bellevue Restaurant and Bar [areas]. We brightened it up, so that as you walk in, it's a more inviting feel … We've more than doubled our sales [at rooftop bar] Top of Newport, with themed events such as "Craft Beers and Burgers Mondays," "Lobster Love Tuesdays," "Spirits and Stogies Wednesdays."
Thiele: Thursdays we do "Tacos, Tapas and Tequila." We partner with Proximo, a vendor that offers different tequilas, like Dobel, Jose Cuervo, 1800 and 1800 Coconut. The chefs come up with tacos and tapas, and bartenders come up with a margarita. That's been working out well.
TBJ: What else have you done, beverage-wise?
Thiele: We've added signature cocktails to all outlets, increased our wine presence, brought in new wines, and started the Viking Wine Festival [a sequence of winemaker-hosted dinners featuring various wineries held twice a month from January to March].
TBJ: What wines are you liking now?
Thiele: Personally, I like any Frog's Leap [from Napa Valley]. We carry their Zinfandel; it's really nice. I like zinfandels, dark reds.
TBJ: Do you carry local beers?
Thiele: Yes, currently Revival Brewing Co., Newport Storm, Fool Proof [all from RI] and Two Roads IPA from Connecticut. Also, Long Trail beers from Vermont. I like Revival's Zeppelin; we've had it since early spring, and people love it. It's a lighter, hoppier Hefeweizen.
TBJ: Any local spirits? 
Thiele: We carry Sons of Liberty, made right here [South Kingstown], and we also carry Thomas Tew Rum made here in Newport.
TBJ: What are some creative new cocktails you've added?
Thiele: We do a Blood Orange Margarita, but instead of [a] white salted rim, we use a black salt made by Maestro Dobel. We do blood orange simple syrup, triple sec, Maestro Dobel, fresh lime juice … We have a spin-off of a muddled berry cocktail called "Berried Treasure," where we muddle raspberries, blueberries and blackberries with simple syrup, add Bombay Sapphire gin, a splash of Chambord black raspberry liqueur, peach schnapps and club soda; shake and pour in a rocks glass. It's a really strong, fruity flavor, a bright color. We sell a ton of those.
TBJ: What trends are you seeing overall on the cocktail front?
Thiele: People are going back to classics — more Manhattans, Old Fashioneds, things like that. More English style, old-style gins: Boodles, Plymouth Gin.
TBJ: What about beers and wines? 
Thiele: Everyone wants craft, local beer [where] bartenders get to tell a story: It's made down the street, or across the bay. The younger crowd, everyone's looking for IPAs. For wine, more people ordering Malbecs, more so than regular cabs or merlot. People are getting more knowledgable about wines, especially those in the younger, 25- to 40-year-old range. They're ordering exotics, like malbecs, rieslings, zinfandels. They're going after South American, New Zealand wines.
Interview has been condensed and edited.