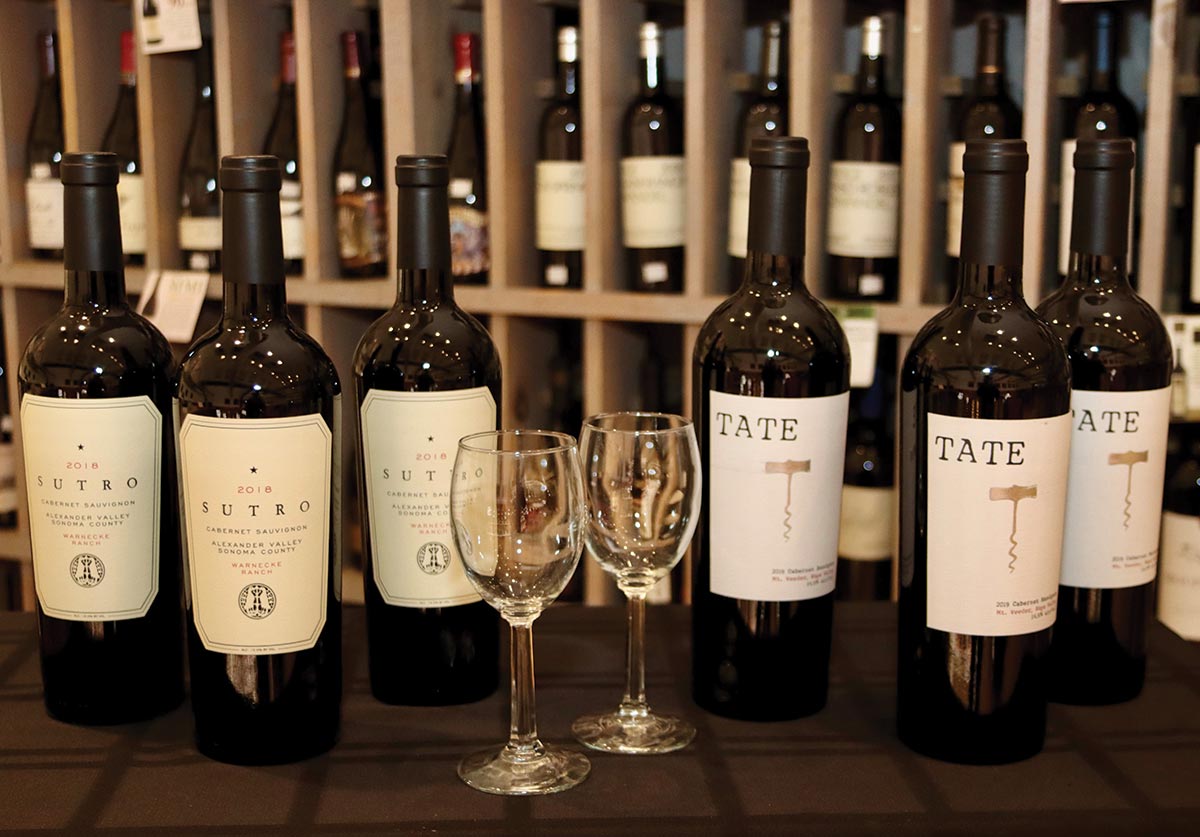 Napa Valley red wines from the portfolio of Monsieur Touton Selection, Ltd. were sampled at Super Cellar Warehouse in Avon on Dec. 16, 2021. Presenter Kerry Brash poured Sutro Cabernet Sauvignon and Tate Mt. Veeder while educating holiday shoppers. From Healdsburg's renowned Chalk Hill Road in the Alexander Valley, Sutro Wine Co. was founded by Alice Sutro, part of a fifth- and sixth-generation Sonoma County family, whose original ranch parcel has been in the family for over 100 years. The 265-acre ranch with Russian River frontage includes the Mayacama and Brooks creeks tributaries, the historic Chalk Hill, a lake, reservoir and a pond, as well as an 80-acre vineyard. Sutro wines represent a first in the family to produce vineyard designated wines from Warnecke Ranch property, using sustainable, regenerative and carbon-friendly farming practices. Tate Winery was founded in 2011 and is known for single expression wines from independently owned, micro-vineyards across the valley floor and mountain sides of the Napa Valley. Founded by husband-and-wife team David and Suzanne Tate, the team produces just over 1,000 cases annually of Chardonnay from Yountville, Merlot from Calistoga and single-vineyard Cabernet Sauvignons from St. Helena, Mt. Veeder and Howell Mountain.
Wines presented at Avon Super Cellars from Monsieur Touton Selection, Ltd: Sutro Cabernet Sauvignon is blended with Merlot, Petit Verdot and Cabernet Franc, then aged 29 months in both French and Hungarian oak. Aromas of dark berries and chocolate are followed by a palate of plum, baking spice and oregano, with a very long finish and plush, elegant tannins and balanced acidity. A big wine aged in French oak barrels for 22 months, Tate Mt. Veeder Cabernet Sauvignon is near black in color, with a slow-building nose of cassis and blueberry pie, followed by caramel, cocoa and volcanic earth. The initial palate is soft and plush with firm acidity and sizeable chalky tannins. The flavors on the palate move to black currant, cedar box and vanilla bean.
Presenter Kerry Brash with Sutro Cabernet Sauvignon and Tate Mt. Veeder Cabernet Sauvignon, presenting at Super Cellar Warehouse in Avon.