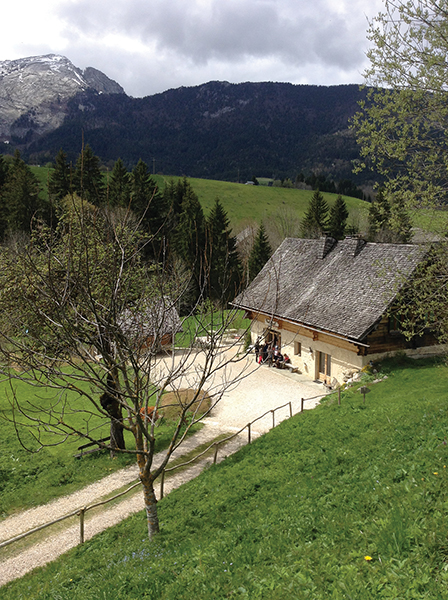 Travel to France you say? Go to Paris, Grenoble, the Chartreuse and Combier distilleries, all the while being in the company of some amazing beverage industry folks? How often are you given the opportunity to experience France in such a way?
Today, working in the beverage service industry can take you places you have never imagined. There are bartenders, brand ambassadors, bar owners and beverage entrepreneurs traveling to compete in competitions, gain first-hand knowledge of products and network with people all over the world.
Our group consisted of Tim Master of Frederick Wildman & Sons, Jonathan Pogash of The Cocktail Guru, Nicola Riske, National Secretary, USBG, Brittany Chardin, VP, Southern Region USBG, Nathan Churchill VP, Philadelphia USBG, and me, Laura Moore, President, Rhode Island Chapter, USBG. This trip was made possible by the United States Bartenders Guild (USBG), Frederick Wildman & Sons, along with the amazing people of Chartreuse and Combier. To them, and to everyone who also joined us on this incredible journey, thank you.
Our first night in France was spent guest bartending at Sherry Butt, one of the premier cocktail bars in Paris. I couldn't wait to get behind the stick and experience how the Parisians tend bar. That evening, we focused on serving classic cocktails, which were well-received (and also as commonly served there as in the States): Sazeracs, Gimlets and Tiki-style cocktails. It was refreshing to see that even though an entire ocean separates us from one another, the basic bartending styles and passion for the craft remain the same.
Our next day of travel took us on the high speed train from Paris to Grenoble, at the foot of the French Alps. Here, we were greeted by Philippe Rochez of Chartreuse. We spent the day visiting the Chartreuse distillery, where the famed French liqueur was first made by the Carthusian Monks in 1737. There, we sampled copious amounts of Chartreuse and experienced all that Grenoble had to offer. If exploring the distillery were not enough, it was the next day that was truly remarkable. We took a long and winding trip through the mountains that ended at the Grande Chartreuse Monastery. We then hiked another mile to the actual Monastery, which proved to be a very humbling experience.
I had never imagined I would one day be there in the presence of the monks who create a world-renowned product that sits on so many bars all over the globe. The Monastery itself is remarkably larger than most of us had expected, and sits at the base of snow-capped mountains surrounded by lush fields.  I have always had great respect for the product and the secrets surrounding its ingredients and production. It was my time spent in Grenoble that greatly reinforced and enhanced those feelings.
Leaving Grenoble, we traveled on to Saumur, 200 miles southwest of Paris in the heart of France's historic Loire Valley, where we met with Franck Choisne, owner and master distiller of Combier. We spent our time there exploring the Combier distillery with Franck, and hearing his first-hand account of the history and production. It was very impressive to see how they have held true to the original production standards — in place for 180 years — and see the quality of the ingredients used to produce all of
their products.
Their spirits range from Combier Triple Sec, Combier Royal and Lucid Absinthe to Sirops and Creme de Fruits, all of which are made from fresh ingredients; absolutely nothing is artificial. We were able to witness the entire production process from start to finish: distillation, bottling and shipment. What was most impressive about Combier was that while the distillery itself was not very large, the amount they produce and distribute is.
The final day was spent in Paris, where we reconnected with our group from Grenoble, and enjoyed our last night experiencing all that the city of love had to offer. Capping off the week was an amazing dinner hosted by Tim, with Tiki drinks and dancing. It was a whirlwind of a trip that wouldn't have been possible it weren't for the amazing people of our industry.
Laura Moore is the current President of the Rhode Island Chapter of the United States Bartenders Guild. She has been bartending for five years and can be found working at two Providence, RI establishments: Gracie's and The Eddy.