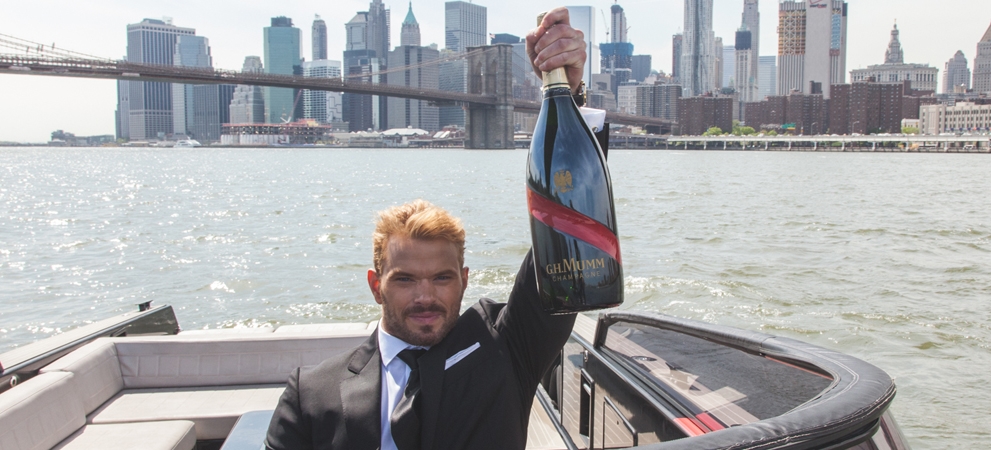 In June, Maison Mumm welcomed its U.S. launch of Mumm Grand Cordon with a first-person multimedia delivery campaign of the champagne. Maison Mumm officially unveiled its new bottle of Mumm Grand Cordon at Lightbox, a creative tech space in New York.
The new bottle has no front label; instead, the G.H. Mumm signature and eagle emblem are printed in gold directly on the glass. Another feature of the design is its shape, which necessitated a whole series of innovations to the traditional champagne production process. The Mumm Grand Cordon bottle is its reinterpretation of the famous Cordon Rouge red sash, which is celebrating its 140th anniversary this year. On Mumm Grand Cordon, the red sash is transformed into a genuine red ribbon, actually indented in the glass.
The bottle was presented in a sequence that segued from a digital film to real life, featuring actor Kellan Lutz and Mumm Cellar Master Didier Mariotti. The immersive experience enabled guests to "live almost in real time" as Kellan Lutz raced to deliver the bottle from New York Harbor to the celebration venue. In the final sequence of the film, attendees saw Kellan Lutz on a motorcycle arriving at the venue, which also coincided with his grand entrance with the bottle on the motorcycle in real life to the party.