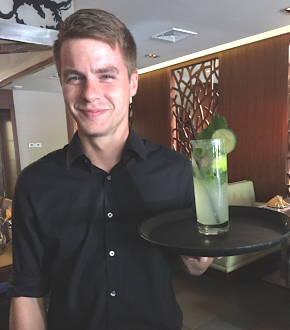 Nami
198 Atwells Avenue
Providence, RI
Nami offers a contemporary twist on traditional Japanese cuisine, serving sushi and steakhouse entrees with modern, American influences.
Bartender: Nicholas Saez, pictured is Server Randall Pietsch.
Cocktail: Cucumber Sake Mojito
Recipe:
Muddle 2 lime wedges and 1 shiso leaf with 0.5 oz. agave nectar.
Add ice and 1.5 oz. cucumber sake.
Shake and pour into tall glass.
Top with sparkling sake, garnish with cucumber slice and shiso leaf.
General Manager Minda Fujimoto described the drink as "light and smooth with a creamy finish from the shiso leaf, which is like a Japanese mint leaf with a vanilla finish."