New Products: April 2019 Edition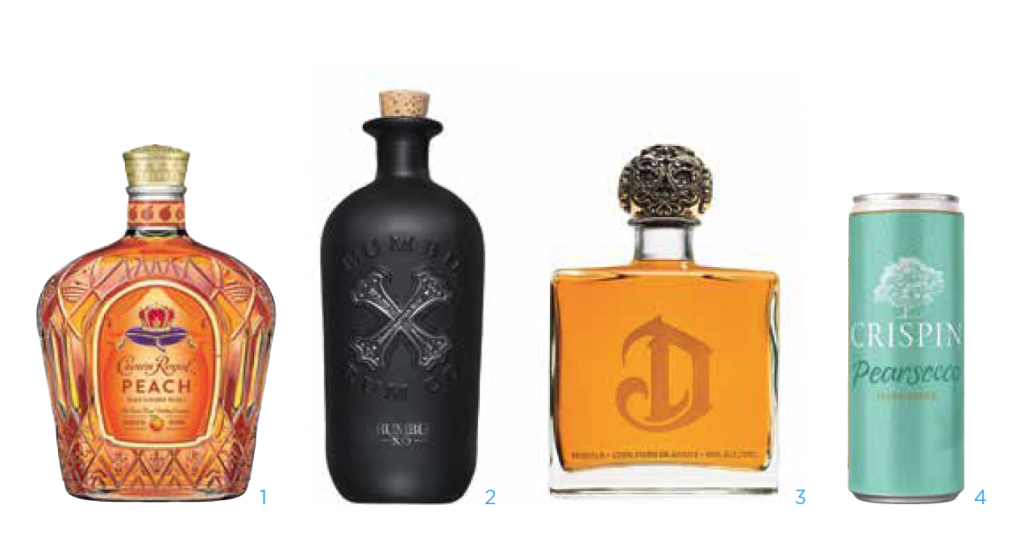 1. Crown Royal Peach
Getting a jump on warmer temperatures, Crown Royal introduces Crown Royal Peach Flavored Whisky, a limited-edition melding the brand's signature smooth Canadian whisky with the sweet and flavorful taste of juicy Georgia peaches. The new expression is dressed in a glass-cut bottle as well as the brand's signature box and bag. Timed for warmer weather, Crown Royal Peach excels on the rocks or mixed with iced tea. 70 proof.
SRP: $24.99
crownroyal.com
2. Bumbo XO Rum
Bumbu XO is a small-batch ultra-premium Panamanian rum aged up to 18 years in bourbon barrels and finished in white oak Sherry barrels. It is made using only local sugarcane and pure spring water. Aromas of toffee, toasted oak and vanilla give way to orange zest, peppery spice and a hint of coffee on the palate. Recommended in traditional rum cocktails, neat or over a single ice cube. The paperless heavy-glass bottle features a tarnished silver "X" medallion. 80 proof.
SRP: $44.99
sovereignbrands.com
3. DeLeon Anejo Tequila
Coming on the heels of a year of double-digit growth, and first introduced in Los Angeles at Sean "Diddy" Combs' birthday celebration, DeLeón Añejo joins DeLeón Platinum, Reposado, Diamante, Extra Añejo and Leona, expanding their brand's upscale tequila lines. The full-bodied yet smooth Añejo starts
with 100% Highland Blue Weber agave and is finished first in American oak and later in French wine casks. The bottle is made from fragrance-grade glass; its metal closure is hand-carved by a jeweler. 80 proof.
SRP: $49.99
deleontequila.com
4. Crispin 'Pearsecco' Cider
Crispin Cider Co. is debuting a Variety Pack of 12 oz slim cans, including a new pear-based expression: Pearsecco. The name may rile Italians, but Crispin's Pearsecco is now their second wine-inspired iteration, joining Crispin Rosé, and is based on solid market data (Nielsen said pear-flavored ciders were up
120% and Prosecco wines were up about 10% in 2018 over 2017). Packed with 3 Crispin Brut and 6 Rosé; in late spring Pearsecco will also be offered on its own.
SRP: $16.99/12-pack
crispincider.com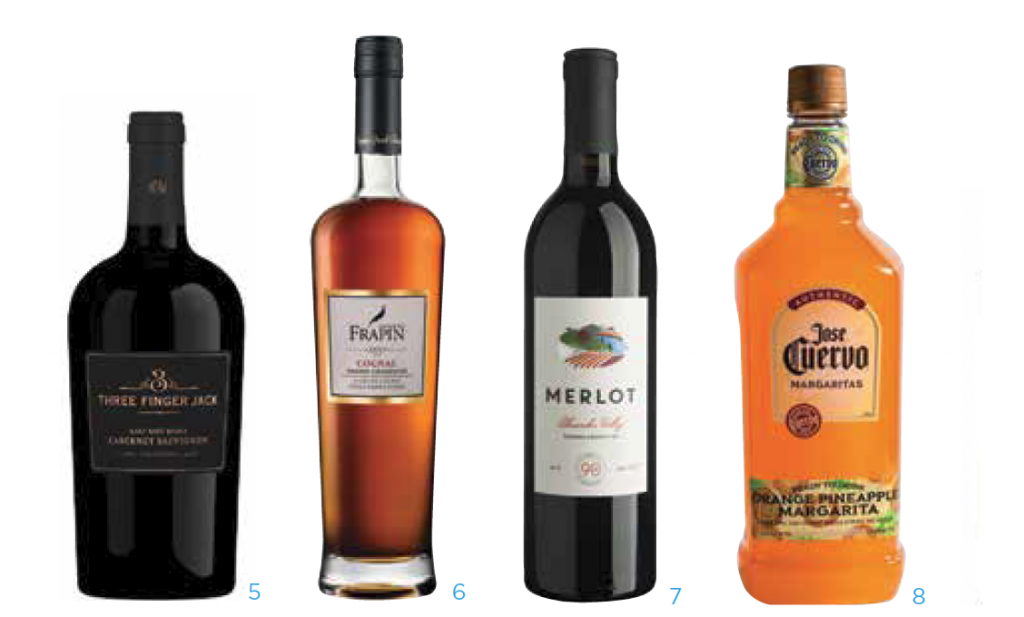 5. Three Finger Jack 2016 Cabernet Sauvignon
The inaugural 2016 Delicato Family Vineyards' Three Finger Jack East Side Ridge Cabernet Sauvignon is inspired by Lodi, where founder Gaspare Indelicato
planted his first vines nearly 100 years ago. Lodi's rugged East side soils and conditions are ideal for Cabernet. Three Finger Jack himself was a legendary outlaw who roamed the Sierra Foothills during the Gold Rush. The wine boasts structure and hardy flavors of cherry, blackberry, cassis, charred oak
and hints of pepper.
SRP: $22
3fingerjack.com
6. Frapin 1270 Cognac
Frapin 1270, a new blended Cognac, is a snapshot of 21 generations of wine growers and distillers—exclusively harvested, distilled and aged on the 600-acre single-family estate established in 1270 in the heart of Cognac's Grande Champagne region. Unlike a typical VS, Frapin 1270 is aged for about five years in both humid and dry cellars, resulting in great roundness and fruitiness; its length is enhanced via a special distillation over the lees.
SRP: $54.99
cognac-frapin.com
7. 90+ Cellars Reserve Wines
90+ Cellars is expanding their Reserve portfolio, sourcing wine from around the world, beginning in Sonoma County. Lot 163 Merlot (SRP $16.99) comes from a respected, family-owned winery that has been farming in Alexander Valley since the 1800s. Lot 164 Pinot Noir ($24.99) is a single-vineyard from a
sought-after vineyard site in Sonoma County's Sebastopol Hills. Lot 165 Zinfandel ($27.99) from one of the most sought-after Zin AVAs in the world: Rockpile.
SRP: $16.99 – $27.99
lattitudebeverage.com
8. Jose Cuervo Orange Pineapple Margarita
Embracing tequila's fun side, Jose Cuervo Orange Pineapple Margarita brings the refreshing flavors of orange and pineapple together with a hint of lime in a 9.95% ABV, ready-to-drink Margarita. Available in 1.75L bottles, this new RTD expression is built for crowds. Perfect for brunches, viewing parties and backyard BBQs; enjoy chilled, poured over ice or blended with ice for a frozen treat.
SRP: $17.99/1.75L
cuervo.com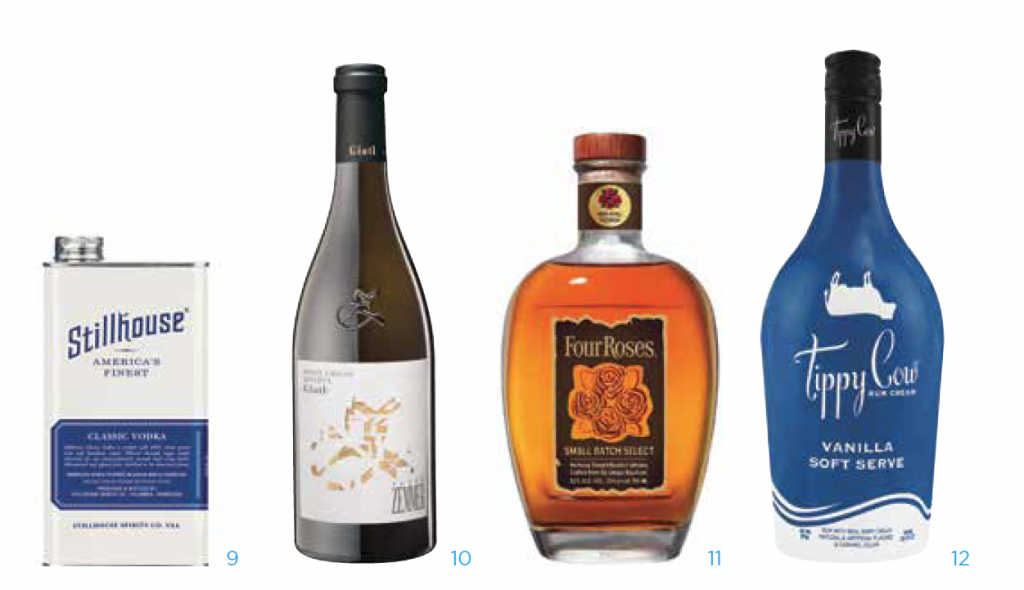 9. Stillhouse Classic Vodka
Stillhouse Spirits Co., known for retro-styled stainless steel packaging, is debuting Stillhouse Classic Vodka. It joins Stillhouse Original (clear corn whiskey) and Black Bourbon (rested in coffee beans). Encased in a bone white version of the brand's unbreakable,100% stainless steel can, the vodka is all-natural, gluten-free and filtered through sugar maple charcoal. Available nationwide; 80 proof. A 375ml "roadie" will follow later this year.
SRP: $21.99
stillhouse.com
10. Peter Zemmer 'Giatl' Pinot Grigio Riserva
Peter Zemmer has introduced a Pinot Grigio Riserva "Giatl" (pronounced Ghee-AT-uhl) 2016, Alto Adige's first and only DOC Riserva Pinot Grigio. Its unique handling includes fermentation in French barriques and 24 months' aging before release (neighboring Trentino requires just 12). "Giatl" ("little property" in the local dialect) is sourced from four parcels whose vines range from 15 to 30 years in age; it is piercingly fresh, yet dense with flavor and apt to evolve over time. Available in 19 states.
SRP: $38
hbwinemerchants.com
11. Four Roses 'Small Batch Select' Bourbon
The fourth rose is being added to Four Roses' permanent lineup of bourbons. The introduction of Four Roses Small Batch Select represents the distillery's first permanent product-line extension in more than 12 years, joining Four Roses Single Barrel, Four Roses Small Batch and Four Roses Bourbon. Non- chill filtered and bottled at a 104 proof, Small Batch Select offers clove and nutmeg on the nose; followed by apricots and berries, with vanilla and light oak. Limited release in spring, then expanding.
SRP: $59
fourrosesbourbon.com
12. Tippy Cow Rum Cream New Packaging
Tippy Cow Rum Cream has introduced a colorful all-new look for its line of nostalgic flavors of Orange Cream, Chocolate Shake, Vanilla Soft Serve and Shamrock Mint. The release of the new packaging aims to continue the momentum from a sales jumpof more than 25% in 2018. Blended with the finest Caribbean rum and the freshest real dairy cream from Wisconsin, Tippy Cow evokes memories of iconic sweet flavors likeDreamsicle and Dairy Queen Soft Serve. 28 proof.
SRP: $17.99/750ml | $1.49/50ml
tippy-cow.com