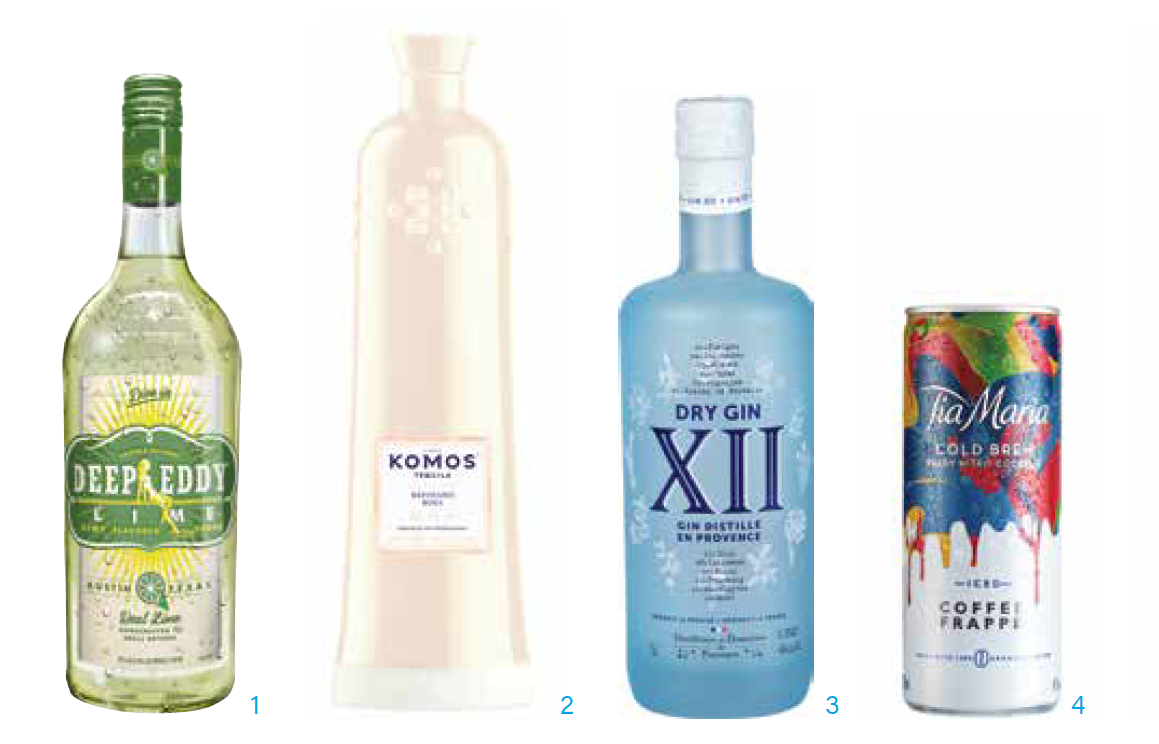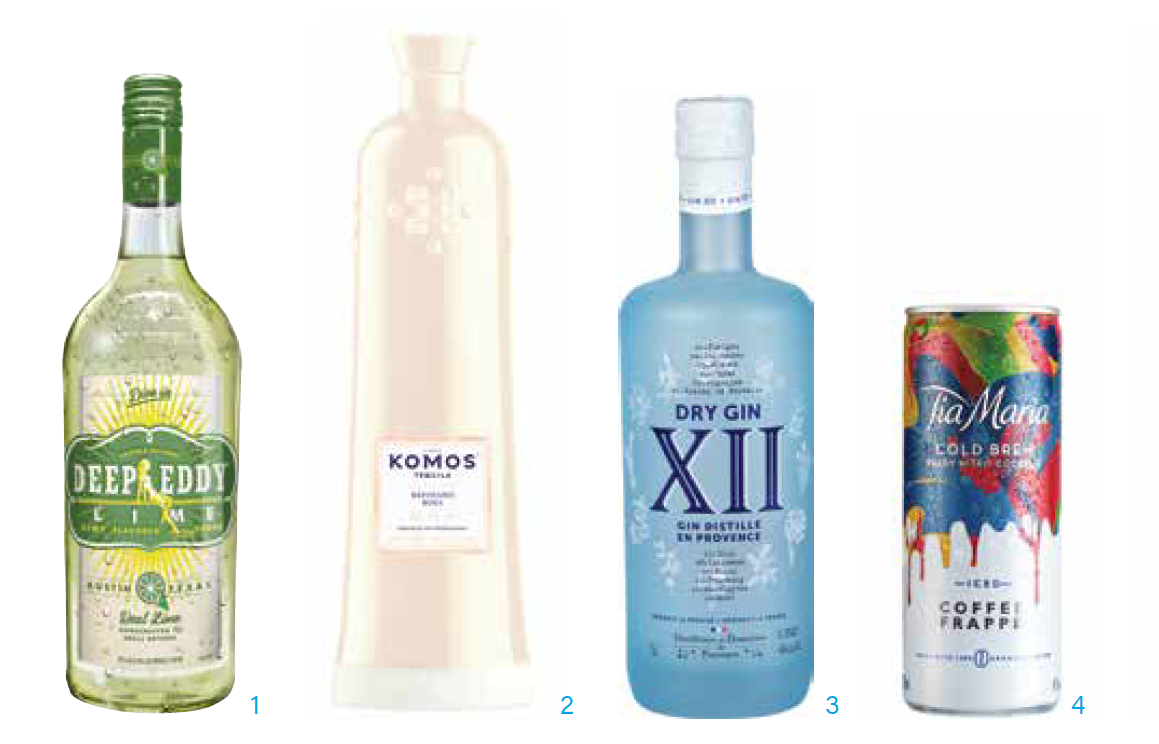 1. Deep Eddy Lime
Deep Eddy Vodka, one of the fastest-growing American-made spirits brands, has launched Deep Eddy Lime, made with real lime juice and built on the foundation of the ten-time distilled original vodka handcrafted in small batches at their Texas-based distillery. In addition to Lime, Deep Eddy Vodka's portfolio includes Original Vodka, Orange, Peach, Lemon, Ruby Red, Cranberry and Sweet Tea. Deep Eddy Lime will be supported in trade and consumer media, social media, out of home displays, and retail point-of-sale.
SRP: $19.99
deepeddyvodka.com
2. Komos Reposado Rosa Tequila
Casa Komos Beverage Group now offers Tequila Komos Reposado Rosa, a result of blending tequila-making with European winemaking techniques. Komos blanco tequila is aged in once-used, red wine French oak barrels. Once the tequila has picked up flavors and a pink hue from the barrels, it is stored and tumbled in amphorae, and then bottled in an opaque bottle, just like red wine, to preserve the color and aromas.
SRP: $99.99
komos.com
3. French Gin XII
Crillon Importers ltd. has added a dry gin crafted in Provence, Gin XII, incorporating 12 herbs and spices. Gin XII takes full advantage of its Haute-Provence terroir and its subtle blend of herbs—the dominant taste of juniper with thyme, iris, coriander, rosemary, mint, basil, angelica, grains of paradise, eucalyptus, almond and cardamom. The 84 proof gin stands out for its fresh, menthol, floral, and slightly spicy notes. The 12 ingredients are listed by order of importance on the label.
SRP: $39.99
crillonimportersltd.com
4. Tia Maria Coffee Frappé RTD
Tia Maria has unveiled a new ready-to-drink cocktail, the Iced Coffee Frappé. The four percent abv offering is available nationwide in 200 milliliter four-packs. The ready-to-drink cocktail features a cold brew method and nitro technology and is made with coffee, Tia Maria and milk. The nitro technology creates a velvety foam when the can is first opened to ensure the maximum product quality, consistency and a multisensory experience for the consumer.
SRP: $10 per 4-pack
tiamaria.com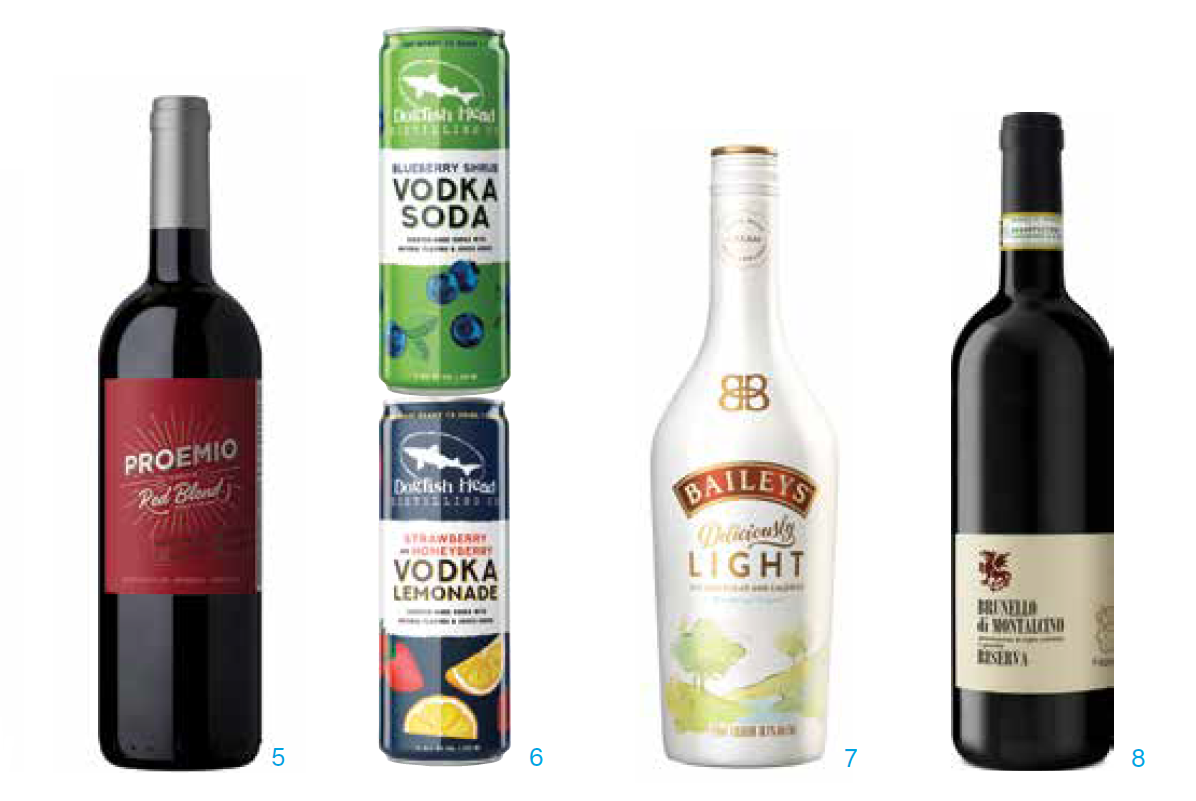 5. Proemio Red Blend Wine
Proemio Red Blend from 1821 Fine Wine & Spirits is a single vineyard wine made from organic grapes that are Fair Trade certified and comes from Maipú in Mendoza, Argentina. Made from 50 percent Malbec, 25 percent Cabernet Sauvignon and 25 percent Petit Verdot grapes that are manually harvested and fermented in small concrete vats with indigenous yeasts, the wine is unfined and unfiltered, and aged eight months in French oak barrels.
SRP: $15.99
proemiowines.com
6. Dogfish Head Canned Cocktails
One of America's earliest craft distilleries, Dogfish Head, announces the national launch of its ready-to-drink canned cocktails. The distillery's lineup includes three off-centered recipes—Blueberry Shrub Vodka Soda, Strawberry and Honeyberry Vodka Lemonade and Cherry Bergamot Whiskey Sour. Each recipe was crafted using Dogfish Head Distilling Co.'s house-made spirits combined with all-natural culinary ingredients. Available in four-packs of 355 milliliter slim cans at 14 proof.
SRP: $13.99 per 4-pack
dogfish.com
7. Baileys Deliciously Light
Baileys has launched Baileys Deliciously Light, the latest addition to the Baileys portfolio, made with 40 percent less sugar and 40 percent fewer calories than Baileys Original Irish Cream. Featuring a flavor similar to standard Baileys, with cream from Ireland combined with Irish whiskey, other spirits, and cocoa and vanilla flavors, this lighter option can be enjoyed in a variety of ways including over ice, chilled, in a smoothie or with hot, iced or whipped coffee.
SRP: $24.99
baileys.com
8. Carpineto Brunello Riserva
Carpineto is introducing their first ever Brunello di Montalcino Riserva DOCG. This Riserva comes from a small plot within their estate owned vines in the vineyard at one of the highest elevations within the Montalcino region. The 100 percent Sangiovese Grosso grapes are hand-picked and after vinification with indigenous yeasts in steel tanks at a controlled temperature, the wine matures for at least 42 months in medium toast Slavonian oak barrels and 18 months in bottle before release.
SRP: $135
carpiento.com
9. Dahlia Cristalino Tequila
Founders of Mezcal El Silencio, Fausto Zapata and Vicente Cisneros, have announced their venture into the premium tequila category with the launch of Dahlia Cristalino. The expression represents the brand's first new offering since the 2013 debut of their mezcal and is a celebration of the national flower of Mexico. A 100 percent Blue Weber agave reposado tequila that is then filtered through activated charcoal, Dahlia is the latest entrant in the cristalino tequila sub-category.
SRP: $39.99
tequiladahlia.com
10. Martini & Rossi Fiero Vermouth
Martini & Rossi introduces Fiero, made with a blend of white wines and botanicals including sweet Spanish oranges grown in Murcia, hand-peeled and sun-dried to protect the essential oils in the peel. While the orange peel provides the aperitivo vermouth's citrus notes, botanicals artemisia absinthium and artemisia pontica—both harvested in the village of Pancallieri in Turin—contribute the signature bitterness and herbal aromatics that are the distinguishing characteristic of Italian aperitivo drinks. 30 proof.
SRP: $17.99
martini.com
11. Bombay Sapphire Canned Cocktails
Bombay Sapphire Gin introduced its first line of canned cocktails—Bombay Sapphire Gin & Tonic and Gin & Tonic Light available in 250 milliliter cans in a four-pack. The brainchild of Bacardi Limited's master of botanicals Ivano Tonutti and Bombay Sapphire master distiller Anne Brock, the 11.8 proof line of ready-to-drink cocktails was designed to stay chilled during the time of consumption.
SRP: $12.99 per 4-pack
bombaysapphire.com
12. Grey Goose Essences
From the leading French vodka brand comes Grey Goose Essences, a new line of vodkas infused with real fruit and botanical essences, with no artificial flavors. Crafted with natural ingredients from France, Spain, Thailand and Sri Lanka, the 60 proof Grey Goose Essences taste of fresh fruit and cold distilled botanicals in each vibrant flavor: Strawberry and Lemongrass, White Peach and Rosemary, and Watermelon and Basil. No sugar added.
SRP: $29.99
greygoose.com