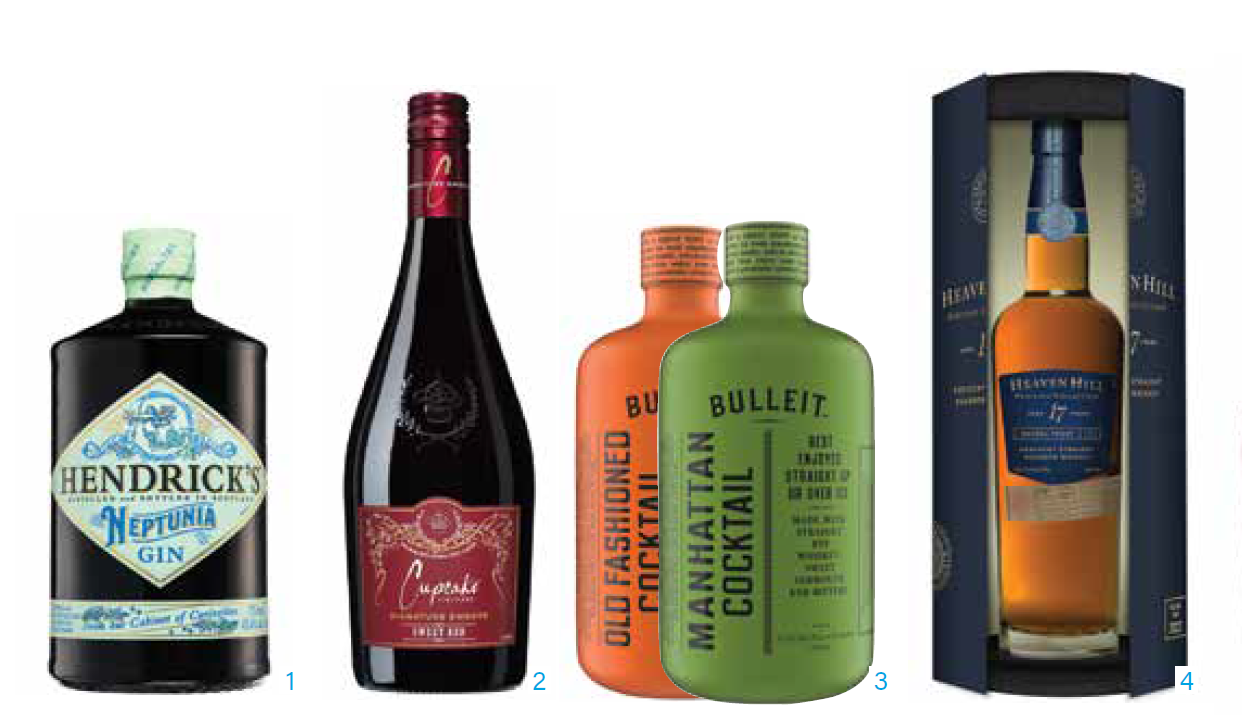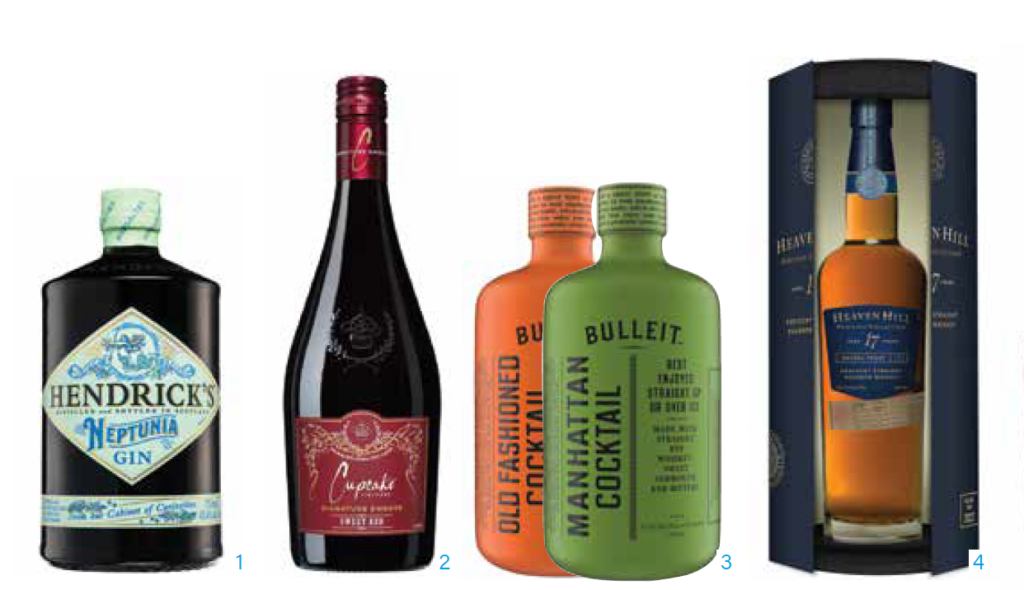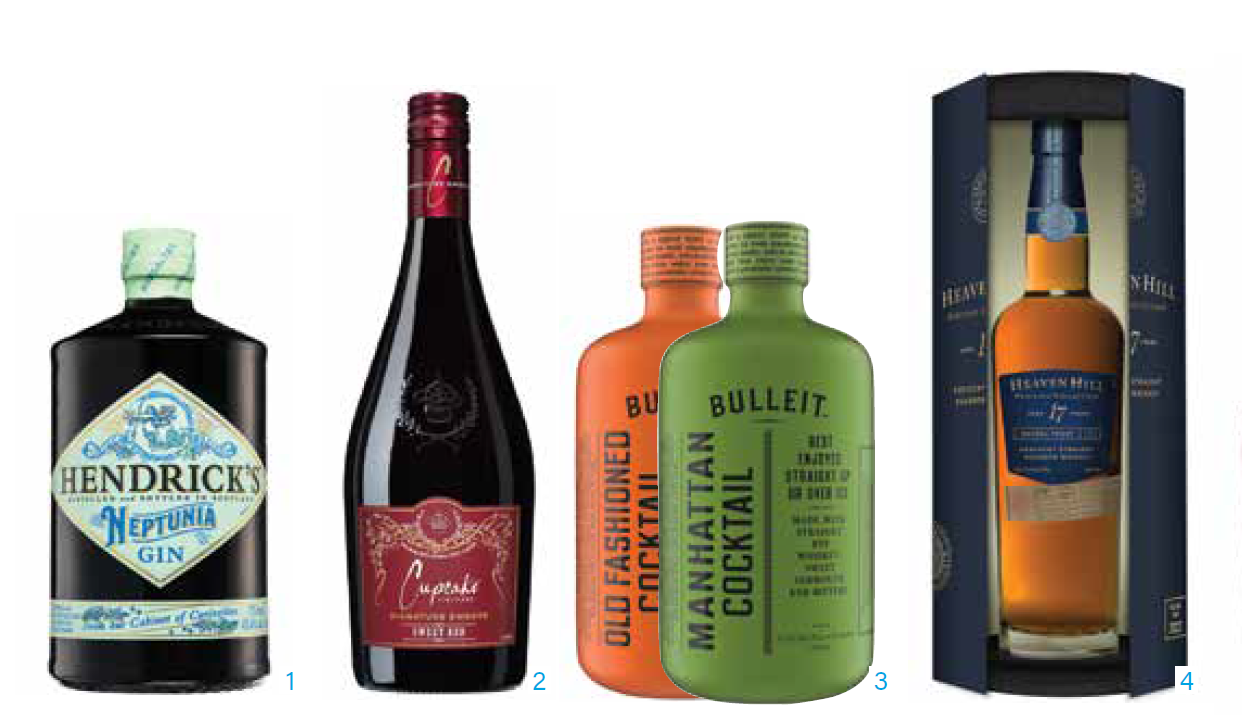 1. Hendrick's Neptunia Gin
Evoking the sea that lies just beyond the Hendrick's distillery in Girvan, Scotland, the gin brand's new limited-edition Neptunia expression—packaged in a bottle appropriately tinted seafoam green—is crafted by master distiller Lesley Gracie from a secret mix of coastal Scottish botanicals. With a bright, crisp finish it works especially well in sparkling sangria and a lime-soda-cucumber fizz.
SRP: $39.99 per 750-ml bottle
hendricksgin.com
2. Cupcake Vineyards' Signature Sweets
Dessert aficionados will gravitate toward Cupcake Vineyards' slightly effervescent Signature Sweets collection. Made with grapes sourced from Italy's Piedmont region, the range of naturally flavored wines, meant to be served chilled, include tropical Peach, juicy Watermelon, a fresh blueberry-, strawberry-, and raspberry-packed Berry, and Sweet Red, a full-bodied mix of strawberry, raspberry, and cherry flavors.
SRP: $13.99 per 750-ml bottle
cupcakevineyards.com
3. Bulleit Crafted Cocktails
Bulleit Frontier Whiskey has rolled out Bulleit Crafted Cocktails, a duo of ready-to-drink libations packaged in orange and green bottles. Formulated by bartenders, the 75-proof Bulleit Old Fashioned and the Bulleit Manhattan can be served neat, chilled, or over ice, and only call for a garnish of choice. While the Old Fashioned combines Kentucky straight bourbon, aromatic orange bitters, and simple syrup, the Manhattan balances spicy straight rye whiskey with sweet vermouth and bitters.
SRP: $29.99 per 750-ml bottle
bulleit.com
4. Heaven Hill Heritage Collection
The inaugural offering in the limited-release Heaven Hill Heritage collection is a 17-year-old Kentucky straight bourbon whiskey bottled directly from the barrel. Starring a mash bill of 78 percent corn, 10 percent rye, and 12 percent malted barley, the 118.2-proof whiskey melds 17-, 19-, and 20-year-old liquids pulled from Deatsville, Glencoe, Schenley, and Heaven Hill main campus barrels. Just as the experimental Parker's Heritage collection makes a splash each fall, the Heaven Hill Heritage collection will highlight some of the distillery's oldest inventory every spring.
SRP: $274.99 per 750-ml bottle
heavenhilldistillery.com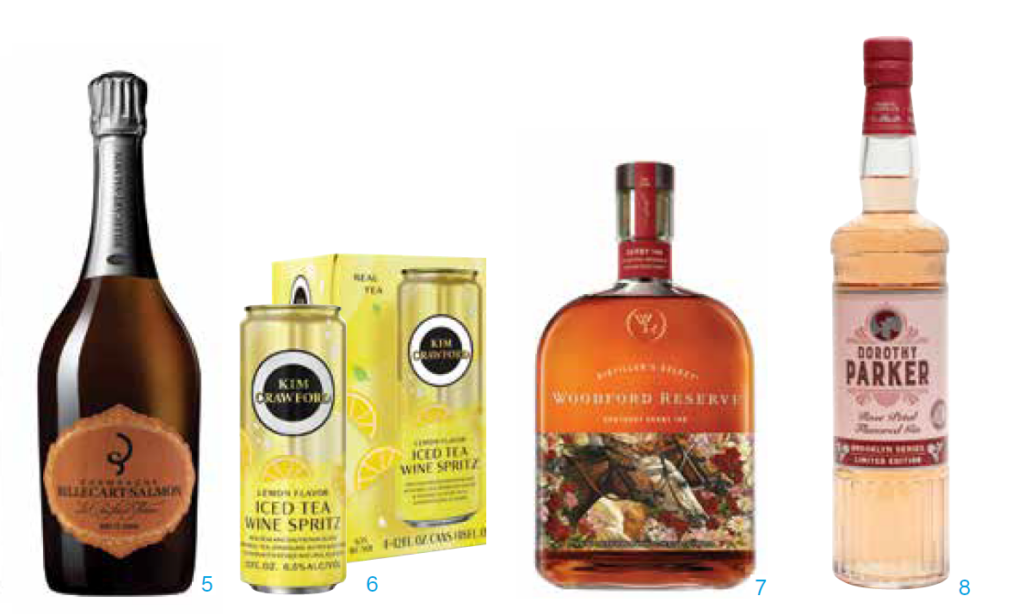 5. Billecart-Salmon Le Clos Saint-Hilaire 2006
Champagne Billecart-Salmon has unveiled the 2006 vintage of Le Clos Saint-Hilaire. The cuvée of 100 percent Pinot Noir, sourced from grapes grown on a one-hectare parcel of old vines planted in Mareuil-sur-Aÿ in 1964, was vinified entirely in oak casks, yielding flavors of citrus and hazelnuts. The limited-release cult wine also flaunts a sustainable cherry-wood label.
SRP: $549.99 per 750-ml bottle
champagne-billecart.fr
6. Kim Crawford Iced Tea Wine Spritz
New Zealand wine producer Kim Crawford has introduced a refreshing ready-to-drink Iced Tea Wine Spritz. Available in lemon and peach flavors, the fruit-forward spritzer is spawned from a blend of real black tea, Sauvignon Blanc, and sparkling water.
SRP: $14.99 per four-pack of 12-oz. cans
kimcrawfordwines.com
7. Woodford Reserve Kentucky Derby Bourbon
To celebrate this year's Kentucky Derby, Woodford Reserve, the event's presenting sponsor, has released its 2022 commemorative bourbon bottle. An annual collector's item since 1999, this one is adorned with Dreams in Bloom, a painting by Kentucky-based equine artist Jaime Corum that depicts a trifecta of front-running racing thoroughbreds. As an expansion of Woodford Reserve's collaboration with Williams-Sonoma, the ready-to-drink Woodford Spire with cranberry and lemon has also been named an official Kentucky Derby cocktail.
SRP: $49.99 per one-liter bottle
woodfordreserve.com
8. Dorothy Parker Rose Petal Gin
Over the course of the summer, New York Distilling Company will showcase its Dorothy Parker Rose Petal Gin, a seasonal spirit revolving around eight botanicals, including juniper berries, coriander, elderberries, hibiscus petals, green cardamom pods, cinnamon bark, lemon peel, and orange peel. Naturally colored with pink and red rose petals and crushed elderberries, the gin has floral and hibiscus notes that pave the way to a sweet, creamy finish.
SRP: $40 per 750-ml bottle
nydistilling.com

9. Ferrand Renegade Barrel N°3 Eau-de-Vie de Vin
For the third installment of Maison Ferrand's unconventional Renegade Barrel collection, master blender Alexandre Gabriel has created the tropical-spiced Renegade Barrel N°3 Jamaican Rum Barrel Eau-De-Vie De Vin, the first Cognac double-aged in rum casks. By reinstating a long-lost 19th-century aging technique, Gabriel finished Ferrand's 2011 Grande Champagne Premier Cru de Cognac in rare Plantation rum barrels used to mature a Long Pond HJC distilled in 1996.
SRP: $90 per 750-ml bottle
maisonferrand.com
10. Killowen Bonded Experimental Series
Killowen, Ireland's smallest craft distillery, has debuted the Killowen Bonded Experimental Series, encompassing six Irish whiskey blends finished in different casks. Imported by High Road Spirits, they feature unusual ratios of malt and grain whiskeys that are sourced from distilleries across Ireland and then mellowed in Jamaican rum, virgin Hungarian oak, peated malt, tequila, Pinot Noir, and Txakolina casks.
SRP: $79.99 per 375-ml bottle
highroadspirits.com
11. Meiomi Red Blend
Following the Cabernet Sauvignon that launched in 2020, this red blend is the newest creation from Meiomi director of winemaking Jason Becker. Sourced from California grapes, primarily Syrah, Zinfandel, Cabernet Sauvignon, and Merlot, the red blend has a palate of roasted mocha and blackberry.
SRP: $21.99 per 750-ml bottle
meiomi.com
12. Crown Royal Whisky Lemonade
Joining Whisky & Cola, Washington Apple, and Peach Tea, limited-edition Whisky Lemonade is the newest summer-ready flavor in Crown Royal's canned cocktail portfolio. Sweet and tart, the 7% alcohol ready-to-drink beverage pairs fruity whisky notes with zippy lemonade and is best savored chilled.
SRP: $14.99 per four-pack of 12-oz. cans
crownroyal.com