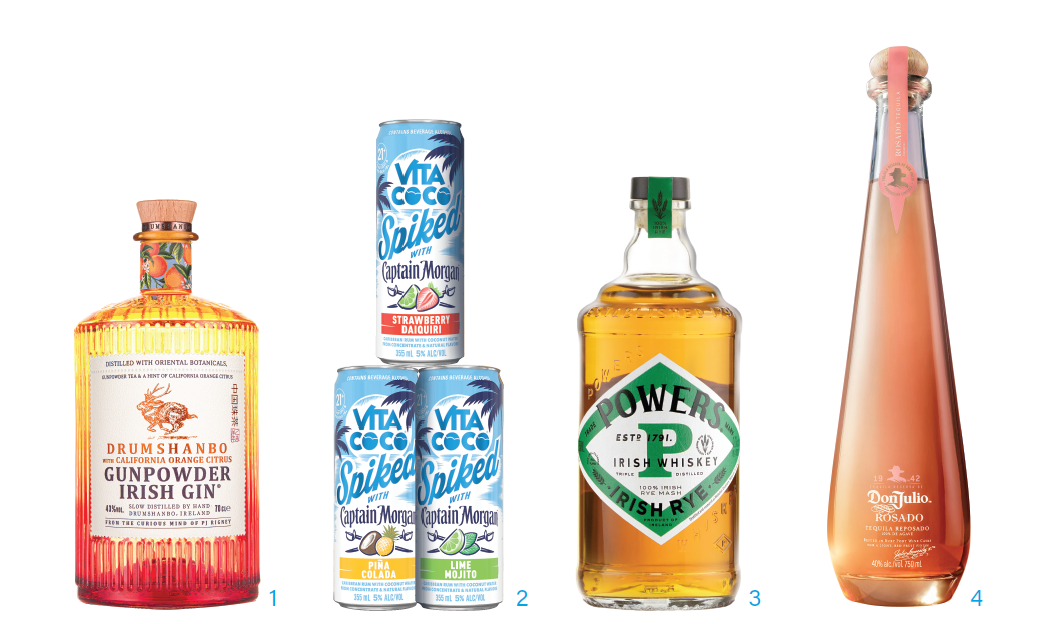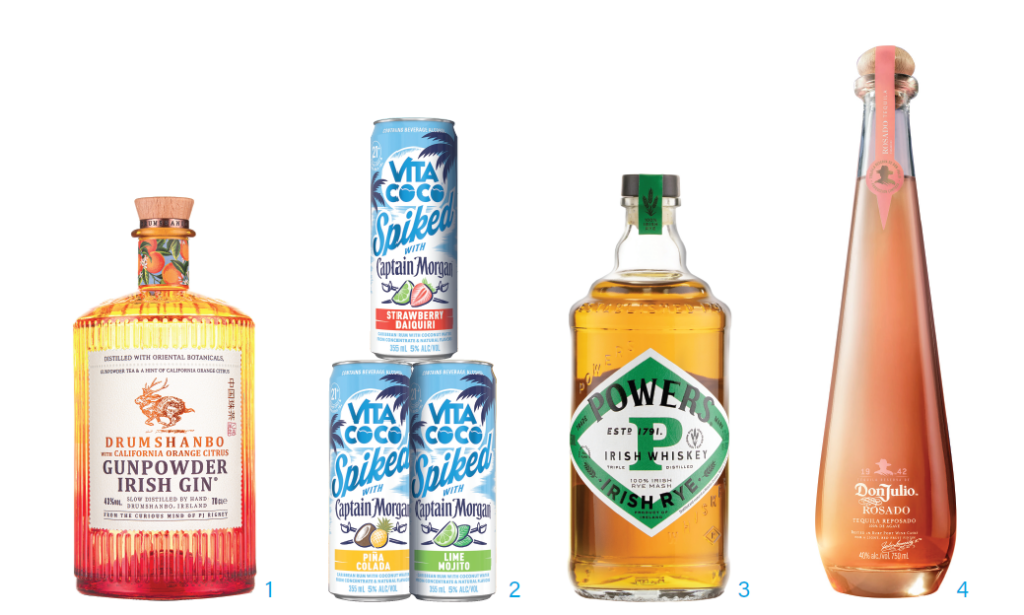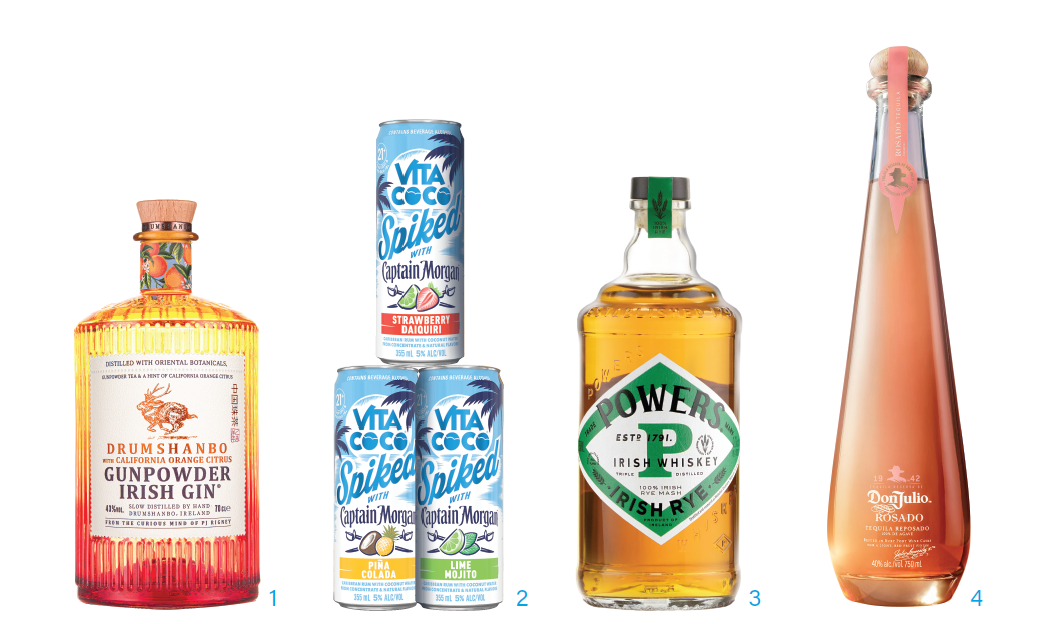 1. Drumshanbo Gunpowder Irish Gin
Produced at The Shed Distillery of PJ Rigney in Ireland's County Leitrim, the classic Drumshanbo Gunpowder Irish Gin stands out for the presence of gunpowder tea. It was followed by a version enlivened with Sardinian citrus, and most recently, one with California orange citrus informed by Rigney's time in the San Francisco Bay area. The vibrant lemon, lime, and grapefruit notes make it ripe for a Gin & Tonic.
SRP: $36.99 per 750-ml bottle
drumshanbogunpowderirishgin.com
2. Vita Coco and Captain Morgan
Fusing coconut water and rum, Vita Coco Spiked with Captain Morgan offers a tropical respite from the long winter. The 5% ABV ready-to-drink cocktails, best served chilled from the can, include a transporting Lime Mojito, Strawberry Daiquiri, and Piña Colada.
SRP: $14.99 per four-pack of 12-oz. cans
vitacoco.com and captainmorgan.com
3. Powers Irish Whiskey
During the 19th century, Irish whiskey production incorporated rye grains. In tribute to that history, Powers has released the first-ever 100 percent Irish rye whiskey, incorporating rye grown on the sustainable Cooney Furlong farm. The 86.4-proof spirit is matured in virgin, first fill, and refill American oak casks that elicit an earthy, peppery profile.
SRP: $32 per 750-ml bottle
powerswhiskey.com
4. Don Julio
Making its well-timed debut just ahead of summer pool parties is Tequila Don Julio Rosado. Tinted a soft pink hue, this reposado was aged in Ruby Port wine casks for at least four months and tastes of strawberry, raspberry, plum, and cocoa. It's best sipped on the rocks or brightened with soda water and a lemon garnish.
SRP: $125.99 per 750-ml bottle
donjulio.com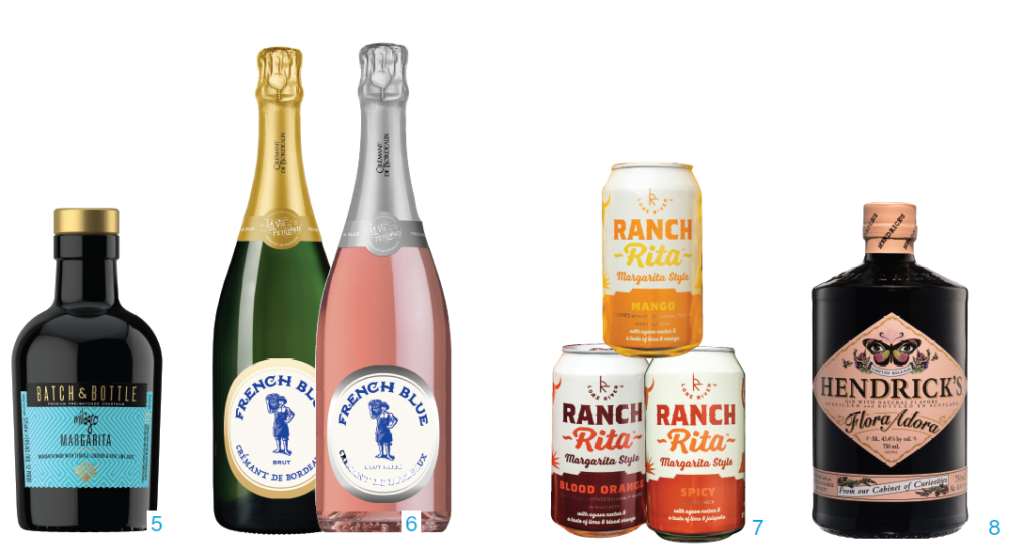 5. Batch & Bottle
Milagro Margarita, marrying silver tequila and real lime juice, is the most recent addition to Batch & Bottle, the range of premium ready-to-drink cocktails from William Grant & Sons that includes the Monkey Shoulder Lazy Old Fashioned, Reyka Rhubarb Cosmopolitan, Glenfiddich Scotch Manhattan, and Hendrick's Gin Martini. Simply chill the bottle and pour itinto a salt-rimmed glass garnished with a lime wedge neat or on the rocks.
SRP: $16.99 per 375-ml bottle
batchandbottlecocktails.us
6. French Blue
French Blue shines a light on Bordeaux's little known sparkling wines with its Crémant de Bordeaux Brut and Crémant de Bordeaux Brut Rosé. Both the former, a blend of Merlot, Sémillon, and Muscadelle, and the latter, composed of 99 percent Merlot, are sourced from the Nouvelle-Aquitaine region. Winemaker Stephanie Rivin partook of the méthode traditionnelle and aged the wine sur lie for over 14 months.
SRP: $24.99 per 750-ml bottle
frenchbluewine.com
7. Lone River Beverage Company
Organic agave nectar and lime are the building blocks of Lone River Beverage Company's 80-calorie hard seltzers, which debuted in 2022 with Ranch Water Classic Margarita. Now there is the Lone River Ranch variety pack of 6% ABV cans, pairing the original recipe with a triumvirate of new variants: Mango Ranch Rita, Blood Orange Ranch Rita, and Spicy Ranch Rita with a jolt of jalapeno.
SRP: $19.99 per 12-pack of 12-oz. cans
loneriverbevco.com
8. Hendrick's Gin
Master distiller Lesley Gracie's latest limitededition expression from the Hendrick's Cabinet of Curiosities innovation lab is the Flora Adora inspired by the blooms that attract pollinating butterflies and bees. In this rendition, Hendrick's telltale burst of juniper and coriander is balanced with fresh, green, floral characteristics.
SRP: $39.99 per 750-ml bottle
hendricksgin.com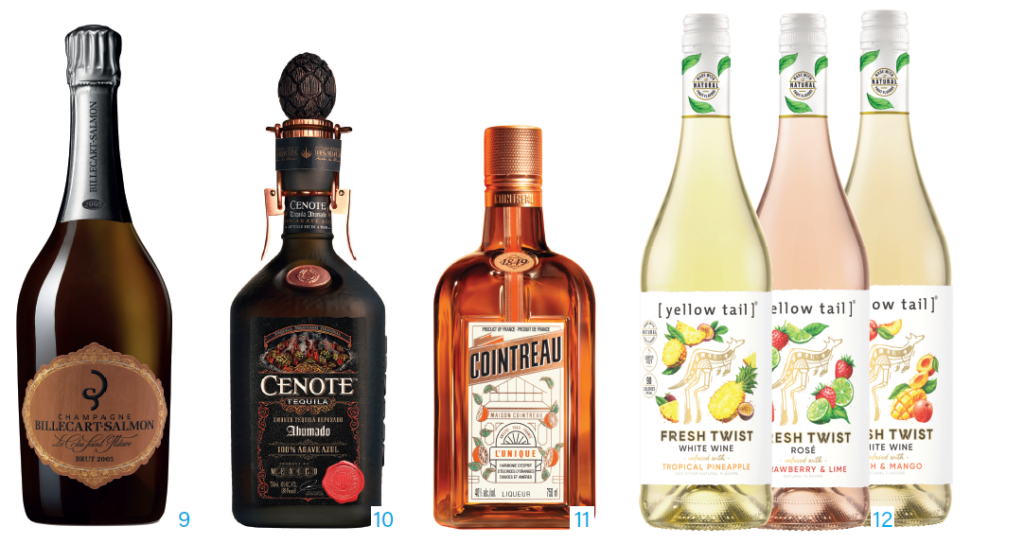 9. Billecart-Salmon
Champagne Billecart-Salmon's rare, limited release Le Clos Saint-Hilaire 2005 was born from a single, enclosed one-hectare plot of old vines planted with Pinot Noir in Mareuil-sur-Aÿ in 1964. Vinified entirely in oak, the blanc de noirs cuvée rested on the lees for more than 14 years, garnering citrus, buckwheat, and touches of panettone on the palate. Each bottle is adorned with a sustainably sourced cherry wood label.
SRP: $580 per 750-ml bottle
champagne-billecart.com
10. Cenote Tequila
Both tequila and mezcal traditions come together in small-batch Cenote Ahumado Tequila. The 100 percent blue Weber agave reposado is brought to life by roasting piñas in a custom pit oven that draws from mezcal's ancient roasting techniques. It mellows in oak barrels for over two months, culminating in layers of smoky pepper, cinnamon, and dark caramel.
SRP: $75.99 per 750-ml bottle
tequilacenote.com
11. Cointreau
For the first time in nearly 140 years, Cointreau orange liqueur has transformed its bottle. Crafted from two-thirds recycled glass and devoid of secondary packaging, it has been lengthened for ergonomic ease of pouring and features a QR code that accesses some 500 cocktail recipes. Most prominent is the new label, starring orange imagery in prime positions along with an ode to the original distillery.
SRP: $34.99 per 750-ml bottle
cointreau.com
12. Yellow Tail
In 2021, Yellow Tail diversified with its low-calorie Pure Bright line, and the innovative streak continues with Fresh Twist wines, infused with natural fruit flavors. Slightly fizzy and subtly sweet, the inaugural three 90-calorie offerings comprise Tropical Pineapple and Peach & Mango with a white wine base, as well as Strawberry & Lime with rosé.
SRP: $7.99 per 750-ml bottle
yellowtailwine.com