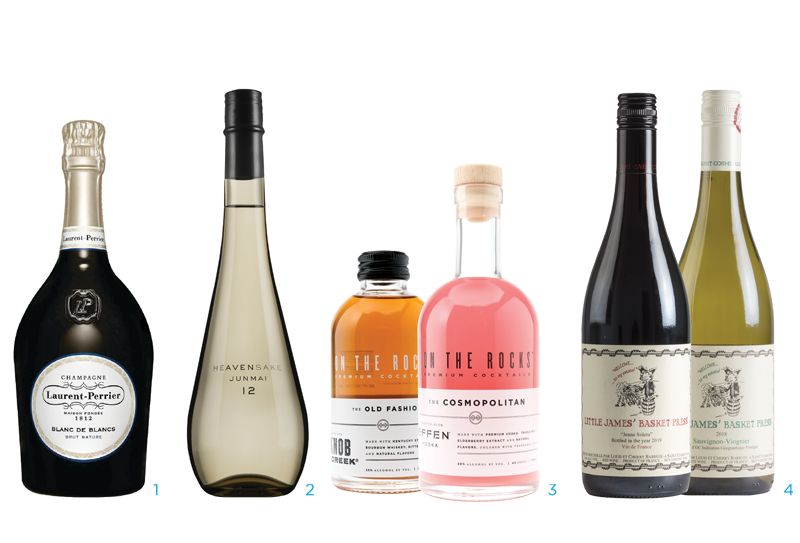 1. Laurent-Perrier Blanc de Blancs Brut Nature Champagne
Laurent-Perrier first made "Grand Vin sans Sucre" in the 19th century and created the Zero-Dosage/Brut Nature category with the introduction of Ultra Brut in 1981. Additionally, the House led the region in transitioning to stainless steel in the 1950s, driven by a desire to have a style defined by Chardonnay. Brand new, their Blanc de Blancs Brut Nature—100% Chardonnay with zero dosage and six years of cellar aging—combines powerful fruit with a delicate acid structure.
SRP: $89.99
2. Heavensake 'Junmai 12'
Heavensake is the first Franco-Japanese sake collaboration, created by French cellar master Régis Camus with Japan's most respected sake breweries. Now, Junmai 12, a light, refreshing sake, joins Heavensake Junmai Ginjo and Junmai Daiginjo. Camus created Junmai 12 to be as refreshing as the rosés of Provence—floral, light and fruity. Its lower alcohol (12% vs typically 14%) is reflected in its name. Recommended to be served chilled and in a wine glass as an alternative to rosé.
SRP: $27.99
3. On The Rocks RTD Cocktails
Now in 44 states, On The Rocks ready-to-serve, pre-batched bottled cocktails feature all-natural ingredients, no additives, plus the cachet of branded spirit partners. The line includes Effen Cosmopolitan, Larios Aviation, Cruzan Mai Tai, Hornitos Margarita, Tres Generations Jalepeño Pineapple Margarita, Knob Creek Old Fashioned. Available in 100ml (PET plastic), 200ml and 375ml; 40 proof (Old Fashioned 70 proof).
SRP: $12.99/375ml; $5.99/200ml; $3.99/100ml
4. Little James' Basket Press French Table Wines
A French wine favorite has gotten a refresh. Château de Saint Cosme, a benchmark Rhône producer, also has made Little James' Basket Press since 1999. The 100% Grenache uses a solera system, blending wines from multiple vintages. They also produce a vintage-dated white blend. The label update maintains the original illustration of "little James" (the winemaker's son), but is more "grown-up" with a cleaner design that connects to the Saint Cosme family brand.
SRP: $13.99
5. Michter's 10 Year old Single Barrel Rye
In July, Louisville-based Michter's Distillery began shipping their 2019 release of 10 Year Single Barrel Rye, the first by recently named Master Distiller Dan McKee. As Michter's continues to experience shortages, it is anticipated that this will be the only bottling of 10 Year Single Barrel Kentucky Straight Rye this year. Master of Maturation Andrea Wilson says the release exemplifies the Michter's style of Kentucky rye, but with "a good amount of corn and malted barley." 92.8 proof.
SRP: $160
6. RumChata 'Summer Tumbler'
For America's vast population of iced coffee and cold brew lovers, it is now easier than ever to enjoy a dash of RumChata in their favorite refreshing summer coffee drink. Developed in response to enthusiastic consumer feedback, this special-edition, 26oz plastic thermal tumbler comes pre-packed with eight MiniChatas. Each MiniChata is a peel-top 25ml cup filled with real RumChata rum cream (27.5 proof). The Summer Tumbler is available in all 50 states.
SRP: $9.99 [tumbler with 8 MiniChatas]
7. Western Son Raspberry Vodka
Texas-based Western Son Vodka, continuing to grow rapidly, just added Raspberry Vodka to its line-up of 10x-distilled vodkas. Raspberry joins Blueberry, Lime, Watermelon, Prickly Pear, Cucumber, Peach and the Original small-batch vodka. Capturing the essence of the fruit's light and crisp balance, the new Raspberry expression mixes well with club soda or ginger beer. It took home Double Gold at this year's SIP Awards for Flavored Vodkas. 60 proof.
SRP: $19.99
8. Meletti Fernet
Since the 1870s, the Meletti family has been producing liqueurs and digestivos in the Adriatic coastal Le Marche region. Using a book of recipes left by their great-great grandfather, founder Silvio Meletti, his great-great grandchildren, Matteo and Mauro Meletti, took inspiration to produce Meletti Fernet again. This balanced Italian digestivo features mint, gentian, basalmic and herbal notes. Enjoy straight or on the rocks after meals; also ideal in cocktails with gin or rye and orange liqueurs. 80 proof.
SRP: $34.99
9. Glendalough Rose Gin
Ireland's Glendalough Distillery has launched a new botanical Rose Gin—yes, rose, not rosé. To make this special small batch gin, Glendalough rebalances their Wild Botanical Gin recipe and redistills it with extra fruit, spices and three varieties of fresh rose petals, rendering a naturally pink and very floral gin. Given the delicate rose petals, this is distilled more gently, with vapor distillation playing a bigger part in extracting the essential oils and flavors. 82 proof.
SRP: $34.99
10. Hpnotiq Liqueur Limited Edition 'OG'
Hpnotiq Liqueur, known for its electric blue hue, is bringing back the original packaging that gained notoriety via hip-hop artist Joseph "Fat Joe" Cartagena in 2001. In addition, the unique blend of exotic fruit juices, French Cognac and a touch of vodka is partnering with Fat Joe to release a comedic "OG" video series imagining Fat Joe as the brand's "Creative Director." Available nationally in 750ml, and in select markets as a 375ml flask and 50ml. 34 proof.
SRP: $19.99
11. Trincheri Vermouth
Trinchero Family Estates has launched Trincheri Vermouth, a duo of dry and sweet Vermouths based on a 120-year-old family recipe. Trincheri Vermouth pays homage to the family's journey from Italy through NYC to Napa Valley. The Vermouths use grapes from the family's California vineyards—Barbera and Chardonnay in the Rosso, French Colombard for the Dry—and both are infused with Roman Artemisia and Cinchona Bark as well as other fruits, botanicals and spices. 35 proof.
SRP: $24.99
12. Tussock Jumper Single-Serve Wines
Global wine portfolio Tussock Jumper has launched three new 187ml single-serve wines, featuring a Chardonnay and Pinot Noir from France, as well as an Italian Pinot Grigio and Argentine Malbec. The wines have already begun pleasing crowds at Citi Field (Tussock Jumper is an official 2019 partner of the New York Mets), and two New York train stations. Each wine comes in a recyclable plastic bottle with a pop-off cup for easy drinking.
SRP: $3.99
tussockjumperwines.com   |   tri-vin.com