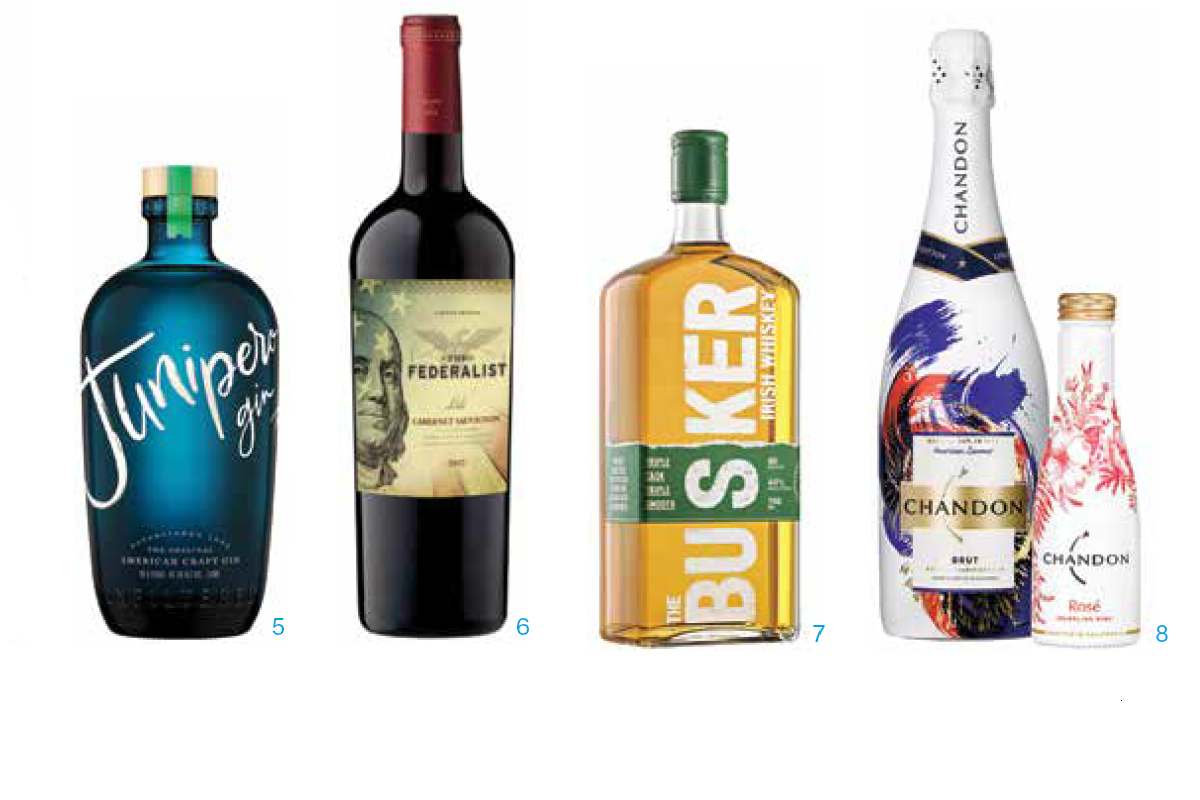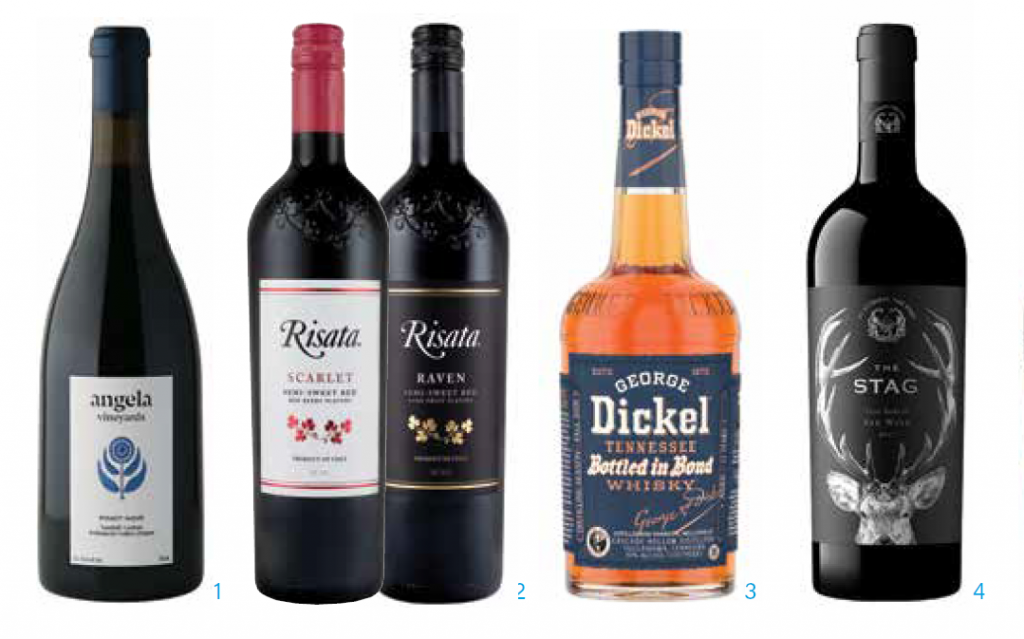 1. Angela Vineyards Oregon Wines
Angela Vineyards has formally launched nationally with a 2018 Willamette Valley Chardonnay and 2017 Yamhill-Carlton Pinot Noir—and a new look, marking the arrival of winemaker Alban Debeaulieu, whose experience spans both France and Oregon. Grapes are sourced from carefully selected sites and only natural yeasts are used in vinifcation, aiming to produce fresh wines that are expressive of place, vintage, and craft. Angela Vineyards is owned by Beck Family
Estates of South Africa.
SRP: $38 each
angelaestate.com
2. Risata Scarlet & Raven Wines
Prestige Beverage Group is doubling down on sweet reds with its new "Bold Collection" of fruity, semi-sweet Italian red wines: Scarlet and Raven. Both based on Brachetto grapes, the pair expands on Risata's current lineup of Moscatos, Sparkling Rosé, and Prosecco. Risata delivers berry, cherry and hints of violet and rose; Raven leans toward dark fruit and jam. Made frizzante-style (soft bubbles) and with ABV under 6%, they are best served slightly chilled.
SRP: $14.99 each
risatawines.com
3. George Dickel Bottled in Bond – Fall 2008
George Dickel's first entry in the Bottled in Bond category, from Fall 2005, earned "Whisky of the Year" honors from Whisky Advocate. A year later, distiller Nicole Austin is releasing a new, 11-year-old expression of Bottled in Bond Tennessee Whisky: Fall 2008. It has a mash bill of 84% corn, 8% rye, and 8% malted barley; chill charcoal mellowed like the rest of the portfolio, bottled as 100 proof. Enjoy neat, on the rocks, and in classic cocktails.
SRP: $39.99
georgedickel.com
4. St. Huberts 'The Stag' California Central Coast Wines
This new line from Treasury Wine Estates highlights California's Central Coast, showcasing a Santa Barbara Chardonnay as well as a Cabernet Sauvignon and Red Blend, both from Paso Robles. A lifestyle brand spun off from Australian label St. Huberts, "The Stag" is expected to appeal particularly to millennial males' adventuresome spirit, offering familiar varietals but from exciting new California regions. A 360-marketing campaign will promote the launch.
SRP: $16.99 Chardonnay | $19.99 both reds
tweglobal.com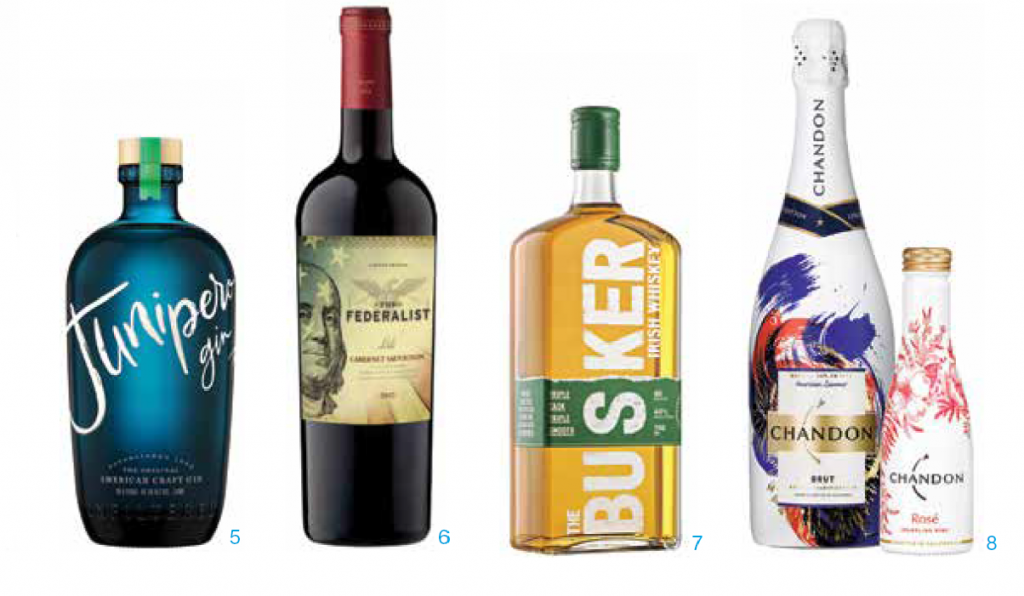 5. Junipero Gin 
San Francisco-based Hotaling & Co. is refreshing Junipero, unveiling a new look they hope breaks the mold, as the gin did as America's first craft gin back in 1996. The bold new package—with the paint-like script logo in white wrapping around glass the same shade of blue as ripe juniper berries— reflects a bold, pioneering spirit. Junipero is 98.6 proof, features 12 botanicals but is mostly citrus- and juniper-driven. The gin's call to action: "More Firsts, Less Fear."
SRP: $34.99
juniperogin.com |hotalingandco.com
6. The Federalist Limited Edition 2017 Lodi Cabernet Sauvignon
Declaring "Made in USA" on its capsules, this limited edition of The Federalist embodies modern-day American pride. A subtle wooden flag overlay and the wise visage of Benjamin Franklin bring to life this modern American classic Cabernet. Pair this wine with summer grilling or s'mores by the firepit. The wine features 93% Cabernet Sauvignon from sub-AVAs in Lodi, plus dollops of Zinfandel, Merlot, and Cab Franc to soften the wine and add aromatics.
SRP: $23
terlatowines.com
7. The Busker Irish Whiskey
Disaronno International continues to diversify with the launch of The Busker Irish Whiskey, a family of four products with roots at Royal Oak Distillery in County Carlow: The Busker Blend, Single Grain, Single Malt, and Single Pot Whiskies. The Busker Blend (pictured) is "Triple Cask, Triple Smooth"—matured and finished in bourbon, Sherry, and Marsala casks at 80 proof; the three other Busker expressions are 88.6 proof.
SRP: $24-$29.99
disaronnointernational.com
8. Chandon Brut & Rosé Summer Limited Editions
For its ninth consecutive year, California sparkling producer Chandon has unveiled a limited-edition American Summer red, white and blue bottle available through Labor Day. This year's 750ml evokes the nostalgia for warm summer evenings with the occasional surprise fireworks. The bubbly itself is Chandon Brut, ideal for nutty, salty, and creamy foods. Also out just for summer: 187ml "AluMini" bottles of Chandon Rosé.
SRP: $19/750ml $6.99/AluMini Rosé 187ml
chandon.com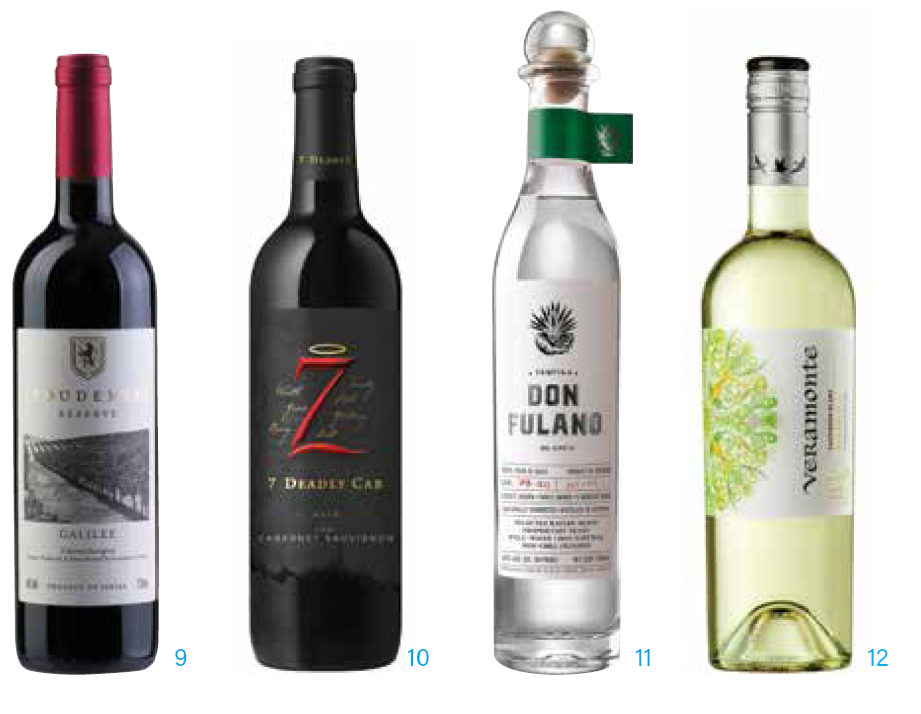 9. Stoudemire Israeli Wines
Six-time NBA All-Star Amar'e Stoudemire celebrates his deep connection to the land of Israel with a collection of wines produced by the boutique Tulip Winery. Based in Kfar Tikva, which means "Village of Hope," Tulip produces kosher wines by employing individuals with developmental disabilities. The launch includes a 2016 Reserve Cabernet Sauvignon from Galilee (SRP $75); a 2014 Grand Reserve Cabernet–Petit Verdot blend from Capernaum ($95); and the 2014 Private Collection Bordeaux-style blend from Jerusalem ($225).
SRP: $75-$225
kosherwine.com
10. 7 Deadly Cab
The popular Zinfandel 7 Deadly, having already extended successfully with a Red Blend in 2017, is adding a Cab. The 7 Deadly Cab 2018 Cabernet Sauvignon is made in a lush and rich style similar to its red siblings and is certified sustainable by the Lodi Rules Program, a rigorous and comprehensive sustainable winegrowing program. First released in 2002, 7 Deadly presents itself as "born from a Catholic school upbringing and a winemaker's lust for hedonistically seductive wine."
SRP: $16
7deadlywines.com
11. Don Fulano Tequila
E & J Gallo (Gallo) Winery has added luxury tequila brand Don Fulano, made by the Fonseca family, which has engaged in agave farming and distilling for five generations. They are one of only two producers to offer 100% estate-grown and bottled tequila. The brand's range includes Don Fulano Blanco ($50), Don Fulano Blanco Fuerte 100 Proof ($60), Don Fulano Reposado ($60), Don Fulano Añejo ($80) and Don Fulano Imperial Extra Añejo ($190).
SRP: $50-$190
donfulano.com
12. Veramonte Chilean Wines
Crowning their complete transition to organic winegrowing, Viñedos Veramonte in Chile has unveiled a fresh new look, featuring a design theme of a biodynamic cosmos, with color variations reflecting the different grape varieties intermixed with flora and fauna. All of Veramonte's estates follow organic practices, with the intention of producing wines that show typicity of the varietal and the region. he new labels are crafted from cotton not paper, reinforcing a
commitment to sustainability.
SRP: $10.99-$12.99
veramonte.com