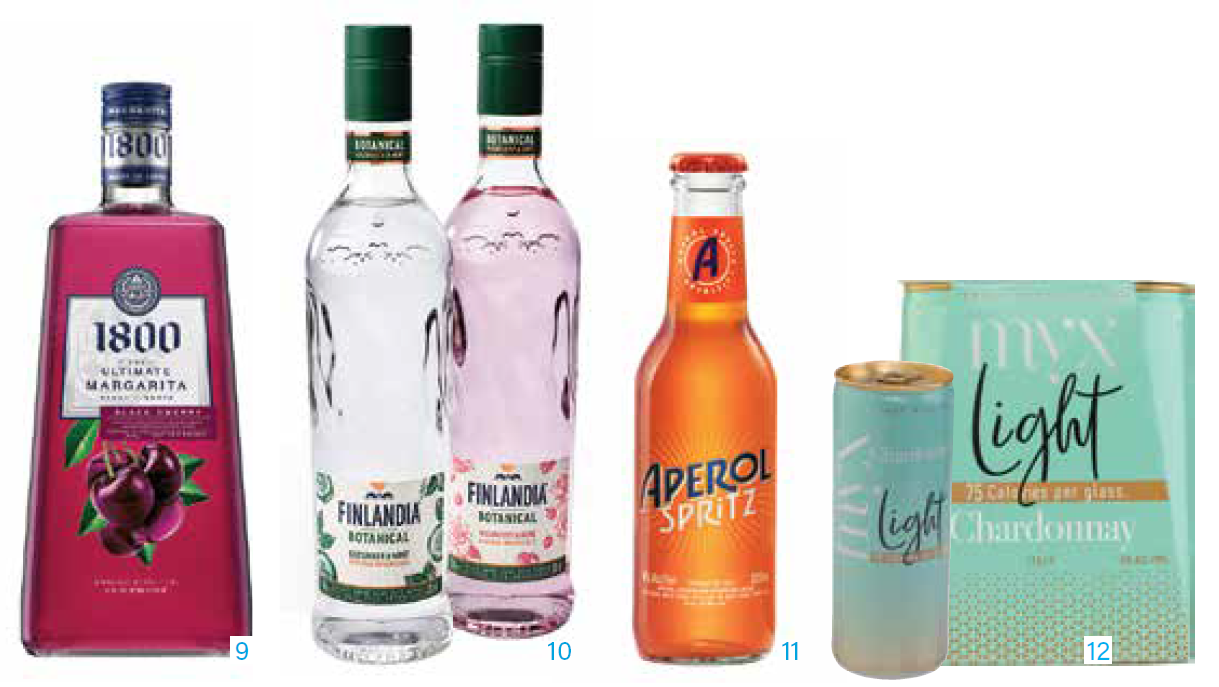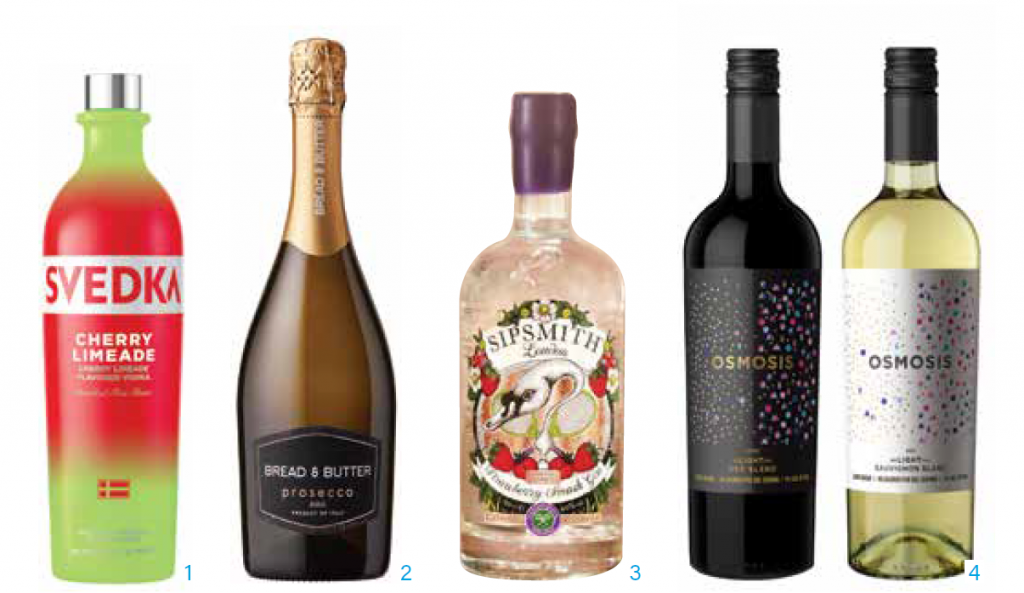 1. Svedka Cherry Limeade Vodka
Svedka Vodka is releasing its latest flavor, Cherry Limeade. A combination of cherry and limeade flavors with citrus, Svedka Cherry Limeade is the newest flavor from the imported vodka company. The flavor combination joins a portfolio that includes Blue Raspberry, Strawberry Lemonade, Mango Pineapple, and many others.
SRP: $14.99 per 750ml, $15.99 per 1L
svedka.com
2. Bread & Butter Prosecco
Bread & Butter Wines launched its first sparkling wine, the Bread & Butter Prosecco. Bread & Butter winemaker Linda Trotta worked with a 90-year-old, family owned winery in Fossalta di Piave near Venice, Italy, to craft this extra dry Prosecco.
SRP: $15.99
breadandbutterwines.com
3. Sipsmith Strawberry Smash
Sipsmith Strawberry Smash (40% ABV) is an LTO offering tied to the tennis championships at Wimbledon. It is distilled using Wimbledon strawberries from the 2020 harvest in Kent, England. As a result of the absence of the tournament last year, the strawberries were instead used to mark the partnership between Sipsmith and Wimbledon.
SRP: $29.99
sipsmith.com
4. Osmosis
Osmosis, a new brand created by Vino del Sol by co-winemaker Martina Galeano, is a low-alcohol, zero-sugar, low-calorie wine created with sustainably farmed grapes from Argentina. The brand launches with a Sauvignon Blanc. Galeano and Vino del Sol president and cofounder Matt Hedges use grapes from sustainably farmed, estate-grown vineyards in Alto Agrelo, Mendoza. A red blend will follow.
SRP: $14.99 per 750ml bottle
osmosiswines.com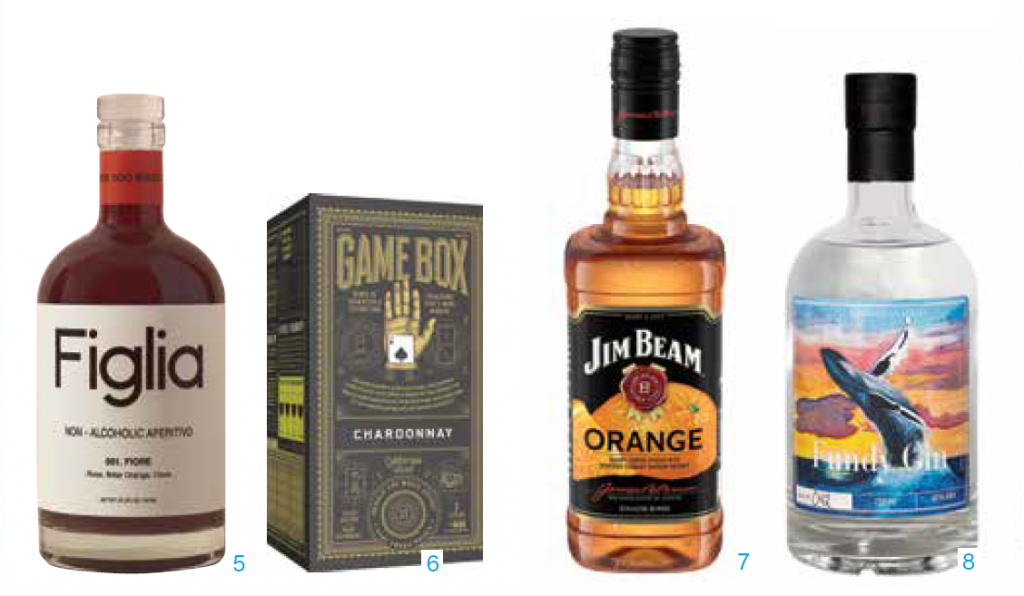 5. Fiore
Non-alcohol producer Figlia debuts Fiore, floral, bitter, and aromatic, with notes of rose, bitter orange, and clove. Fiore is made with all-natural botanicals and is vegan and gluten free with no added sugar, no preservatives, and no alcohol. Figlia Fiore's packaging is recyclable.
SRP: $43 per 750ml
drinkfiglia.com
6. Game Box Wines
O'Neill Vintners & Distillers launches Game Box Wines, a range of premium, vintage dated, California-appellation boxed wines made by Steven Decosta, who sources grapes from locations across California. The brand includes at introduction Chardonnay, Cabernet Sauvignon, Pinot Grigio and a Red Blend variety. The three-liter packaging reduces packaging waste and cost.
SRP: $25 per 3-liter box
gameboxwine.com
7. Jim Beam Orange
Jim Beam launched its latest flavored whiskey: Jim Beam Orange, combining orange flavor with Kentucky Straight Bourbon Whiskey to give a twist to summer cocktails such as a Jim Beam Orange Highball. It joins the established Jim Beam line of flavors: Peach, Apple, Vanilla, Fire (cinnamon and spice) and Red Stag (black cherry). 65 proof.
SRP: $15.99 per 750ml bottle
jimbeam.com
8. Fundy Gin
Fundy Gin, a western-style gin from Nova Scotia, has arrived. Double-distilled from corn, blended and proofed into am 80-proof vodka, the spirit is returned to the still with eight local botanicals including the required minimum 50 percent basket weight of juniper; in distilling, the gin passes over Bay of Fundy beach stone.
SRP: $49.99 per 750ml bottle
fundygin.com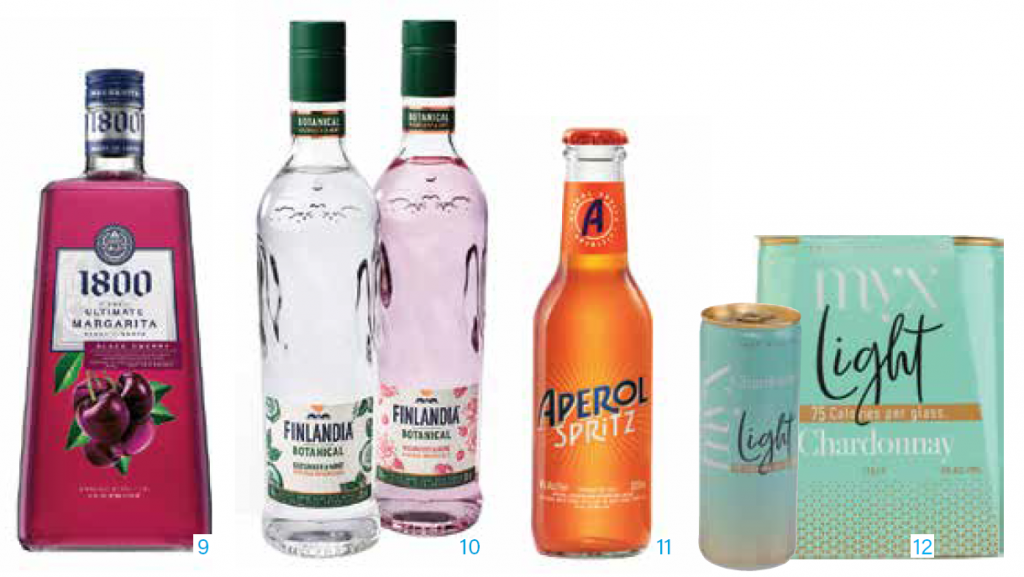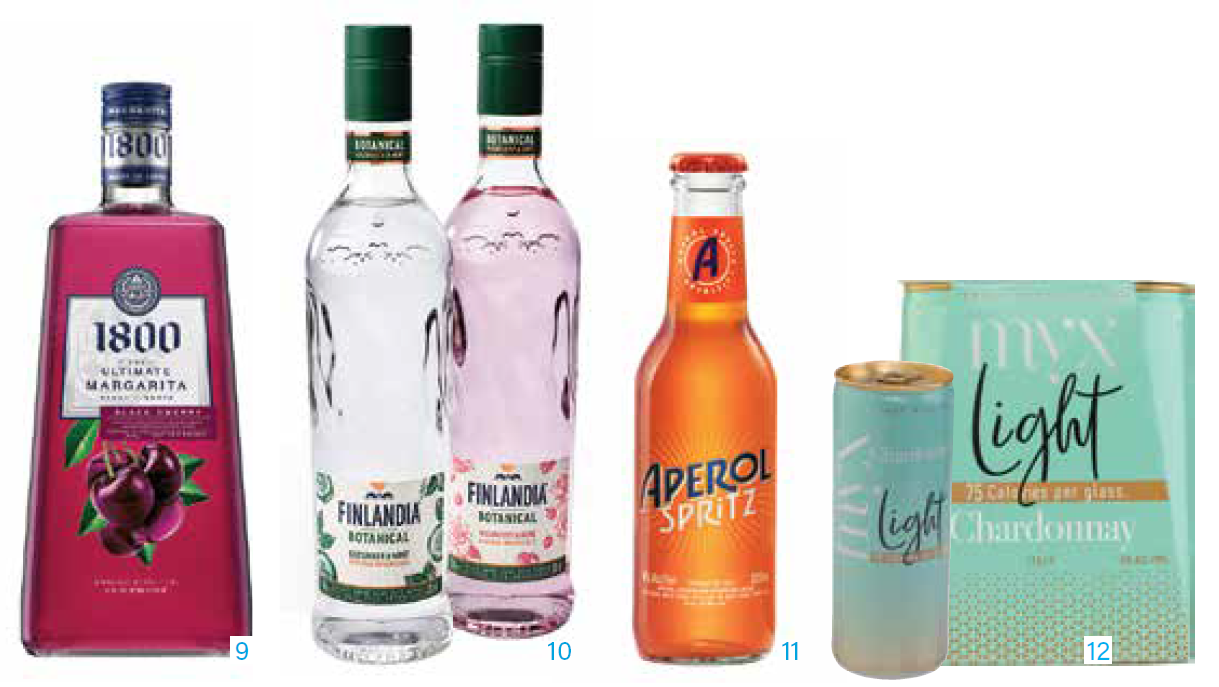 9. 1800 Tequila The Ultimate Margarita Black Cherry
1800 Tequila The Ultimate Margarita Black Cherry is the latest cocktail from 1800, created with tequila blended with the flavor of berries, plums, orchard fruit, orange peel, vanilla and lime. 1800 Tequila The Ultimate Margarita Black Cherry joins its range including Original, Pineapple, Peach, Watermelon, Jalapeno Lime and Raspberry.
SRP: $21.99 per 1.75L bottle
1800tequila.com
10. Finlandia Botanical
Finlandia Botanical is a new line of vodka based spirits from Finlandia. The two infusions, Cucumber & Mint and Wildberry & Rose, are bottled at 60 proof and contain no artificial flavors, added sugars, or artificial sweeteners. They are 73 calories per serving.
SRP: $15.99 per 750ml bottle
finlandia.com
11. Aperol Spritz
Italian aperitivo Aperol is launching a limited-release Aperol Spritz Ready to Enjoy cocktail. The Aperol Spritz Ready to Enjoy introduces a way to replicate the experience of a freshly made Aperol Spritz, one of the world's most popular cocktails. The Aperol Spritz Ready to Enjoy is 9% ABV.
SRP: $14.99 per 3-pack 200ml bottles
aperol.com
12. MYX Light Wine
MYX Beverage LLC has entered the low calorie wine category. Partnered with Royal Wine Corporation, the Niki Minaj-backed brand launched MYX Light Chardonnay and MYX Light Rosé with 125 calories and 13 grams total carbs per 250ml can and 5% ABV in four-packs of 250ml cans. The wines, imported from Italy, are kosher certified.
SRP: $12 per 4-packs of 250ml cans
myxfusions.com