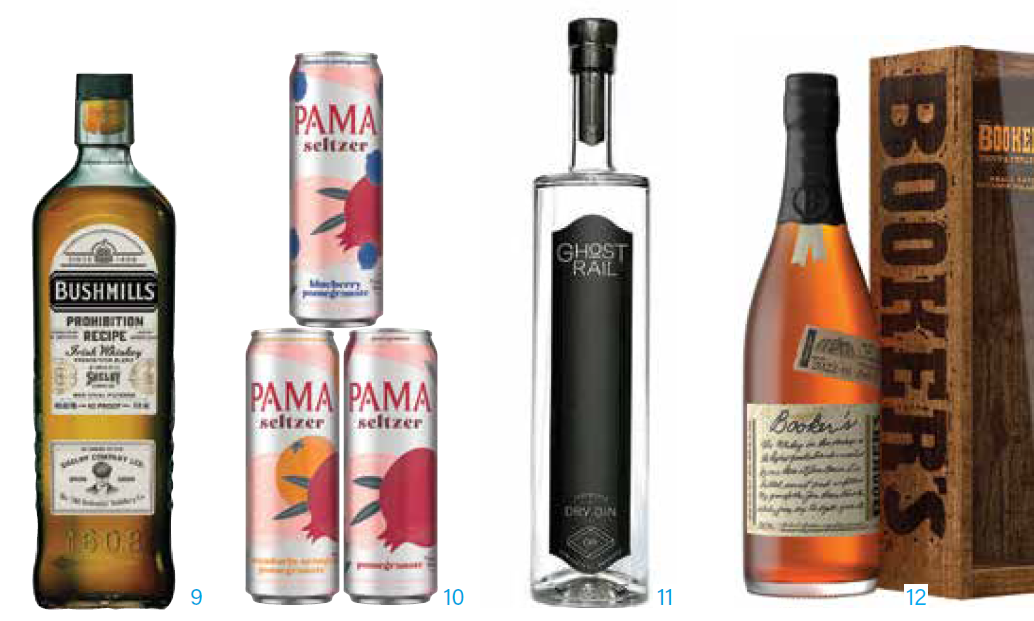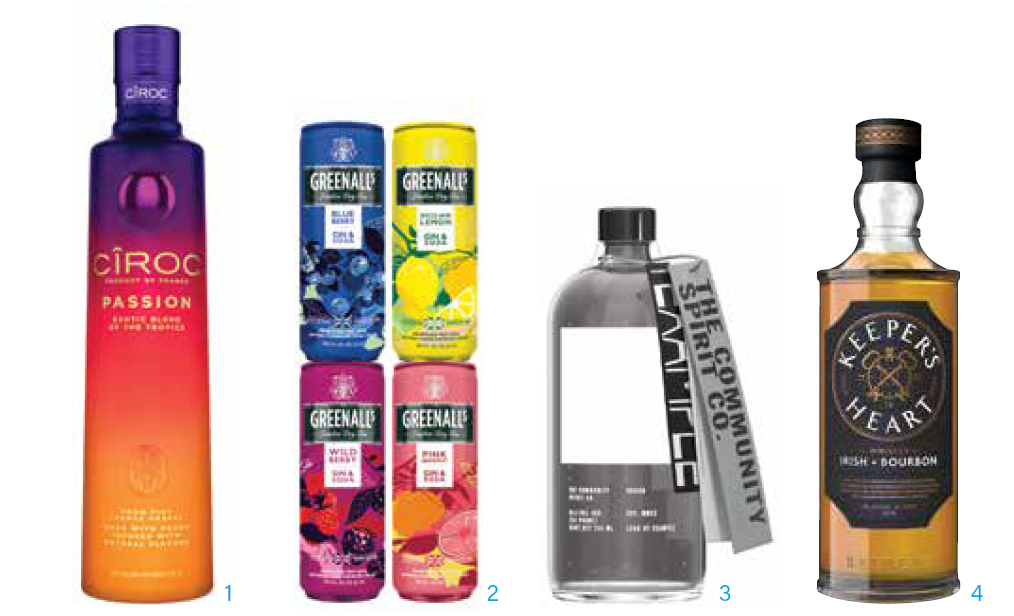 1. CÎROC Ultra-Premium Vodka
Tropical notes of pineapple, mango, citrus, and hibiscus mingle in love-inspired Passion, the latest flavor innovation from the French grape-distilled CÎROC. Sean "Diddy" Combs, working closely with the brand, led all aspects of CÎROC Passion's development, including the packaging, a purple and orange bottle emblazoned with gold lettering that calls to mind the sunset.
SRP: $29.99 per 750-ml bottle
ciroc.com
2. Greenall's Gin
For the first time ever, historic British brand Greenall's Gin has released ready-to-drink cocktails exclusively for the U.S market. The four spritzy gin and sodas—wild berry, blueberry, Sicilian lemon, and pink grapefruit—star a base of Greenall's Gin, spiked with botanicals such as Tuscan juniper and Moroccan coriander, and are packaged in fully recyclable cans.
SRP: $12.99 per four-pack of 355-ml cans
greenallsgin.com
3. The Community Spirit Co.
Developed by Mexico's Casa Lumbre innovation team, The Community Spirit Co. is committed to positive social change, directing its resources toward empowering communities. Its five times-distilled 100 percent American corn vodka is defined by notes of mellow corn, undertones of stone fruit, and a touch of coconut.
SRP: $29.99 per 750-ml bottle
thecommunityspirit.co
4. Keeper's Heart Irish + Bourbon
Irish whiskey and bourbon combine in the 92-proof Keeper's Heart Irish + Bourbon from the O'Shaughnessy Distilling Company. Master distiller Brian Nation and collaborator David Perkins balanced the sweetness of bourbon with the earthiness of single pot Irish still whiskey and the butterscotch richness of Irish grain whiskey, conjuring pecan pie aromatics and a peppery herbal and cocoa palate.
SRP: $44.99 per 750-ml bottle
keepersheartwhiskey.com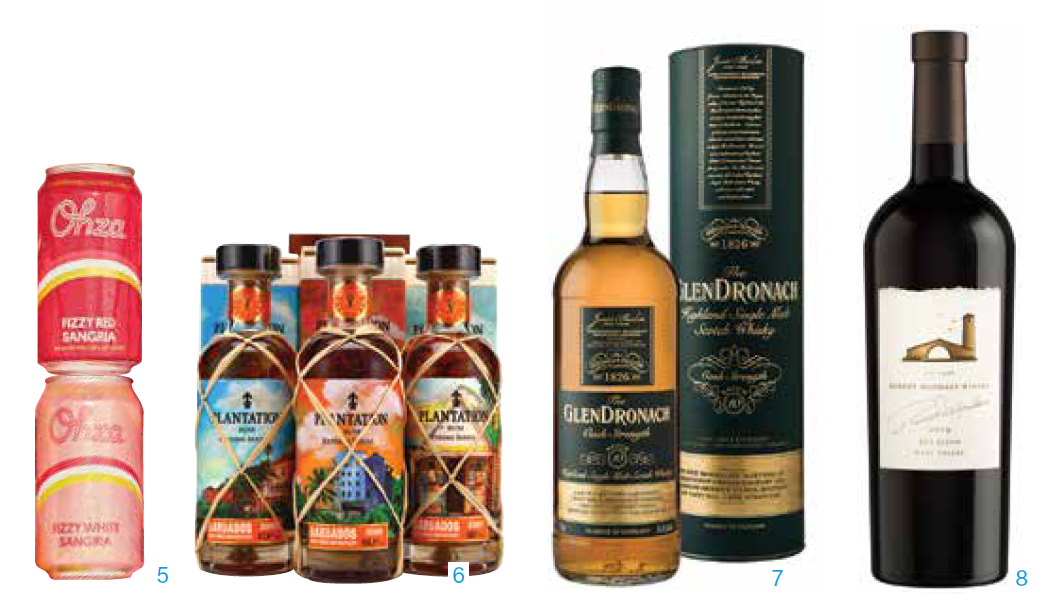 5. Ohza
Joining ready-to-drink brand Ohza's roster of canned Mimosas and Bellinis is Fizzy Sangria, the first product line from actor, musician, and Ohza investor Joe Jonas. A blend of 100 percent real juice and sparkling wine, the bubbly canned cocktail comes in red and white versions, both boasting 60 percent fewer calories and 80 percent less sugar than traditional Sangria recipes.
SRP: $9.99 per four-pack of 12-oz cans
ohzamimosas.com
6. Plantation Rum
Plantation Rum's fifth edition of the Extrême Collection centers on Barbados. The three limited-edition vintages—Barbados 2007 (SRP: $200), Barbados 2000 (SRP: $300), and Barbados 1986 ($1,500)—encapsulate the terroir of the Caribbean island, which has long rum roots stretching back to the 17th century. Local artist Alex Mars brings the bottles to life with his vivid label illustrations.
SRP: $200 to $1,500 per 750-ml bottle
plantationrum.com
7. The Glendronach
Rachel Barrie, The GlenDronach Distillery's master blender, melded Highland single malt Scotch whiskies matured in Pedro Ximénez and Oloroso sherry casks to create the 117.2-proof GlenDronach Cask Strength Batch 10. The full-bodied spirit unearths spiced fruitcake, dark cherry, and ginger jam.
SRP: $99.99 per 750-ml bottle
glendronachdistillery.com
8. Robert Mondavi Winery
Robert Mondavi's Napa Valley Red Blend 2019 showcases Bordeaux varieties from vineyards across Napa Valley. Comprising 74 percent Cabernet Sauvignon, 13 percent Cabernet Franc, nine percent Merlot, and four percent Petit Verdot, it was aged for 22 months in French oak barrels (74 percent of them new), eliciting blackberries, dried herbs, and dark chocolate.
SRP: $45 per 750-ml bottle
robertmondaviwinery.com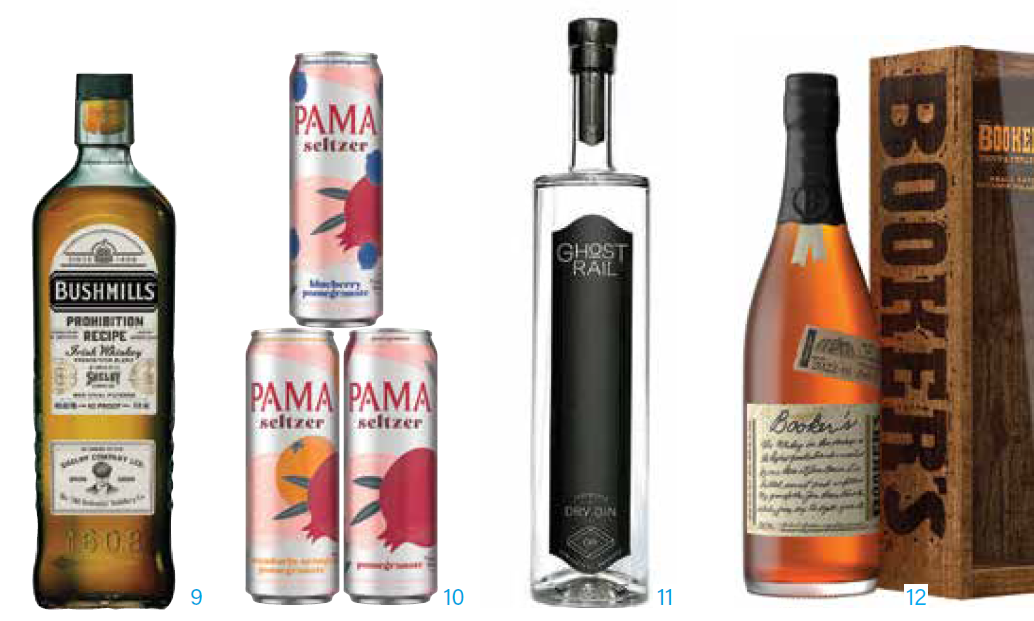 9. Bushmills Irish Whiskey
To commemorate the final season of Peaky Blinders on Netflix, Bushmills has partnered with Endemol Shine North America and Caryn Mandabach Productions on the limited-release Bushmills Prohibition Recipe Irish Whiskey. Evocative of the 1920s, the bottle is a recreation of a vintage prop that appeared in several episodes with a cork lid and blue-tinted glass. Inside, the 92-proof spirit, aged in former bourbon casks for three, four, and five years before blending, tastes of rye bread, orange marmalade, almond, and cinnamon.
SRP: $29.99 per 750-ml bottle
bushmills.com
10. PAMA Pomegranate Liqueur
PAMA Seltzer, PAMA's inaugural foray into the ready-to-drink market, is a versatile beverage ideal for summer gatherings made with real fruit juice and a vodka base accented with a hint of tequila, just like the liqueur. Available in pomegranate, blueberry-pomegranate, and mandarin orange-pomegranate, each 120-calorie can of effervescent PAMA Seltzer has a 4.5% ABV.
SRP: $12.99 per four-pack of 12-oz cans
pamaliqueur.com
11. Company Distilling
In its two Tennessee distilleries, Company Distilling produces straight bourbon whiskey finished with maple wood and now also Ghost Rail Tennessee Dry Gin. A lineup of six botanicals are infused through maceration, and then the gin is distilled on a small, open-fired Alembic still.
SRP: $39.99 per 750-ml bottle
companydistilling.com
12. Booker's Bourbon
The first release in the Booker's Bourbon 2022 collection is 2022-01, dubbed "Ronnie's Batch." Named for Ronnie Land, a trusted longtime Jim Beam warehouse manager who oversaw the inventory of aging barrels in the Booker Noe era, the 124.3-proof spirit has been aged just shy of seven years and exhibits vanilla and brown spice.
SRP: $89.99 per 750-ml bottle
bookersbourbon.com