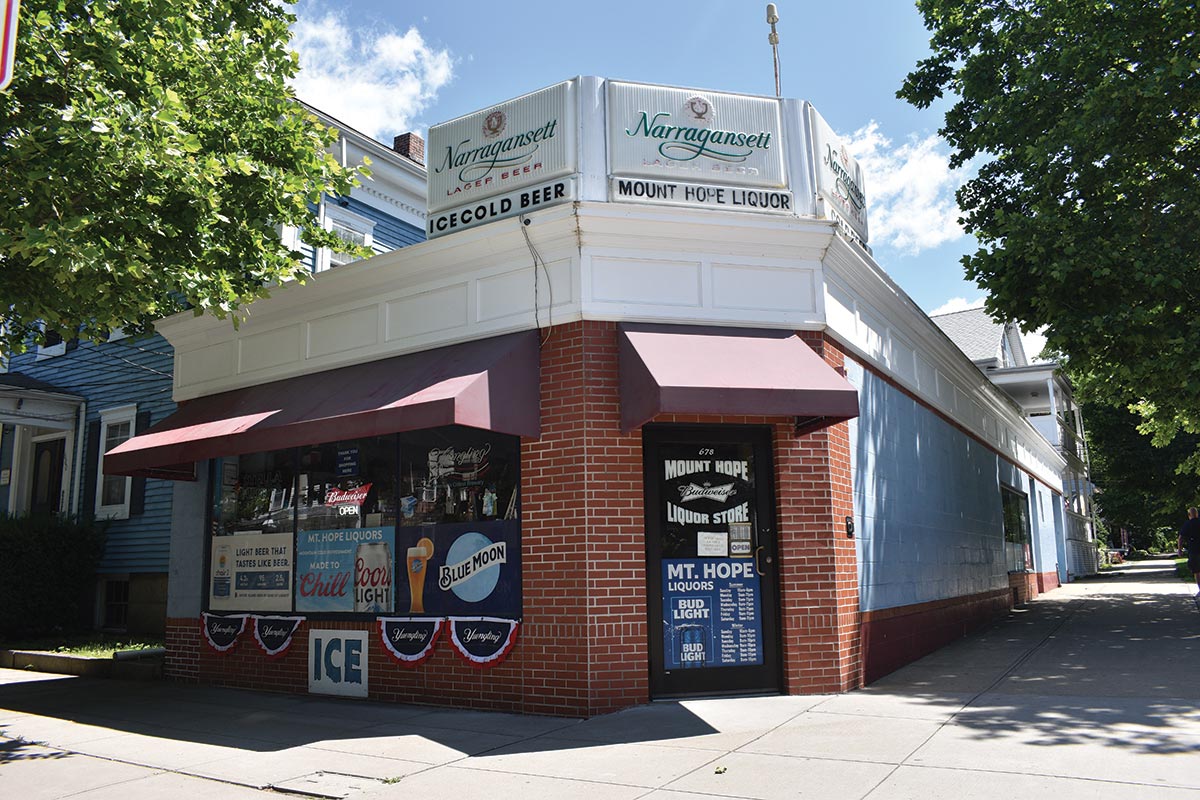 Mount Hope Liquor
678 Hope Street
Bristol, RI
Square footage: 1,100
Years in operation: 40
After celebrating its 40th anniversary in June, Mount Hope Liquor continues to offer a dependable selection of beer, wine and spirits to its neighborhood clientele in the town of Bristol. Often referred to as Narragansett Liquors by locals, the shop is a landmark of sorts because it is one of the few businesses still bearing the original Narragansett Beer sign from the 1950s.
According to current Owner José Teixeira, Mount Hope Liquor was originally housed in another storefront further down Hope Street, until its founder moved to its current spot at the corner of Hope and Franklin streets in 1957. Originally from the Azores, Teixeira had moved to this neighborhood in the beginning of the 1970s. He was working at the nearby Carol Cable factory in Warren when the opportunity to purchase Mount Hope Liquor arose.
His younger brother, Mario, worked at Mount Hope and was stocking shelves when, one day in 1982, the owner announced he was going to retire. With that news shared among the family members, the elder Teixeira decided he wanted to try a new venture and purchased the shop that same year.
And while Teixeira didn't have a retail background, he did have experience to draw upon from working in his father's tavern back in the Azores, in his hometown city of Lagoa on São Miguel Island. Being a business owner has always been an ideal career path for Teixeira. "I always wanted to be independent from having somebody else tell me what to do," he said. "Being independent works for [me]."
Teixeira continued to work days at Carol Cable during the store's early years while his wife, Delores, ran things throughout the day. After his factory shift, he would return to Mount Hope to work in the late afternoons and evenings. He retired from the factory in 1989 to dedicate himself to the shop full time.
In reflecting on the past 40 years, Teixeira mentioned the many shifts he's seen, from stricter liquor laws to changing tastes and the products sold. "The younger generation doesn't drink what the generation 40 years ago drank," Teixeira said. "Back then, it was just beer and wine; there weren't any of these seltzers and other [items], even the microbrews, that wasn't really the thing back then. Nowadays, it's seltzers, microbrews … now people want more expensive wines, but 40 years ago, that's not the way it was. They wanted to get more bang for their buck, more quantity but not quality."
Most of Mount Hope's customers are neighborhood regulars, but some shoppers passing through on their way from Providence to Newport stop in as well. He knows a lot of the neighborhood regulars by name and has earned the nickname Mr. T, originally given to him by some of the Roger Williams students, a nod both to his last name and the tough nature he shares with the namesake icon "A-Team" actor.
"Even though I'm friendly, dealing with the younger generation or the students, you have to still be firm … friendly, but firm at the same time," Teixeira said.
The shop employs a small staff of five employees, along with Teixeira's wife and son, who help out when needed. Teixeira said he plans to retire in the near future, although he's been putting it off because he loves his job.
"It's going to be a sad day the day I sell it," Teixeira said. "But I've had a good run. I've enjoyed it."