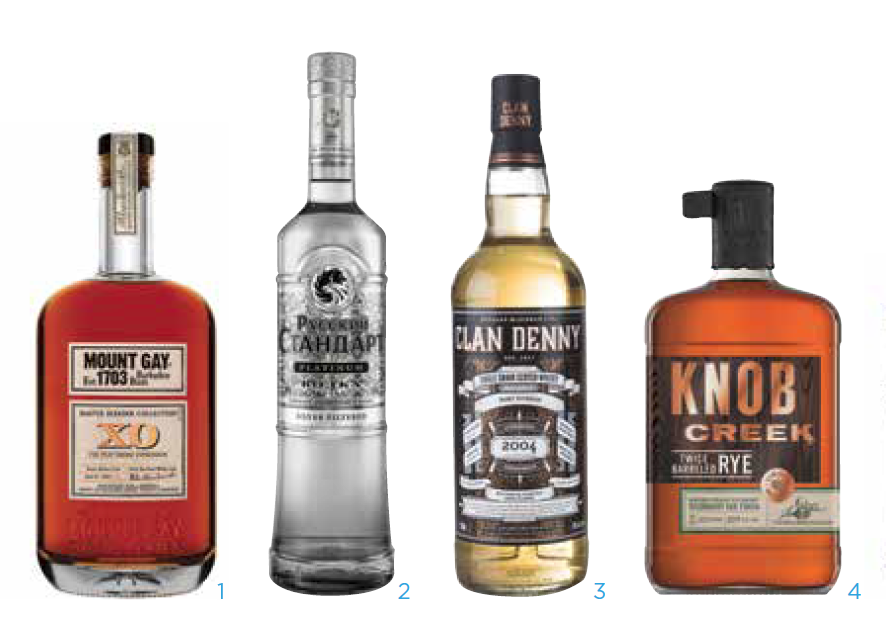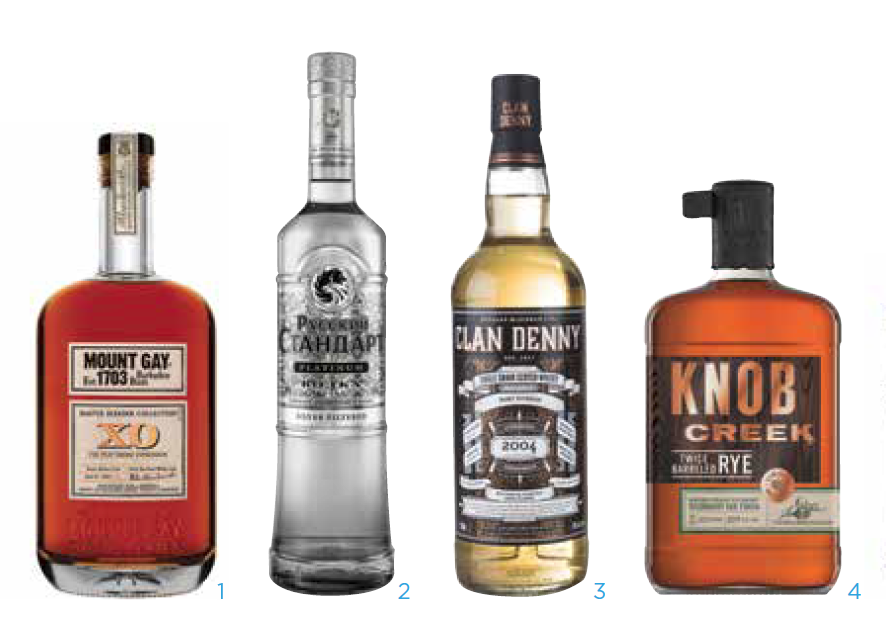 1. Mount Gay Rum XO 'The Peat Smoke Expression'
In Mount Gay Rum Distilleries' new XO The Peat Smoke Expression, the island of Barbados meets the island of Islay, marrying the banana aromas and toasted notes of Mount Gay XO with the salty and smoky notes from peated whisky casks. Mount Gay Master Blender Allen Smith selected column and pot still rums that had matured for 8 to 15 years in American oak, then finished the blend in Islay whisky casks for six months. Cask strength: 114 proof.
SRP: $250
2. Russian Standard 'Platinum'
Russian Standard Vodka has relaunched its premium brand, Russian Standard Platinum, with a refreshed bottle and improved taste profile, thanks to technologies such as special rectification and unique silver filtration, fol-lowed by extended resting. The new package features smoky glass, metallic silkscreen and decorative monograms. As with Russian Standard Vodka, the Platinum expression uses winter wheat from the Russian Steppes and water of glacial origin. 80 proof.
SRP: $24.99
3. Clan Denny Single-Cask Scotch
Douglas McGibbon's has named Worldwide Libations as its exclusive USA importer for Clan Denny and has given the brand both a fresh look and a renewed focus on aged Single Cask expressions from distilleries all over Scotland, bottled at 92 proof. The initial Worldwide Libations shipment includes 10 Year Olds from Islay's Bunnahabhain, Speyside's Craigellachie and Highland's Fettercairn in addition to a 14 Year Old Single Grain from the now closed Port Dundas.
SRP: $54.99
4. Knob Creek Twice Barreled Rye
The trend of strategic refinishing for whiskey continues apace. Here, Knob Creek Twice Barreled Rye is secondarily finished in new, level 4 charred oak barrels. The expression presents the signature rich and savory notes of straight rye whiskey mingled with the robust oak and a touch of sweetness from the double barreling process. Finishes with lingering oak and spice; recommended neat, over ice or in an Old Fashioned. 100 proof.
SRP: $44.99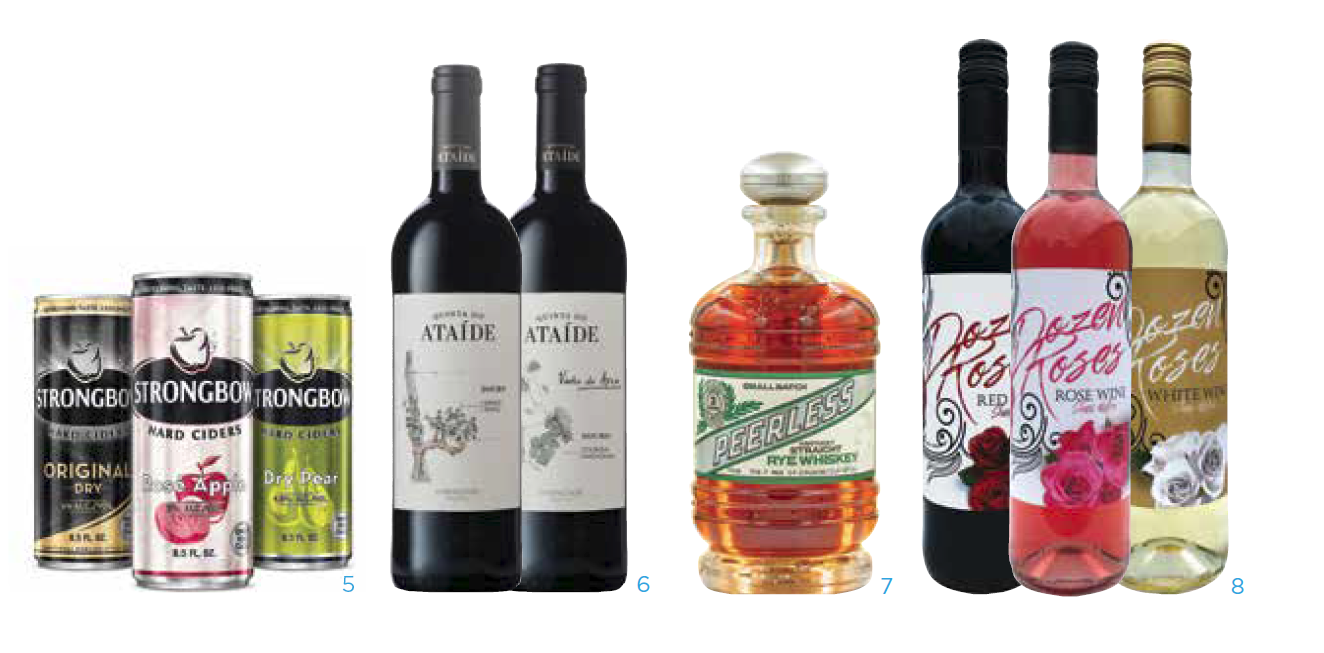 5. Strongbow Hard Ciders '100 Cal Slim Cans'
Just as New Year's dieting resolutions kick in, Strongbow Hard Ciders will debut "100 Cal Slim Cans," a 12-can variety pack with three 8.5oz easy-to-drink flavors containing 100 calories each. The variety pack contains Strongbow's newest flavor, Dry Pear, a mildly sweet pear-apple cider with a light, dry finish, along with the highly-rated Rosé Apple and the recently relaunched fan favorite Original Dry. All Strongbow products contain no artificial flavors or colors.
strongbow.com | heinekenusa.com
6. Quinta Do Ataide Douro Table Wines
The latest table wine from the Symington Family, Quinta do Ataide, showcases the Vilarica Valley and the historic Ataide estate which is unusually flat for the Douro. All 200 acres have been organically farmed since 2007. Quinta do Ataide 2015 DOC Douro Red is a blend of the traditional Portuguese grapes, aged 8 months in French oak. The 2015 Vinha do Arco bottling is 100% Touriga Nacional grapes and spent 10 months in French oak barrels.
SRP: $22.99 | Vinha do Arco $34.99
7. Kentucky Peerless 3-Year-Old Rye
Kentucky Peerless Distilling Co. has released their 3-year-old Kentucky Straight Rye Whiskey, which placed fourth in Fred Minnick's Best American Whiskey Rankings for 2018. The 3-year-old follows the successful re-introduction of their Straight Rye Whiskey in 2017. All under one roof, Kentucky Peerless grains are milled, cooked, fermented, double-distilled and barreled as bourbon and rye; Peerless spirits are crafted never chill filtered and bottled at barrel proof.
SRP: $125
8. Dozen Roses Wine
Dozen Roses wines offer three crowdpleasing semi-dulce wines with timeless label appeal as well. Produced in La Mancha, Spain, known for consistency across vintages, from Sauvignon Blanc (for the white) and Tempranillo (for the rosé and red). All three feature a delicate sweetness, making the wines smooth, balanced and easy to drink. Colorful cartons and case cards make Dozen Roses an even stronger impulse buy; great for romantic appeal, but also for all sorts of celebration.
SRP: $12.99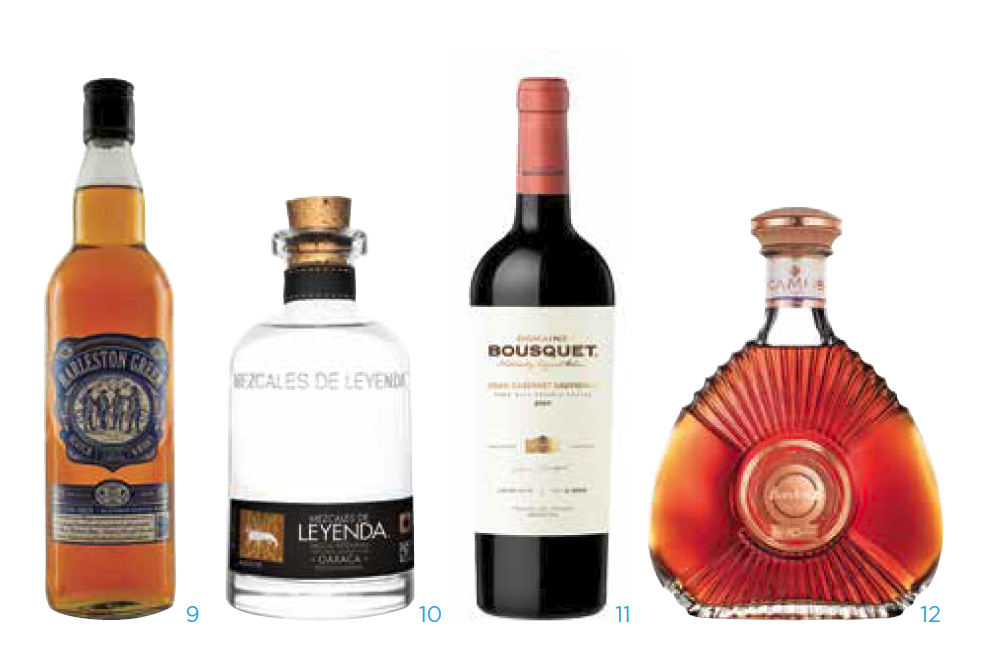 9. Harleston Green Blended Scotch
Following the success of Wódka Vodka, Edgewater Spirits has released a Scotch: Harleston Green. This blended Scotch whisky commemorates the moment in 1786 when a group of Scottish merchants gathered with some sticks and balls at Harleston Green, America's first golf club, and introduced America to one of Scotland's two greatest exports. Harleston Green was blended using select single malts aged between 4-5 years, predominantly from The Highlands and Speyside. Available in 16 states.
SRP: $24.99
10. Leyenda 'Cuixe' Oaxacan Mezcal
Mezcales de Leyenda's new limited-edition mezcal showcases a sub-variety from the Karwinskii agave plant called "Cuixe," known for growing more vertically than typical agave plants and taking 12-15 years to mature. Harvesting Cuixe agave is extremely difficult and only happens for three months out of the year. It yields a smooth mezcal with notes of honey, apple, pine and clove, and joins the Leyenda line of distinct mescals from varied agaves and origins. 92 proof.
SRP: $109.99
11. Domaine Bousquet 'Gran' Cabernet Sauvignon
Leading Argentine producer Domaine Bousquet is adding a Cabernet Sauvignon to their top-tier varietal line, which has also been renamed. The former "Grande Reserve" label will now be known by the easy-to-remember "Gran" moniker and feature Domaine Bousquet's best grapes from the "home" vineyard, originally planted in the late 1990s. The new Gran Cabernet Sauvignon 2017 consists of 100% organically-grown Cabernet Sauvignon.
SRP: $25
12. Camus XO Borderies Family Reserve Cognac
Handcrafted from grape to bottle, Camus XO Borderies Family Reserve is a single-estate Cognac produced from the Camus family's private vineyard in the Borderies cru. At only 5% of the Cognac appellation, the Borderies cru is the smallest and most exclusive. Unlike most producers, Camus uses small pot stills and distills on the lees in order to extract maximum flavor. The new Family Reserve is 80 proof and, in line with the new XO classification, is at least 10 years old.
SRP: $199