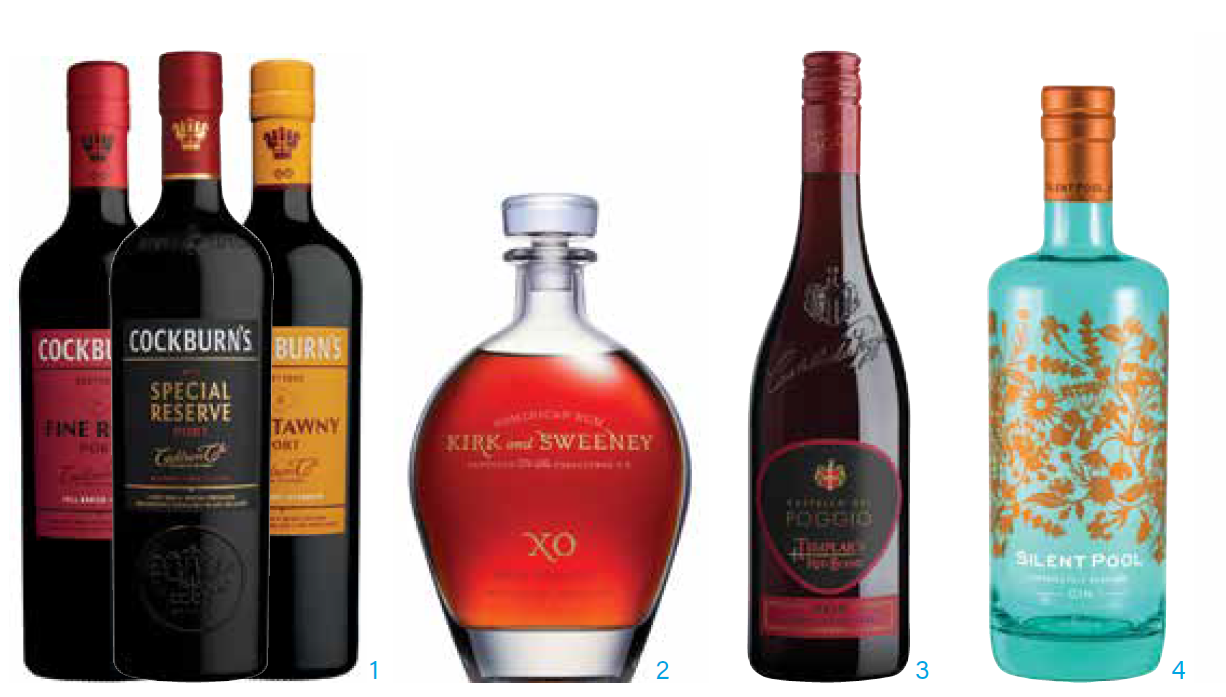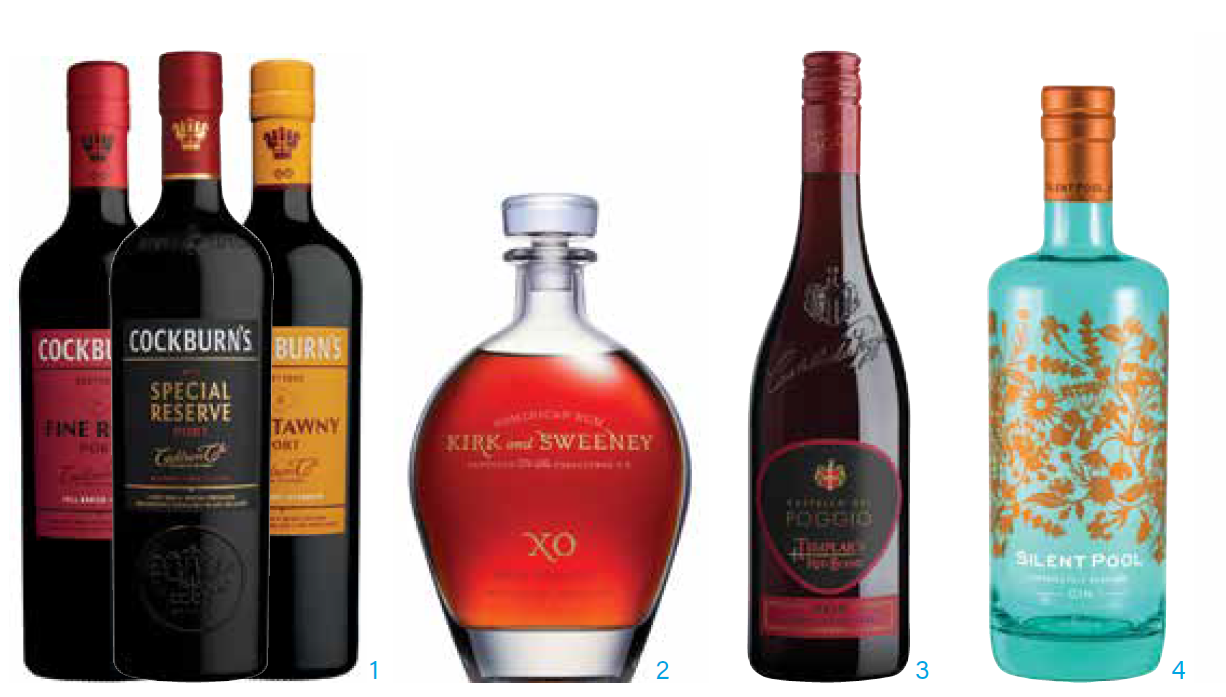 1. Cockburn's Port
Acquired by Symington Family Estates in 2010, Cockburn's Port is is rolling out bold new designs for their Special Reserve, Fine Tawny and Fine Ruby Port expressions. The revamp abandons the traditional curved bottle for a tall, sleek one. The wordmark and signature fonts have been updated, and a bolder color scheme pops off the shelf. Special Reserve incorporates an embossed logo; the Tawny and Ruby labels include the cellar masters' cask mark and a style description.
SRP: Special Reserve $19.99; Tawny & Ruby $14.99
cockburns.com
2. Kirk and Sweeney XO Rum
New from 3 Badge Beverage, Kirk and Sweeney XO Rum, handcrafted in Santiago de los Caballeros in the Dominican Republic. Starting with hand-harvested sugarcane made into pure blackstrap molasses, the rum is aged in American oak before being bottled at cask strength, adhering to the very strict regulations that allow it to be labeled Dominican Rum. Layers of dried fruits and oak in the nose lead into oak and vanilla with hints of raisin and spice. 131 proof.
SRP: $229
3badge.com
3. Castello Del Poggio 'Templar's Blend'
Castello del Poggio, an 1821 Fine Wine & Spirits brand, has released a new Templar's Blend. Based on Italian local varietals, the dry red has aromas of blackberries, plums and vanilla leading into ample fruity flavors with subtle tannins and a persistent finish; French and American oak enhance roundness and structure. The name is a nod to the Knight Templars who once protected the medieval fortress which controlled the winery property from the 11th century.
SRP: $12.99
1821fws.com
4. Silent Pool Gin
At the Duke of Northumberland's Albury estate, on the banks of a legendary Silent Pool, a group of old English farm buildings are now a sustainable gin operation. Some of the botanicals (juniper, licorice, cassia bark, orris, bergamot) are bruised and macerated in base spirit before being transferred to the still; others (citrus peel, et al) are basket-infused; still more (rose petals, kaffir lime leaves, elderflower) are macerated separately. The resulting spirit is bright and floral with depth and complexity.
SRP: $45
silentpooldistillers.com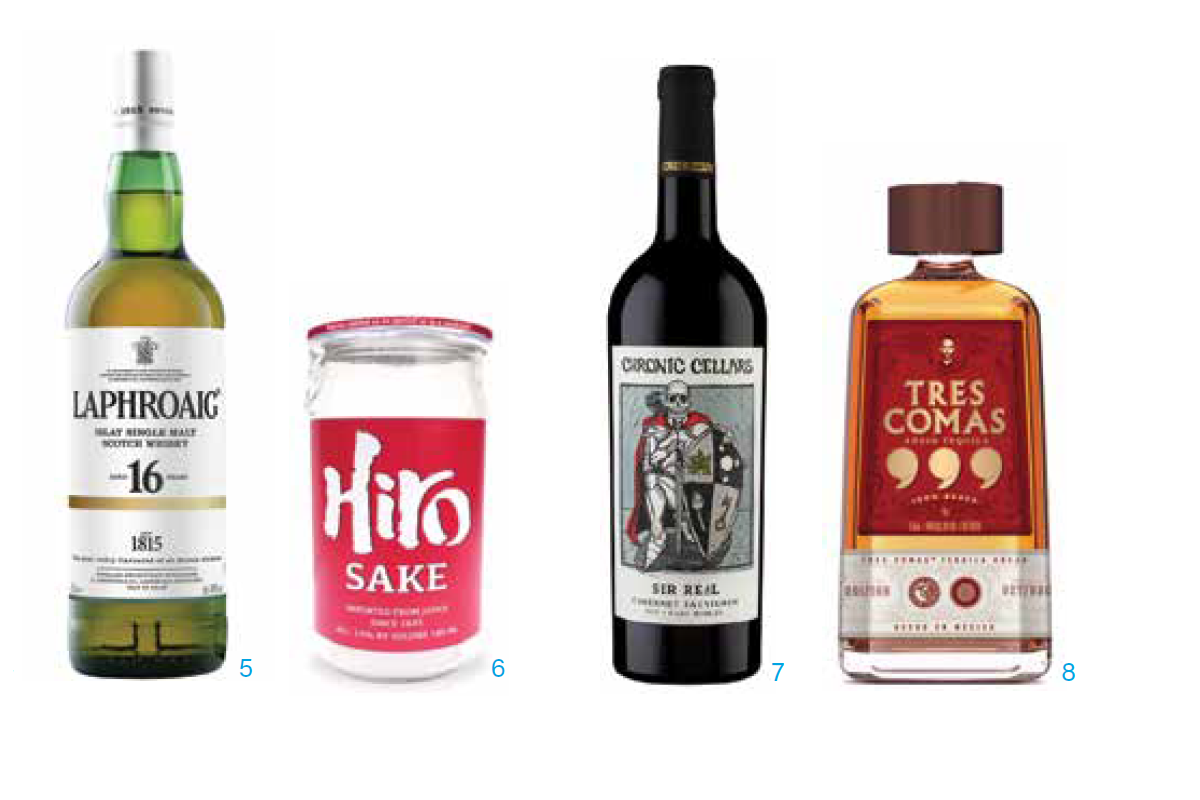 5. Laphroaig 16 Year Old Single Malt Scotch
Laphroaig, a Scotch distiller known for full-throttle peaty style of single malt whisky, has a new age statement bottling: Laphroaig 16 Year Old. Dark copper in color, this single malt has aromas of leather, oak, maple and a touch of black pepper. The palate is sweet with treacle, caramel, honey and thyme, as well as wood smoke and lots of floral notes. It finishes long and smoky, with a salted seaweed note.
SRP: $89.99
laphroaig.com
6. Hiro Sake Cups
Hiro Sake, a premium sake from Japan, has launched a single-serve glass cup sake (180ml, 15% ABV). Hiro Sake cups debuted in Southern Florida at on-premise accounts initially, followed by the off-premise market and national distribution in 2020. Now in 20 markets, Hiro Sake was introduced in 2011 to the U.S., in 720ml and 300ml bottles, with Hiro Blue, a junmai ginjo sake; and Hiro Red, a junmai sake, which is now also in the "cup."
SRP: $6.49/cup
hirosake.com
7. Chronic Cellars 2017 'Sir Real' Cabernet Sauvignon
Leveraging their experience in the region, Chronic Cellars has released a Paso Robles Cabernet Sauvignon, dubbed "Sir Real." Sourced from the Paso Robles AVA, the wine contains 94% Cabernet Sauvignon and 6% Petite Sirah. It aims to boldly express the character of the region, displaying layers of black cherry, mocha and fresh savory notes and a core of dark fruit and harmonious tannins.
SRP: $15
wxbrands.com
8. Tres Comas Añejo Tequila
Celebrity tequila continues. Tres Comas Añejo Tequila was created "in collaboration with HBO and Silicon Valley," by entrepreneur Russ Hanneman with the tongue-in-cheek(?) goal of adding a third comma to the founder's bank account. Tres Comas is made from 100% Blue Weber Agave and is aged in American oak barrels for over a year; enjoy neat, on the rocks, or in the signature "Billionaire's Margarita"—which is a regular Margarita, but made with Tres Comas.
SRP: $44.99
diageo.com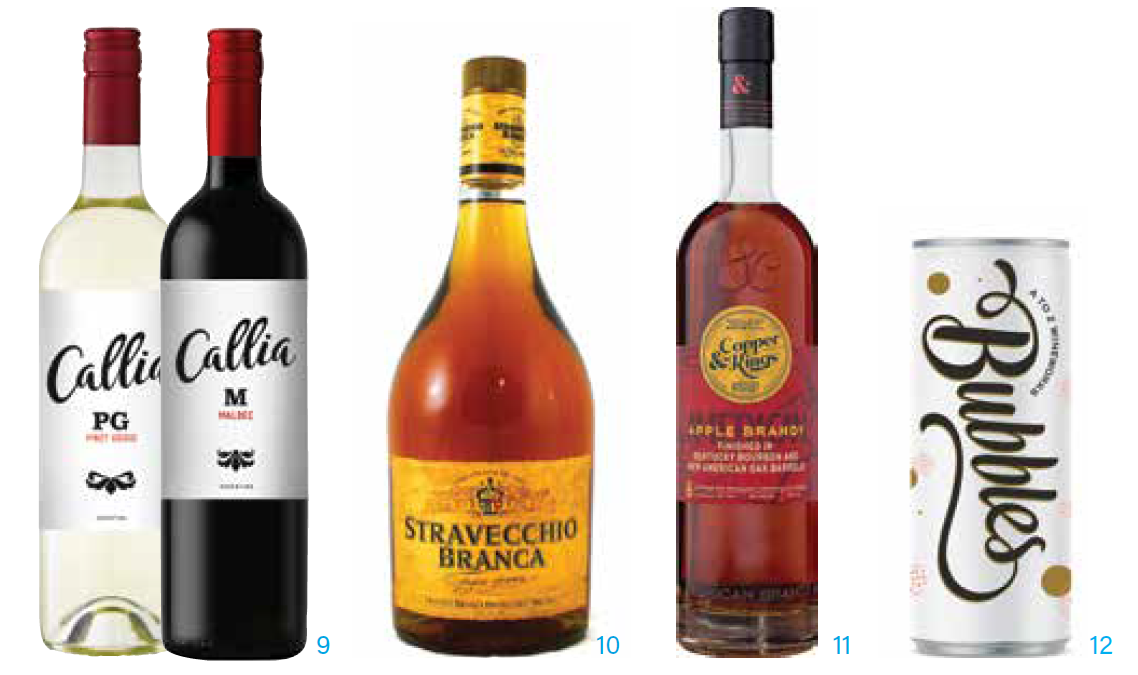 9. Callia Argentine Wines
Taub Family Selections and Bodegas Callia have refreshed the packaging for Callia Wines of Argentina. The range includes a Malbec, Cabernet Sauvignon, Pinot Grigio and Torrontés, each crafted to showcase ripe fruit in a food-friendly, easy-drinking style. The new design imparts a modern feel with the grape variety prominently featured at the center of each label. The new back labels will also feature updated messaging in both English and Spanish.
SRP: $8.99
taubfamilyselections.com
10. Stravecchio Branca
Branca USA is introducing an Italian brandy, Stravecchio Branca, to the U.S., marking the first release from Fratelli Branca's new NYC-based import company. Stravecchio Branca, the #1 on-premise brandy in Italy, was first distilled in 1888, joining Fernet-Branca (originally created in 1845) as the second entry in the portfolio. Today, Stravecchio (pronounced Stra-Vech-Key-O, meaning extra old) is produced with techniques passed down through five generations. 80 proof.
SRP: $39.99/1L
brancausa.com
11. Copper & Kings American Craft Apple Brandy
Louisville-based Copper & Kings has extended its apple brandy line-up with a new iteration, distilled exclusively from apple wine fermented from fresh-pressed juice in copper pot stills and aged in used bourbon and new American white oak barrels. Non-chill filtered for added body, the brandy is unadulterated with boisé (oak flavor) and has no added flavors or essences. 92 proof.
SRP: $35
copperandkings.com
12. A TO Z Rosé Bubbles In Cans
A to Z's Rosé Bubbles debuted in a crown-capped glass bottle in 2017 and is already one of the top three selling sparkling wines produced in Oregon. The brand is now adding a convenient, portable, canned format amid reports of overall canned wine sales up 69% and Oregon wines growing at 18%. Canned wines from the Northwest have more than doubled sales in the past year; A to Z has opted for the 250ml size, for optimal chilling.
SRP: $20/four-pack of 250ml cans
atozwineworks.com