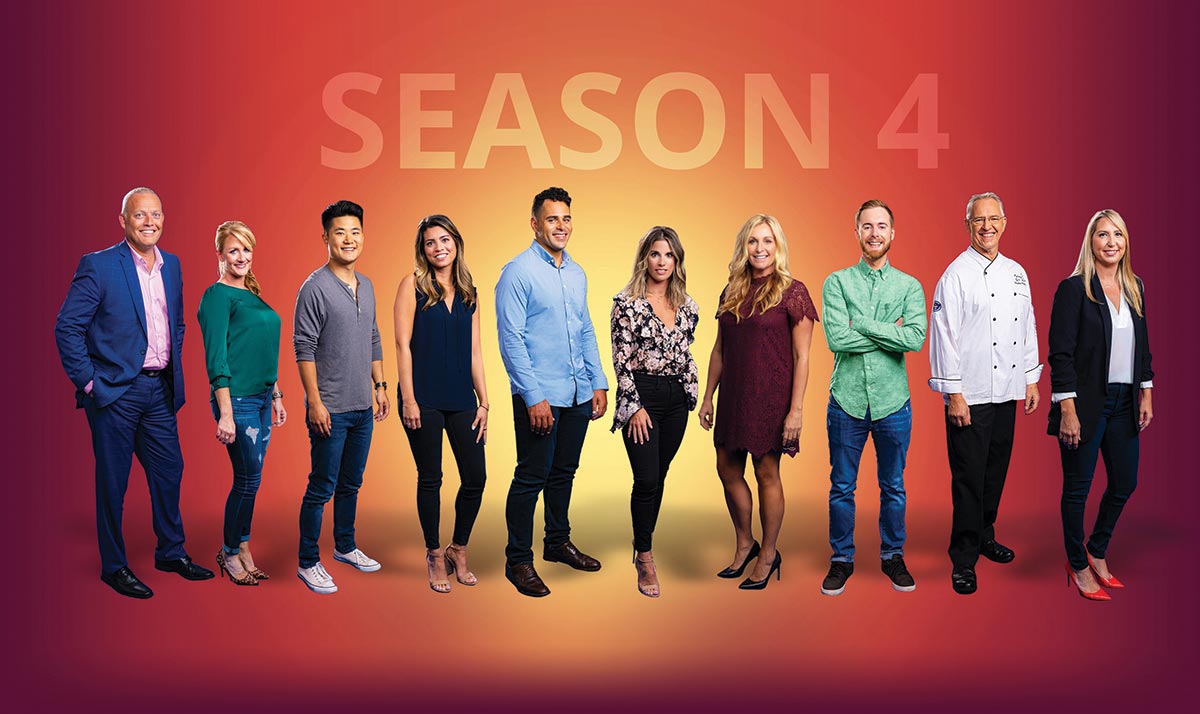 Back-of-house realities showcase team efforts
Lynn Mansel, Executive Pastry Chef and Director of Culinary at Mohegan Sun, has worked at the casino since it opened in 1996. In addition to leading his team of 30, Mansel is also known for designing a cake that was named the largest wedding cake in the world by the "Guinness Book of World Records" in 2004. Mansel, along with other Mohegan Sun employees, is featured in the casino's reality show series, "Back of House," filmed by production studio Primal NY.
One of the largest tourist destinations in the Northeast, each episode is an opportunity to show the inner workings of Mohegan Sun to outsiders. Mohegan Gaming & Entertainment (MGE) offered up its fourth season of the digital TV series, found online at backofhouse.tv, which won four awards at the 25th Annual Communicator Awards.
Of participating in the series, Mansel said, "It's all fun, it's all good, it promotes Mohegan Sun; it doesn't just promote Mohegan Sun, it promotes the team – that's what it's all about. We're part of this establishment, we are a family." Season four showcases Mohegan Sun's holiday festivities leading up to 2020, as well as the steps taken by leadership and team members to safely reopen and operate one of the largest integrated entertainment resorts in the United States following its three-month closure due to COVID-19.
The Beverage Journal: Tell us a little about the "Back of House" experience.
Lynn Mansel: "Back of House" is really a good [platform] to show us off on what we do every day. The place is massive. It's big so it shows [viewers] how we maneuver in the background. The [actual] back of the house is about a mile long. We have two pastry shops and they're about three-quarters of a mile apart. We maneuver between each one because you have Earth Casino, Sky Casino, the hotel, the 1,200-room hotel, the 400-room hotel and the arena, so it's pretty massive. It shows us as a team, what do we all do here. It's pretty neat.
TBJ: What's it like having your staff on the show?
LM: Let's put it this way: The first two years they kept profiling me all the time, about me, what do I do and I said, "Look, it's not about me, it's about my team as well." So, the third [season] I asked them if we could do a competition. I said, "I'll do an internal competition on my team competing against themselves, creating a cake or something that we do every day." We get orders every day on the fly, "Hey, I need a birthday cake," high roller special event, wedding cakes, anniversaries, we do them all. But to get the staff to do these things, I wanted to show off each one of them, how talented my team members really were.
You create a team. Basically, I'm more of the conductor, you could say. I go in, the orchestra's there, I tell each one what I need and each one does it and I pull them together and we create something. It's pretty easy when you have that control. Or if you have enough experience to be able to handle that. And they might panic, but it's to tell them not to panic and to give them a little piece of each one and to bring them together to create something that's a masterpiece. And they don't realize what they're doing sometimes until it comes together and that's what it's all about.
TBJ: Has it led to recruiting?
LM: Yes. My problem is my staff won't leave. I've had staff here a long time; they're just comfortable. The environment can be stressful, but it's how we create that stress, how we manage the stress, and if they know that somebody will help them and they manage it, it's not so bad. I say, "When you leave this place, forget about us. Really forget about what you do here. Enjoy your family, enjoy your home because the job is always here for you. You're here for a reason. I've got something to do, I picked you, you do a great job, that's what it's all about. Never be afraid of your job." That's the key thing to having a good team. They make me look good, remember. I try to make them look good but they make me look good too. That's what it's all about: working together.
TBJ: One episode of "Back of House" shows what goes into the construction of Mohegan Sun's gingerbread house. Each creation has been a seasonal attraction since 2005. Consisting of 10,000 cookie bricks and 5,000 cookie shingles, the 28-foot-high edible structure is a sight to see in the middle of the shopping area, with 10-foot-tall soldiers at the doors, stockings and a mailbox for Santa. How does the team manage such a build?
LM: Because of COVID-19, with it having food and people touching it all the time, it was going to be an issue this year. We thought we'd skip it this year and wait till next year and really go nuts on it. Right after Thanksgiving till four days after Christmas, I replace cookies all the time … I'd say my staff and I replace between 50 to 100 bricks and 20 to 40 shingles per day because people have taken them, eaten them or written on them.
TBJ: What was it like closing down a venue as huge as Mohegan Sun?
LM: When we first closed, we all thought we were going to close for a few weeks. Nobody knew how intense this was, even though we all knew it was spreading everywhere. What happens is the elements of food that were here, we had to make sure it was going to people in need. We decided to package things up and make sure that these items, perishables, food, milk, everything was gone. When we actually realized we were closing down, we had to get everything as inventory out or put things in the freezers. Nobody knew how long we would be out for.
I cooked breakfast for L+M [Lawrence + Memorial Hospital in New London], Backus Hospital, fire departments, police. Instead of us throwing it away, we were cooking it and giving it to them during those weeks. And now we're back but we're not back 100%. We're operating in a way that is building up to where we need to be. We're always watching and being safe. [In the kitchens] we're working six feet apart, we all have masks on all the time, we're checking temperatures as we all walk in, they check us all the time.
TBJ: What was it like starting up again after the shutdown?
LM: Nuts. You know what the biggest thing was? Walking into a building this size … the way it was on March 5, this place was a zoo; you had so many people here. You had over 8,000 people working here. When I walked out March 17, it was quiet, lights were on and nobody was here, and when I came back, it just felt like me just walking half a mile into a building without seeing anyone in here. It was strange, walking in the kitchen … I walked in at 9:00 a.m. that day and we had a quick little get-together but in a safe, open area.
We talked about what we were going to do and we started going through everything. Everything had been emptied out. It was just a few things here and there. We started opening up and looking at what we needed to do, but first [we] had to find out what was opening to know what we needed and rebuild. It was only me for the first week; all I did was cook things and donate things and empty things out.
We built [inventory] up slowly, then I brought in some of my managers two weeks later and we started growing and doing a little bit more, a little bit more and we're still not fully staffed because we're only at 3,200 employees in the building right now. That's it; we're not a lot, but nobody sees it in the front. Tuscany's open, Bobby's Burgers opened, a coffee shop, Bean and Vine, Sachem Lounge is open now, so our high rollers can go in and eat. But everything is different.
TBJ: How has the pandemic changed service for guests and your team?
LM: When we cook now, we have to cool it slightly and then package [each meal] individually. When the guest gets it, it's his own package and we make sure they pick it up. Once you touch it, it's yours; you can't put it back. Everything is prepackaged, so everybody knows if it's in the lounge area, it's all fresh. It's more labor for us, but it's [safer] for the guests and for how we handle things as well.
A lot of things have changed. We have to think about what the guests are thinking as well. They have to wear their masks, we have our masks on all the time, there's one [direction] of walking around. The room setup is done differently; there's no housekeeping while guests are staying.
Room service now brings the table and food up and leaves [the order] outside. The room service business has totally changed. There are more people eating in their room now than ever. It's tripled. Our Monday night has become the new Saturday night. It's packed Monday nights; don't ask me why, it's just busy. If we had an arena event, yes, we'd be busy on the weekends, busy midweek. But there's no arena events. We're still pretty busy.
TBJ: Gov. Ned Lamont rolled the state back to Phase 2.1. How have you adapted?
LM: We've done everything to try to be in code and to work with the governor as well. We don't really have any banquets right now. We've had some events. But at a table that usually seats 10 people, there's only four sitting there, that's it. You're spread out over a 10-foot table and that table is distanced from other tables. We're only having really high events; there's nobody really coming for any banquet events. Nobody's traveling [right now]. I feel safe here; I think [management has] done a good job.
The fourth season of "Back of House" featured five all-new weekly episodes on backofhouse.tv and aired Oct. 14 through Nov. 18, 2020.