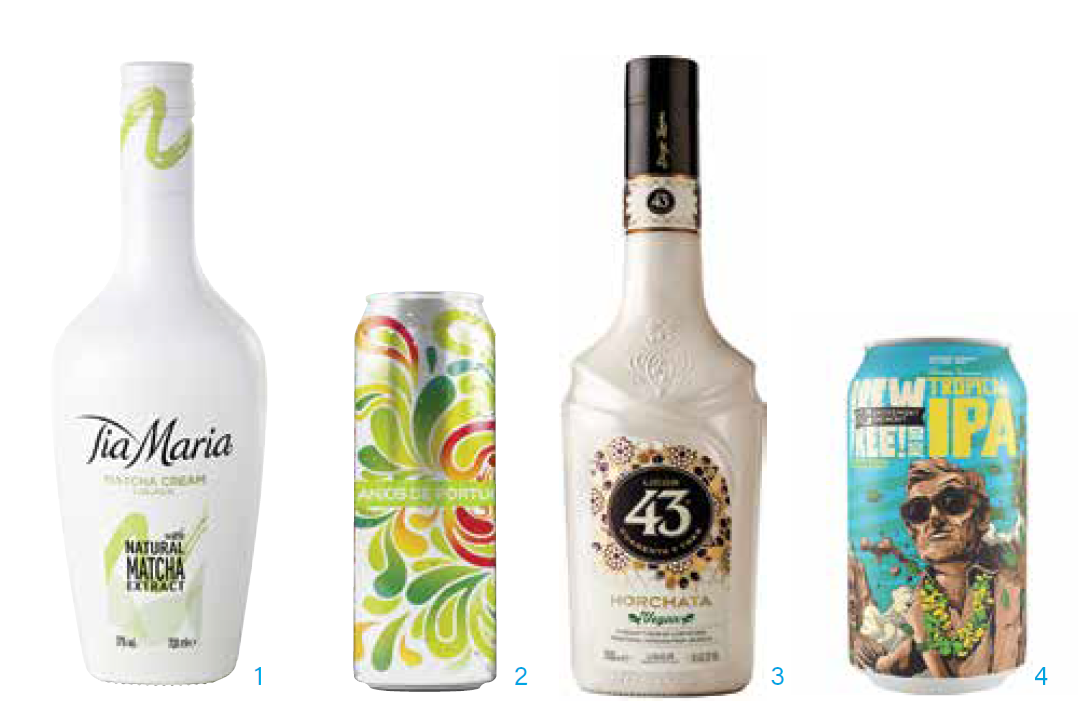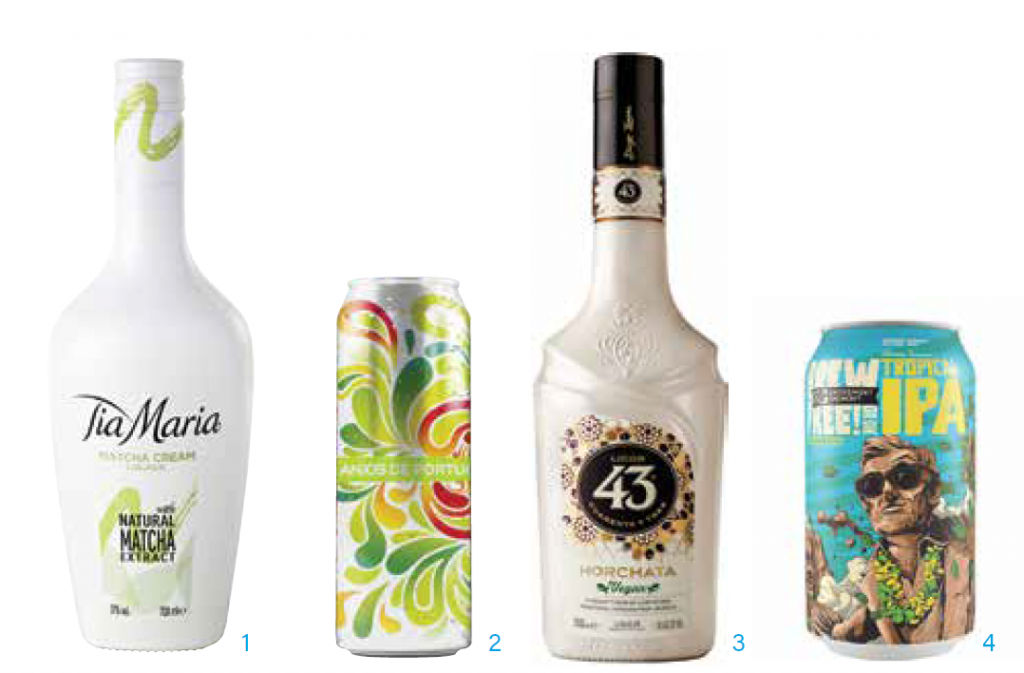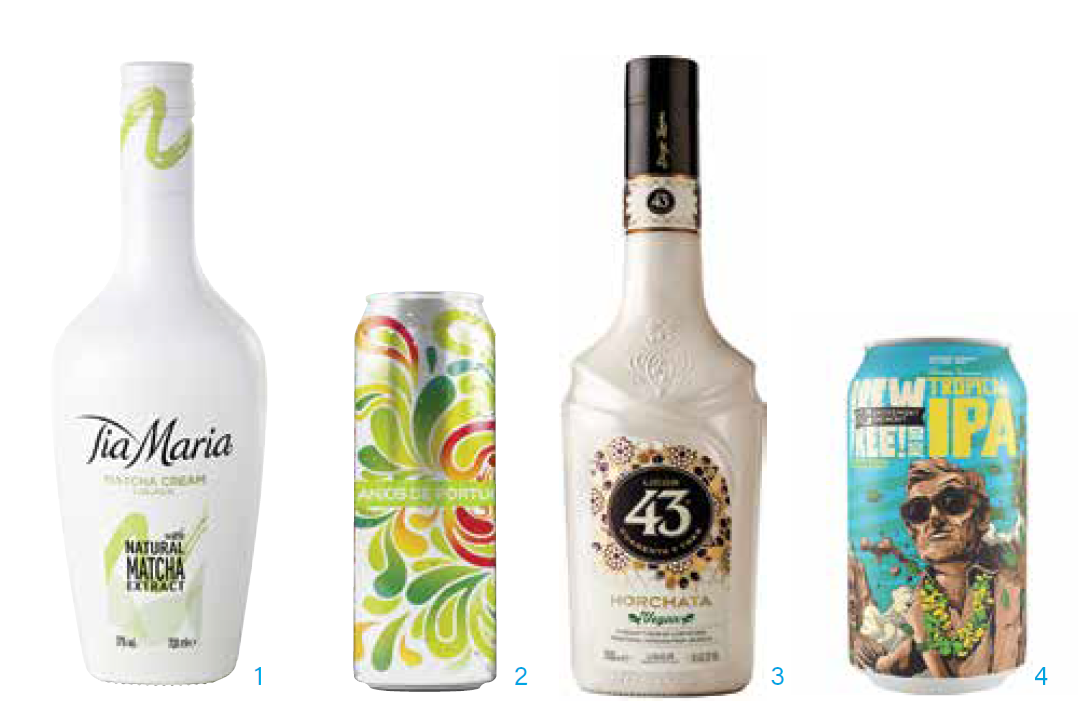 1. Tia Maria Matcha
Tia Maria has launched Tia Maria Matcha, created with Japanese green matcha tea extract that provides a natural caffeine and floral twist on the creamy liqueur. Reinforced with the hashtag #takeyourmatchatime, Tia Maria Matcha proposes a new ritual by mixing sugar and matcha powder in a dish and rimming the glass of their Tia Maria Matcha glass to serve. At 34 proof, it is lower in alcohol than traditional Tia Maria.
SRP: $24.99 per 750ml bottle
tiamaria.com/tia-maria-matcha
2. Anjos Vinho Verde Can
Portuguese wine producer Quinta de Lixa has taken their Anjos Vinho Verde white wine and put it in a ready-to-drink 250ml size can, using the same blend in their bottled versions. It's the only Portuguese wine in a can that carries the "Regional Minho" seal of origin. The wine is produced from grapes traditionally used in the Vinho Verde demarcated region, especially the Sousa sub-region.
SRP: $13.99 for a 4-pack
quintadalixa.pt
3. Licor Horchata
With flavors of tiger nut, spice, and citrus, Licor 43 Horchata vegan cream liqueur has landed, marking the first brand extension here from Licor 43. Licor 43 Horchata is a fusion of Licor 43 Original and traditional horchata (the drink from Valencia, Spain, typically made by blending tiger nut, sugar, cinnamon, and citrus). At 16% ABV, Licor 43 Horchata is crafted from a 100 percent vegetable base: dairy-free, gluten-free, and nut-free (tiger nuts are not nuts but roots).
SRP: $27.99 per 750ml bottle
licor43.com/licor-43-horchata
4. Tropical Brew Free! or Die IPA
The 21st Amendment Brewery takes an island vacation with their latest year-round release Tropical Brew Free! or Die IPA (6.8% ABV). This "summery" companion of their West Coast Brew Free! or Die IPA and Blood Orange Brew Free! or Die IPA is brewed with a recipe that includes kettle hops and a blend of Idaho 7, El Dorado, Azacca, Mosaic, Amarillo, and Calypso dry hops. Tropical Brew Free! or Die IPA will be available in 21st Amendment's IPA Variety HopPack in the 33 states where 21st Amendment distributes.
SRP: $9.99 per 6-pack
21st-Amendment.com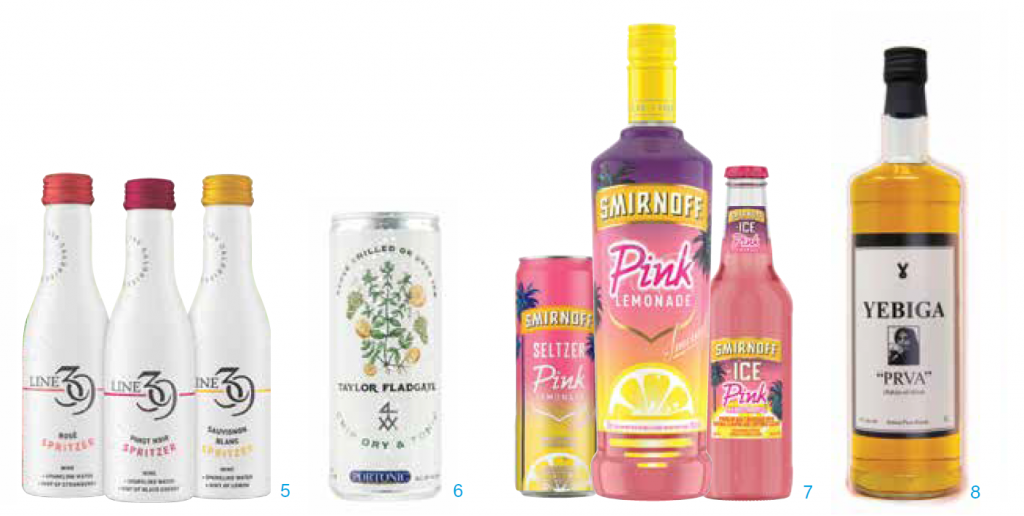 5. Line 39 Spritzers
Line 39 Spritzers are 100 calories with 5% ABV, no added sugar and three ingredients: sparkling water, natural flavor, and the same Line 39 Wine found in the 750ml bottle. Line 39 Spritzers come in 250ml resealable aluminum bottles. The varietal-based options paired with fruit flavors to enhance the wine grape characteristics–Sauvignon Blanc brightened with a dash of lemon, Pinot Noir with a hint of black cherry, rosé accompanied by a touch of strawberry.
SRP: $13 for a 4-pack
line39wines.com
6. Taylor Fladgate Chip Dry White Port & Tonic
Taylor Fladgate Port first blended Chip Dry White Port in 1934, the first port house to produce a dry white aperitif port. Now the port house is releasing the first ready-to-drink White Port & Tonic cocktail, presented in 250ml cans at 5.5% ABV. This first premixed and ready-to-drink Taylor Fladgate Chip Dry White Port & Tonic canned cocktail is 100 percent recyclable and arrives in markets this summer.
SRP: $17.99 for a 4-pack
www.taylor.pt
7. Smirnoff Pink Lemonade
Smirnoff has rolled out its Pink Lemonade line-up for the summer. The brand's newest flavor offering is available in a trio of options: as a Smirnoff Ice premium flavored malt beverage, a flavored vodka, and a hard seltzer. With a flavor profile of lemon, strawberry, and raspberry, Smirnoff Pink Lemonade vodka is said to be best enjoyed as a chilled shot or with club soda, and the seltzer and Smirnoff Ice best chilled. The Pink Lemonade vodka is 30% ABV, Smirnoff Ice 4.5% ABV, hard seltzer 4.5% ABV.
SRP: $11.99/750 ml, $17.99/1.75 L; Ice and hard seltzer, $8.99 per 6-pack
smirnoff.com
8. Yebiga Bela Rakija
Serbian rakija producer Yebiga is importing a younger version of its rakija, called Bela, a Kosher, handcrafted šljivovica (or plumrakia) produced on a farm from cacanska rodna plums found on the mountain Goc in Central Serbia. Yebiga arrived stateside a year ago with its 18-month-aged, limited release Prva, an 18-month-minimum aged rakija. Now, the brand's latest release is the company's youngest expression; lighter, free of color and finished in stainless steel with an ABV of 40%.
SRP: $29.99 per 750ml bottle
yebiga.com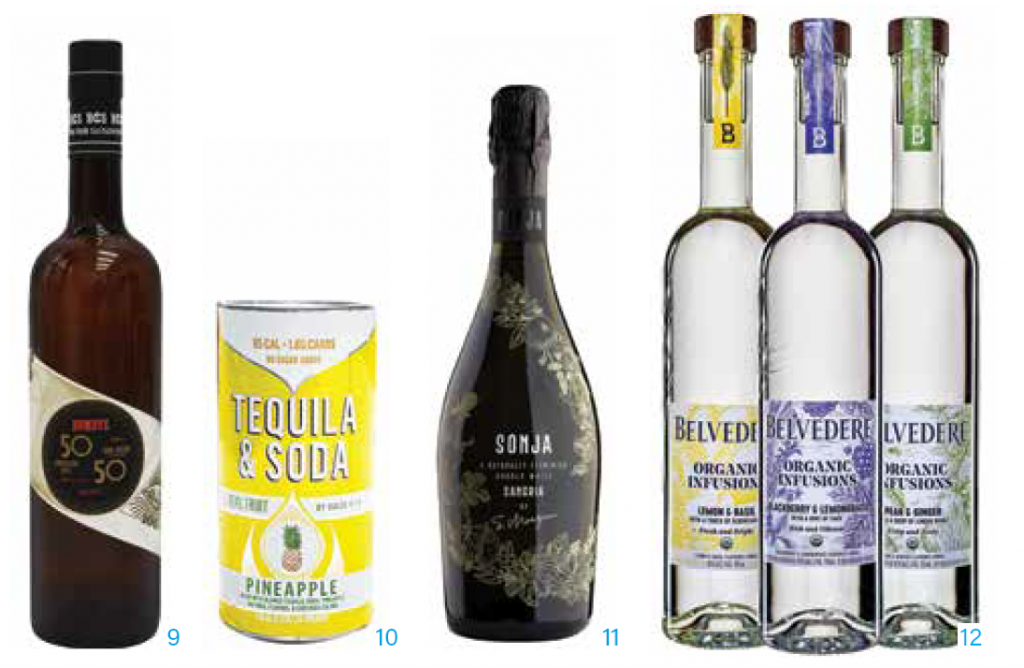 9. Ron Colón Rumrye
Ron Colón Salvadoreño has rolled out a new addition to their spirit portfolio—Ron Colón RumRye, made from a 50/50 mix of rum and rye whiskey, showcasing both spirits and creating a new category. The blend is made up of 50% Ron Colón Salvadoreño Dark Aged Rum and 50% 2017 American
Straight Rye Whiskey. The rum is six-year-old Salvadoran rum from Licorera Cihuatán, with aged and unaged pot-distilled rums from Jamaican distilleries including Worthy Park Estate, Monymusk and Hampden. The whiskey in RumRye is a 4-year old straight rye. Bottled at 100 Proof.
SRP: $49.99
roncolonsalvadoreno.com
10. Dulce Vida Tequila and Soda RTDs
Texas-based tequila brand Dulce Vida released Tequila & Soda, a ready-to-drink beverage made with tequila Dulce Vida. Low-cal and low-carb, Tequila & Soda joins Dulce Vida's existing range of 100% blue agave tequilas, and is available in Lime, Grapefruit, and Pineapple. Tequila & Soda is 7% ABV, contains 65 calories, fewer than 2 carbs, and is made using a blend of tequila, fruit juices and soda.
SRP: $19
invivoxsjp.com
11. Sonja Sangria
Sonja is a new line of premium quality Sangria, developed with the help of American television personality, businesswoman, socialite, and philanthropist, Sonja Morgan. With a classic Valencian recipe produced in Italy, the red is made with Lambrusco Salamino grapes and natural fruit flavors and is frizzante, at 12% ABV. The white Valencian recipe employs Grechetto Gentile grapes and natural fruit flavors, is frizzante and 12% ABV.
SRP: $12.99
iconicbrandsusa.com/sonja-sangria
12. Belvedere Organic Infusions
Super-premium vodka Belvedere has introduced a line of 100% organic flavored vodkas, Belvedere Organic Infusions. The range includes three 40% ABV expressions- Lemon & Basil with a touch of elderflower, Pear & Ginger with linden honey, and Blackberry & Lemongrass with a hint of sage.
All are made with 100% organic fruits and botanicals. Said to be the first USDA certified
organic super-premium vodkas, Belvedere's is distilled from Polish rye.
SRP: $14.99 per 200ml; $35.99 per 750ml bottle
belvederevodka.com