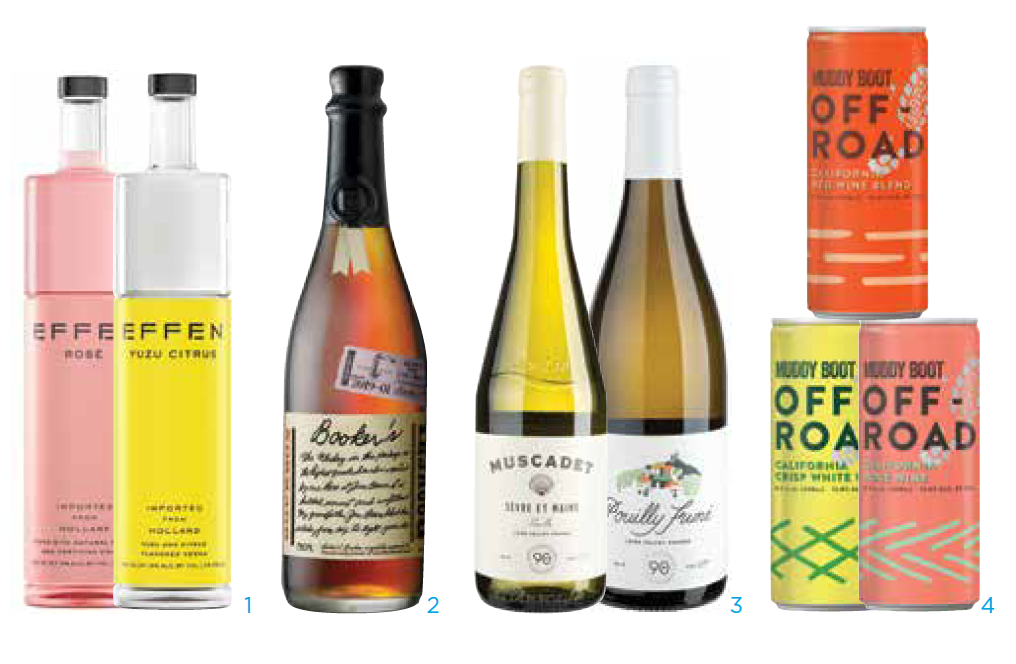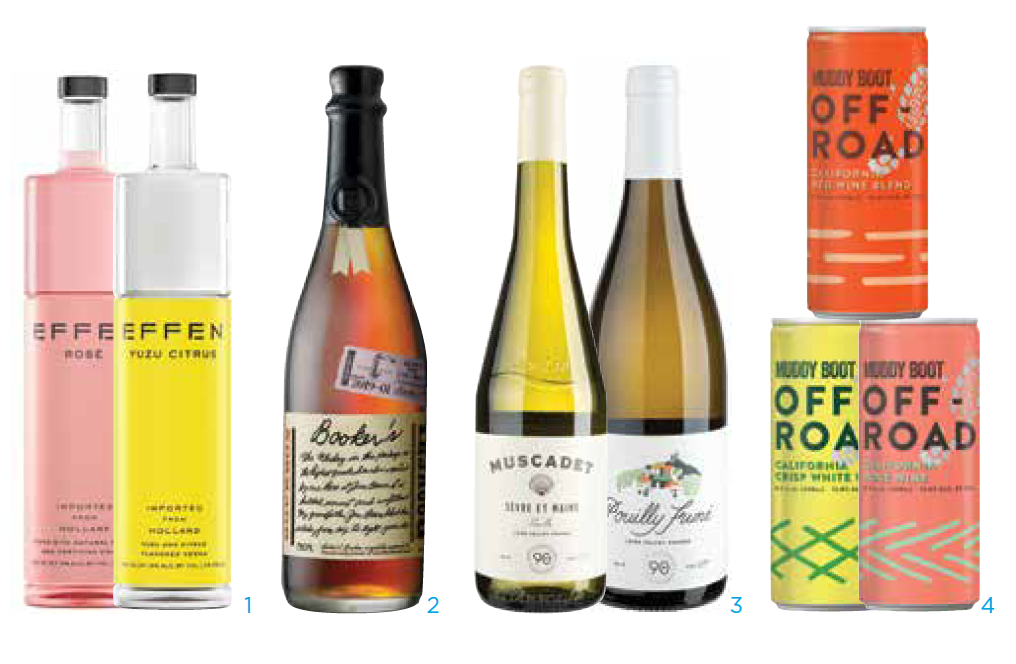 1. Effen Vodka
Effen Vodka has added two new flavors to their super-premium vodka portfolio. Effen Rosé is a crisp, clean and fruity expression that emulates a classic rosé; best served with soda or bubbles. Effen Yuzu Citrus showcases this Japanese fruit that resembles a blend of lemon and grapefruit; best neat or with grapefruit soda. The two new expressions extend from Effen's "Different by Design" campaign, celebrating self-expression and encouraging fans to enjoy cocktails as unique as they are. 75 proof.
SRP: $21.99
effenvodka.com
2. Booker's Batch 2019-01
The first "Booker's Batch" of 2019—"Teresa's Batch"—is now available nationwide. This batch is named after three-decade distillery employee Teresa Wittemer. Working in both Quality Control and in the lab, she became an expert on mingling bourbon barrel samples to the exact taste profile Booker preferred for his namesake bourbon. Like all of Booker's batches, "Teresa's" is bottled at its natural proof (125.9). Enjoy neat, over ice or with a few drops of water.
SRP: $79.99
bookersbourbon.com
3. 90+ Cellars French Wines
On the heels of a trio of new Sonoma County wines, 90+ Cellars is expanding its portfolio with five true-to-type French AOC wines. The new batch includes a fresh, everyday 2018 Muscadet uplifted by extended time on its lees (SRP $12.49); a village-level white Burgundy (2016 Auxey-Duresses, $39.99); a lively, mineral-driven 2017 Aligoté ($17.99); a flinty 2018 Pouilly-Fumé (100% Sauvignon Blanc, $23.99) from in the Loire Valley; plus 90+ Cellars' first organic rosé from Languedoc ($14.99) arriving next month.
SRP: $12.49 – $39.99
ninetypluscellars.com
4. Muddy Boot 'Off-Road' Cans
Extending the outdoorsy Muddy Boot brand into cans makes perfect sense. Already geared toward an active lifestyle, now these fun-loving California wines go anywhere, anytime…especially off-road, whether that means biking, hiking or just hanging at the beach. Off-Beat comes in Crisp White (Chardonnay, Chenin Blanc); a rich Red Blend (Petite Sirah, Pinot Noir, Zinfandel); light, dry Sparkling; and dry Rosé (Pinot Noir). 250ml four-packs. Marketed by Bronco Wine Co.
SRP: $22.99/four-pack of 250ml cans
broncowine.com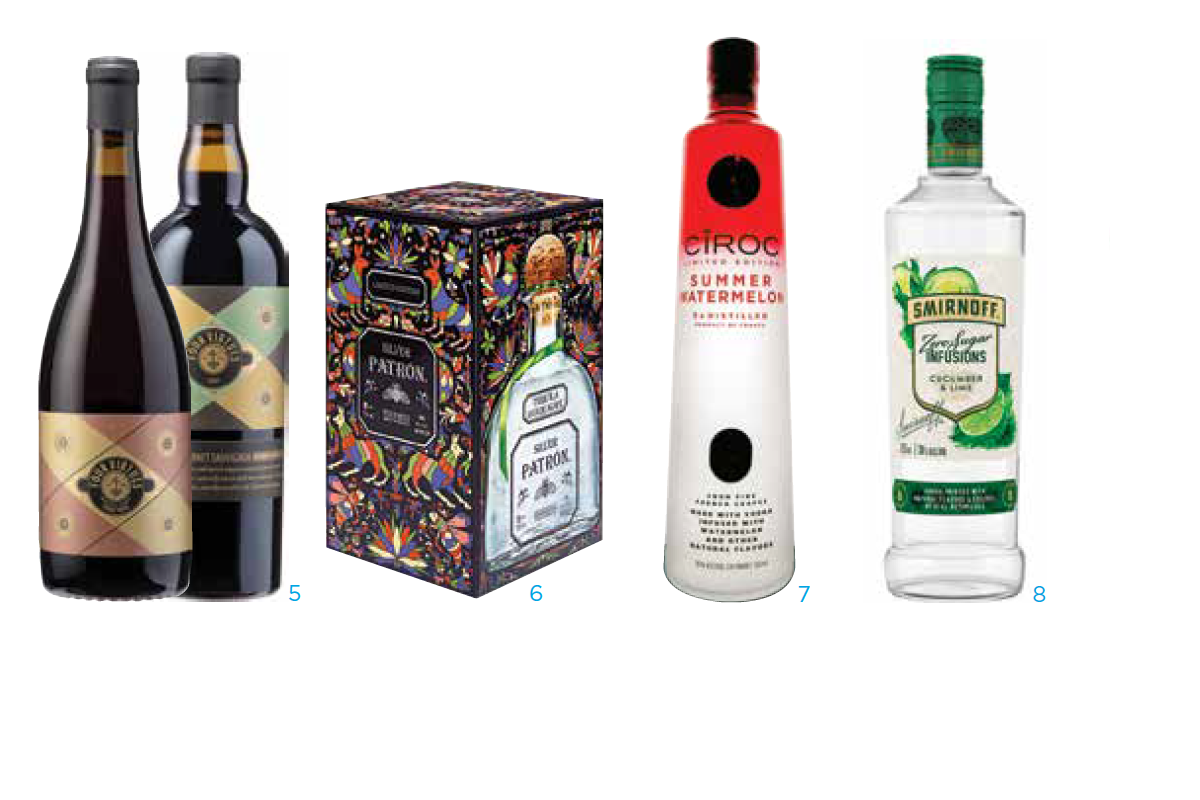 5. Four Virtues Wines
Rutherford Wine Company is expanding their Four Virtues brand with two varietal wines. The new pair joins the original release, a Bourbon Barrel Aged Zinfandel, sharing a contemporary wine style and sleek package design. The 2016 Cabernet Sauvignon is sourced from the Lodi AVA, aged in French and American oak, and finished in heavily charred oak bourbon barrels. The 2017 Pinot Noir, from Monterey County, sees no time in bourbon barrels due to the more delicate nature of the variety.
SRP: $20
rutherfordwine.com
6. Patrón Tequila 2019 'Mexican Heritage Tin'
Just ahead of Cinco de Mayo, Patrón Tequila unveiled its 2019 Mexican Heritage Tin for the fourth consecutive year. Created by Smithe, the design on the tin was inspired by traditional forms of Mexican embroidery: Tenango-Hidalgo, and Mariachi. Embroidery has been used for centuries to distinguish different groups and family history. Combining these unique styles with important elements of Mexican folklore and Patrón iconography (bees, piña, agave), the tin celebrates rich Mexican heritage.
SRP: $56
patrontequila.com
7. Cîroc Summer Watermelon Vodka
Sean "Diddy" Combs and Diageo North America have unveiled Cîroc Summer Watermelon. Like its portfolio peers, its base is vodka five times distilled from French grapes. Combs collaborated with long-time friend DJ Khaled on the flavor profile—a juicy, fresh taste accented by a sweetness and zest. "With this spirit we aimed to capture the essence of summer and bottled it," says Combs. Summer Watermelon's launch at the Coachella Festival in April kicked off a series of promotional events.
SRP: $33.99
ciroc.com
8. Smirnoff Zero Sugar Infusions
Smirnoff, no newcomer, is shaking up the flavored vodka catergory with three new variants boasting zero sugar. Infused with natural flavors, the brand-new Smirnoff Zero Sugar Infusions lineup features Cucumber & Lime, Watermelon & Mint and Strawberry & Rose—tailored for casual occasions, from brunch to backyard BBQs. The new line will be supported by TV spots featuring Ted Danson and Saturday Night Live's Cecily Strong "oohing" and "ahhing" over each of the three new flavors. 60 proof; 72 calories/1.5oz.
SRP: $11.99
smirnoff.com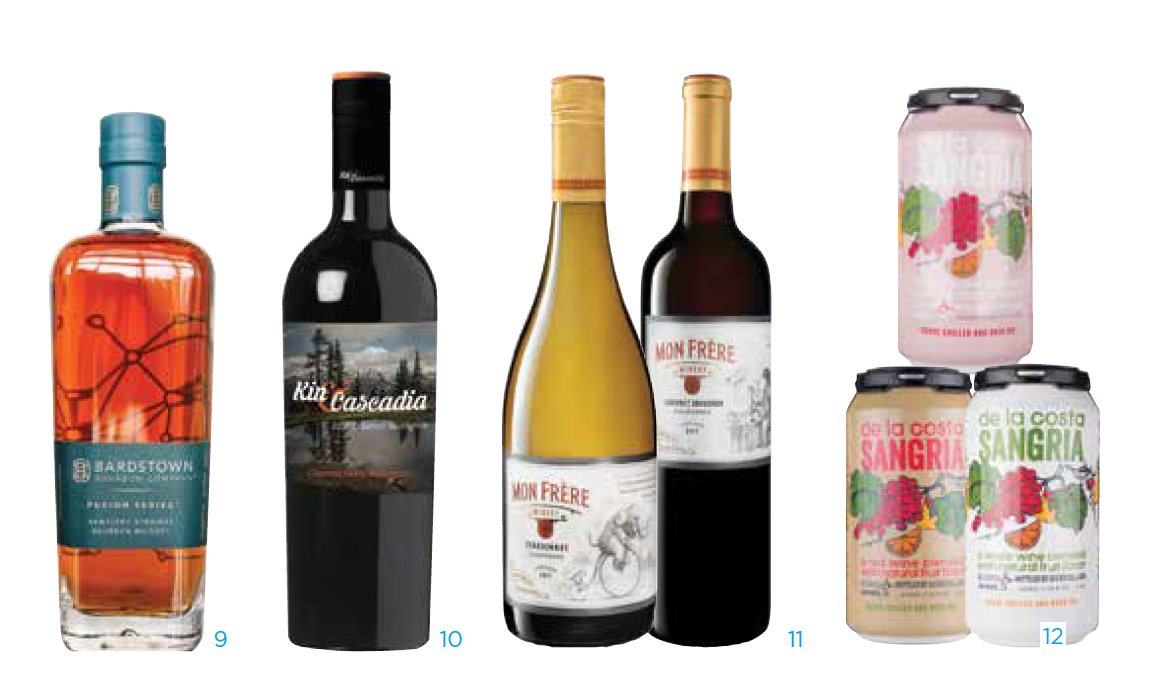 9. Bardstown Bourbon 'Fusion Series #1'
The Bardstown Bourbon Company (BBCo) has released Fusion Series #1, a blend of estate-made, two-year-old wheat and high-rye bourbons, with an 11-year-old Kentucky bourbon. The BBCo team, led by Master Distiller Steve Nally, a 40-year industry veteran and Kentucky Bourbon Hall of Famer, blind-tasted more than 50 samples to arrive at a rich blend in which the lively fruit and spice of the two-year-old counters the leather, roasted nuts and caramel of the aged bourbon. 98.9 proof.
SRP: $59.99
bardstownbourbon.com
10. Kin & Cascadia
Celebrating their second-generation partnership in wine, the Sager and Master families have released a new wine of their own. The label, Kin & Cascadia, nods to the wine's backstory of two industry acquaintances turning into partners and lifelong friends as well as the wine's Pacific Northwest provenance. The first Kin & Cascadia releases are a 2017 Columbia Valley Cabernet Sauvignon and 2017 Willamette Valley Pinot Noir, both presenting authentic regional character.
SRP: Cabernet $15.99 | Pinot Noir $13.99
winesellersltd.com
11. A Mon Frère Winery
New from Palm Bay, Mon Frère (French for "my brother") is a celebration of our connections to each other, to those special people with whom we choose to share life's triumphs and tribulations. Like its celebrated sibling, Au Contraire Wines, Mon Frère champions the very best in California sourcing and winemaking. The range includes: a fresh Chardonnay with moderate, well-integrated oak; a ripe Pinot Noir, and a Cabernet that shows concentrated fruit and evident structure while remaining approachable.
SRP: $15.99 – $16.99
palmbay.com
12. De La Costa Sangria In Cans
All three De La Costa Sangrias—Red, White and Rosé—are now in cans. Based on California Zinfandel and Merlot, De La Costa Red Sangria surrounds a core of dark fruit with bright citrus (lemon, lime, grapefruit) and balancing sweetness. Best over ice with fresh fruit; 13% ABV keeps flavors vivid. De La Costa is produced by fifth-generation Glunz Family Winery & Cellars. Rosé is also available in a 1L fliptop bottle (SRP $13.99). Marketed by Bronco Wine Co.
SRP: $24.99/four-pack of 375ml
broncowine.com