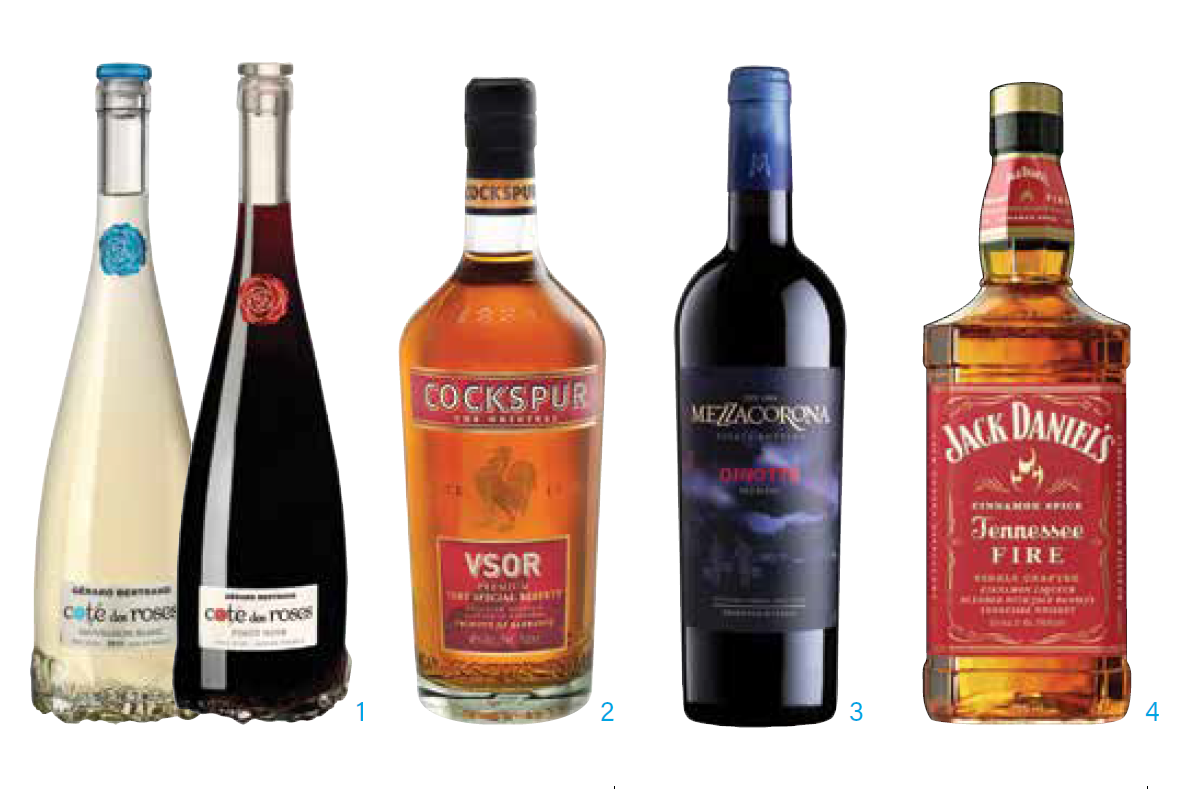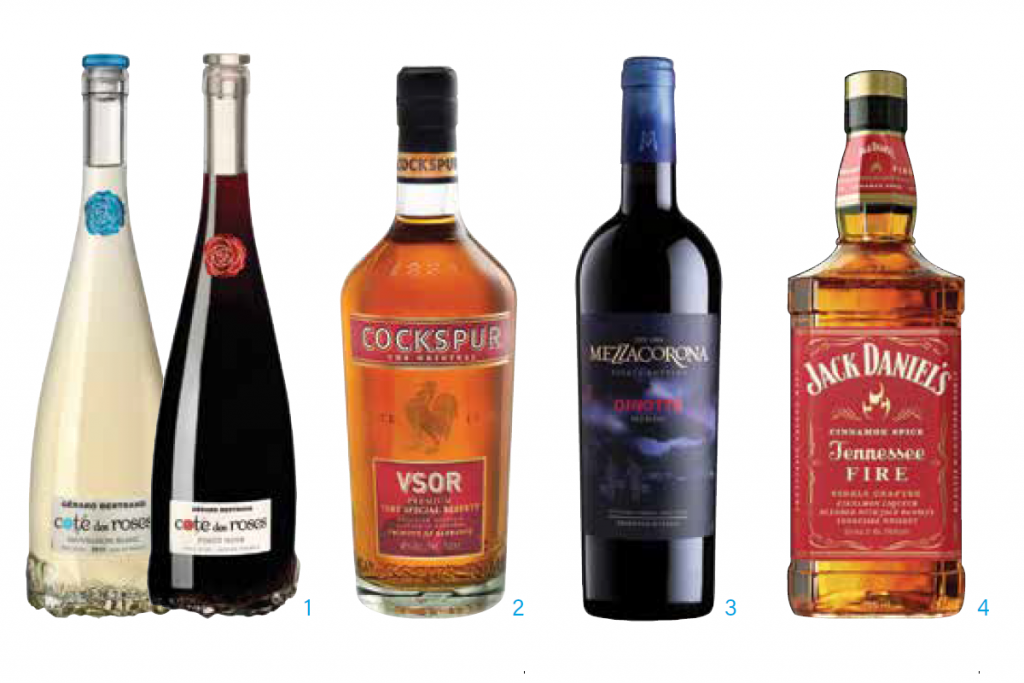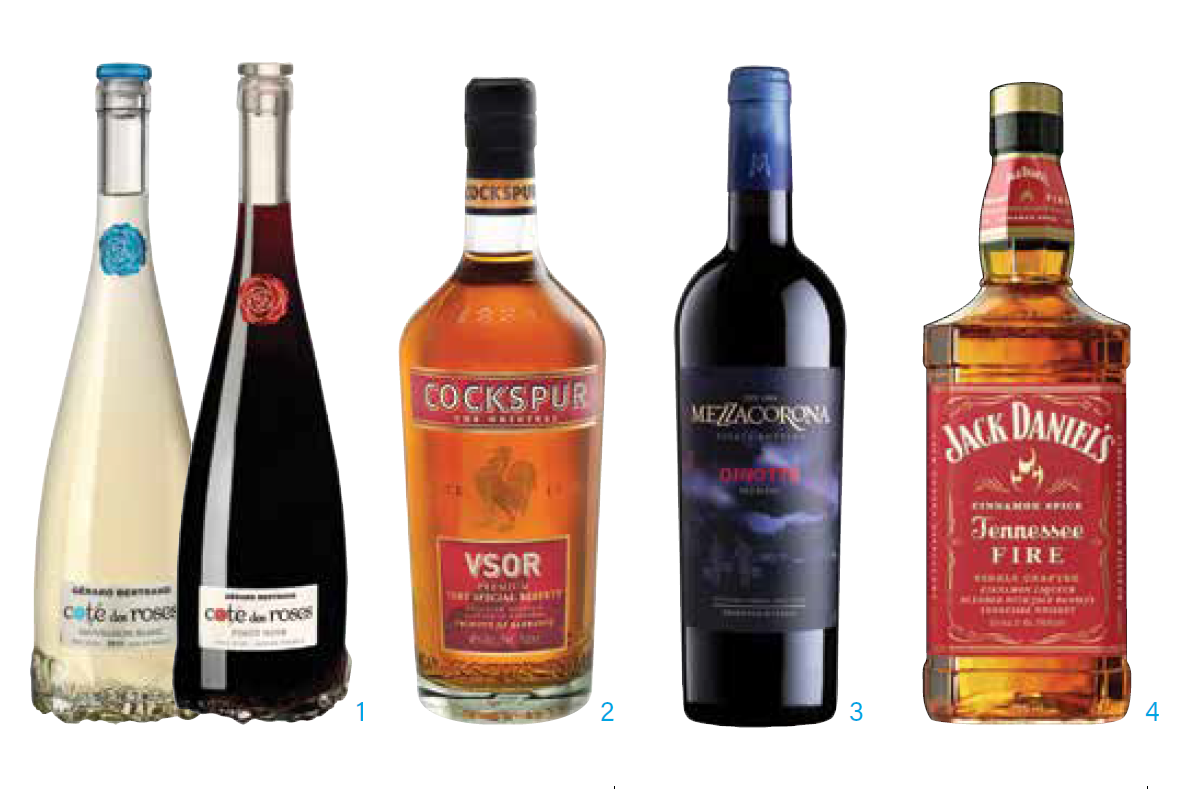 1. Gerard Bertrand 'Côte des Roses'
The custom bottles Gérard Betrand uses for his "Côte des Roses" Rosé and Chardonnay proved so popular that he is adding Sauvignon Blanc and Pinot Noir to the line. Each Languedoc wine features a base molded to resemble a rose, and each expression will now be available in both 750ml and 375ml, plus magnum for the Grenache-Syrah-Cinsault rosé. The rose-shaped base of the bottles is echoed in color-coded neck logos.
SRP: $16.99/750ml $9.99/375ml $32.99/1.5L Rosé
gerard-bertrand.com/en
2. Cockspur VSOR Rum
Cockspur Rum—founded in Barbados in 1884—has unveiled a redesign for its rums, which are made with coral-filtered
water and aged beach-side amid ocean breezes.The new Cockspur look retains the signature rooster graphic but now has white block lettering for the brand and iteration. The redesign rolls out initially with Cockspur flagship VSOR Rum (80 proof) and will continue with the full line.
SRP: $31.99
cockspur.com
3. Mezzacorona 'Dinotte' Red Blend
New from leading Italian producer Mezzacorona, DiNotte is an estate-bottled red blend made from grapes grown on the
hillsides of the Dolomite Mountains in Italy. The aromatic richness of the Teroldego and Marzemino grapes combine with the elegance of Merlot. The grapes are rich, berry-like and juicy, but also perfumed with a mountain floral character. DiNotte translates to "At Night."
SRP: $10.99
mezzacorona.com
4. Jack Daniel's Tennessee Fire
A package update for Jack Daniel's Tennessee Fire has been rolling out for 2020. The new look is intended to be more premium, fit better with the family of brands, and improve visibility in bars and restaurants. Crafted with Jack Daniel's Old No. 7 Tennessee Whiskey and naturally infused with a proprietary cinnamon liqueur, Jack Fire launched globally in 2016 and has since become the #4 selling flavored whiskey in the world. 70 proof.
SRP: $24.99
jackdaniels.com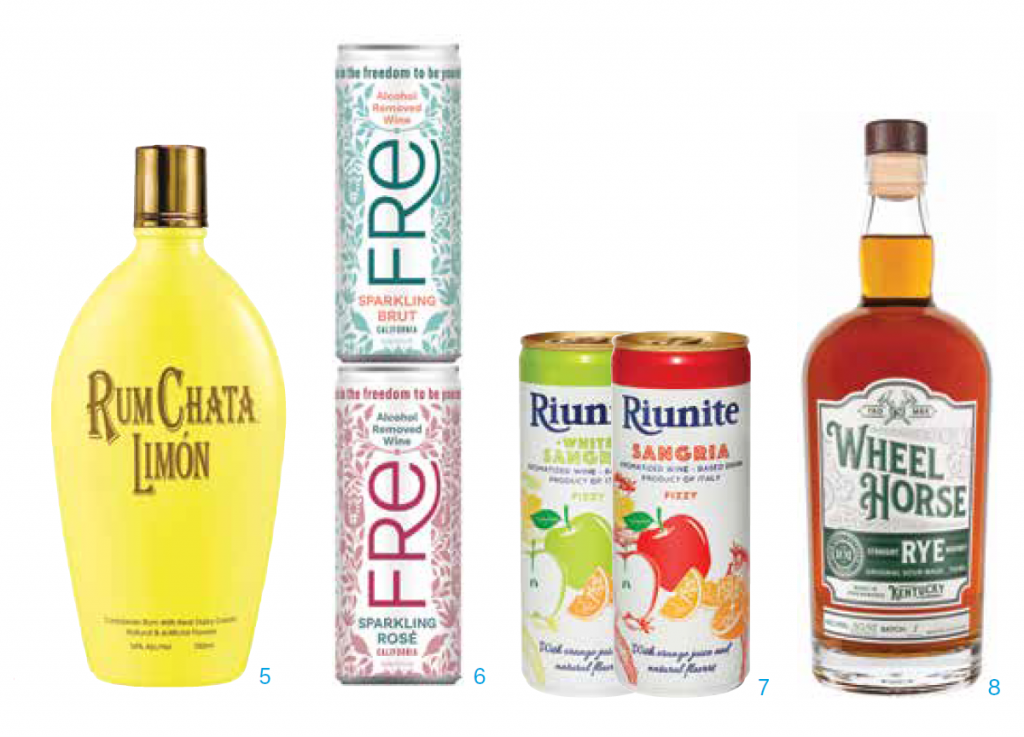 5. Rumchata Limón
RumChata has combined its well-known real dairy cream and Caribbean rum base with a touch of refreshing lemon to create RumChata Limón. Sweet, smooth, and creamy with a fresh lemon finish, RumChata Limón can be enjoyed on the rocks, as a light and flavorful creamer in hot or cold coffee, or blended with other flavored spirits. The bright yellow version of the iconic RumChata bottle comes complete with the familiar gold cap. 28 proof.
SRP: $19.99
rumchata.com
6. Fre In Cans
Fre, America's leading alcohol-removed wine brand, has introduced the first single-serving alcohol-removed wines. Fre Sparkling Rosé and Sparkling Brut cans will join the brand's existing portfolio that comprises 80 percent of the alcohol-removed wine segment with eight 750ml varietals. The new offerings aim to give existing customers more flexibility and attract alcohol-abstaining and sober-curious consumers.
SRP: $11/four-pack 250ml cans
frewines.com
7. Riunite Sangria in Cans
Riunite, one of America's favorite Italian wine brands for over six decades, will be launching its first canned wine this spring. The booming canned wine sector has seen a four-year compound annual growth rate of approximately 91%, according to Nielsen; and 33% of millennials are consuming wine in cans. The 250ml cans of Riunite Sangria, in both red and white, are targeting LDA drinkers with active social calendars.
SRP: $ $9.99/four-pack of 250ml cans
riunite.com
8. Wheel Horse Rye Whiskey
Latitude Beverage, the company behind 90+ Cellars, has launched Wheel Horse Rye. The whiskey was produced at O.Z. Tyler, the site of one of the state's original permitted distilleries. Wheel Horse is the first aged rye to come out of O.Z. Tyler since its reopening in 2016. Two to three years in new, charred American Oak barrels impart a rich profile with notes of baking spices, to'ffee, and barrel-mellowed rye spice. 101 proof.
SRP: $27.99
wheelhorsewhiskey.com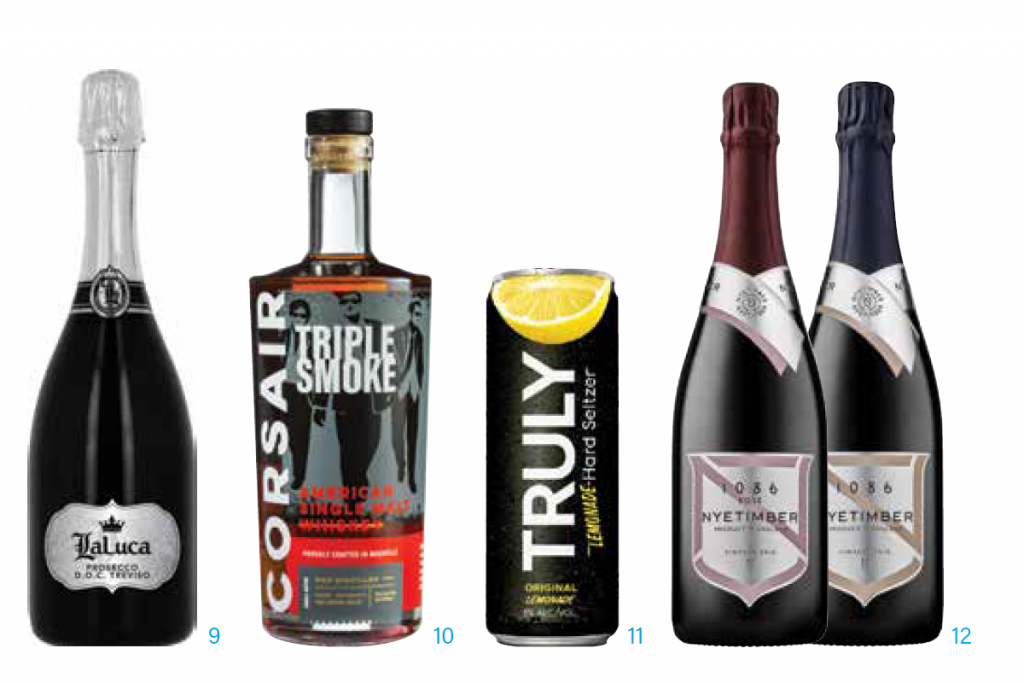 9. LaLuca Prosecco
LaLuca Prosecco DOC Treviso gets a fresh new look, with the same authentic Prosecco. LaLuca is a proprietary label created by Opici Wines honoring the fifth generation of the Opici family. The wine is crafted near the Valdobbiadene DOCG region, on the sloping hills just north of Treviso, known for producing superior quality Glera. Notes of orchard fruits, pear, and lemon carry through in a rich, creamy, off-dry style.
SRP: $13.99
opiciwines.com
10. Corsair Spirits
Nashville, Tennessee-based Corsair Distillery, one of America's most decorated and influential craft producers, has refreshed its entire line of 100% housemade (never sourced) spirits, led by core bottlings Triple Smoke Single Malt (SRP $47.99; named Artisan Whiskey of the Year by Whisky Advocate in 2013); Dark Rye ($44.99); and American Gin ($29.99) and Barreled Gin ($34.99; made using vapor basket botanical extraction). The new look features the familiar trio of black-and-white figures, now with bold color accents.
SRP: $29.99-$47.99
corsairdistillery.com
11.Truly Lemonade
Truly Hard Seltzer has launched Truly Lemonade Hard Seltzer, with real lemon juice delivering the crisp, clean taste of hard seltzer and bolder lemonade flavor. Four styles will be available in a variety pack of 12oz cans: Original Lemonade, Black Cherry Lemonade, Mango Lemonade, and Strawberry Lemonade. Like the rest of the Truly Hard Seltzer line, selling points for Truly Lemonade include low sugar (1 gram) and calories (100).
SRP: $14.99-$18.99/12-pack 12oz cans (variety pack)
trulyhardseltzer.com
12. Nyetimber '1086' Prestige Cuvées
Nyetimber, one of England's top sparkling wine producers, is releasing a duo of sparklers said to be the "first ever" prestige cuvées from the UK. Both inaugural "1086" cuvées are made in West Sussex using classic Champagne grapes and methods (1086 is a nod to the first written record of Nyetimber). The 2010 1086 shows a caramelized character from extended aging. The 2010 Rosé 1086 is 75% Pinot Noir, 25% Chardonnay.
SRP: $240 for 1086 / $275 for Rosé 1086
nyetimber.com