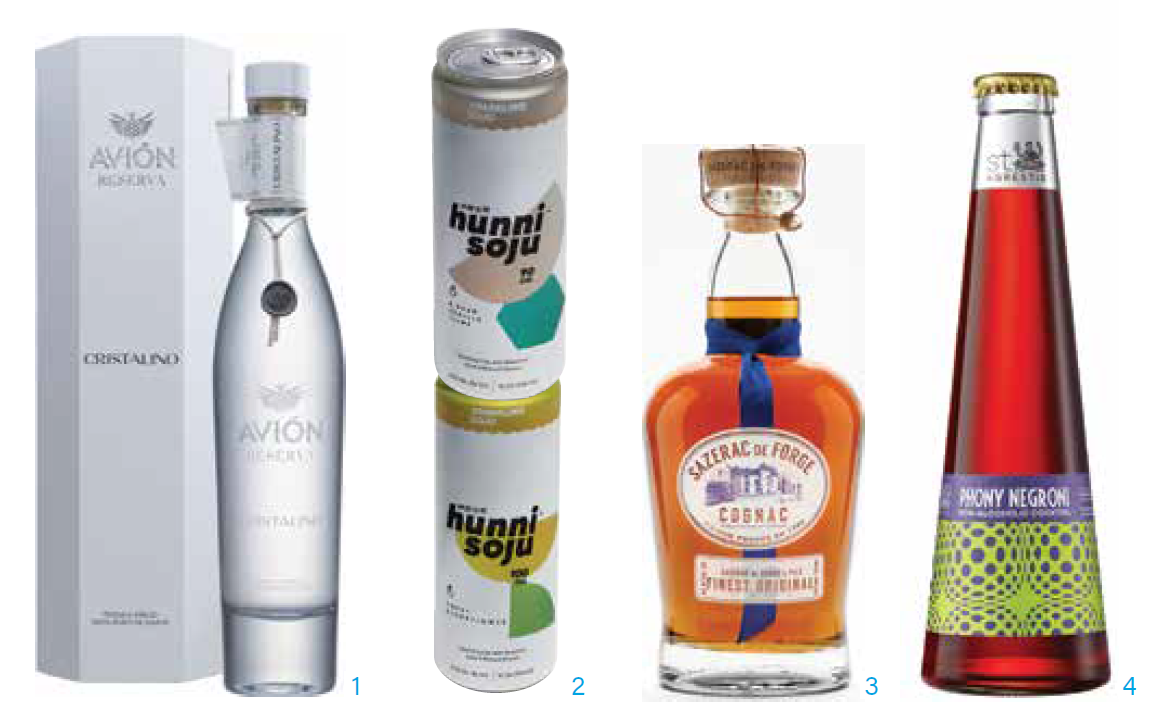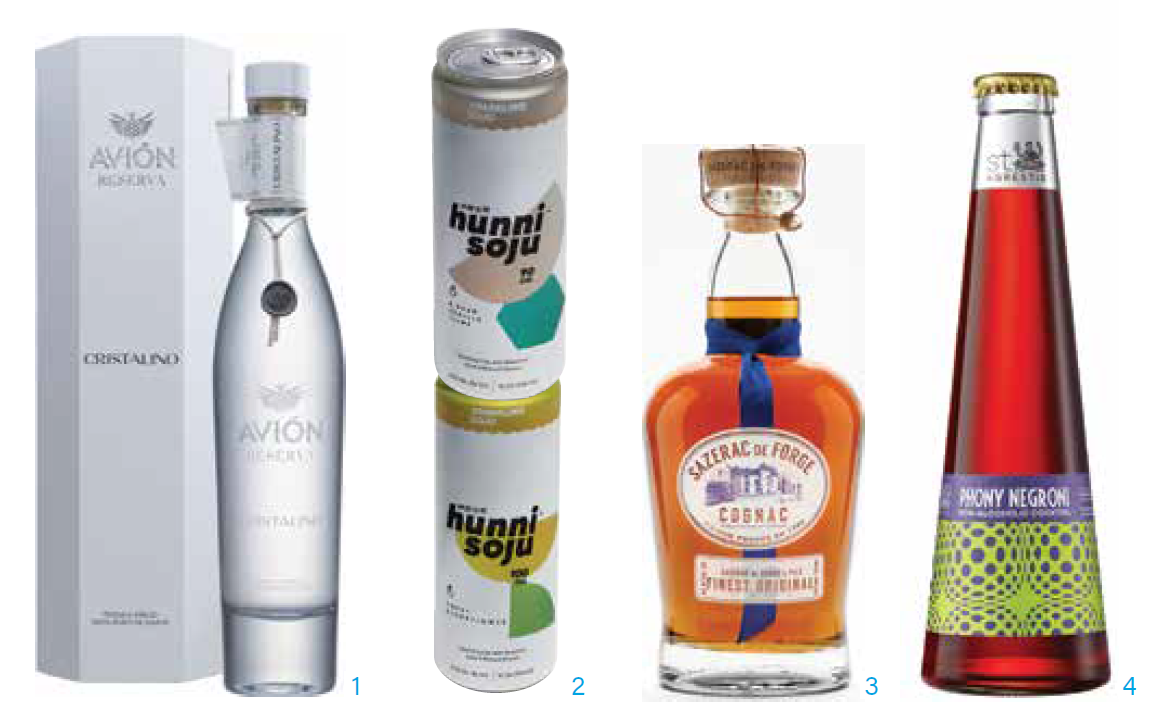 1. Avión Reserva Cristalino
Blue Weber agave grown at the highest elevations in Jesus Maria, Jalisco, is the backbone of Tequila Avión. It is on full display in the aged, crystal-clear Avión Reserva Cristalino, the brand's first innovation since 2013. Amplifying oak, vanilla, spice, and nuttiness, the double charcoal-filtered Cristalino, joining Avión Reserva 44 in the Reserva range, is a sipping tequila best savored neat or on the rocks.
SRP: $145 per 750-ml bottle
tequilaavion.com
2. Hunni Sparkling Soju
Carolyn Kim, founder of the craft Korean-American soju brand Yobo, has ventured into the ready-to-drink market with Hunni Sparkling Soju. A low-alcohol (4% ABV) canned cocktail between 90 and 100 calories, it mixes soju distilled from organic wheat and rice grown in northern California with natural flavors and real fruit juice and purees. The four varieties—Yuzu and Elderflower, Peach and Chili Pepper, Grape and Ginger, and Korean Pear, Perilla Leaf, and Lime—will also be available in forthcoming 750ml bottles of higher-proof Hunni K.Town.
SRP: $16.99 per four-pack of 12-oz. cans
hunnisoju.com
3. Sazerac De Forge & Fils Cognac
Bernard Sazerac de Forge founded his eponymous Cognac house in the late 18th century. Capturing the essence of this prephylloxera-style spirit largely made with Folle Blanche and Colombard grapes rather than today's commonplace Ugni Blanc, is the floral, creamy Sazerac de Forge & Fils "Finest Original" Cognac. Originally relaunched in 2019 exclusively for the immersive Sazerac House in New Orleans, this complex blend, including seven-year-olds and liquid from the 1960s alike, is gradually rolling out in markets across the U.S.
SRP: $129.99 per 750-ml bottle
sazerac.com
4. St. Agrestis Phony Negroni
The single-serve Phony Negroni, from Italian spirits-inspired St. Agrestis, is a non-alcoholic version of the Brooklyn, New York-based brand's ready-to-drink classic cocktail. Like its boozy counterpart, the Phony Negroni melds all-natural citrus, botanical, and herbal ingredients, but embraces alternative extraction techniques and carbonation to replicate the Negroni's bitter profile.
SRP: $59.99 per 12-pack of 200-ml bottles
stagrestis.com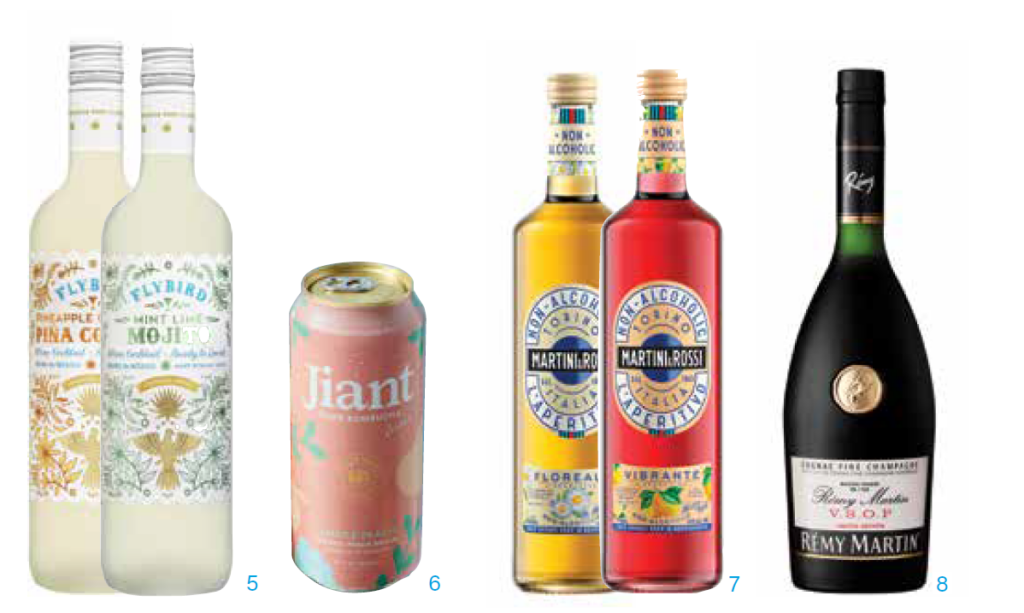 5. Flybird Cocktails
Don Sebastiani & Sons' Flybird Cocktails, the portfolio of ready-to-drink Margaritas(and a grapefruit Paloma) made in Mexico with 100 percent agave wine, will unveil the first two labels in its Cocktail Series range this month. Flybird Mint Lime Mojito and Flybird Pineapple Coconut Piña Colada, also spun from Mexican agave wine, weave in bright mint and natural lime, pineapple, and coconut juices.
SRP: $13 per 750-ml bottle
flybirdcocktails.com
6. Jiant Venice Peach
In anticipation of seasonal, alfresco brunching, Jiant has released Venice Peach, its fourth hard kombucha. A riff on the Bellini, the effervescent Venice Peach (5% ABV) is brewed with organic Dragonwell green tea, peach puree, and grape juice, as well as sustainably sourced honey and Nelson Sauvin hops to elicit a crisp, tropical fruit-laden white wine character.
SRP: $4.99 per 16-oz. can
jiantkombucha.com
7. Martini & Rossi Non Alcoholic Aperitivo
With a less than 0.5% ABV, the Martini & Rossi Non-Alcoholic Aperitivo line dovetails with the rise in mindful drinking. Upon dealcoholization of the aperitivo, botanicals are infused into the liquid, such as artemisia and bergamot for the citrusy Martini & Rossi Vibrante, and artemisia and Roman chamomile for the refreshing Martini & Rossi Floreale.
SRP: $19.99 per 750-ml bottle
martini.com
8. Rémy Martin Mixtape VSOP Volume 2
Mixtape culture began to take off in the 1980s, and Volume 2 of Rémy Martin's Mixtape VSOP Cognac pays homage to this self-produced music boom with its packaging. Featuring edgy graphics reminiscent of the era, it also contains a QR code that opens three DJ-curated playlists channeling this time period. The limited-edition Cognac unites eaux-de-vie from Grande Champagne and Petite Champagne and is rife with notes of baked apple and vanilla oak.
SRP: $50 per 750-ml bottle
remymartin.com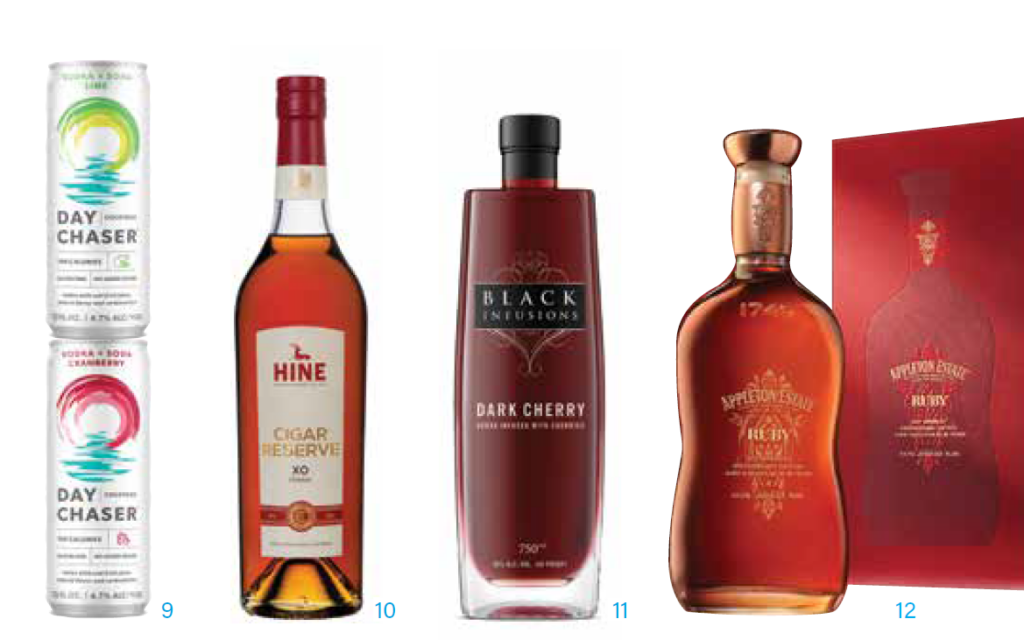 9. Day Chaser Cocktails
Day Chaser Cocktails, made with sparkling water, real fruit juice, and natural flavors, marks Vermont Cider Company's first foray into the ready-to-drink category. Vodka Lime and Vodka Cranberry are the two inaugural offerings of these 100-calorie, 4.7% ABV beverages that shun added sugar. Following the soon-to-launch Vodka Buda Berry and Vodka Cucumber, Day Chaser will dip into tequila with lime, grapefruit, pineapple, and spicy mango renditions.
SRP: $9.99 per four-pack of 12-oz. cans
daychaser.com
10. Hine Cigar Reserve XO
Cognac and Cuban cigars make for an ideal after-dinner pairing, and underscoring the relationship between these luxurious goods is the Hine Cigar Reserve XO. First introduced in Europe in 1996 as a collaboration between House of Hine and London cigar distributor Hunters & Frankau, it has now arrived stateside via Hotaling & Co. Evocative of spice, fresh pepper, and tobacco, the blend, bringing together grapes from Grande Champagne, Petite Champagne, and Fins Bois, was aged for over 15 years.
SRP: $150 per 750-ml bottle
hinecognac.com
11. Black Infusions Dark Cherry
Dried fruit is the star of Boston-based Black Infusions spirits. The small-batch, naturally infused vodkas, free of artificial sugars, flavors, and colors, include Black Fig, Gold Apricot, and now, Dark Cherry, packed with approximately one pound of dried Bing and Rainier cherries grown in California in each bottle. Redolent of vanilla with almond undertones, Black Infusions Dark Cherry also works in traditionally whiskey-centric cocktails like the Old Fashioned and Manhattan.
SRP: $44.99 per 750-ml bottle
blackinfusions.com
12. Appleton Estate Ruby Anniversary Edition
Joy Spence, the first female master blender in the spirits industry, has presided over Jamaica's historic Appleton Estate for 40 years. Commemorating this milestone is the Ruby Anniversary Edition, a blend of five unusually rare, hand-selected column and pot still Jamaican rums aged for a minimum of 35 years, with some as old as 45. This nuanced, limited-edition sipping rum (there are only 500 bottles) is defined by a rush of molasses and spiced honey on the palate.
SRP: $700 per 750-ml bottle
appletonestate.com