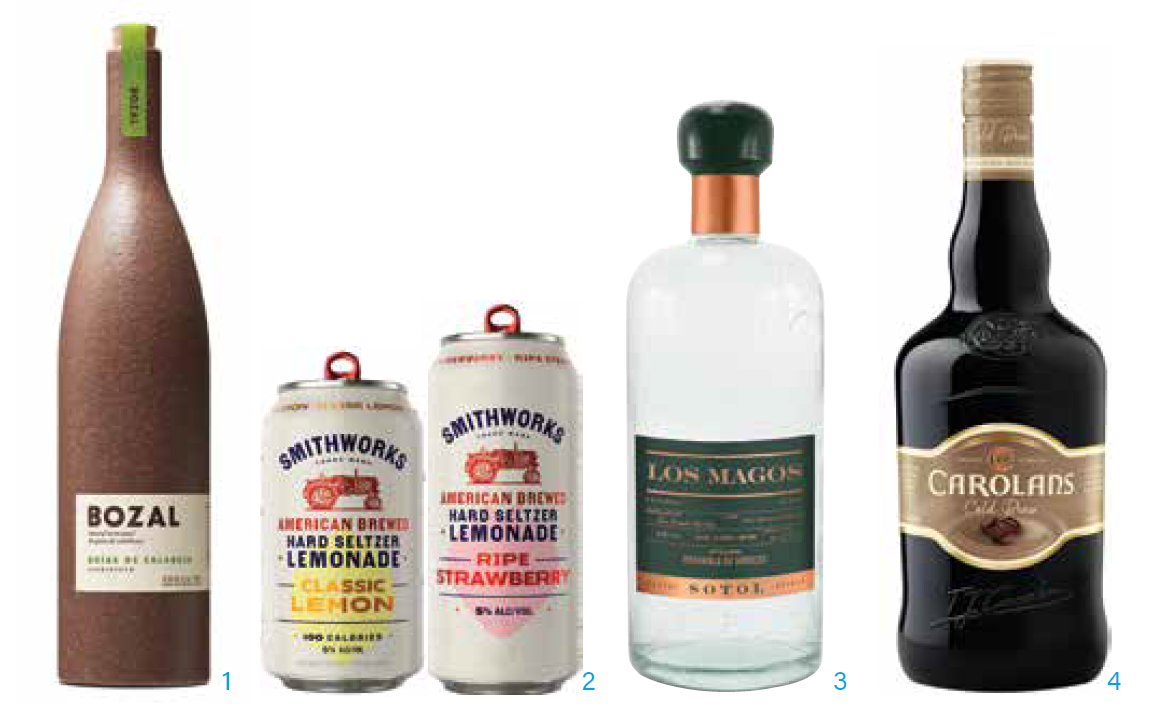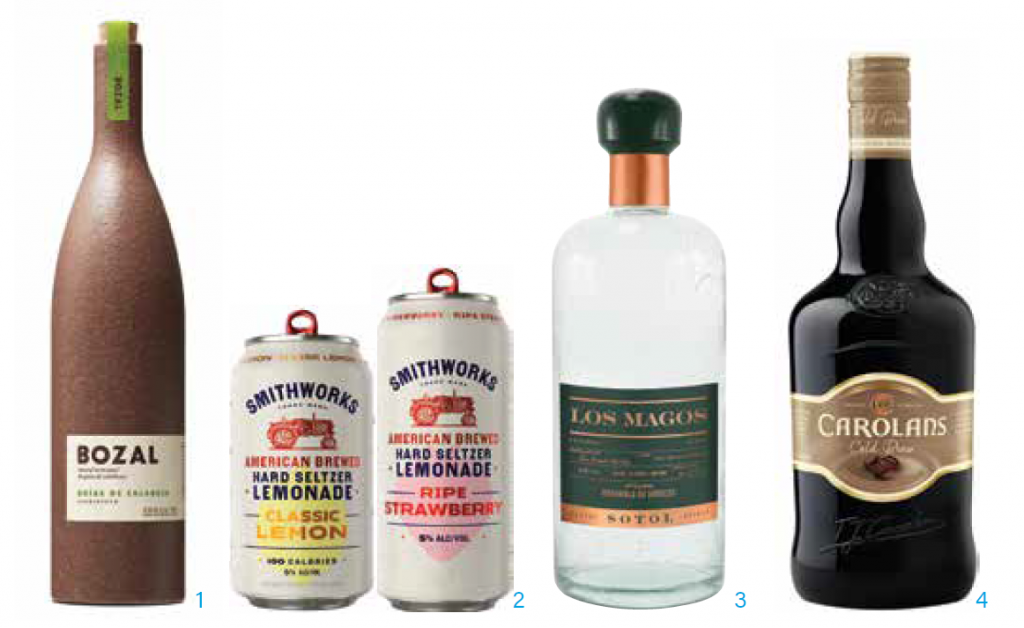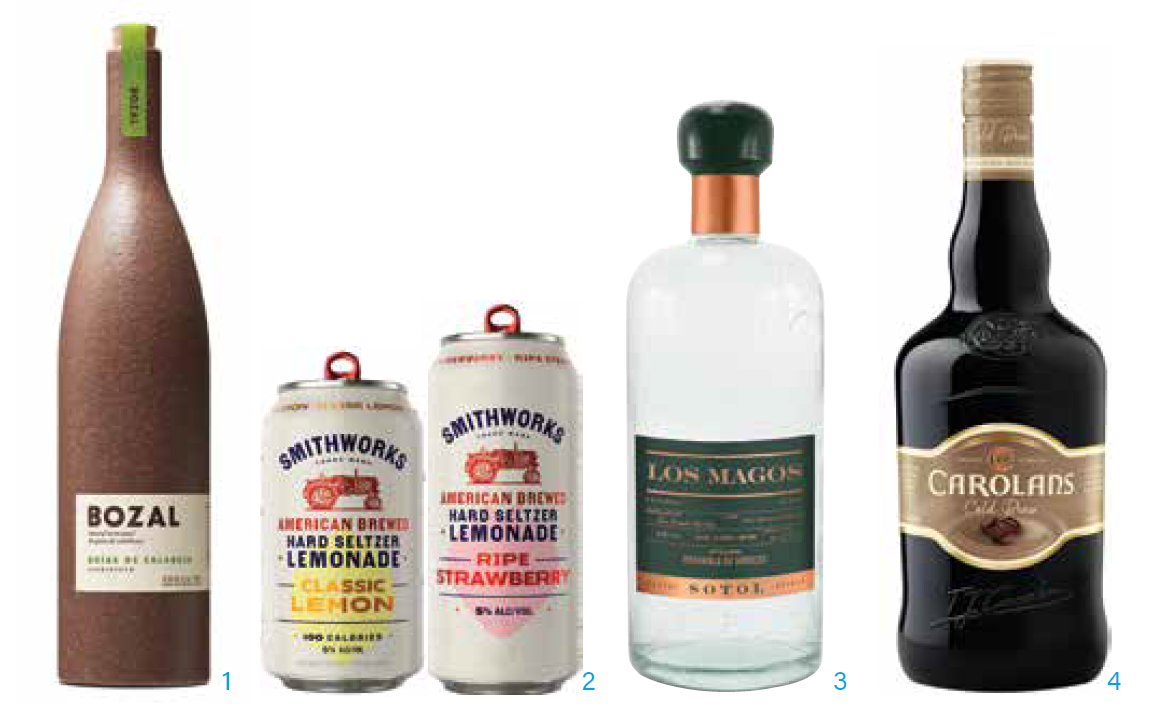 1. Bozol Mezcal Guías de Calabaza
Bozal Mezcal announced the debut of its first vegetarian Sacrificio mezcal, Guías de Calabaza, from Río de Ejutla in Oaxaca. A single maguey expression made from 100 percent Espadín, Bozal Guías de Calabaza includes chepiche—a perennial herb used in Mexican cooking—employed in the final distillation that rounds out warm vegetal flavors from the pumpkin stems and plantains substituted for the traditional meats used in most Sacrificio mezcals. The 47% ABV mezcal is produced by 3 Badge Beverage Corp.
SRP: $99
bozalmezcal.com
2. Smithworks Hard Seltzer Lemonade
Smithworks, a collaboration between Pernod Ricard and country music artist Blake Shelton, has launched Smithworks Hard Seltzer Lemonade. Renowned for its American-made vodka, Smithworks now enters the RTD category with its line of hard seltzer lemonade in four flavors inspired by America's Heartland: Classic Lemon, Ripe Strawberry, Southern Peach Tea and Crisp Lime.
SRP: 12 pack $17.49
smithworksvodka.com
3. Los Magos Sotol 
Los Magos announces the U.S. launch of their Sotol, an indigenous Mexican spirit made from the wild-harvested Sotol plant, the species Dasylirion wheeleri. Known as the hidden gem of the Chihuahuan desert, this sotol was born from the desire of Mexican natives Eduardo Almanza and Juan Pablo Carvajal to honor their heritage. The 76 proof blanco sotol is distilled in copper stills, and the founders already have plans to expand their offerings throughout 2021.
SRP: $55
losmagossotol.com
4. Carolans Cold Brew
A new and unique offering comes from the makers of Carolan's Irish Cream liqueur, the second largest brand of Irish cream. Made with velvety Irish Cream liqueur combined with cold brewed coffee, it offers pronounced roasted coffee, chocolate, and nutty flavors. Bottled at 34% ABV, Carolan's Irish Cream Cold Brew is available now nationwide in the 750ml size.
SRP: $15.99
carolans.ie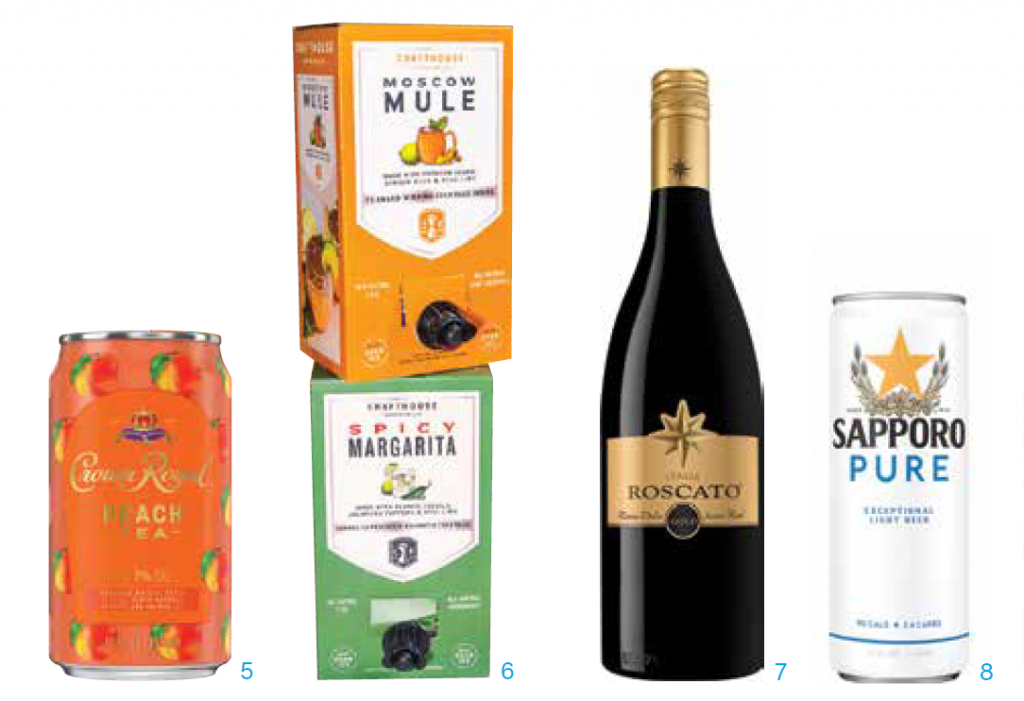 5. Crown Royal Canadian Whisky RTD Offerings
Crown Royal Canadian Whisky joins the ready-to-drink sweepstakes with the introduction of its own line of cocktails in three flavors: Whisky & Cola, Washington Apple (made with apple and sparkling cranberry), and Peach Tea (made with peach flavors and brewed tea), all 7% alcohol by volume.
SRP: $3.99, 12 oz.; $14.99, 4-packs
crownroyal.com
6. Crafthouse Cocktails Bag in Box
Crafthouse Cocktails, a range of ready-to-drink canned and bottled cocktails cofounded in 2013 by bartender, Charles Joly and Chicago restaurateur Matt Lindner, has begun rolling out 1.75ML party boxes around the country. The 1.75ML bag-in-box cocktail line includes four cocktails—Moscow Mule, Pineapple Daiquiri, Smoky Margarita, and their newest cocktail offering, a Spicy Margarita that is exclusively sold in this format. The party box is recyclable.
SRP: $27.99
crafthousecocktails.com
7. Roscato Gold
Palm Bay International announces Roscato Gold, the newest addition to the brand's range of wines from northern Italy. Made from a blend of native and international red grapes, Roscato Gold combines tradition with modern winemaking techniques; each variety is harvested and vinified separately, the juice is kept on the skins for several days at low temperatures to extract aromas and color. The result is a fresh, fruit-forward wine with a subtle fizz, targeted at the sweet red blend consumer, 7% ABV.
SRP: $12.99 per 750ml
roscatowine.com
8. Sapporo Pure
Sapporo U.S.A., maker of the number one selling Asian beer brand in the U.S., has unveiled Sapporo Pure, a new light beer meant to serve the evolving tastes of the modern consumer as well as longtime Sapporo drinkers. The beer will be among the lowest calorie options in the superior light beer category, with 90 calories, 2.4g carbs, and 4% percent ABV. Pure will join a Sapporo brand family that includes Sapporo Premium, Sapporo Premium Black, Sapporo Premium Light and Sapporo Reserve.
SRP: $8.99-$10.99 per six pack
sapporobeer.com/age-gate/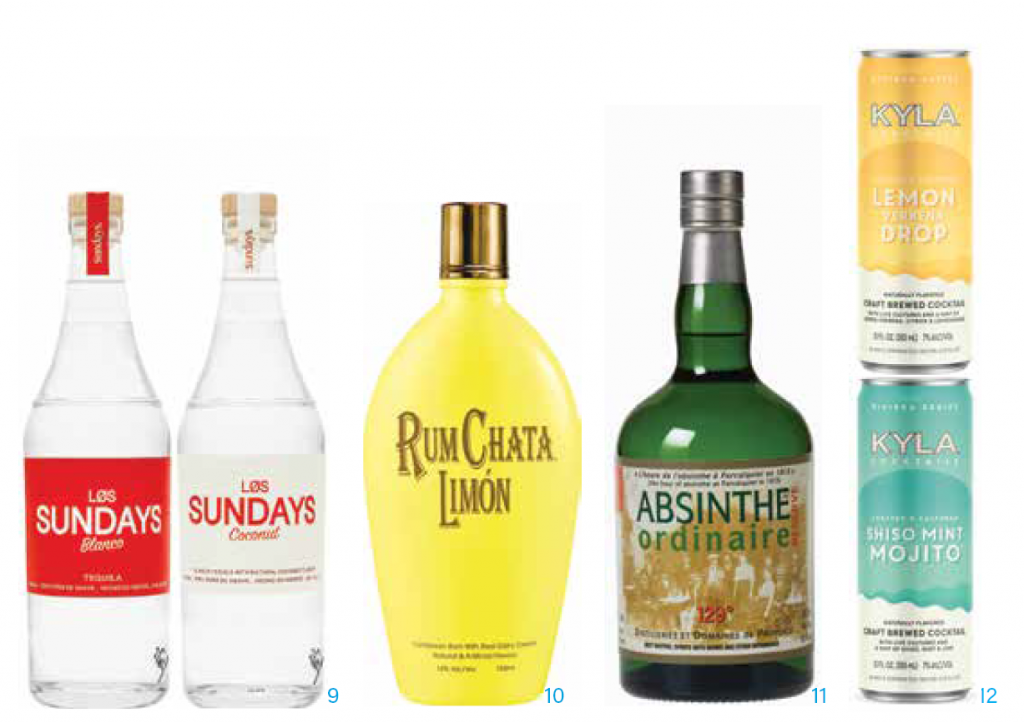 9. Løs Sundays Tequila
Løs Sundays tequilas—Blanco and Coconut—are made from sustainably farmed Blue Weber agaves grown in Highlands and Lowlands. Traditionally cooked in stone and brick ovens and twice distilled in Jalisco, Løs Sundays Tequila is described as a "clean, smooth tequila for the people, that can be enjoyed neat as a sipping tequila or crafted into your favorite cocktail."
SRP: $29.99 – $37.99
lossundays.com
10. RumChata Limón
RumChata Limón will now be available nation-wide and the announcement coincides with the launch of two additional sizes for the brand, a 375ml bottle and 100ml 3-pack. RumChata Limón blends Caribbean rum with real cream, vanilla and lemon and is packaged in a bright yellow version of the iconic RumChata bottle, complete with the familiar gold cap.
SRP: 750ml, $21.99; 3-pack $11.99; 375ml $15.99
rumchata.com
11. Absinthe Ordinaire
The first Absinthe recipe was invented by Dr. Pierre Ordinaire in 1792 in rural France, and enthusiasts for this new drink brought it to Paris, where it became the symbol of the free bohemian spirit. Today, Absinthe Ordinaire Reserve recalls the legendary absinthe recipe from the era of La Belle Epoque. Distilled from many botanicals including wormwood, southernwood, peppermint, lemon balm, and fennel, it is bottled without dye at 129 proof.
SRP: $40
crillonimportersltd.com
12. Kyla Riviera Hard Kombucha
This range features a twist on classic cocktail culture with modern flavors, alongside gutfriendly probiotics. Each 12 oz. single can serving contains 150 calories, 3 grams of sugar, 2 grams of carbs, and 7% ABV. Kyla Riviera comes in four flavors: Lemon Verbena Drop, Shiso Mint Mojito, Bergamot Blood Orange Fizz, and Pom Pom Collins.
SRP: 4-packs, $12.99; 8 pk variety, $19.99
kylakombucha.com