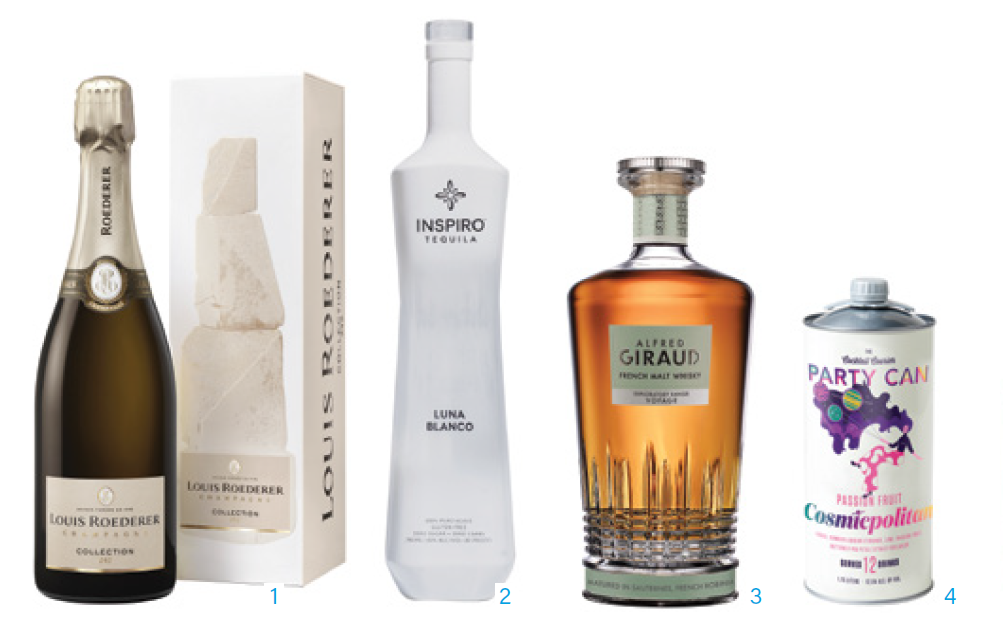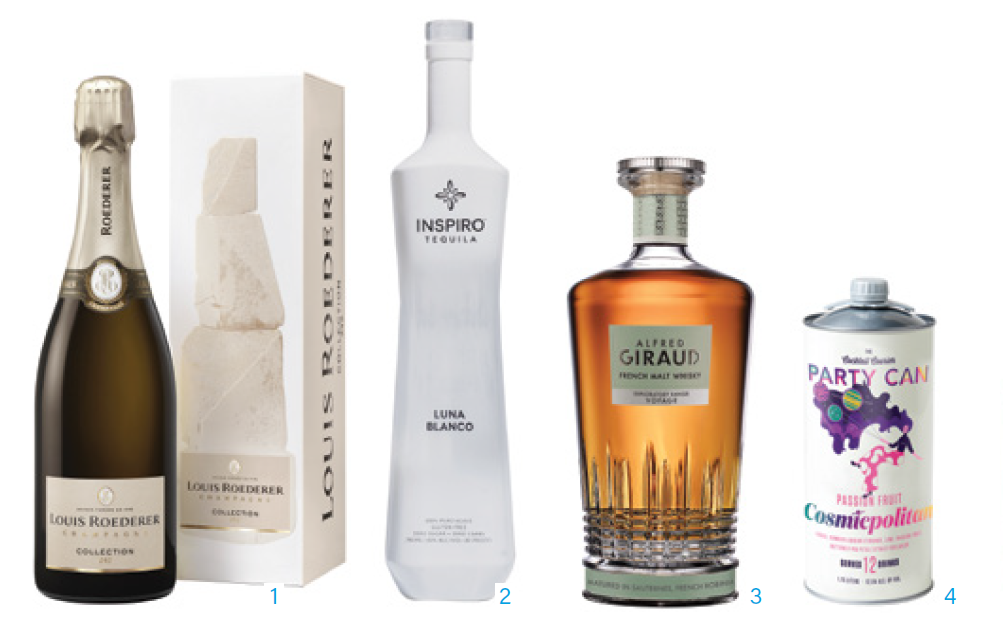 1. Louis Roederer Collection 242
A bold successor to Louis Roederer's longstanding, but now discontinued, Brut Premier NV expression, the multi-vintage Collection 242 was born out of a deep concern for the environment. The blend, marking a new chapter for the Champagne house, is dominated by grapes from the 2017 harvest, largely Chardonnay, Pinot Noir, and Meunier from the Vallée de la Marne, and balanced with both a "Perpetual Reserve" and oak-aged reserve wines for a fresh, finessed flagship bubbly.
SRP: $63 per 750ml bottle
louisroederer.com
2. Inspiro Tequila
Luna Blanco, packaged in a slim, elegant, easy-to-pour bottle, is the inaugural offering from female-fueled Inspiro Tequila, conceived by former Chicago lawyer Mara Smith and crafted by "maestra tequilera" Ana Maria Romero Mena. Devoid of additives, sugar, and carbs, Luna Blanco is made with 100% Blue Weber agave and mellowed in American oak barrels. A rush of vanilla and caramel flavors leads to undertones of berry, mint, and citrus.
SRP: $52.99 per 750ml bottle
inspirotequila.com
3. Voyage By Alfred Giraud French Malt Whisky
Four generations of the Giraud clan gained expertise at a Cognac house before venturing into whisky. Voyage, the first "Exploratory Blend" from family-owned Alfred Giraud French Malt Whisky, brings together two single malts. One of them is aged in Sauternes casks that conjure layers of custard, grape, and acacia honey; the other rests in French Robinia, a robust wood rarely used in whisky production that imbues the spirit with white flower notes.
SRP: $180 per 750ml bottle
alfredgiraudwhisky.com
4. Party Can
After the debut of Triple Spice Margarita, its initial offering, the large-format, ready-to-drink Party Can has introduced two additional flavors: Cosmicpolitan and Gold Rush Old Fashioned. The former, a riff on the Cosmo, melds passionfruit, vodka, orange liqueur, and lime; the latter combines Kentucky bourbon, honey, and fresh lemon juice with natural herbs, bitters, and black and chamomile teas. The playfully designed, resealable cans each contain 12 full-size cocktails.
SRP: $29.99 per 1.75 liter can
drinkpartycan.com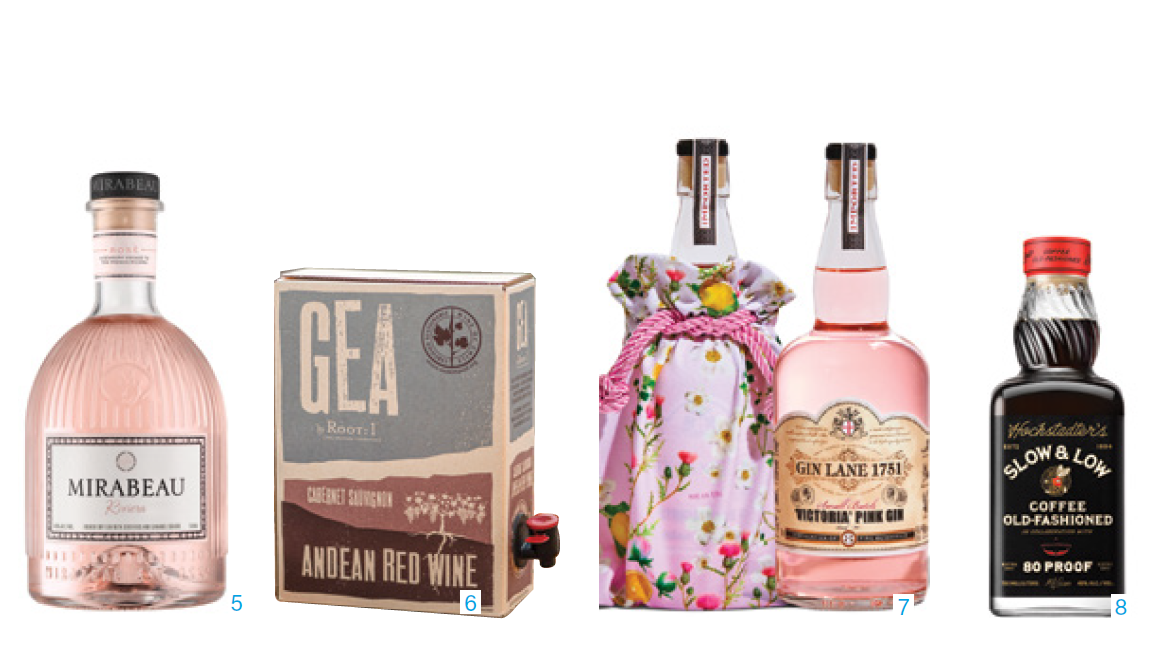 5. Mirabeau Riviera Dry Rosé Gin
At first, Londoners Stephen and Jeany Cronk set out for Provence to make wine. Now the entrepreneurs behind the rosé empire Maison Mirabeau have set their sights on spirits with the launch of Mirabeau Riviera Dry Rosé Gin. The bone-dry pink gin is built on a base of 100% grape neutral spirit upcycled from discarded grape skins and is laced with a slew of botanicals, including juniper berries, Menton lemon peels, Orris and Angelica root, rosemary, thyme, and coriander seeds.
SRP: $44.99 per 750ml bottle
maisonmirabeau.com
6. Gea By Root: 1
Sustainable Chilean winery Root: 1 has launched its GEA brand in the U.S. through Winebow Imports. Packaged in a portable, eco-conscious three-liter box, GEA by Root:1 is a red blend dominated by Cabernet Sauvignon, rounded out with a hint of País, an historic, indigenous Chilean varietal sourced from the valley between the Andes mountain range and the Pacific Ocean. The medium-bodied wine, produced with clean energy sources and minimal water usage, flaunts aromas of fresh berries and floral notes.
SRP: $25 per three-liter box
root1wine.com
7. Gin Lane 1751 X Cynthia Rowley
Fashion designer Cynthia Rowley's collaboration with London-distilled Gin Lane 1751 has yielded the 'Victoria' Pink Gin Bottle Clutch. The petite drawstring bag, decked out in Rowley's uplifting floral pattern, holds one bottle of Gin Lane 1751's aromatic bitters-infused pink gin. The limited- edition release supports Gin Lane 1751's annual fundraising initiatives for the Pink Agenda; through the end of 2021, 50 percent of profits from the clutch will be donated to this non-profit organization for its commitment to breast cancer research and care.
SRP: $37.99 per 750ml bottle
ginlane1751.com
8. Slow & Low Coffee Old Fashioned
An expansion of the Cooper Spirits Company's pioneering ready-to-drink brand Slow & Low Rock & Rye, Slow & Low Coffee Old-Fashioned is inspired by the New Orleans classic Café Brûlot. Developed in partnership with Intel-ligentsia Coffee, the bottled libation comprises two-year-old rye whiskey and an Intelligentsia Cold Coffee blend mingling Ethiopian, Guatema-lan, and Peruvian brews, along with raw honey, demerara cane sugar, aromatic bitters, and
orange peel.
SRP: $26.99 per 750ml bottle
drinkslowandlow.com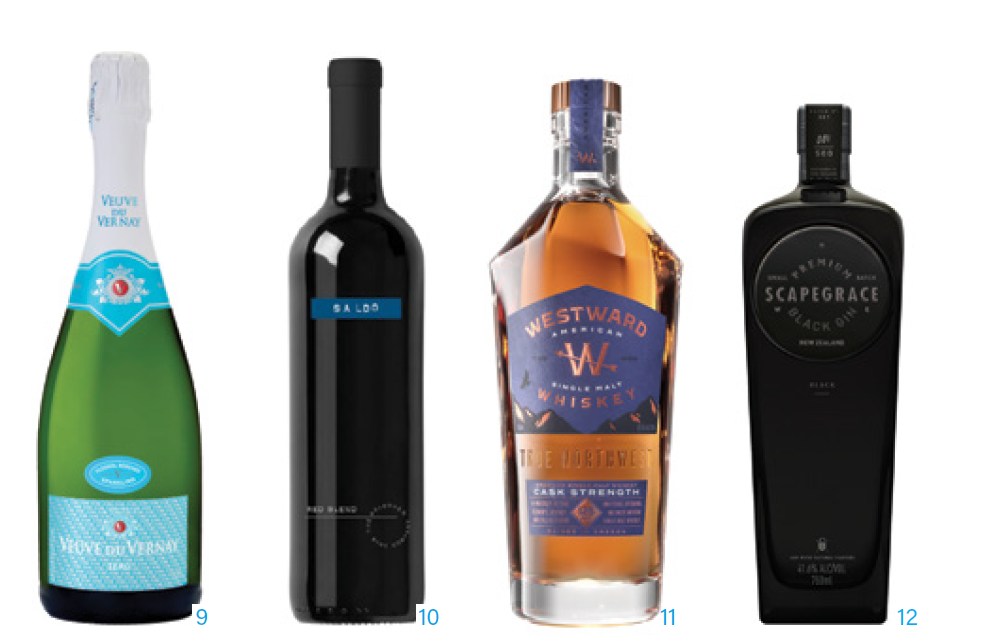 9. Veuve Du Vernay Sparkling Alcohol Removed
Tapping into the rising demand for alcohol-free alternatives, Veuve du Vernay, the affordably priced French sparkling wine brand known for its Ice and Brut varieties, has unveiled Sparkling Alcohol Removed. This vegan expression, concocted from 100% Muscat grapes, is subtly floral and free of added sugar, ideally served as an aperitif or with dessert.
SRP: $14.99 per 750ml bottle
veuveduvernay.com
10. Saldo
Raves for the Prisoner Wine Company's Saldo Zinfandel encouraged the Napa Valley winery to start developing an entire luxury portfolio of Saldo wines. The newest installment is the dense Red Blend, composed of Petite Sirah, Syrah, Cabernet Sauvignon, and Zinfandel sourced from California's North and Central Coasts. The Prisoner Wine Company's director of winemaking Chrissy Wittmann, and Saldo lead winemaker Todd Ricard, an alum of Wild Horse Winery, are also working on a Chenin Blanc slated to hit shelves in 2022.
SRP: $32 per 750ml bottle
theprisonerwinecompany.com
11. Westward American Single Malt Cask Strength
Locals have been enjoying Westward American Single Malt Cask Strength for several years in Portland, Oregon, tasting rooms. Now, this barrel-strength version of the original Single Malt has become the brand's fourth permanent line extension, available nationwide. Rife with flavors of sesame, tobacco leaf, and cacao, the 125-proof whiskey is formed from locally malted barley, brewed with ale yeast, and aged in new, lightly charred American oak barrels.
SRP: $99.99 per 750ml bottle
westwardwhiskey.com
12. Scapegrace Black Gin
Scapegrace Black Gin, a New Zealand hit from brothers-in-law Mark Neal and Daniel McLaughlan's Scapegrace Distillery, can now be found stateside. Its eye-catching jet-black hue is all natural, thanks to a botanical blend of local sweet potato, aronia berry, pineapple, saffron, and electric blue-colored butterfly pea flower from Southeast Asia. When the gin comes into contact with the acidity from, say, citrus or tonic, it dramatically morphs into a soft lavender hue.
SRP: $39.99 per 750ml bottle
scapegracedistillery.com