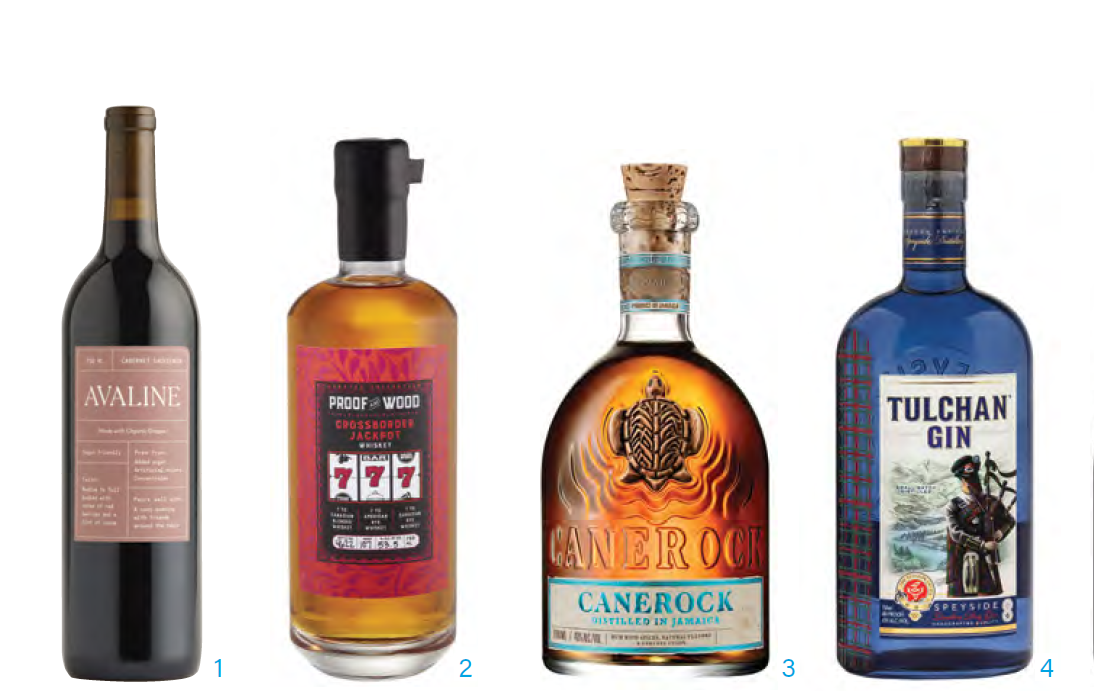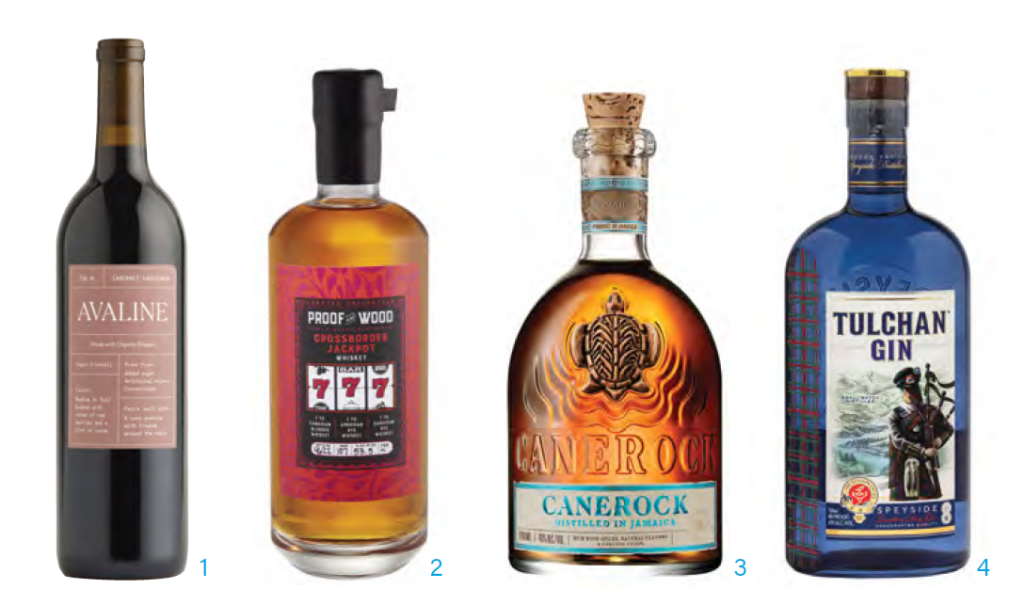 1. Avaline
Consumers asked for a Cabernet Sauvignon and Avaline founders Cameron Diaz and Katherine Power came through with one exhibiting red berry and cocoa notes. Like the brand's Chardonnay, released earlier this year, the Cabernet Sauvignon was made with 100 percent organic grapes and zero sugar in collaboration with family-owned Tagaris Winery in Richland, Washington.
SRP: $30 per 750-ml bottle
drinkavaline.com
2. Proof and Wood Ventures
Three seven-year-old spirits—an American rye distilled in Indiana, a Canadian rye, and a Canadian blended whisky both produced in Alberta—come together in an eightbarrel blend of Proof and Wood Ventures' Crossborder Jackpot. The 107-proof, smallbatch whisky delivers a rush of vanilla, cinnamon, and spice on the palate.
SRP: $79.99 per 750-ml bottle
proofandwood.com
3. Canerock Jamaican Spiced Rum
Maison Ferrand has expanded its portfolio with Canerock Jamaican Spiced Rum, finished in former Pedro Ximénez sherry casks. After more than 90 experiments conducted over the course of three years, the final recipe now stars a blend of 100 percent Jamaican aged rums from the Long Pond and Clarendon distilleries that is buoyed by infusions of Madagascar vanilla bean, Caribbean coconut, and a hint of Jamaican ginger.
SRP: $29.99 per 700-ml bottle
canerock.com
4. Tulchan Gin
Speyside is synonymous with Scotch, but floral Tulchan Gin, produced on a 22,000-acre estate in the region, is adding a new dimension to an age-old narrative. The small-batch, ultrapremium
London Dry-style gin begins with chamomile and sweet pine on the nose and blossoms into candied orange and lemongrass before finishing with a burst of elderflower and coriander.
SRP: $40 per 750-ml bottle
tulchangin.com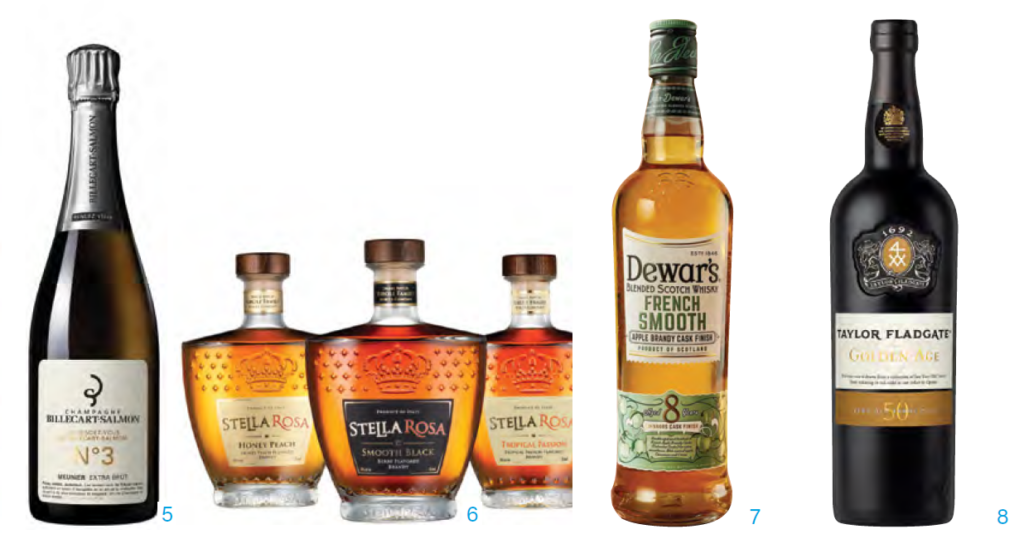 5. Billecart-Salmon
In 2020, Billecart-Salmon introduced the first offering in its Rendez-vous collection, an exploration of Champagne grape varieties from stand-out terroirs based on experiments carried out by the house's tasting committee. The latest is the N°3 edition, a yellow plum- and whitecherry-forward showcase of Meunier from the three villages of Leuvrigny, Damery, and Venteuil.
SRP: $90 per 750-ml bottle
champagne-billecart.com
6. Stella Rosa
Stella Rosa, part of the Riboli Family Wines portfolio, is known for its semi-sweet, semisparkling Italian wines. Now the brand has ventured into the spirits category with three premium brandies made in small batches and featuring fruit flavors fresh from the hills of northern Italy, inlcuding Honey Peach, Tropical Passion, and Smooth Black, which mingles blueberry, raspberry, and blackberry. Brandy Norwood—singer, songwriter, producer, actor, and model—is the face behind The Spirit of Stella Rosa launch campaign.
SRP: $29.99 per 750-ml bottle
stellarosawines.com
7. Dewar's
Oak casks that once held Calvados made in Normandy, France, are now invigorating Dewar's French Smooth, the fifth iteration in the brand's cask-finished series. Master blender Stephanie Macleod united over 40 single malt and grain whiskies matured for eight years in Scotland before finishing them in the Calvados barrels for six months. Tasting of citrus, cinnamon, and baked apples, the spirit is a boon for autumnal highballs.
SRP: $24.99 per 750-ml bottle
dewars.com
8. Taylor Fladgate
Taylor Fladgate's cellars, with their thick granite walls and high ceilings, are located near the Douro river and Atlantic ocean, which provide optimal humidity levels for the ports that mature there, such as the amber-hued Golden Age Very Old Tawny Port, a 50-year-old port that spent the last half century in these underground spaces mellowing in oak casks. Its nuanced layers of scorched pineapple and butterscotch are preceded by aromas of rum and raisin.
SRP: $325 per 750-ml bottle
taylor.pt/us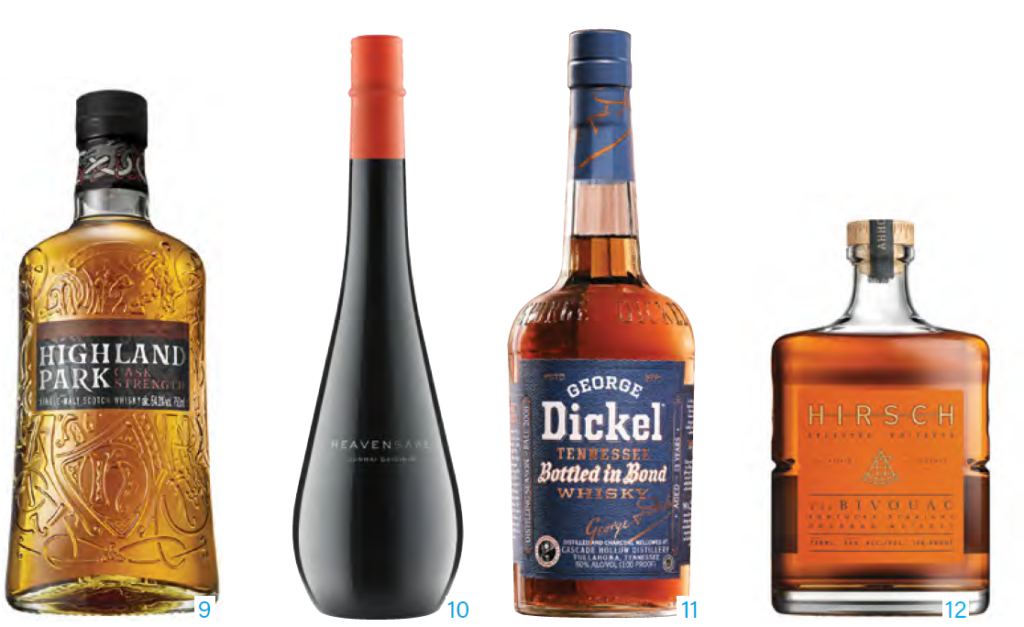 9. Highland Park
Cask Strength Release No. 3 is the newest addition to Highland Park's straight-from the barrel series of Scotch whiskies. Unlike the first two single malts in the range, this one is made with a significant proportion of Orkney peated malt, lending it a smokier profile. The 128.2-proof spirit was largely aged in first-fill, sherry-seasoned American and European oak casks and rounded out with a small number of refill casks, resulting in a medley of charred oak, tropical fruit, and vanilla cream notes.
SRP: $99.99 per 750-ml bottle
highlandparkwhisky.com
10. Heavensake
Franco-Japanese sake brand, Heavensake, has bolstered its lineup with a new jungmai daiginjo. Label Orange, produced in tandem with the renowned sake brewer Urakasumi in the Miyagi prefecture, flaunts the deft touch of a winemaker. Régis Camus, the Heavensake cofounder and a chef de cave in Champagne, worked with the nearly 300-yearold Urakasumi to create a silky sake that fuses just rice (Yamadanishiki and the local Kura No Hana varieties), Miyagi's soft water, and two proprietary yeasts, including Kyokai.
SRP: $69.99 per 720-ml bottle
heavensake.com
11. George Dickel
Led by Nicole Austin, the general manager and distiller of Cascade Hollow Distilling Co., George Dickel Bottled in Bond Fall 2008 joins the Tennessee distillery's renowned Bottled in Bond series of whiskeys produced during one distillation season. Aged for 13 years in oak casks, the 100-proof spirit follows George Dickel Bottled in Bond Spring 2007.
SRP: $44.99 per 750-ml bottle
georgedickel.com
12. Hirsch Selected Whiskeys
A reverence for nature was the impetus behind Hirsch's 100-proof Bivouac Kentucky Straight Bourbon, a combination of two straight bourbons distilled in Bardstown. Ninety-five percent of the custom mash bill, a nod to the A.H. Hirsch 16-year-old reserve, is comprised of 74 percent corn, 18 percent rye, and eight percent malted barley, which is boosted by a complexity-inducing five percent touch of high-malted barley mash aged for a minimum of eight years. The whiskey's oak and dark chocolate notes are balanced with sweet honey.
SRP: $55 per 750-ml bottle
hirschwhiskey.com