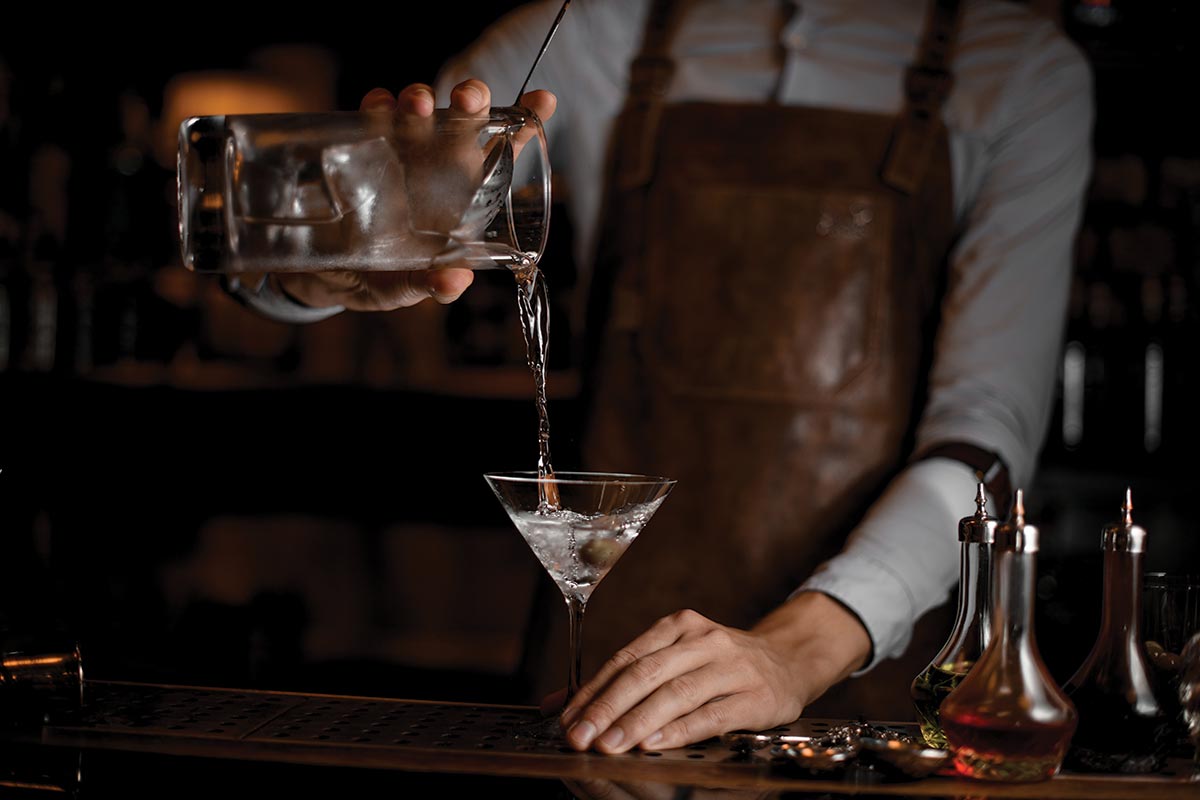 By Khalid Williams
Vodka. Martini. These two words that seem so benign have caused years of cocktail-based microaggression; what I call "mixology virtue signaling." Odorless. Colorless. Flavorless. Most bartenders who fancy themselves as "craft mixologists" or whatever term is au courant know vodka's legal definition by heart — and they use it to dismiss what is usually the top-selling spirit as boring or passé.
Vodka's place in cocktail culture is simultaneously integral and an afterthought, depending on who you ask. It's usually used by some of us who fancy ourselves to be a bit more, say, "crafty," to cast judgment on a supposed lack of sophistication. I fell victim to this thought process for a while. To be sure, we absolutely had way too many flavored vodkas for way too long, and it made for a generation of menus with far too many "tinis."
The word "martini" conjures up two distinct visions for most people. The glass is V-shaped, first, and second, the liquids are either clear with three olives or some bold color of bright and fruity or dark and caffeinated enjoyment.
Some of us judge folks that find a martini to be anything besides gin and dry vermouth (this is absolutely the original and classic definition). We scoff at all manner of "fruit-tinis," but ironically welcome the tips that come from serving them without a second thought. It's a little bit of hypocrisy that wise minds should ponder and evolve beyond.
If you polled 100 drinkers on what a "martini" is, the majority would absolutely say that it involves vodka. What happens when the original thought has been overtaken by consensus? What happens when "accurate" doesn't necessarily mean "correct"? The result usually is that creative minds balance what is correct with what is the consensus, and something beautiful is born.
The vodka martini has seen such a lovely revival in the 2020s and I think that it has to do with people finding comfort in the things that they easily understand. The cocktail world took a step toward simplicity and is still finding nuanced ways to make drinks more interesting. Let me inform you: Hating vodka is so 2009.
Instead of being an abyss, vodka is providing a rich canvas to be adorned by inspired bar-tists. I have found that evaluating them based on mouthfeel, body and the aroma notes in the finish are key indicators to find vodkas that amplify complex flavors and create cocktails that are appealing to the taste buds and compelling to the mind. With that, here are my selection basics:
Wheat-based vodkas tend to lean sweet with a tongue-coating silkiness. These can make magic in a classic sour or daisy.
Potato vodkas display a note of earthiness and do exceedingly well in savory cocktails. Your hot and dirty martini will thank you.
Corn-based vodkas do nicely in mules because of the punchy richness and body. The spirit will shine through the spice of the ginger beer and the acidity of the lime.
Fruit distilled vodkas show citrus notes and are the lightest in body. The ubiquitous vodka soda could be turned into a fun and legendary vodka sling with a few tweaks.
 And if you're interested in a transcendent drinking experience, get your hands and palate on a sugar cane distilled vodka.
While spending some time at the Hartford Flavor Company, founder and creator Lelaniea Dubay spoke about the unlimited potential of a well-made and clean straight vodka. The aromatics are "wide, like a piece of music with space between the notes," she said. Her sugar cane distilled offering does away with the notion that "vodka is vodka is vodka."
The sugar cane gives a note of sweetness that permeates the liquid and lends support to other flavors. Also, the water used is integral. The Hartford Flavor Company uses hydrogen-charged water, which they sustainably filter and infuse with minerals, hydrogen and oxygen. The result is vodka that possesses an "energy charge and a life force."
I am challenging all who make cocktails to drink in the now. History is so important, but it's not a substitute for being present and open to innovation and creating new narratives around our entire cocktail universe. Vodka seems like a lovely place to start.
Khalid Williams is a bar manager, spirits brand representative and program consultant specializing in marketing, engagement and data. His passion is for exploring the "why" behind consumer decisions. He loves Old-world wine, New-world rum and Connecticut beer. Follow him on Instagram @thebarrelage.