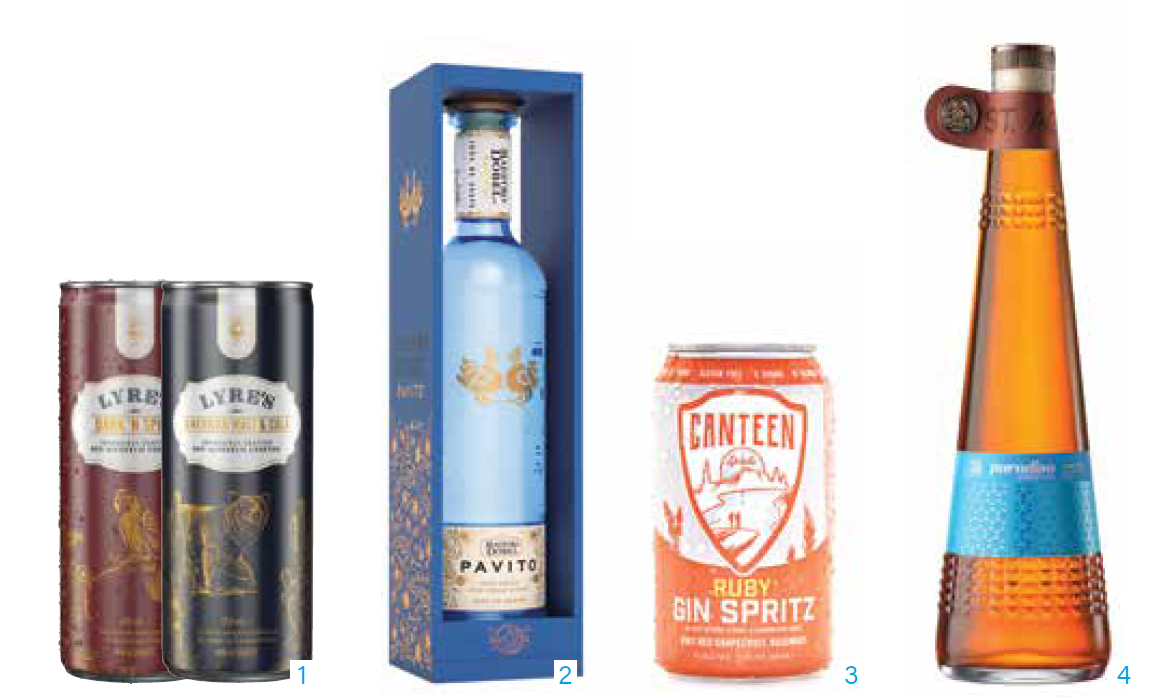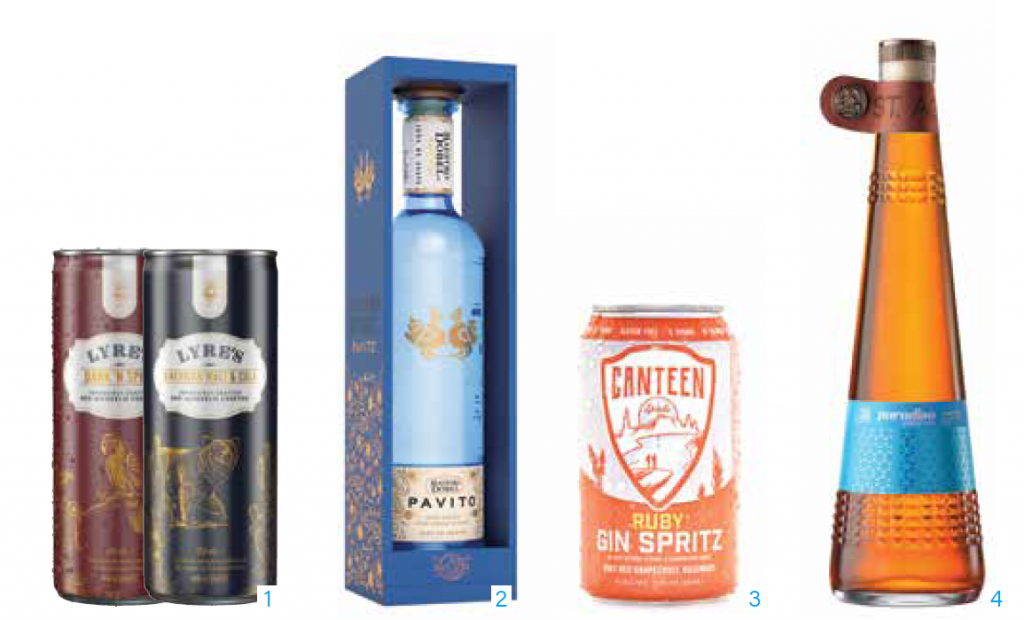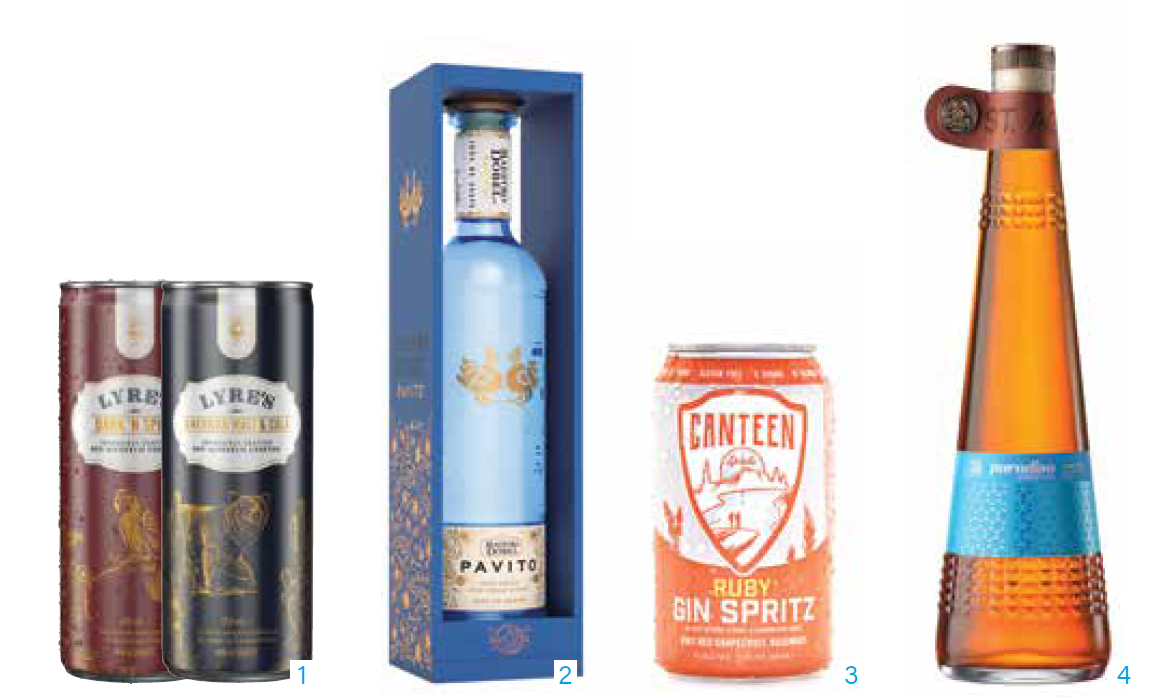 1. Lyre's Non-Alcoholic Spirits
Two new cocktail-inspired creations have joined the roster of highball-friendly, ready-to-drink beverages from Australian company Lyre's Non-Alcoholic Spirits, which already includes a Gin & Tonic, Amalfi Spritz, and bubbly Classico. Lyre's American Malt and Cola reinterprets a simple bourbon and cola with caramel, toasted nut, spice, and rye flavors, while Lyre's Dark 'n Spicy is a riff on the rum-fueled Dark 'n' Stormy with Lyre's Spiced Cane and Dark Cane Spirits, ginger, and lime zest.
SRP: $12.99 per four-pack
lyres.com
2. Maestro Dobel Pavito
Known for its Cristalino expression, Maestro Dobel Tequila now presents the limited-edition Maestro Dobel Pavito. A pechuga tequila enlivened with turkey breast, it is an homage to centuries-old Mexican traditions and celebrations, made in the lowlands of Jalisco with 100% Blue Weber agave from a single family-owned estate. First, a base of Maestro Dobel's Silver tequila is double-distilled in copper pot stills, then a mix of fruits and spices are macerated before a third distillation. That's when the turkey is placed atop the still to infuse the vapors with savory notes.
SRP: $59.99
maestrodobel.com
3. Canteen Gin Spritz
Austin-based ready-to-drink cocktail brand CANTEEN Spirits, part of Anheuser-Busch's Beyond Beer group, now has a gin offering to complement its vodka and tequila cocktails: CANTEEN Gin Spritz. Available in Blossom Gin Spritz (hibiscus, lime, juniper); Citrus Gin Spritz (lemon, lime, cucumber, juniper); and Ruby Gin Spritz (ruby red grapefruit, rosemary), all three varieties are a low 5% ABV, contain zero sugar, and are just 99 calories per can.
SRP: $9.99-$12.99 per six-pack
drinkcanteen.com
4. St. Agrestis Paradiso Aperitivo
Italian-style products are the focus of Brooklyn, New York-based spirit and cocktail company St. Agrestis, and Paradiso Aperitivo is its newest arrival. A versatile wine-based aperitif that plays a pivotal role in the brand's ready-to-drink spritz, Paradiso Aperitivo is a bright combination of organic citrus, botanicals, and herbs. Although the subtly sweet liquid
is a natural companion to sparkling wine and water, its heightened acidity and refined bitter finish also helps give cocktails such as the Margarita and Paper Plane a boost.
SRP: $34.99 per 750ml bottle
stagrestis.com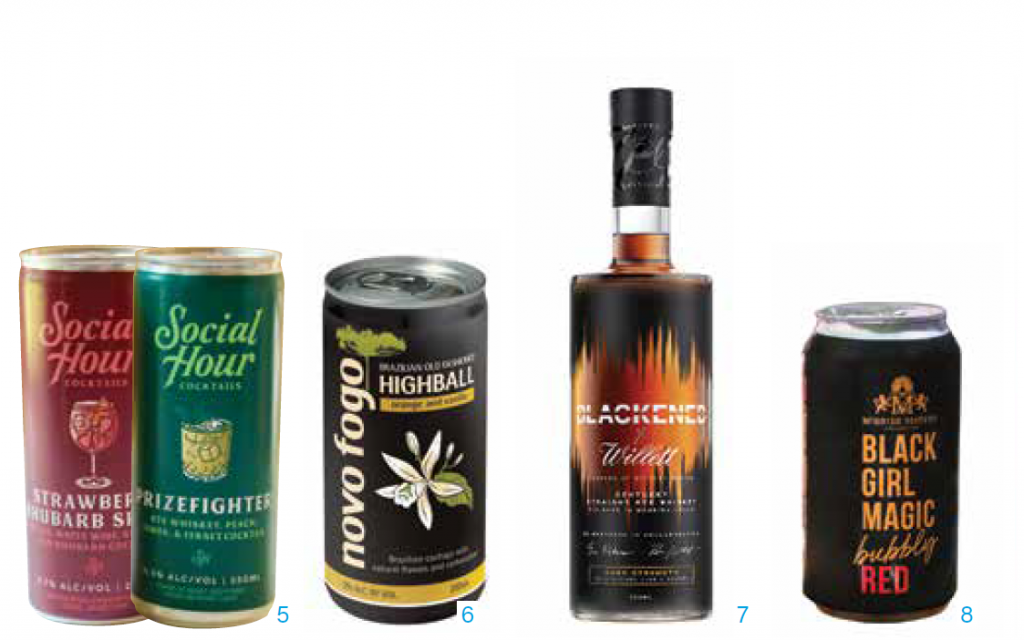 5. Social Hour Cocktails
Social Hour, the canned cocktail brand launched by pioneering New York bartenders Julie Reiner and Tom Macy, has introduced three libations to its original lineup of Gin & Tonic, Whiskey Mule, and Pacific Spritz. The Sunkissed Fizz (vodka, yuzu, peach, key lime, jasmine), the Strawberry Rhubarb Spritz (aperitivo, white wine, strawberry, rhubarb), and the Prizefighter (rye whiskey, peach, lemon, fernet) all brandish a new packaging design marked by a classic typeface and illustrations.
SRP: $20 per four-pack
socialhourcocktails.com
6. Novo Fogo Brazilian Old Fashioned Highball
After unveiling a Sparkling Caipirinha ready-to-drink line in 2017, Novo Fogo Cachaça has rolled out the South America-meets-North America Brazilian Old Fashioned Highball, another canned cocktail made with rum and whiskey fans top of mind. This time around, Novo Fogo Chameleon cachaça, which is aged for one year in repurposed American oak barrels, finds the limelight. Melding floral and oak notes, the drink, featuring vanilla syrup and orange and aromatic bitters, is lengthened with water and carbonated.
SRP: $11.99 per four-pack
novofogo.com
7. Blackened American Whiskey's Masters of Whiskey Series
For this new series, BLACKENED master distiller and blender Rob Dietrich teams up with fellow whiskey talents. First up is a collaboration with Drew Kulsveen of Willett Distillery, mixing high- and low-rye whiskies hand-picked from the Willett Family Estate Reserve Selection and finished in Madeira casks for 14 weeks. Like all batches of BLACKENED, a curated playlist of Metallica songs sonically enhances the whiskey. Bottled at cask strength at 109.6 proof.
SRP: $139.99 per 750ml bottle
blackenedwhiskey.com
8. Black Girl Magic Bubbly Red
Laidback holiday soirées are just the time to crack open a can of chilled Black Girl Magic Bubbly Red from the McBride Sisters Collection, the largest Black-owned wine company in the U.S. The effervescent tipple, sibling to Black Girl Magic Bubbly Rosé, is made with grapes from acclaimed California wine-growing regions and is packed with flavors of ripe blackberry, strawberry, and pomegranate bolstered by peppery spice. Each of the cans equals a half bottle of wine.
SRP: $91.09 per 12-pack
mcbridesisters.com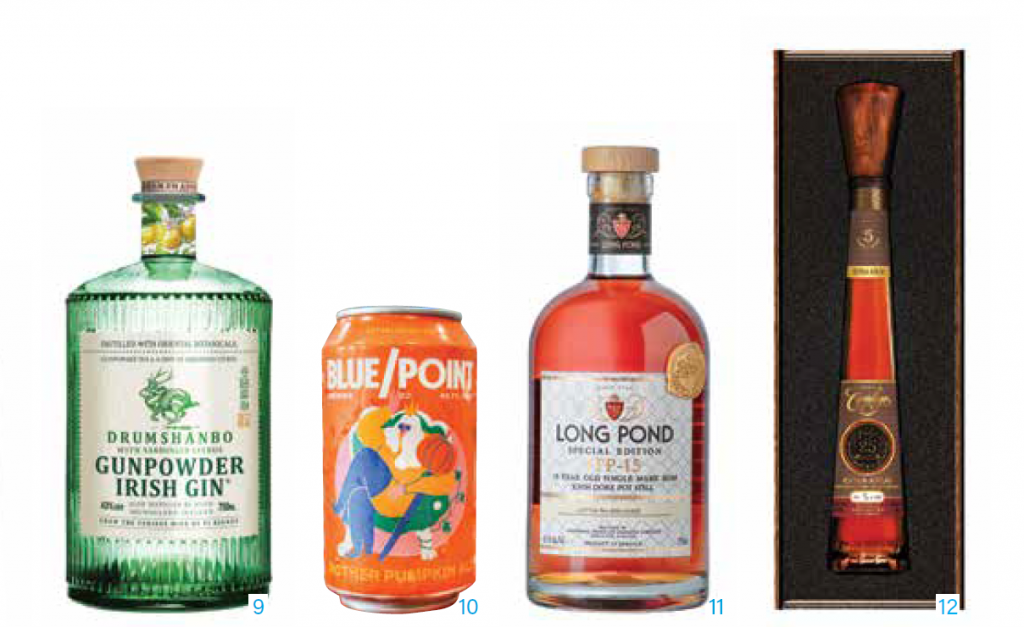 9. Drumshambo Gunpowder Irish Gin Sardinian Citrus
A recent addition to Palm Bay International's artisanal spirits portfolio, Drumshanbo Gunpowder Irish Gin Sardinian Citrus blends eastern spices, local botanicals, and slow-dried gunpowder tea. The vision of Patrick J. Rigney, managing director and founder of the Shed Distillery in County Leitrim, Ireland, the gin's star ingredient is Citrus monstruosa, one of the world's rarest citrus fruits grown only in the Siniscola region of Sardinia. It plays well with the spirit's notes of lemon, lime, and grapefruit.
SRP: $36.99 per 750ml bottle
thesheddistillery.com
10. Blue Point Brewing's Mother Pumpkin Ale
An autumnal blend of cinnamon, nutmeg, ginger, and allspice provides the warm backbone to golden orange-hued Mother Pumpkin Ale, one of Blue Point Brewing's hit seasonal beers. For this year's rendition, the Patchogue, New York, brewery craved a new look, turning to Lithuanian artist and illustrator Egle Zvirblyte to bring Mother Pumpkin to life as a cheeky, vivid character on the can. Mother Pumpkin Ale's return coincides with the limited re-release of Blue Point's Big Mother Pumpkin and Barrel Aged Big Mother Pumpkin.
SRP: $15.49 per six-pack
bluepointbrewing.com
11. Long Pond ITP-15 Single Vintage/Single Marque Jamaican Rum
Long Pond Distillers, in Clark's Town, Jamaica, has long been turning out premium bulk rum blends for brands like Monymusk and Plantation. Now, National Rums of Jamaica Limited has released for the first time since 1753 a bottled expression under the Long Pond Seal of Approval. Long Pond ITP-15 was produced using the John Dore Pot Still, found only at the distillery, and was matured in American oak barrels for 15 years.
SRP: $160
monymuskrums.com
12. Corralejo 25th Anniversary Extra Anejo Tequila
In honor of its 25th anniversary, Corralejo Tequila, imported by Infinium Spirits, has crafted a limited-edition Extra Añejo made with 100% Blue Weber agave that is slow-cooked in stone clay ovens and then fermented with a proprietary strain of yeast. Once double distilled, the tequila is mellowed for five years in Templeton Rye Whiskey barrels, where it acquires a palate of cereal, vanilla, caramel, and brown sugar.
SRP: $249.99 per 750ml bottle
tequilacorralejo.mx