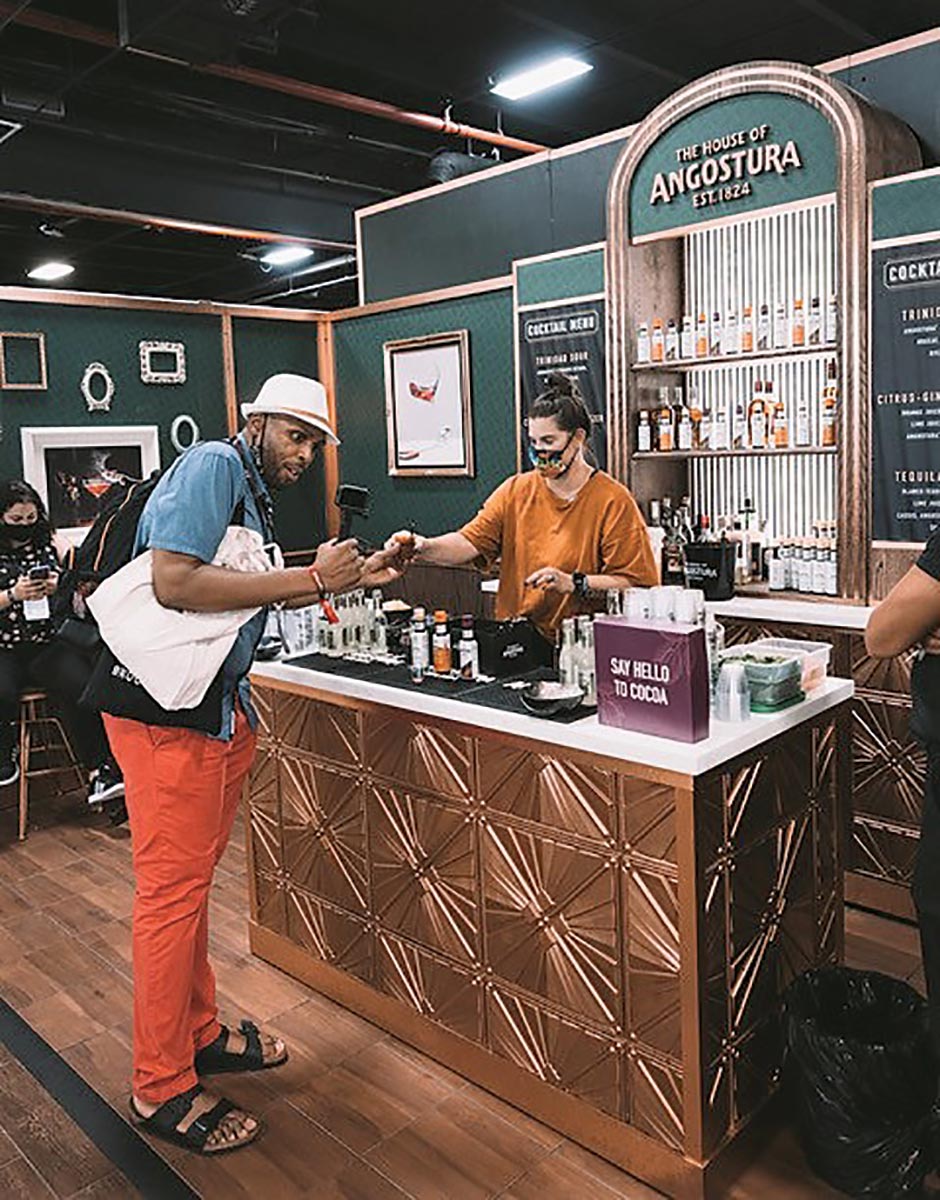 By Khalid Williams
"I have to go to a professional development conference." This is what I tell my clients and employers before I go sample the best booze brands in the entire country for two days straight. To those in other professions, it would probably come as a surprise that thousands of nocturnal drink slingers can taste a tipple of spirits of every sort for hours on end, and do so like professionals: learning, networking and collaborating all the while. It takes a special kind to navigate these events.
Before I even tasted one drop, I randomly happened upon a group of Connecticut locals who are industry leaders, as well as dear friends, who, we will hear from in this piece, too. Bartenders have wanderlust. As we travel, we fully form our identities through the experiences that we are afforded at the yearly run of industry events.
My most recent journey was to Bar Convent, an event that originated in Berlin and now finds itself across the Atlantic in Greenpoint, Brooklyn. The word "convent" originally meant a set of buildings that were connected by pursuit of religion. For many of us, this moniker is all too fitting, as we find mystical powers in the bottles that we sell, stir and shake.
BCB (shorthand for Bar Convent Brooklyn) certainly felt like it was spiritually guided in more than just the literal sense. The educational tracks were TED Talk-like in their impact. The industry luminaries who spoke gave something of themselves that was much more than their titles could indicate, bringing together professionals with expertise in different areas (marketing, finance, food), sharing their knowledge through lectures and workshops.
In two hours, I was able to learn how to leverage social media from the curators of @BeautifulBooze, a leading cocktail Instagram influencer, taste Chopin's bitter aperitivo (who knew?! I didn't), get a crash course in Calvados and Armagnac (they deserve so much more love than they get) and be guided on equity and ownership by bartenders of color who are changing the face of our industry for all of us, all with the people who I work with, compete with and have grown with over the years.
We even had an impromptu meeting of local Connecticut bar-minds, so stimulated that we literally had to stop what we were doing and have a meta-networking session. Tisane Euro-Asian Café's Bridget Hurley said, "Working at one place for a long period of time can end up making us narrow-sighted. I was here to see and do things that I haven't seen or done before. My work is based around an environment where innovation meets inclusion; new cocktails, and people of all kinds enjoying them, is my vision."
With 130 different brands, some of them representing more than eight different products at each booth, that vision was met. Each was set up with ornate and interactive stations for samples, swag and product education. A standout feature was an entire section dedicated to emerging brands. Separating those was valuable because firstly, new products can intimidate simply because they've not yet been heard of. Secondly, it noted these brands as more than new. Their proximity to each other and clean, honest presentation showed that they were there to be impactful.
Matt Sedlak, Owner, Highland Brass Co. said, "It was about exploring new brands, staying current and also bonding with my employees. The experience at my bar has been curated, not just by me, but the bar staff, too. Since the event, we have brought in multiple products that we tasted and have felt support from the brands in how to best utilize them."
The proposition was clear: try something you've never heard of, then try something you have heard of, because you're going to learn something new about it. The Carpano Cart and Fernet exhibit struck me because they went so deep on all their offerings, which most "craft" bartenders know and love already. They showed tenacity like they were on a mission to educate every person in the building. Brown-Forman was so humble and excited to pour spirits that are solidified.
While the BCB setup is sort of like a "choose your own adventure," my greatest takeaways were that honestly produced beverages are still at the forefront of what people are choosing to consume, technology will absolutely be the frontier that drives the biggest sales over the next year, and inclusion is NOT an option for our industry, it is a standard by which we can judge ourselves. We needed this jolt of inspiration and have a responsibility to keep innovating despite the uncertainty we all are facing.
Andrew Martins summed it up in pragmatic terms to benefit customers, "It's always nice just getting fresh new ideas. I feel like I get into a lot of repetition making drinks from a cocktail menu and everything. So, it is always nice tasting new products, seeing different cocktails, and talking to everyone to get new, creative ideas for cocktails and spirits."
Connecticut-based independent mixologist, Stephanie Cohen, said of the event, "Honestly, I didn't originally go for educational purposes. This has been such a hard time in the life of the bartender; I just wanted to see us all together enjoying dope cocktails and each other's company. The setup was so informed and intuitive that it ended up being an incubator for my future events, and I retained so much new information."
After a few Suze cocktails, I decided to wax poetic. I apologize in advance, but I feel compelled to share.
There was gentian root discourse and a single malt session.
Garret Oliver spoke about Japanese distilling and its invaluable impression.
Cheese paired with whiskey for the bar or liquor store
Armagnac and Calvados exposed cognac drinkers to so much more
Equity and inclusion sessions greatly inspired me
To know my worth, set my price and say "no" confidently
It was like a divine industry intervention with little to lament
I can say with amaro on my breath, that Bar Convent was Heaven sent.
Khalid Williams is a bar manager, spirits brand representative and program consultant specializing in marketing, engagement and data. His passion is for exploring the "why" behind consumer decisions. He loves Old-world wine, New-world rum and Connecticut beer. Follow him on Instagram @thebarrelage.