1. Basil Hayden's 'Two By Two' Rye
Following the success of their recently released Rye and Dark Rye, Basil Hayden's "Two by Two" Rye breaks category norms. An unprecedented blend of two Kentucky Straight Ryes (5YO & 7YO "high rye") and two Kentucky Straight Bourbons (13YO & 6YO), Two by Two aims to offer the best of both worlds: the full spiciness of rye, complemented by the sweet notes and finish of bourbon. 80 proof.
SRP: $44.99
2. Tosti Asti Secco 
Tosti is releasing the first ever classified dry Moscato from Italy. Tosti Asti Secco DOCG uses 100% Moscato Bianco di Canelli grapes from the Asti region and presents the traditionally aromatic bouquet known to Moscato, but instead of a sweet palate, crisp citrus and honeysuckle flavors lead to a dry, and well-balanced finish. Ideal as an alternative to Prosecco, or an option for traditional Moscato drinkers looking for something slightly drier.
SRP: $14.99
3. Grappa Nonino 'Vendemmia' and 'Vendemmia Riserva' 
Crafting flavorful spirits in Friuli with care and attention to detail for six generations, Grappa Nonino is releasing Vendemmia—a combination of Grappa Monovitigno Pinot Grigio and Malvasia distilled separately. Vendemmia is soft, with scents of apricot, green apples and raisins. Grappa Nonino Vendemmia Riserva is aged over 18 months in barriques and small casks; it is elegant and persistent, with scents of vanilla, pastry and chocolate. 80 proof.
SRP: $44.99 | Riserva $49.99
grappanonino.it/en | terlatowines.com
4. Renaissance Rosé
Rocca di Montemassi, the Tuscan winery owned by the Zonin Family, has launched Renaissance Rosé Toscana IGT in the U.S., celebrating the rebirth of the rosé category by paying homage to Tuscany, where the Renaissance began and where culture, food and wine have thrived for centuries. The blend of Sangiovese and Syrah, grown in Tuscany's historic Maremma region, features elegant packaging and is now in 15 markets.
SRP: $16.99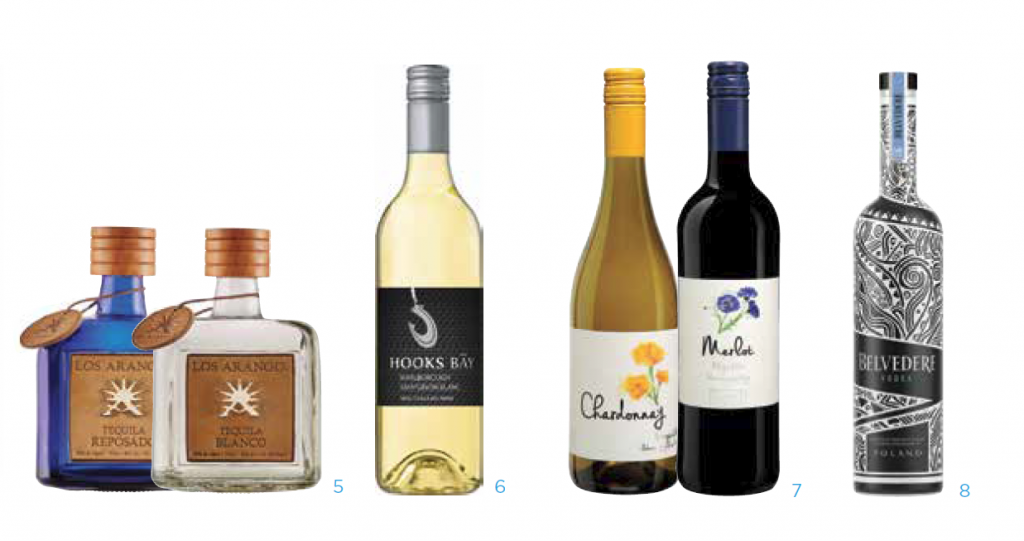 5. Los Arango Tequila
Los Arango Tequila is pleased to announce the revival of their Tequila Blanco, Resposado and Añejo, coinciding with Los Arango's appointment of Infinium Spirits as their new U.S. importer. Named in honor of revolutionary hero José Doroteo Arango, better known as "Pancho Villa," Los Arango is crafted using 100% blue agave and specifically formulated yeast. The bottles are adorned with a wooden cap, a leather label and a necker that salutes to Los Arango's authentic heritage. 80 proof.
SRP: $39.99 / $44.99 / $49.99
6. Hooks Bay Sauvignon Blanc
This new Sauvignon Blanc captures all the best qualities of the famous Marlborough, New Zealand style. Cold fermentation in stainless steel tanks extracts ripe tropical fruit, melon and citrus notes while preserving the grape's naturally fresh, mouthwatering acidity. Lovely as an aperitif, it also is versatile enough to enjoy with everything from seafood, fish or oysters to leafy green or pasta salads. Marketed by Bronco Wine Co.
SRP: $17.99
7. Georges DuBoeuf 'Wildflower' Wines
Georges Duboeuf is expanding with four varietal wines from the Pays d'Oc region of Southern France. The Chardonnay, Pinot Noir, Merlot and Cabernet Sauvignon grapes for the wines come from vineyards that have been sustainably managed and ethically farmed since the mid-1990s. The fields in the foothills below these vineyards are awash in vibrant wildflowers that have inspired the wines' labels, linking them to Duboeuf's well-known Beaujolais and Maconnais wines that also feature flower labels.
SRP: $11.99
quintessentialwines.com | dubouef.com
8. Belvedere Vodka Limited Edition
Belvedere Vodka recently partnered with visual artist, musician and activist Laolu Senbanjo, creating a limited edition bottle that brings to life Senbanjo's interpretation of the complexity, nuance and character of the Belvedere liquid. A Brooklyn-based Nigerian-born performance and visual artist, Senbanjo is best known for his body-painting featured in Beyoncé's Grammy Award-winning "Lemonade." The flowing design with sharp edges represents the water and rye working together to produce dimension and taste in the vodka.
SRP: $22.99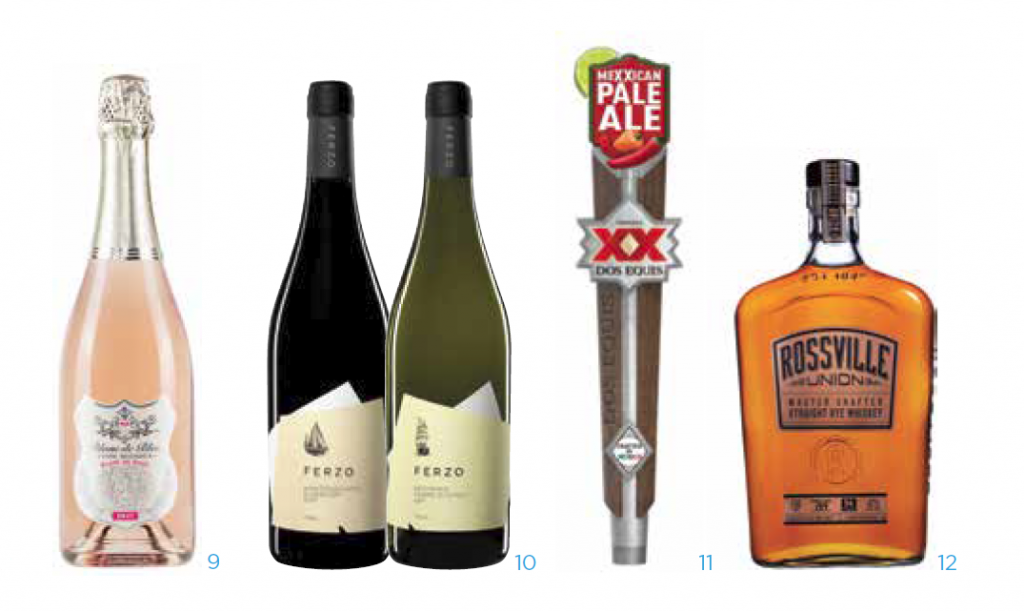 9. Blanc de Bleu DeRosé Brut
In a bit of a plot twist, Blanc de Bleu—the naturally fermented bubbly that enhanced with a gemlike turquoise hue—is going pink as well as blue. New from winemaker Bob Stashak, the sparkler's pleasant yeasty character is coupled with the fruitiness of its Chardonnay (91%) and Pinot Noir grapes. Balanced acidity and refreshing, lively bubbles help Blanc de Bleu de Rosé Brut pair well with a wide variety of foods, including fish, pork loin, chicken, vegetarian dishes and salads. Marketed by Bronco Wine Co.
SRP: $19.99/750ml | $7.99/187ml
10. Ferzo Wines from Abruzzo
Fresh off a new distribution agreement with Winebow's LLS, Codice Citra in Italy's coastal Abruzzo region is introducing Ferzo, made under the direction of Ricardo Cotarella. The name refers to a patch of fabric that is stitched with others to create a sail, just as the wine is a union of the viticultural "patches" of indigenous grapes. The line includes: Passerina Terre di Chieti, Cococciola Terre di Chieti, Pecorino Terre di Chieti, Rosato Terre di Chieti and Montepulciano d'Abruzzo.
SRP: $25.99
ferzo-wines.com | thewinebowgroup.com
11. Dos Equis 'Mexican Pale Ale'
Brand new from top Mexican import Dos Equis: a Mexican Pale Ale, as in a traditional Pale Ale with a Mexican twist that is fuller-bodied and delivers a subtle kick of heat. This sessionable Mexican Pale Ale will be available on draught at sports bars this fall, with a national launch in 2019. Dos Equis Mexican Pale Ale becomes part of the Dos Equis Interesante family and aims to prompt trial and awareness while promoting testimonials and referrals.
12. Rossville Union Straight Rye Whiskey
MGP Ingredients has launched their first proprietary rye whiskey label—Rossville Union—named after the founding distillery in Lawrenceburg, IN, America's original "Whiskey City." Two expressions: Master Crafted Straight Rye (159 barrels, 94 proof; enjoy on rocks or in cocktails) and Barrel Proof Straight Rye (83 barrels, 112.6 proof, enjoy neat, on the rocks or with a splash of water). Both feature an apothecary-style bottle with "1847" distillery-of-origin date embossed into the glass.
SRP: Master Crafted Straight Rye $39.99 Barrel Proof Straight Rye $69.99