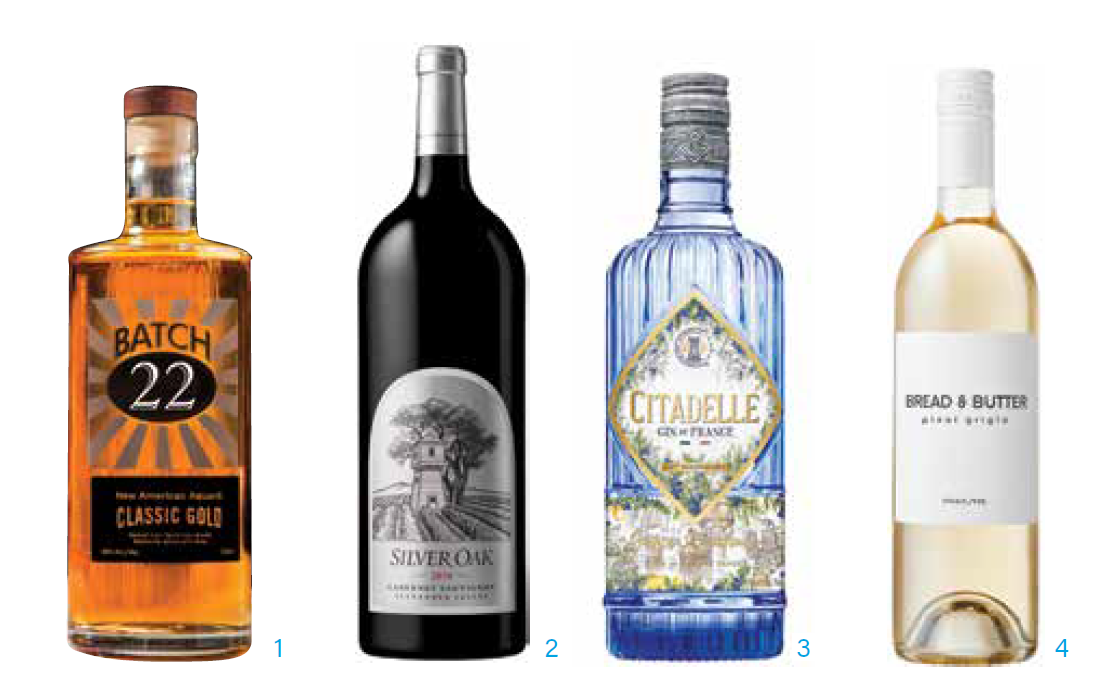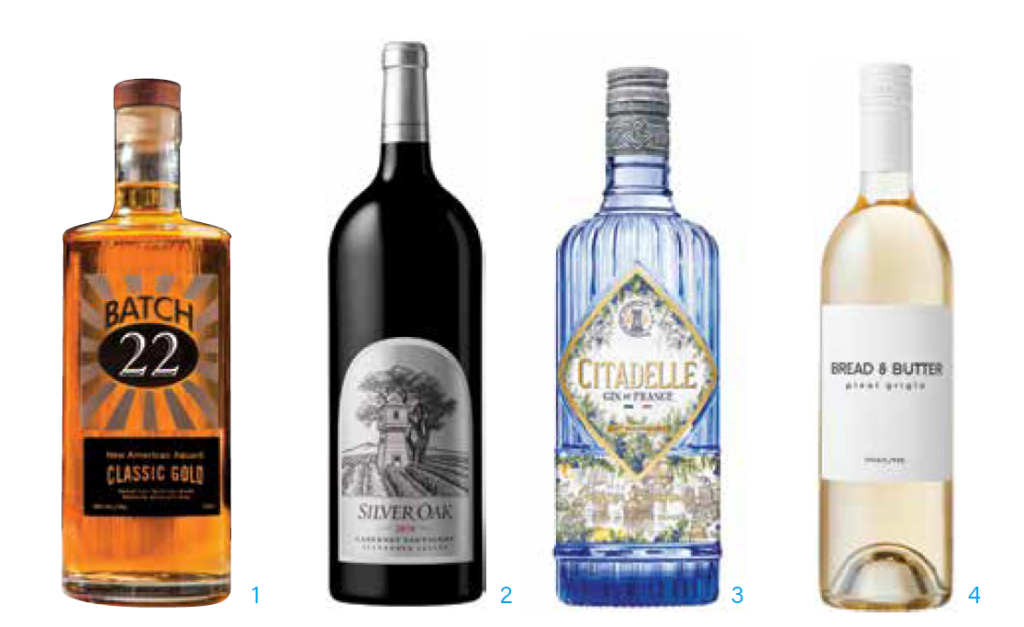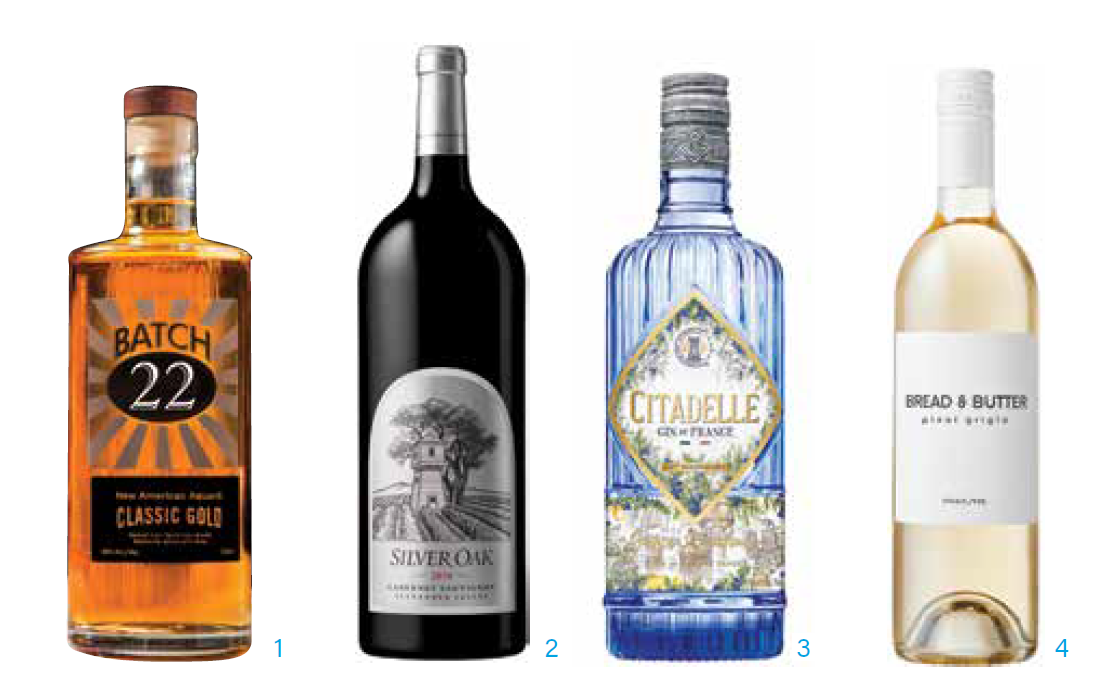 1. Batch 22
Actor Matthew Arkin fell for aquavit on a European film set more than 40 years ago, and that passion has sparked the creation of Batch 22 Classic Gold, an American version of the traditional Scandinavian spirit created with partners Bruce Glassman and Marc Marosi. Instead of anise, fennel, and cumin, ingredients that typically define aquavit, the founders opted for a less overpowering citrus-spice botanical recipe—fittingly the 22nd iteration—that emphasizes dill and caraway.
SRP: $39.99 per 750-ml bottle
drinkbatch22.com
2. Silver Oak Cellars
Family-owned Silver Oak Cellars produces only Cabernet Sauvignon from its Napa Valley and Alexander Valley wineries. Its latest offering, the Silver Oak Alexander Valley Cabernet Sauvignon 2018, is rounded out with 4.2 percent Merlot and one percent Cabernet Franc. Aged in American oak barrels for 18 months after blending, the fruit-forward wine exhibits juicy cassis and pomegranate on the palate.
SRP: $90 per 750-ml bottle
silveroak.com
3. Citadelle Gin
It was 1996 when Maison Ferrand owner and master blender Alexandre Gabriel introduced Citadelle, the revolutionary French gin marrying 19 botanicals. To celebrate the spirit's 25-year anniversary—and its state-of-the-art distillery that opened in Cognac last year—Gabriel has released Citadelle Gin Juniper Décadence. Aged in small, custom juniper casks, it has a smoky, herbaceous profile rife with juniper, pepper, coconut, and ginger.
SRP: $34.99 per 700-ml bottle
citadellegin.com
4. Bread & Butter Wines
Bread & Butter's roster of everyday wines includes California Chardonnay, Sauvignon Blanc, Pinot Noir, Cabernet Sauvignon, Merlot, rosé, and a DOC Italian Prosecco. Its most recent innovation? A crisp, food-friendly Pinot Grigio spun from California grapes by winemaker Linda Trotta.
SRP: $15.99 per 750-ml bottle
breadandbutterwines.com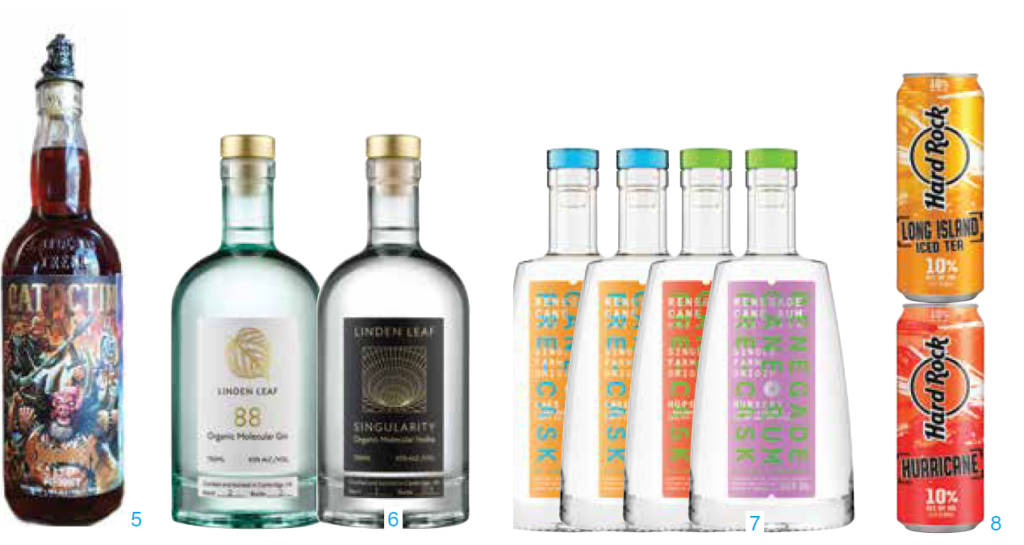 5. Ragnarök Rye
Virginia distillery Catoctin Creek and American heavy metal band GWAR—which also has roots in the state—have teamed up once again for the second edition of Ragnarök Rye, which first made its debut in 2021. The 92-proof whiskey, aged in charred new white oak, sugar maple, and cherry wood barrels, is adorned with label artwork from GWAR's album, The New Dark Ages, and capped in collectible metal die-cast toppers that represent all five band members.
SRP: $99 per 750-ml bottle
ragnarokrye.com
6. Linden Leaf
Harmonious bundles of botanical molecules are the backbone of Cambridge, England based Linden Leaf's 88 Organic Molecular Gin and Singularity Organic Molecular Vodka, now available stateside. The sipping gin comprises 88 flavor molecules from 28 botanicals (20 percent of them fresh) like yuzu, calamansi, grains of paradise, and Aztec sweet herb, while the silky vodka stars an organic, non-GMO mix of wheat, barley, rye, and ancient grains such as spelt.
SRP: $38.88 to $28.99 per 750-ml bottle
shoplindenleaf.com
7. Renegade Rum
The Caribbean island of Grenada flaunts motley terroirs and Renegade Rum Distillery—from Mark Reynier of Waterford Whisky fame—is putting them front and center with its quartet of Single Farm Origin white rums. Highlighting different cane varieties and distillation styles, the pre-cask collection spans Nursery, from La Calome Valley; Hope, influenced by pyroclastic boulders; and Lake Antoine, one from cane grown on Lower Crater Lake South and the other from Upper Crater Lake South.
SRP: $65 per 700-ml bottle
renegaderum.com
8. Hard Rock Grab 'N' Go Cocktails
Hard Rock International expands its ready-to-drink portfolio of hard seltzers and classic libations with Grab 'n' Go Cocktails under the license of Stewart's Enterprise Holdings, Inc. First up: breezy, single-serve cans (10% ABV) of Long Island Iced Tea and New Orleans favorite, the Hurricane.
SRP: $2.99 per 19.2-oz cans
hardrock.com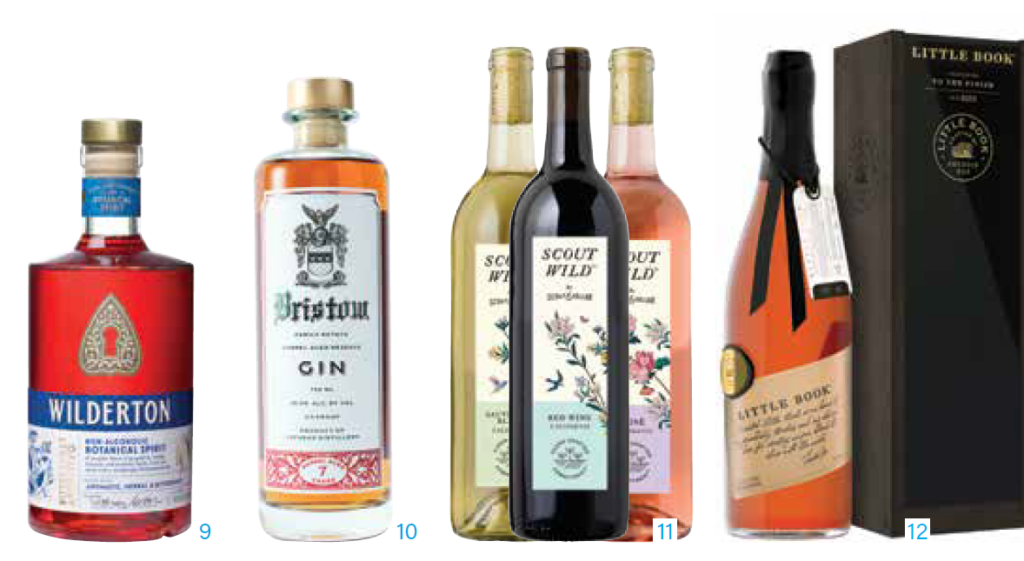 9. Wilderton
Portland, Oregon-based Wilderton crafts non-alcoholic spirits with raw botanicals from around the globe, including smoky Earthen and bright Lustre. Now, there's the spritz-ready Bittersweet Aperitivo, melding grapefruit, orange blossom, and Italian lemon with sandalwood, gentian, and wormwood. Chardonnay grape juice adds a balanced wine-like jolt of sweetness.
SRP: $34.99 per 750-ml bottle
wildertonfree.com
10. Bristow Gin
Bristow Gin, produced at Mississippi's Cathead Distillery, has rolled out a bold seven-year old Barrel Aged Reserve alongside its one and four-year-old expressions. One of the oldest barrel-aged gins to hit the market, it is reminiscent of a whiskey, layered with notes of mature oak, caramel, and vanilla.
SRP: $100 per 750-ml bottle
catheaddistillery.com
11. Scout Wild
Scout & Cellar, the fast-growing winery founded by Sarah Shadonix, has partnered with Miller Family Wine Company to unveil Scout Wild, a line of wines spawned from grapes grown without toxic pesticides and free of artificial ingredients. The inaugural lineup of California Sauvignon Blanc, rosé, and a red blend—Scout & Cellar's first foray into retail—all embrace the brand's trademark Clean-Crafted Commitment.
SRP: $18.99 per 750-ml bottle
scoutandcellar.com
12. Little Book
For "To the Finish," Chapter 6 of Freddie Noe's Little Book Whiskey series, the eighth generation master distiller of the Fred B. Noe Distillery turned to the kitchen for inspiration. The five complementary liquids Noe combined in the 117.45-proof whiskey take cues from the woods he smokes in the grill for family meals. A five-year-old Kentucky straight bourbon is joined by four-year- old straight malt whiskeys finished with cherry and maple wood staves as well as hickory- and apple wood-smoked barrels.
SRP: $124.99 per 750-ml bottle
littlebookwhiskey.com