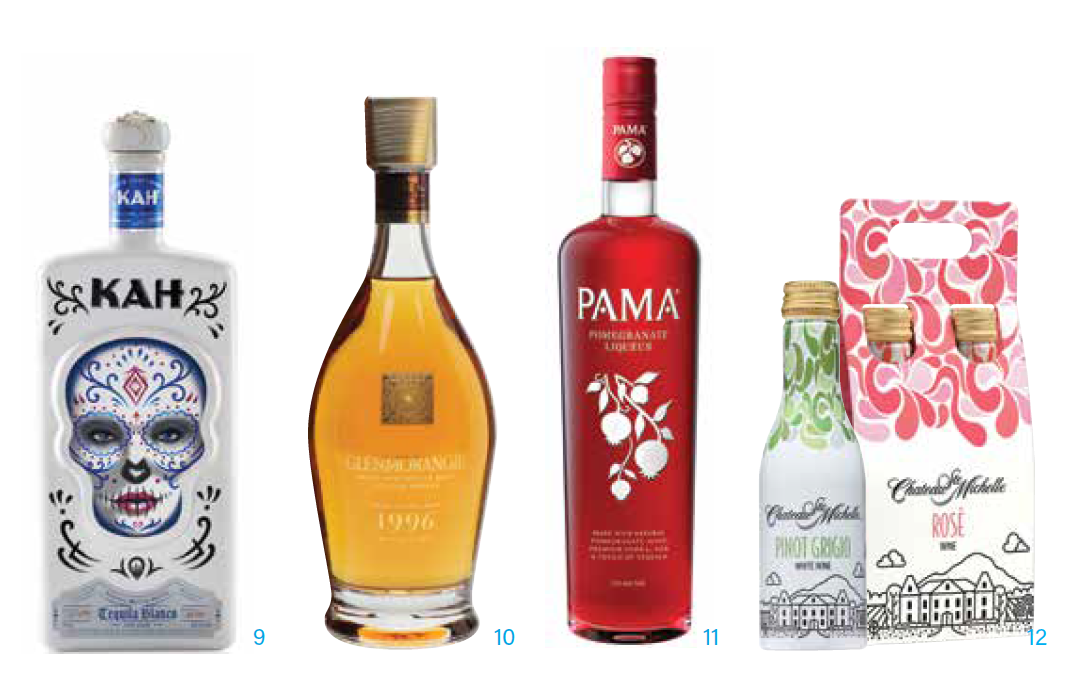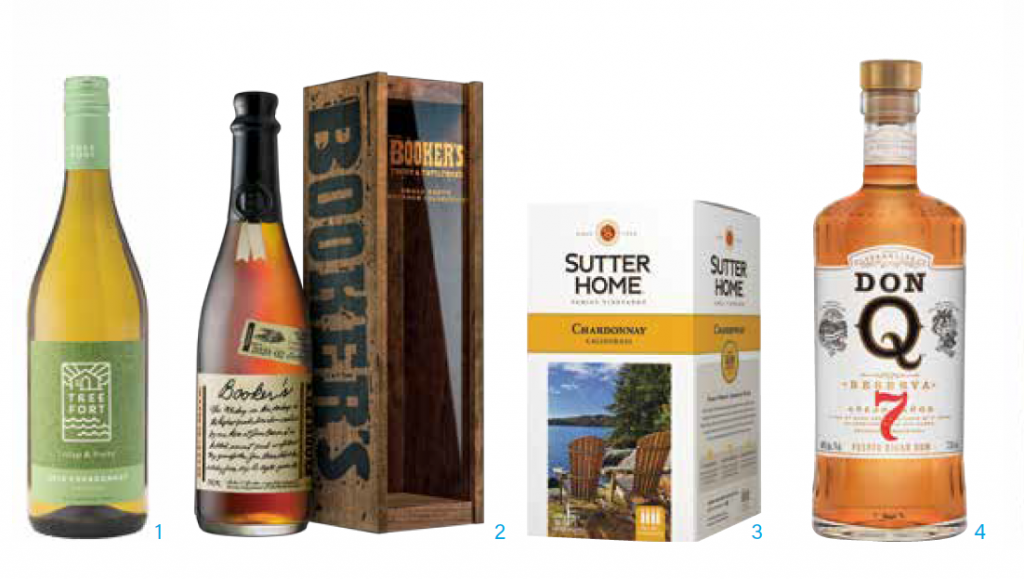 1. Tree Fort Wines
Sonoma-based 3 Badge Beverage is introducing Tree Fort wines from AVAs in California's Central Coast. Featuring screw-caps and modern design, the wines are aimed at adventurous, young-at-heart drinkers with five line-priced, 2019 varietal
expressions: Monterey Sauvignon Blanc and Chardonnay; Arroyo Seco Pinot Noir; and Paso Robles Pinot Grigio and Cabernet Sauvignon. The label features a tree fort (of course) as well as approachable wine descriptors.
SRP: $16.99
treefortwines.com | 3badge.com
2. Booker's Bourbon 'Batch 2020-02'
Booker's Bourbon, one of the few ultra- premium bourbons available uncut and unfiltered, is releasing the second batch of its 2020 Collection—Booker's Batch 2020-02, also called "Boston Batch." It's named after the small Kentucky town where Booker Noe started his career, and first found his love of experimentation. Like all batches of Booker's, it was selected by Fred Noe to ensure it upholds standards that fans have come to know. 126.5 proof.
SRP: $89.99
bookersbourbon.com
3. Sutter Home Three-Liter Boxes
Is it possible that a brand as huge as Sutter Home has never had a box wine until now? Sutter Home Chardonnay, Cabernet Sauvignon, and Pinot Grigio are now shipping in the 3L bag-in-box format nationwide. The 3L box is now the third largest size segment in the wine category, generating $800 million annually. Notably, the Sutter Home 3L box set does not include White Zinfandel, and the packaging features photography rather than illustration.
SRP: $18
sutterhome.com
4. Don Q 'Reserva 7' Rum
Puerto Rican rum producer Destilería Serrallés has released Don Q Reserva 7 Años, a vibrant blend of light and heavy rums that were aged for a minimum of seven years in American white oak barrels. Presented in a a new elongated bottle with updated imagery and logo, the new Don Q rum variant can be enjoyed neat, on the rocks, or to elevate a favorite mixed drink simply by adding soda or fresh juice. 80 proof.
SRP: $24.99
donqrum.com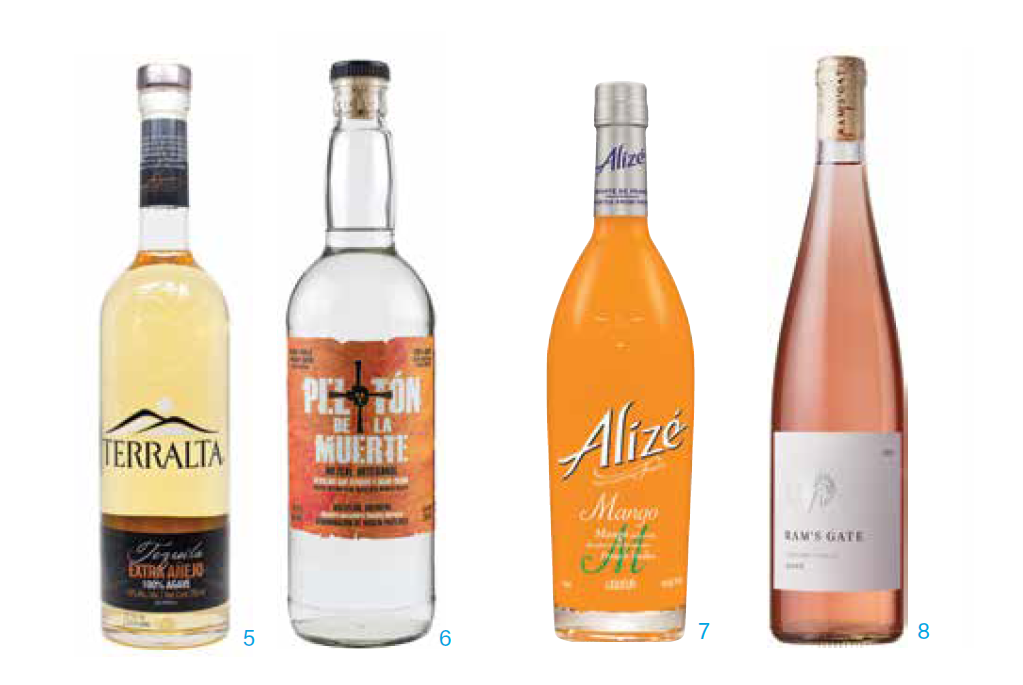 5. Terralta Tequila
Third-generation producer Felipe Camarena crafts Terralta tequilas at the El Pandillo distillery in Jalisco, using naturally-grown and hand-picked agave from a family plot, the same natural yeast his family has used for more than 80 years, and deep well water. Imported by Chopin Imports, the Terralta portfolio includes Blanco (80 proof), 110-proof Blanco, Reposado, Añejo, Extra Añejo, and for the first time in the U.S. Terralta 110-proof Extra Añejo.
SRP: $49–$299
chopinimports.com
6. Pelotón de la Muerte Artisanal Mezcals
Pelotón de la Muerte is adding two new artisanal mezcal expressions, both produced with wild agave grown in the Mexican state of Guerrero by master mezcaleros. Criollo (100.4 proof) is double distilled, the second pass in a filipino still with a wood hat, producing an intense mezcal with notes of light smoke. Pechuga (90.2 proof) is a vegan mezcal produced from a field blend of agaves, with botanicals hung from the still during the second distillation.
SRP: $39.99 each
pelotondelamuerte.com | mswalker.com
7. Alizé Mango
Mango is the latest flavor joining the colorful Alizé Passion lineup. The premium French liqueur infuses French vodka with passion fruit nectar and all-natural flavors. Checking in at 16% ABV, or 32 proof, the tropical Mango expression joins the lineup of Red Passion, Bleu Passion, Gold Passion, Peach, Pineapple, Apple, and Pink.
SRP: $19.99
kobrand.com | alize.com
8. Ram's Gate Winery
Unveiling a brand new look, Ram's Gate Winery in Carneros has also introduced a new, top tier—joining the Sonoma Coast, Estate, and Single Vineyard series—called Cellar Note. The makeover comes at the end of Ram's Gate's first decade, and coincides with the rollout of wines under director of winemaking Joe Nielsen, who is parlaying the estate vineyard into a model of precision farming and sustainability, with a goal of being completely organic in five years.
SRP: 2019 Rosé, Sonoma Coast $38
ramsgatewinery.com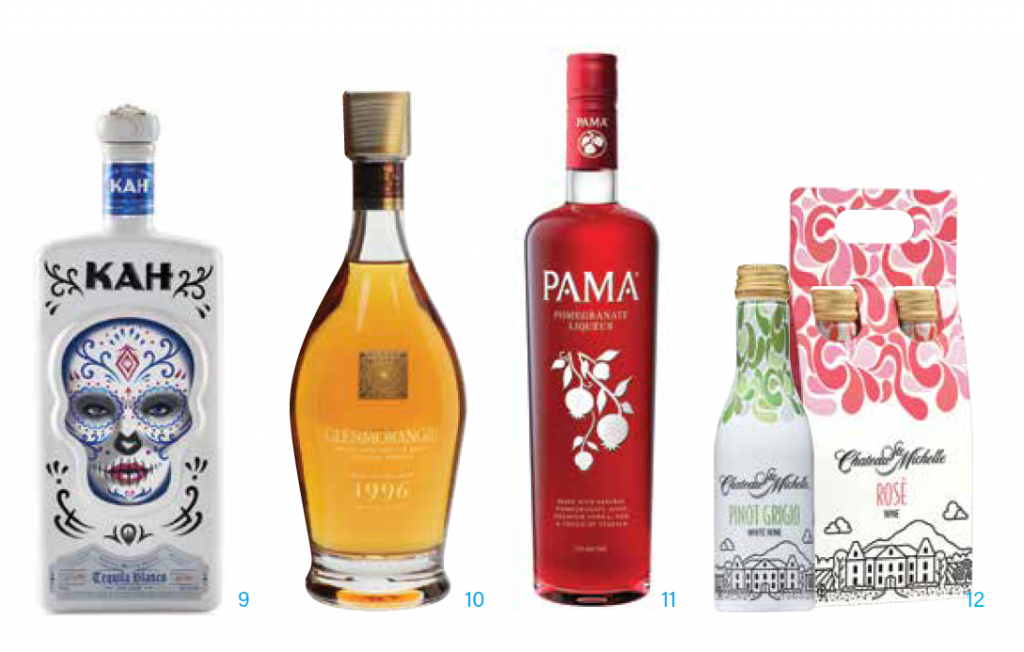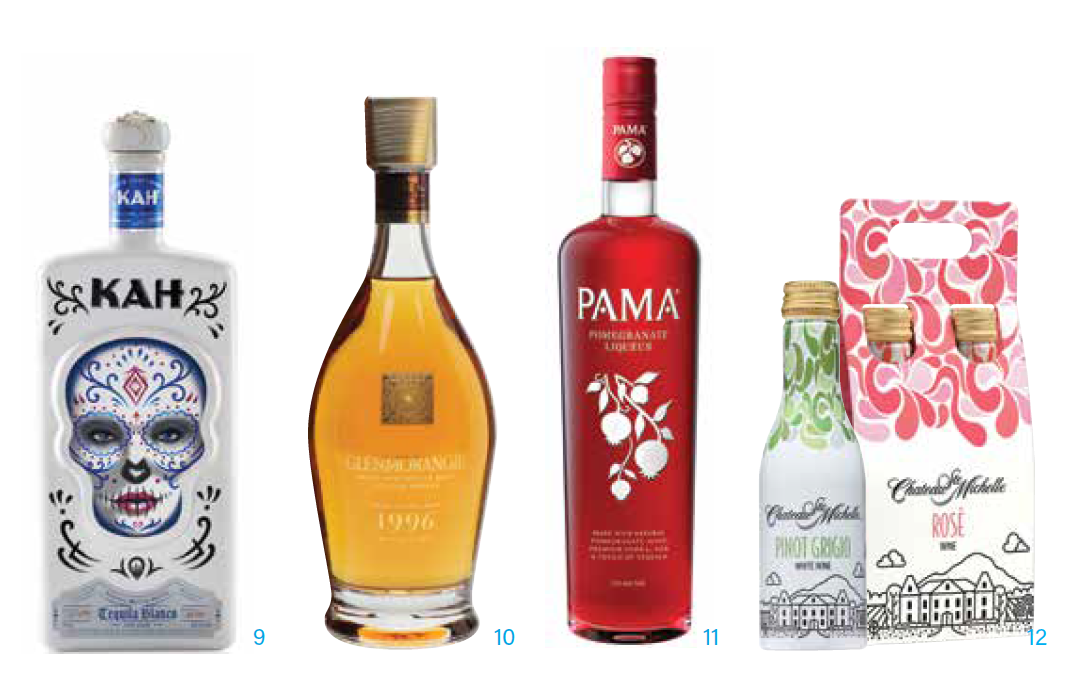 9. Kah Tequila
Created to honor Mexican people and their traditions, Kah Tequila is presented in eye-catching bottles in the style of "sugar skulls." The product range features Kah Blanco, Kah Reposado, and Kah Añejo expressions, each made from hand-selected 100% Blue Agave. Kah translates to "life" in the ancient Mayan language. Imported by California-based Pacific Edge Wine & Spirits, Kah is produced by Fabrica de Tequilas Finos in Tequila, Jalisco, which is owned by Amber Beverage Group.
SRP: $49.99-$69.99
pacificedgesales.com
10. Glenmorangie Grand Vintage Malt 1996
Glenmorangie has released the sixth edition of its Bond House No. 1 Collection: Glenmorangie Grand Vintage Malt 1996. Aged for 23 years, this limited edition is the oldest whisky matured in the distillery's bespoke casks, which originated in the white oak forests of Missouri's Ozark Mountains. "Its fresh, floral aromas and luxuriously creamy tastes are gloriously enhanced by age," says Dr. Bill
Lumsden, Glenmorangie's director of whisky creation. 86 proof.
SRP: $825
glenmorangie.com/en-us
11. Pama Pomegranate Liqueur
Pama is sporting a new look to reinforce the brand's unique equity as the first true pomegranate liqueur. The updated bottle also refines utility for both bartenders and consumers, and the refresh coincides with a new creative campaign, "Just Add PAMA," to showcase the adaptability of Pama for low-ABV spritzers, simple cocktails, and chilled shots alike. 34 proof.
SRP: $24.99
pamaliqueur.com | heavenhill.com
12. Chateau Ste. Michelle Aluminum Bottles
Tweaking the can trend, Chateau Ste. Michelle is introducing its first wines in 250ml aluminum bottles with resealable
closures and a whimsical sketch of the winery. The lineup includes four fruit-driven wines (Rosé, Pinot Grigio, Something Sweet White Blend, and Bubbly) in two-packs ($12.99 SRP) and single bottles for restaurants. All four are sourced from Washington's Columbia Valley.
SRP: $12.99/two-pack (250ml)
smwe.com