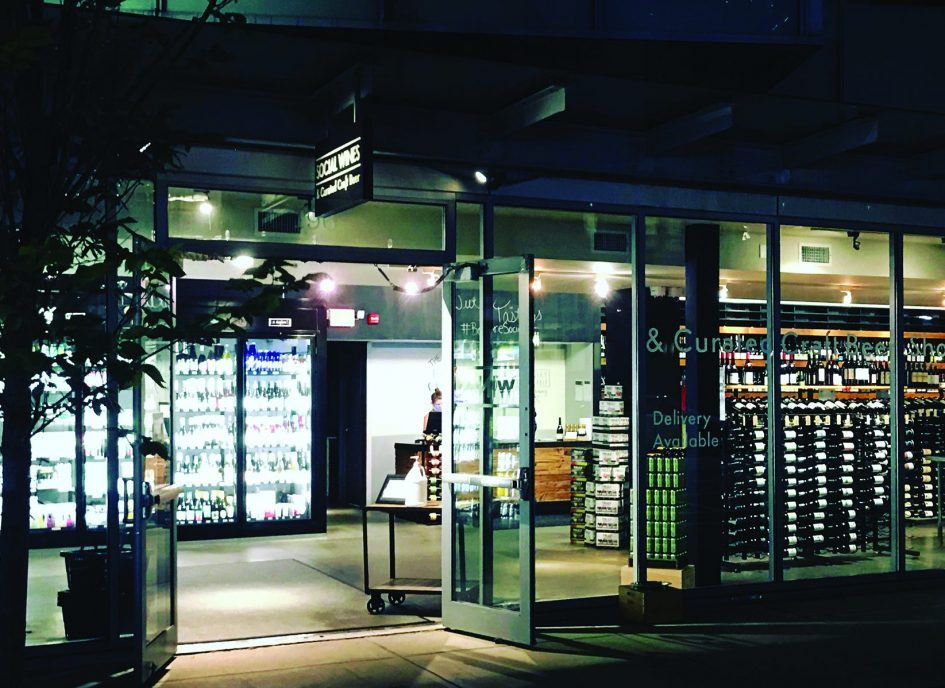 The game has changed. Your approach to purchasing, storing, and selling needs to change, too. Retailers share their expert tips.
By Christy Frank
Every U.S. wine and spirits retailer will agree: The months since March have been wildly volatile. New challenges pop up constantly, the most dramatic being a near overnight shift to online ordering and delivery. Consumer behavior has changed, too.
All these changes mean that a retailer's approach to buying and stocking must evolve. We polled retailers around the country on strategies for managing inventory in the new normal.
Buy Deep for Healthier Margins
Operating an online shop and offering delivery means incurring expenses such as web-hosting fees, higher credit card processing costs, potential delivery vehicles and drivers, and additional insurance. Although charging a fee and setting minimums can help recoup some of these expenditures, neither tactic is likely to cover all of the incremental costs, so it's important that your overall pricing and purchasing strategy ensures robust margins, especially on your top-selling items.
Buying on deeper deals—taking advantage of a volume discount from your wholesaler—is one way to do this. If your shop has moved to curbside/delivery-only service and your sales floor is now functioning as a mini-warehouse, then storage space may no longer be a limiting factor.  "Without the need to have a beautiful shop, I now have more buying power and can take advantage of 10-case drops. This helps absorb the higher fees related to selling online," says Sarah Pierre, owner of 3 Parks Wine Shop in Atlanta.
As on-premise sales have nearly evaporated in many parts of the country, numerous suppliers are adjusting their price structures, so keep an eye out for deals. TJ Douglas of Boston's Urban Grape notes that "distributors that didn't offer larger drops are now offering them. For those items, I can now offer my customers a better price or run a better margin to cover delivery costs, where every penny counts."
Keep an Accurate Inventory—It's Never Mattered More
As sales shift online, accurate inventory is critical. If a customer orders an item that isn't actually in stock, you'll need to discuss alternatives. This takes time, and if a return needs to be issued, that racks up additional processing fees and time., "Since the front door is locked, the shop can be messier, but my inventory needs to be cleaner than ever," says Urban Grape's Douglas.
That's easier said than done. Mitch Ancona, owner of Ancona's Wine in Connecticut, reports, "Given limited time and staff, store-wide physical inventory counts are no longer possible. It's now a never-ending process to try to keep our website stock list as clean as possible."
Shops that previously conducted regular store-wide inventory have shifted to a cycle counting model. At Bay Grape in Oakland, owner Stevie Stacionis says, "We do a stock reconciliation daily for a section of the store, say the still rosés, and just keep moving around each day." Sarah O'Kelly, general manager at Charleston's Edmund's Oast Exchange, says, "This inventory method is also a good tool to have less experienced staff really get to know what's on the shelf."
Inventory checks can also be built into other processes throughout the shop. Pierre explains that at 3 Parks, staff bottles are now backed out daily rather than monthly, and stock levels are recounted whenever an item is replenished, ensuring that fast-moving items are always correct.
Integrating your point of sale (POS) system with your online shop is vital to keeping your inventory accurate online and in the store (it also saves time). When Daneen Lewis, who owns New York's Harlem Wine Gallery with her husband, Pascal, developed a downloadable mobile app, she spent up-front time with the developer to ensure "complete synchronicity between our POS system and digital platforms. This allowed us to streamline our online order process and made time for us to devote energy into new marketing initiatives."
Make sure you fully understand which part of your system maintains the master item records and whether inventory synchronization happens in real time or on a periodic basis. Understanding all of this will help you choose and install an inventory audit plan that's specifically suited to your shop. In addition to making sure your systems are talking to each other properly, make sure to periodically check that any state and local taxes are correctly added to every sale.
It's also worth regularly reviewing the fees related to credit card processing, which have a way of creeping up over time. If your online business has increased, you can also call your providers and ask for a lower rate.
Upgrade Your Virtual Selling Experience
Setting up a new item in your online shop is likely a more involved process than setting it up in your POS system. Writing enticing copy, adding eye-catching photos, tagging items, and adding them to collections all takes additional time and focus. Consider shifting an existing salesperson into this role or hiring someone to do it part-time, especially if you're bringing your full inventory online.
At my wine retail shop, Copake Wine Works, in upstate New York, we have a checklist that includes all the elements needed to set up a new item. During downtime, team members review a master list of incoming items to get a head start writing tasting notes and other selling points.
Strike the Right Balance Between Comfort and Quirky
Lauren McPhate at Tribeca Wine Merchants in New York reports, "People are buying what they know—Sancerre, white Burgundy, rosé, Oregon Pinot—so we're not selling as much of the fun, geeky stuff that we usually can when we run tastings or have more staff on the shop floor."
Hand-selling lesser-known varieties, regions, and styles is difficult to do online, but shops that have built their business on this sort of selection and service have cracked the code. Eric Moorer, director of sales and engagement at Washington, D.C.'s Domestique Wine, says, "We've worked even harder on social media and on the functionality of our website to make sure people have an easy time getting the things that they want or finding the wines that we would suggest for them." Online shoppers can easily browse staff picks and curated cases, as well as navigate such collections as summer reds or domestic offerings.
Social Wines, with locations in Boston and Cambridge, has found creative ways to introduce its customers to new arrivals. Operations director Eileen Elliott says, "We started marketing 'sets' of wines, making the conversation less about specific growers and more about styles of wines that could be of use in different social situations."
Clean Up Your Bin Ends
Bin ends are easy to offload in a visible basket near the cash register in your shop. But those last couple of bottles in an online store are more difficult to browse. Lily Peachin, founder of Dandelion Wine Shop in Brooklyn, groups "last chance" items onto a single page. Something as simple as this makes it easy for customers to browse and buy those bottles.
Budget for the Short Term
Given sales volatility and ongoing changes to federal, state, and local guidelines, consider budgeting on a shorter time horizon than in the past: monthly instead of quarterly, or weekly instead of monthly. Keeping a close eye on sales trends and overall inventory levels will ensure you aren't caught off guard if sales suddenly slow down—or ramp up.
O'Kelly at Edmund's Oast Exchange met the initial surge of panic by purchasing with "a heavy focus on wines falling at that magical $20-ish price point on the shelf." Now that the panic has subsided, she says, "It's very difficult to guess consumers' buying habits. I am still definitely thinking long and hard on any major purchases, like Grand Cru Burgundy, especially with tariffs increasing those prices even more."
As hard as it may be to say no, many shops report delaying, or passing altogether on, expensive allocated items as a way to build more flexibility into the budget. Tribeca Wine Merchant's McPhate limits her purchases to items in her regular email offers, increasingly from non-tariffed places. She reports these have done well. "I think with people being home and not going out, they're more adventurous in their drinking, too," she says. You have less show-off buying. The cat doesn't care what you're drinking."