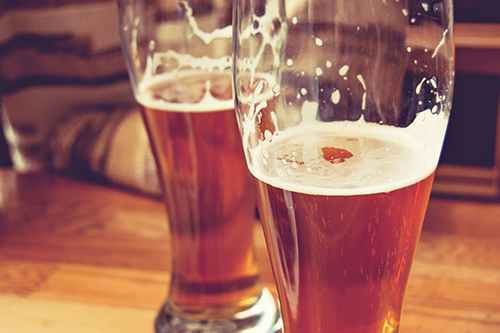 By Jack Kenny
Marijuana and beer are recreational substances. One of them is fully legal for adults to consume. The other is legal only in a few places in the United States. Where both are legal, are consumers more likely to choose one over the other, or to use both? If it's either/or, which one is chosen most? In other words, does beer have anything to worry about as marijuana becomes more legally available?
Simply stated, the jury is still out. Marijuana is too new as a legal recreational substance to determine if it has any significant impact on beer sales. But that doesn't mean that the beer industry is not watching and is not concerned. One line of thinking goes like this: a consumer has a budget for certain recreational products, and beer is high on the list. If marijuana becomes an approved source of enjoyment, will that substance eat away at the beer budget?
Conflicting information pops up in the news now and then. Sanford Bernstein, an investment company that performs market research, recently looked at the 10 states with the largest populations that have legalized cannabis for medical use. The company found that in the year immediately following the legalization, beer consumption per capita rose by about 0.5 percent, but then went into decline. One of the authors of the report cautioned that the results are not statistically proven, and that there appears to be no major impact on beer from the legalization of medical marijuana.
More states are considering legalizing recreational marijuana use, and will vote on whether to do so later this year. In 2014, marijuana sales were $2.7 billion, a rise of 74 percent from 2013, according to research firm Nomura. By 2019, sales are projected to be about $10.8 billion. Beer sales, however, still dwarf those of weed.
The beer industry is fraught with change. Big beer – the commercial giants and their products – are seeing declines in the marketplace. Craft beer has been rising in share and in numbers of breweries, and the end is not in sight. The large commercial brewers continue to acquire craft brewers, and in some cases have increased their purchases of smaller players. So when a different competitor, this one in the form of another recreational product, establishes a foothold in society, beer sits up and watches.
And acts, in some cases. Alcohol associations have openly opposed weed legalization initiatives and supported opposition with campaign donations. In 2010, the California Beer & Beverage Distributors made a $10,000 contribution to Public Safety First, a group fighting Proposition 19, which was a measure to legalize recreational marijuana in that state. The initiative ended up losing by seven points.
Marijuana industry proponents have not exactly been neutral when it comes to beer and other forms of alcohol. They have contended that weed is less dangerous than alcohol and produces a more desirable mood. In 2013, the Beer Institute and the Marijuana Policy Project butted heads after the latter posted advertisements in Maine with people declaring, "I prefer marijuana to alcohol because it's less harmful to my body" and "I prefer marijuana to alcohol because it doesn't make me rowdy or reckless." The Beer Institute countered that the campaign was misleading because beer is "distinctly different both as a product and as an industry."
I think that there are a lot more positive aspects in the relationship between these two products. Some people prefer beer only, and others are solely potheads. But there are a great many folks who enjoy both weed and beer, and brewers certainly have encouraged that thinking. Sweetwater from Atlanta uses "420" and "Hash" in its beer names; Lagunitas' Undercover Investigation Shutdown Ale brags on the label about a law enforcement action some years back involving pot smoking at the brewery; and Oskar Blues once designed a beer can with instructions on how to turn it into a smoking device.
Look at Colorado. Since the legalization of marijuana a couple of years ago, beer sales are up, and the alcohol retail industry is quite happy with the change. Weed has turned out to be a non-issue, one retailer proclaimed. Colorado tourism has surged, and vacationers will always consume beverage alcohol. Moreover, Colorado is a huge brewing state, and all of its craft brewers are doing just fine, thanks.
The beer marketplace surely is changing, but cannabis probably will not be the major element of change.
Jack Kenny has been writing The Beer Column for The Beverage Journal since 1995. Write to him at thebeercolumn@gmail.com.