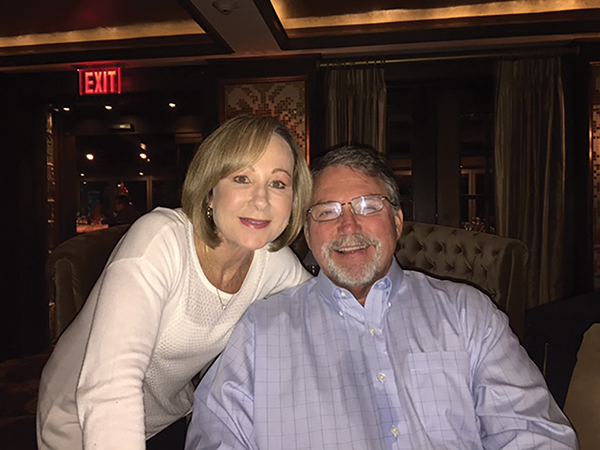 By Lauren Daley
Bob and Bobbie Bacon might be Michigan natives, but they're true blue Rhode Islanders at heart.
The husband and wife team — who co-own four Gregg's Restaurants and Taverns in Rhode Island — have made it their mission over the last few decades to create a close-knit community feel in their Rhode Island restaurants. They extend that community feeling by donating to Rhode Islanders in need — including to Hasbro Children's Hospital in Providence, the Special Olympics in Rhode Island, and the Rhode Island Community Food Bank. And over the last 20 years, Gregg's Giving Tree has become something of a community staple — the Bacons' program has given some 400,000 holiday gifts to those in need.
In 2013, the Rhode Island Chapter of the Association of Fundraising Professionals (AFP-RI) bestowed Gregg's with the Outstanding Philanthropic Business Award. More recently, Gregg's won the NRA Restaurant Neighbor Award at the 2015 Rhode Island Hospitality Association's Stars of the Industry annual awards. The Bacons don't give for the glory; they give for the good of their community, as Bob said in a recent interview.
Q: Tell us a bit about you and Bobbie. When and why did you get into the restaurant business?
A: We met while attending a small college in southern Michigan, Olivet College. We also both worked at a restaurant called Win Schuler's [in Michigan]. I was a busboy and Bobbie was the most beautiful waitress I have ever seen. Both of us have been in the restaurant business forever. I started working at my neighbor's restaurant in Michigan at 11, and Bobbie's parents owned and operated a small local restaurant and also a local Tavern in Battle Creek. [Today] we reside in East Greenwich, where we raised three sons, and are now proud grandparents. [But we're] not completely empty-nesters — we have a 4-year-old boxer named Harlie.
Q: Tell us a bit about your history with Gregg's.
A: I began working at Gregg's in 1982 [and] helped the previous owner grow the concept and the company. From the beginning, we had the agreement that I would buy it when he retired. The original location was in Warwick. Our other locations (Providence, East Providence and North Kingstown) came about when opportunity knocked. All of our locations [are the sites of previous] restaurants that failed. When presented with the chance to take them over, we evaluated the local community and decided whether the Gregg's concept was a good fit.
Q: Do you consider Gregg's a chain?
A: I guess we're a chain, but we're a local chain. We benefit from some aspects of being a chain — buying power, name recognition … the consistency that having a local central kitchen/bakery gives us. However, each location has a very loyal and local following and we're very active in the communities we serve. This helps us retain that favorite-local-restaurant feel, and keeps us from experiencing the disconnect that some national chains have.
Q: What do customers like about going out to Gregg's?
A: I think our guests like that we're intimately connected to and rooted in Rhode Island. We're pretty well known here in Rhode Island, and we've served multiple generations of Rhode Island families. Our staff is made up of multiple generations of Rhode Island families … Rhode Island is definitely a unique place to live and work. I can't think of any other state where people can live at total opposite ends of the state and still interact on a regular basis. Our restaurants exude that same sense of close community.
Q: You're known for your philanthropy. What do you like most about giving back?
A: We've been blessed with a successful business, a loyal and dedicated staff and great guests — that's why we're compelled to give back. Our focus has been to always give back to the communities and people that have been responsible for our success. We try to focus our efforts on Rhode Island-based initiatives and organizations, where their efforts are focused on helping fellow Rhode Islanders. Our own Gregg's Giving Tree program is … a great example of an initiative that has grown beyond our wildest dreams and now helps bring the joy of Christmas to thousands of children, elderly and families in Rhode Island each year.
Q: And what is the "Giving Cake"?
A: The Giving Cake came about with the simple desire to do something to help The Hasbro Children's Hospital … We created a special chocolate peanut butter cake and … for well over a decade now, a portion of the proceeds of each slice is donated to [Hasbro]. To date the program has generated close to $150,000.
Q: What do you consider the backbone of your business?
A: Our desserts are what we're best known for … Our brand is basically quality products priced to provide value to our guest and served in a clean comfortable atmosphere. An exceptionally friendly and accommodating staff is a big part of our brand, as well.
Q. What tips do you have for other restaurant owners, or others in the hospitality business?
A: This business is not for the faint of heart.  If you don't have a passion for hospitality the restaurant business will eat you up.  People are great but they will challenge you every day. You have to be up every day for the challenge.
Q: You've also added a bar section. What cocktails, beers, wines are you liking at Gregg's right now? 
A: Our liquor sales are dominated by wines by the glass and beer. We also have a segment of our clientele that really enjoy the martini and Manhattan selections we offer. Our demographics are so varied from location to location, day to day and restaurant area to restaurant area that it is difficult to pinpoint any segment that stands out in terms of liquor sales. Our beverage director, Janet Courtois, is really good about listening to our guests and responding to what they are asking for, so we are always offering new drink selections that are seasonally driven.
Q: What's your day-to-day like?
A: Every day is different. Fortunately we have a group of very talented and dedicated managers so they do much of the heavy-lifting. One thing is certain: each and every day, I will learn or experience something new.  That's what I find most interesting about this business… You can never relax or rest on your laurels.
Q: What do you consider the backbone of your business?
A: Our desserts are what we're best known for … Our brand is basically quality products priced to provide value to our guest and served in a clean comfortable atmosphere. An exceptionally friendly and accommodating staff is a big part of our brand, as well.
Q:  You had an amazing surprise in 2014 when President Obama popped in your Providence location.
A: That was quite a surprise … We were alerted when the Secret Service began to gather in our parking lot. We were told that "someone important" might be stopping in… The President could not have been more generous to our guests and our staff. He went around the dining room and spoke with almost every guest. He was accompanied by then-candidate for Governor, [Gina] Raimondo [who] is a regular at Gregg's.The President ordered a hamburger and fries to go. He also ordered a slice of our famous Death-by-Chocolate Cake and made us all promise "not to tell Michelle." I think the secret was blown when he was photographed carrying the Gregg's bag onto Air Force One.
Interview was condensed.