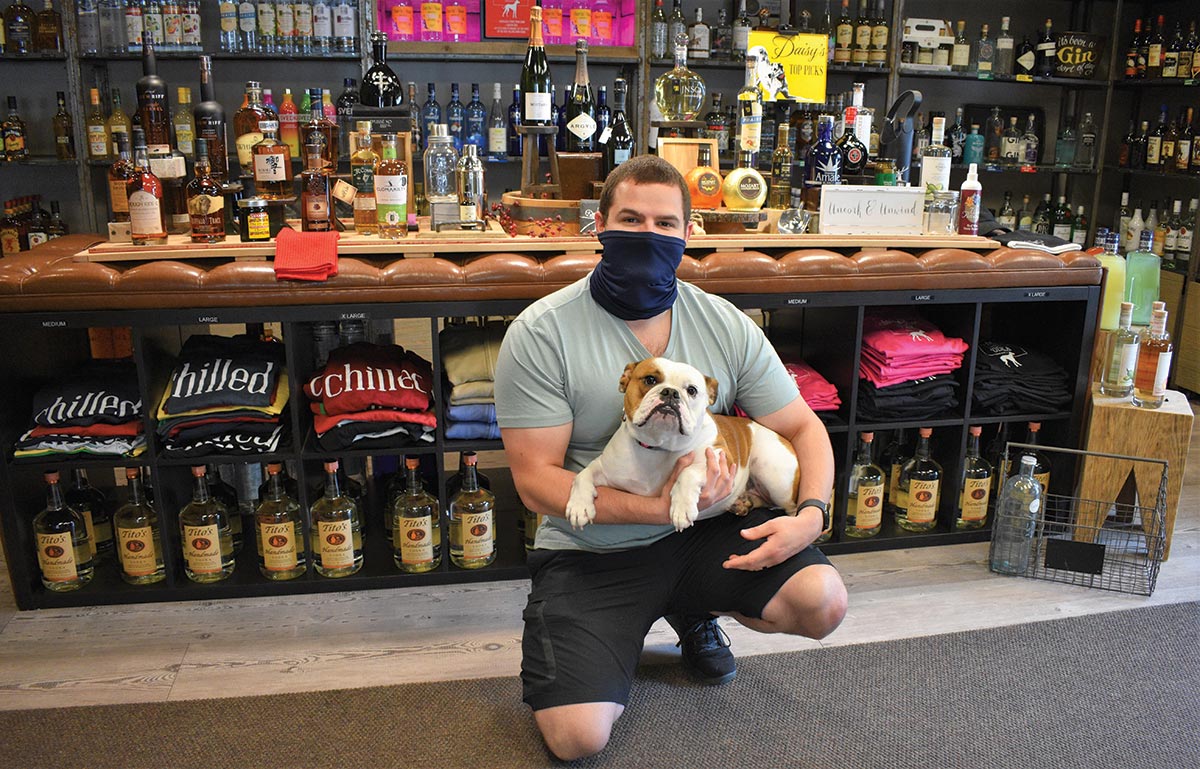 Nick's Chilled & Distilled
102 Church Hill Road
Sandy Hook, CT
Square footage: 1,800
Years in operation: 5 years
By Sara Capozzi
Walking in to Nick's Chilled & Distilled, it's clear right away the store strives to offer a unique shopping experience. The motto above the checkout counter sets the tone: "Alcohol! Because no great story ever began with a salad."
Everything about the shop's aesthetic, from its flooring and shelving to its signage, has been thoughtfully designed, with inventory that is a mix of mainstream customer favorites and selections that are a bit off the beaten path. All have been tasted and selected by owners and father-and-son team Patrick and Nick Heron, who run the shop day to day.
It's also a store that loves its dogs, putting them front and center as much as its products. On most days, Nick's Great Dane, Daisy, or Patrick's English Bulldog, Penny, can be found at the store greeting customers, adding to Nick's fun, casual atmosphere.
The store was conceptualized by Patrick, whose background is in designing spaces for high-end retailers, using shelving and signage produced by local craftspeople. Many of his shelves are made from reclaimed wood or intentionally aged metal, giving the shop a visual appeal that is both modern and cozy at the same time.
"It was really to deliver a different experience to customers so that they feel like it's curated and that it's thoughtfully put together," Heron said of designing the store. "Customers do notice … people care about the environment where they shop and they make choices. We're the smallest store around, so our selection is never going to be the biggest. We physically don't have the space. So, we had to come up with a way to be different. Why are they going to come here? What's going to make them shop with us versus the big guys?"
As Sandy Hook natives themselves, the Herons know their shoppers, the majority of whom are from the tight-knit community. While customers will be able to find familiar brands at Nick's, Heron enjoys promoting brands made by niche, family-owned operations, boutique spirits from craft distilleries and wine from limited-production vineyards.
"We wanted to make it more like an emporium where you can discover different things," he said of the store's selection. "Everything we put forward is to bring different things to the customer that they're not going to see everywhere else."
A customer looking to buy gin will find Tanqueray in stock but also selections from emerging brands including Barr Hill Gin, Empress 1908 Gin and Gray Whale Gin. Shoppers can find Baileys Irish Cream Liqueur and also Five Farms, a small-batch Irish cream liqueur made in a family-run farm and distillery in County Cork, Ireland. Space is at a premium within Nick's 1,800 square feet, and "every inch counts," Heron said. "If it's got a place on a shelf here, it's earned a place."
A unique selection of vintages in every varietal and region can be found on the racks, a result of Nick's trips to small-production wineries in wine regions around the world, where he tastes wines and brings his favorites back to the state through importers. Nick's carefully curated selection of wines is organized by price point, each with its own flavor profile.
The Herons make an effort to taste a variety of wines to find the best one at each price. "It's easy to find a great $50 bottle of wine," he said. "It's really tough to find a really nice $10 bottle of wine. We do that for the customer. To get one $10 bottle, we might try 12 just to get one because for $10, I want that to be the best $10 bottle of wine that we can find."