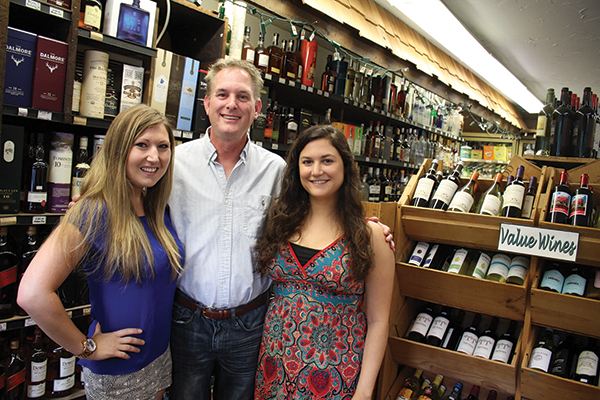 Northville Liquors
301 Litchfield Rd. Ste. 1
New Milford, CT
Square footage: 1,800
Years in operation: 30+ years; Eight years in November under current ownership
By Savannah Mul
Northville Liquors in New Milford has an "unusual personality," says owner Mark Howland. Every day is different. He looks forward to seeing his loyal local customers, as well as the celebrities who make the area their home and make an appearance to shop, such as Peter Gallagher and Christine Baranski.
Howland took over ownership of Northville Liquors about eight years ago, when he left his corporate job and wanted to do a job he would enjoy. "I don't even look back now," he said.
He redesigned the store to make products accessible while making the most of the store's small space. "The store changed radically," Howland said. "The variety significantly increased and we like to maintain that and rotate products." Howland also brought in an automated point-of-sale system, which has recently been upgraded to tablets for more effective counter space. Under his management, business has increased 25 percent. "Everyone competes on prices, and a good variety is important, but the only thing you can do to set yourself apart is build relationships with your customer base," Howland explained.
Northville Liquors staffs six part-time and full-time employees. It offers over 200 varieties of beers, and over 700 wines that accompany a large selection of spirits. Most of the sales come from wine purchases, Howland said.
Kellei Coolbeth, who has been the store manager for six years, said Northville Liquors carries the big brands as well as smaller names that not everyone knows. Before a wine or spirit is placed on the shelves, it is sampled three times by three different employees. If one employee gives it a bad rating, the store won't sell it. It's Howland's way of sorting through what is a good and bad wine.
Whenever a customer asks for a recommendation on a beer, wine or spirit, Howland and his staff follow one rule. "We never upsell," Howland said. "It's dishonest. We figure out what the right drink is for them based on what they tell us. People tell us all the time that they trust us… We take [the] time to educate ourselves on the products and the people enjoy that," he said.
Howland refers to Northville Liquors as "the happiest store on Earth…It's fun because the people are so interesting and we are so local," he said. Store employee Alexa Zane said when customers or her fellow employees go away on vacation she misses them and looks forward to hearing their stories when they return. "We're all very good friends," Zane said. Coolbeth laughed, and then added, "It's common for customers to walk out of here hysterically laughing."