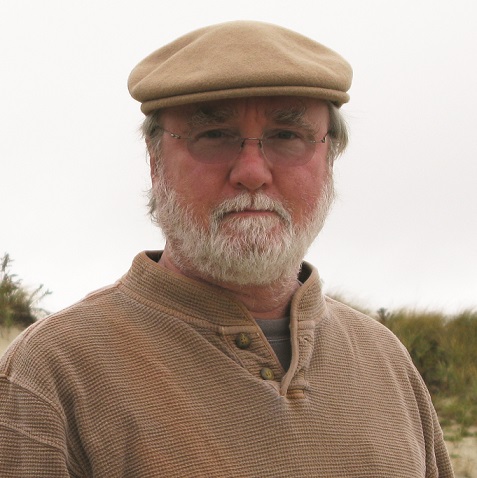 By Jack Kenny
Many years ago I was invited to be a judge for a multi-state homebrewing competition. About four dozen judges were grouped by beer category, and I had the privilege of being assigned to the smoked beer category. It was educational, difficult, and right after breakfast.
Smoked beer is not for everyone. I will venture to postulate that smoked beer is hardly for anyone. But there it is, in a category of its own, on shelves, menus and taps near you. What is it? How is it smoked? What is it smoked with? How does it taste?
Smoked beer started in Germany. Over there, the word for smoke is rauch. Rauchbier had its beginnings in the city of Bamberg, in the Franconia region of Bavaria. There the brewers dried their barley malt over fires of beechwood. The flavor imparted by the wood shows up in the beer and contributes the aroma and taste of cooked bacon.
The German Beer Institute has this to say about rauchbier: "Once upon a time, all beers were rauchbiers, so to speak. With the ancient kilning methods of drying green brewer's malt over open fires, all grains picked up smoky flavors and passed them on to the beers made from them. Today, however, with 'clean' malt being the dominant brewing grist, old-style smoke beers have set themselves apart as an atavistic rarity, a throwback to a time gone by."
In its description of classic rauchbier, the Beer Judge Certification Program (BJCP) style guidelines say that the aroma is a blend of smoke and malt with a varying balance and intensity. "The beechwood smoke character can range from subtle to fairly strong, and can seem smoky, bacon-like, woody, or rarely almost greasy. The malt character can be low to moderate, and be somewhat sweet, toasty, or malty." The color is medium amber to dark brown. The notes on taste say that "the palate can be somewhat malty and sweet, yet the finish can reflect both malt and smoke."
These are lagers with an alcohol strength that ranges from 4.8 to 6.5% by volume. They are malty, so don't look for much hop character. At its strongest, the hop presence will be moderate.
It is possible to find German smoked bier in our state, but availability might be limited to those labeled Aecht Schlenkerla. Be assured, however, that these are considered to be "the gold standard for modern Rauchbier," says the German Beer Institute. The traditional Schlenkerla Rauchbier is brewed and aged much like a Märzen (beer brewed in March and intended to last through the summer until Oktoberfest). It has an ABV of 5.1%. Schlenkerla Rauchweizen is a smoky weissbier with 5.2% alcohol by volume, and the lager is a smoky Helles-type blonde brewed to an ABV of 4.8%.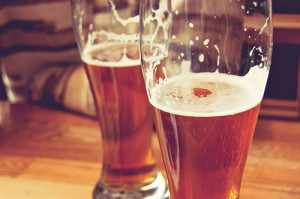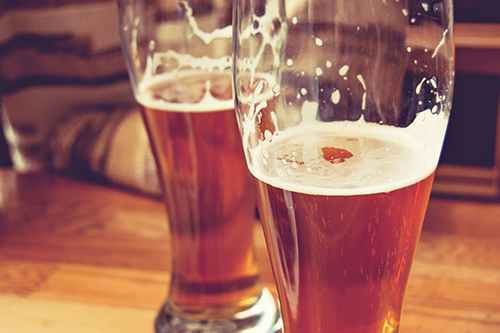 Just as you can have wood chips from apple, hickory or mesquite trees for grilling different foods, so you can have a smoked red lager or a smoked stout. These days in the craft beer world, the most popular non-German smoked beers are often based on porters, that dark English style that preceded stout. The most common woods are hardwoods: oak, maple, mesquite, alder, pecan, apple, cherry and other fruitwoods.
Stone Brewing in San Diego is known for its smoked porter, and also its smoked vanilla porter. Closer to home we have Captain Lawrence Smoked Porter, from Elmsford, NY. Though it uses German smoked malt in the brewing process, its notes are of smoked wood rather than smoked meat, plus a bit of coffee
and chocolate.
The Scots also have applied peat smoke to their whiskies with great success, and they sometimes smoke their beer grains. Peat is a soil-like substance of partly decomposed vegetable matter found in great number in bogs throughout Britain and Ireland. As a fuel source it is used for domestic heating. Scotch ale, also known as wee heavy, can be made with the addition of peat smoked barley, but it's not a requisite.
Skull Splitter, from The Orkney Brewery in Scotland, is popular in these parts (relatively speaking). At 8.5% the ABV is higher than usual. One reviewer finds sweet, dark fruit on the front of the palate and citrus, hop and alcohol at the finish.
If you're not pouring or stocking smoked beer and feel like giving it a go, start with a case of Aecht Schlenkerla and/or a domestic brand. See how it goes. On premise, it will be a talking point.
Jack Kenny has been writing The Beer Column for The Beverage Journal since 1995. Write to him at thebeercolumn@gmail.com.