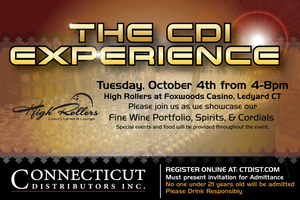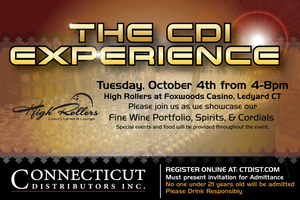 Connecticut Distributors, Inc. (CDI) will host "The CDI Experience", a trade tasting to showcase its Fine Wine Portfolio, Spirits, and Cordials. Special events and food will be provided throughout the event. On the day of the Trade Show, a portion of the proceeds for all cases of wine ordered will be donated to the Connecticut Food Bank to assist local families in need.
WHEN: Tuesday October 4, 2016 from 4 p.m. to 8 p.m.
WHERE: High Rollers Luxury Lanes and Lounge at Foxwoods Resort Casino.
For more information about the trade show contact your sales representative. To register for the event, click here.
View last year's highlights here.