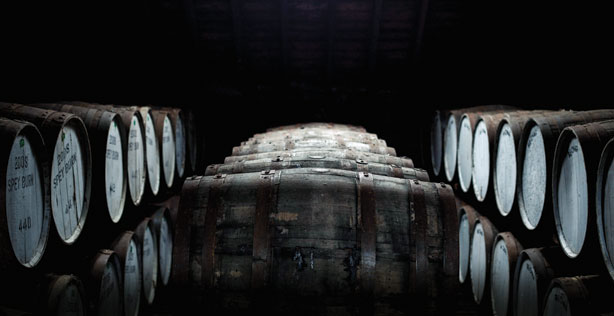 By Jack Robertiello
For all the attention given to malting and peat, to age, region or even still size, what's often left out of the discussion about what makes Scotch whisky so popular is wood. Barrels of diverse origin, which have nearly always held something other than Scotch and often have been put through incredibly precise steps of reconditioning, represent one of the industry's critical secrets.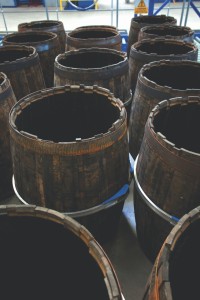 One of the pioneers of finishing Scotch whisky in various used barrels, Dr. Bill Lumsden, Head of Distilling & Whisky Creation at The Glenmorangie Company, is unequivocal: "All the different parts of the process are important, from the source of water to the choice of raw materials to a well-controlled distillation. But at the end of the day it doesn't matter how good your spirit is; if you don't have good quality oak you simply can't make good whisky."
The wood's work is responsible for up to 70% of the flavor in whisky, says Dr. Nicholas Morgan, Head of Whisky Outreach at Diageo, and that's due to a number of causes. "The first is subtractive, that's when the cask is taking out undesirable elements in new make spirit. You don't want many of the heavy sulphury elements, and the wood manages that," he explains. "Secondly is the additive process, which begins about halfway through and that's when wood starts giving character." American oak, specifically once-used bourbon barrels, is known for adding vanilla and sweet flavors.
The third process is interactive, when flavors and aromas mingle and produce a rounded quality that completes the whisky. "It can take six, eight, ten or 12 years, but you need to get all those parts of the process right to make sure you get a good whisky," says Morgan.
Of Diageo's 7 to 8 million casks of maturing whisky, about 90% is American oak and 10% European, used selectively across their 28 malts, almost always with blending in mind. Most of their single malts have little European cask influence, although he points out that the company uses European oak for the complexity, character and depth it can add to blends, with Johnnie Walker Black as the classic example.
Marriage Material
The process of marrying malts and grains together in casks to create the final blend has gone in and out of fashion, says Morgan. "When I joined this business, people were starting to say that marrying was an unnecessary luxury. But over the past five years or so, our specialists are talking again about how important that period is in extending the interactive maturation, allowing flavors to merge and develop. The higher you go up the ladder for a Johnnie Walker blend, the more thought and time will have been put into that marrying process."
Aging is an expensive process, and while older spirits generally command a higher price, younger whisky contains flavor components that some consumers enjoy and which are especially important in the creation of blends. On hot days, whisky expands through the char into the wood beneath; when the wood contracts, liquid is forced out.
The barrels need an environment where they can do their slow magic, but they also need consistency among the casks themselves. "Cask management is one of the most important issues in the industry, an incredibly complicated task, which all goes back to consistency," says Gabriel Cardarella, Dewar's National Brand Ambassador.
Given the surge in brown goods consumption, the market for barrels is tightening. Lumsden says that even with good, long-term supply partners, it's more difficult to source barrels than it has been for the past ten years.
House Styles
For Glenmorangie and Ardbeg single malts, Lumsden works with Brown-Forman Cooperage, who preferentially source wood from particular areas of the U.S. "It's not that I have to have oak from the eastern side of the Ozark Mountains, but they know our specifications, which is more important than the pure geography," he says.
Lumsden is very specific; he seeks slow growth oak—between 12-16 growth rings per inch, which he says indicates maximum flavor potential. And after the wood is cut into staves, he wants them matured in the open air for a minimum of two years. Since Brown-Forman's largest whiskey brand is Jack Daniel's, that's how most of the oak spends its early years, though Lumsden says he's more concerned about the wood than the whiskey used.
Once used to age bourbon, the casks are usually disassembled and shipped to Scotland where they are turned into larger barrels than those normally used in the U.S. No matter what the wood requirements, keeping multiple distilleries supplied is a task, since most Scotch whiskies are part of large multiple spirit companies, says Stuart Harvey, Inver House Distillers' Master Blender, responsible for Old Pulteney, Balblair, Knockdhu, Speyburn and Balmenach.
Harvey says, "We forecast how many casks we require to fill and empty next year in August of this year. Like any forecast it is only an indication. Therefore, we ensure that there is always a stock of empty casks. At the moment, we are buying between 13,000 and 14,000 casks each year, as we are filling more stock than we are emptying."
Inver House gets their barrels from Speyside Cooperage, the biggest supplier to the Scotch industry. "This was essential for a recent project, Arranta Casks, which is the latest release from Speyburn," says Harvey. Arranta Casks is a U.S.-only limited release made with only hand-selected American oak ex-bourbon casks. Many distilleries also use Sherry butts, although increasingly those are made with American oak.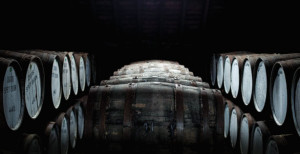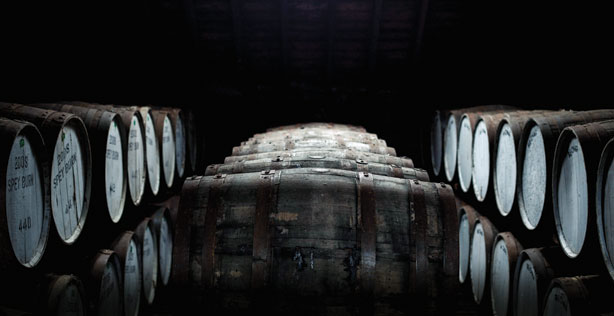 Bourbon vs. Sherry
While American ex-bourbon casks are favored, Sherry is still quite important; without it, brands like Macallan or Auchentoshan Three Wood (originally the result of a mistaken addition of sweet Pedro Ximenez with Oloroso Sherry casks) wouldn't be quite so popular. It's the signature of many distilleries, including The Grand Macnish, which relies heavily on Sherry casks for all their whiskies, particularly the 15-Year Sherry Cask expression which is dual-aged in bourbon for 15 years, then Sherry for six months which imparts the defining toffee-infused finish. Even Dewar's is relying more heavily on Sherry casks for its new whisky, The Deveron, a seaside single malt hitting the market this month; the hint of nuttiness from Sherry butts complements the briny character of the malt.
Still, each malt and blend calls out for its own best combination. "Bourbon casks provide a more neutral foundation for single malts, whereas Sherry casks impart a lot more flavor on whatever we put in the cask," says Simon Brooking, Scotch Ambassador for Beam Suntory. "At Laphroaig, for instance, we lean more toward bourbon casks because it highlights the big smoky beast that comes off the still."
But at the other Islay malt in the company portfolio, Bowmore, things are different. "Bowmore is a lighter style Islay whisky and our master blender Rachel Barrie is really taking the opportunity to play around with more of the Sherry casks," Brooking says.
Though new to the U.S. market, Usquaebach has been fine-tuning the balance between Sherry and bourbon casks since 1877, which is easier said than done, affirms Ryan Judson, Usquaebach Brand Ambassador: "Our blender believes bourbon casks add sweetness, while Sherry wood imparts nuttiness, spice and texture that consumers associate with Highlands tradition—finding the right combination is crucial." Failing to understand the correlation between quality wood and exceptional malts is a common mistake, he adds.
Now that Beam Suntory includes Laphroaig, Bowmore, Ardbeg, Auchentoshan and Glen Garioch in their portfolio, how to educate about the differences among the whiskies is more important, says Brooking. In fact, their ambassador team recently received barrel staves for display in trainings and tastings. "People want to know about how the wood affects the whisky, especially when you see how many more retailers and consumers want their own barrels." Brooking explains.
For the whiskies made by William Grant & Sons, getting the right Sherry casks requires control, says malt master Brian Kinsman, from construction specifications to how long they rest: "We want a big, intense and oak-laden maturation from Sherry casks, with our toast and a two-year maturation."
Sherry casks are so critical to the hallmark taste of The Dalmore, the distillery has locked up a contract with Sherry leader Gonzalez Byass which goes back a century. Distiller master Richard Paterson goes to Jerez to hand-pick each cask: "Really, it is the Sherry—the Matusalem, the Amoroso—that are so key to Dalmore's unique flavor," he says.
Passing the Sniff Test
And how do they test their barrels to make sure they're right? "Testing is simple," says Kinsman. "It's all sensory and our best people run their noses over the barrels." Sulfurous odors are the most common flaw among Sherry barrels; an acetic acid taint is also common in wood used to age alcohol.
While at Diageo most first-time use bourbon barrels are tempered by aging grain whiskey first, at William Grant & Sons, most first bourbons are used for the malts The Glenfiddich and The Balvenie.
French oak casks are appearing more often as prices skyrocket, though some warn about the generally high tannin variety. "I'm worried that a number of distillers might be using anything, including French oak and I think if they leave it in French oak for 12 years, they are going to be shocked—it's not going to be anything like a 12-year-old spirit aged in American oak," says Lumsden. He's also concerned that some distillers may be using oak only eight weeks from first being cut, which would likely have excessive tannin content.
Experimentation & Recycling
Beam Suntory has been working with the Japanese Mizunara oak, used and new, at Bowmore and Auchentoshan. "The challenge is it takes a lot longer to get results," says Brooking. "It's a tighter oak and not as permeable. You can get wood influence from bourbon or Sherry casks anywhere from months to a few years, but with Mizunara we're not seeing influence until five or more years." The Japanese oak, used in some of the company's Japanese malts and blends, is said to impart a sandalwood and cedar quality.
Diageo now rejuvenates their exhausted casks, which might have been used for 30 or more years, back at the cooperage, where repairs are made and a thin layer of wood is removed from the inside of the cask before recharring or retoasting to deliver a new active wood surface. "We can probably do that two or three times or more; it's good economics but also means we can keep a cask going as long as it takes a tree to come to maturity," he says.
But while Morgan and many in the Scotch business obviously know a lot about wood, there is much we don't know. "Our understanding of the history of the use of wood is very, very poor. And most of what you read can be confidently discarded."
Eye on the Finish
When considering barrel treatments, it is important to separate barrel aging from wood-finishing. With a wood-finish, whiskies otherwise ready to drink spend additional time in particular types of wine or spirit casks to create an unusual, often one time, whisky. In creating the recent line extension Scratch Cask blended whisky, Dewar's aimed to extract more sweet vanilla oaky characteristics as a way to bridge the gap between bourbon and Scotch for neophytes. They finished Dewar's White Label in charred bourbon barrels that had had some of the inner char scratched out, a process developed after standard casks didn't work quite right, says Gabriel Cardarella, Dewar's national brand ambassador.