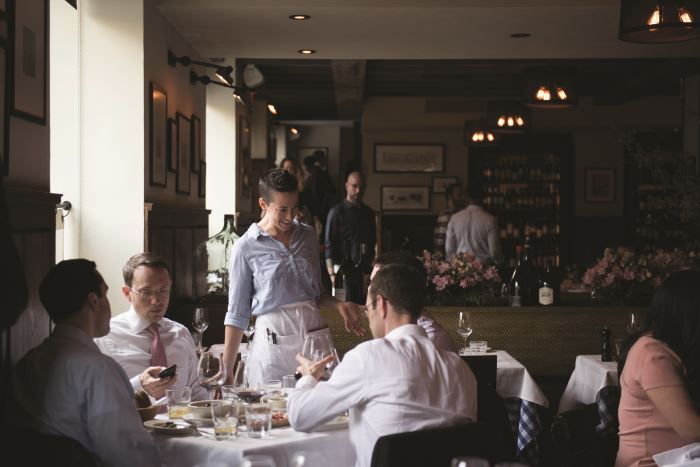 The no-tipping approach offers both challenges and benefits
By Jim Clarke
"Welcome to Bar Marco. Just so you know, all of our staff is paid a salary, and it's reflected in our prices." That script, or some variation of it, became part of the usual greeting at Bar Marco in Pittsburgh in April of 2015. But letting guests know is just one piece of the puzzle facing the growing number of restaurateurs going the no-tipping route. For beverage managers, it often means taking a long, hard look at pricing, inventory and everything else.
"All you need to do is have the proper dialogue with your guests," says Bar Marco's sommelier, Dominic Fiore. "They're essentially paying the same amount of money. It's just that the public isn't paying the employees directly; the restaurant is."
Behind the scenes, though, making that work at Bar Marco meant jiggering with the numbers. Fiore says that while most Pittsburgh restaurants might aim for a cost-of-goods-sold percentage around 35%, they moved to around 31% to keep prices reasonable and still bring in the extra revenue needed to pay their employees' salaries. That pushed up glass prices a dollar or two—the amount people typically would have tipped on a glass of wine.
Beware Sticker Shock
For Fiore, Pennsylvania's laws don't provide a lot of wiggle room for purchasing discounts, but other states can be more accommodating. Well-known restaurateur Danny Meyer has become an outspoken advocate for a no-tipping structure. Master Sommelier John Ragan, Senior Director of Operations at Meyer's Union Square Hospitality in New York, says they made adjustments to their buying patterns when they introduced the "Hospitality Included" program. That meant buying more of each wine to get away from frontline prices and take advantage of volume discounts. That also tied up more money in inventory, which can be a cash flow challenge for smaller restaurants.
In any case, wines need to be priced to move. "For the most part, our prices aren't much or any different from those of other restaurants with comparable or the same products, says Emmeline Zhao, General Manager of Little Tong Noodle Shop in New York. "We know that the optics of a price tag on a menu, regardless of whether hospitality is included, affects a consumer's psychology."
Still, why confuse diners by breaking with long-ingrained norms? "The vast majority of the world's restaurants pay their front of house a living wage and don't rely on gratuities," says Zhao. "The practice of tipping is awkward, and doesn't necessarily reward good service as much as it rewards subjective qualities tangential to hospitality. Foregoing a tipped system allows us to redistribute pay more evenly across a back of house, as well as offer more consistency and security of pay for our staff."
 Service Charge: Compromise or Confusion?
That psychology is different for restaurants opting for a set service charge, rather then rolling server wages into the price on the menu. "The trend here in Seattle is turning toward the service charge model," says Matthew Dillon, owner of Bar Ferdinand. "We don't want the customer to be confused." At high-end wine programs, a flat-rate service charge can evoke consternation, as some guests prefer to tip expensive, three-digit bottles on a curve, arguing that opening an expensive bottle involves no more work than opening something cheaper.
Based on Dillon's experience at his other restaurants, where tipping is still the norm, that hasn't been the case for most diners. "On a typical night a couple might spend 100 on food, 50 on wine, and tip 18-23% on $150. Another couple with same server and experience might spend $100 on food and $100 on wine, and still tip same 18-23%. It's the same as tipping more on a $70 steak instead of a $10 pizza. We've had very little pushback with a flat 20% service charge."
Control Factor"I think from our point of view there's more control," says Fiore. "A side effect of the tips thing is 'I'm working for myself and I don't care about anybody else; this is my section.'" At Bar Marco a sense of teamwork even exists between the front of back and house, "so there's a productivity gain as well," and more directly related to the beverage program, less temptation to steal. "If a server has the potential to give things away for free for a higher tip, that is essentially theft from the restaurant."
Under its no-tipping model, Bar Marco has been able to offer all full-time employees a salary, paid vacation and health insurance, and they seem appreciative. "I would say staff retention was the happy surprise," says Fiore. "In two and a half years we've literally only lost four employees, and that's completely unheard of in our business."