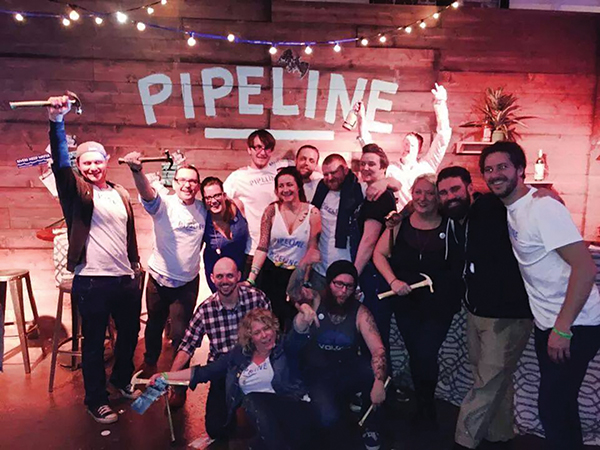 By Dimitrios Zahariadis
What is Portland Cocktail Week? No, it's not in Maine but in the great Northwestern state of Oregon. No, it's not just a week of drinking alcohol, but a five-day educational marathon. Yes, it is my favorite convention, trade show, bartender gathering, or whatever you want to call it, in the U.S. I live for Portland Cocktail Week (PDXCW), and that's a fact.
PDXCW started five years ago as the brainchild of Lindsey Johnson, CEO of spirit and wine marketing company, Lushlife Productions, and local Portland bartender David Shenaut. It has blossomed into one of the nation's leading events focused heavily on the aspect of education. This is my tale from PDXCW.
As I approach Newark Airport after a long night of working (and at the early hour 6:00 a.m.) on Friday, October 17, 2014, the nervousness and anticipation settle in. I'm attending my 3rd PDXCW, but this year is extra special for me: I'm a Varsity Squad member. Being one of the select few that have the honor of being on the Varsity or Junior Varsity teams, we are part of the crew that helps plan and execute the week's festivities for over 1,500 attendees.
After a five and a half hour flight to the west coast, I arrive at the Jupiter Hotel, the epicenter of the PDXCW. Members of the Varsity/JV teams arrive a couple days early to finalize our duties and get to know one another. It's a great group of bartenders and professionals from all over the country.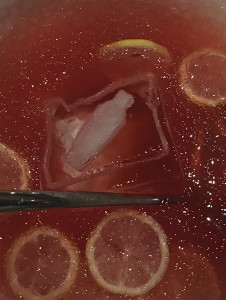 On Saturday, October 18, although it's the official start the PDXCW, not many students are here, just some hardcore people who want to kick off the week right with an epic party from House Spirits Distillery for their 10-year anniversary. I ease into the week by seeing many of my friends from across the country and getting to reconnect and "talk shop." Trying to get to bed early for the mass influx of students the next day is a tough task; one that is definitely not accomplished.
Sunday arrived — game time! Four Roses Bourbon provided a welcome shuttle from the airport to the Jupiter. Students are taken to the Bossanova Ballroom, a block from the hotel, to check in, get class schedules and prepare for the week. Back at the Jupiter, the San Francisco-based team behind award-winning cocktail bar Trick Dog, The Bon Vivants, have the ever-popular event Swig-N-Swine underway. The Swig-N-Swine, cooking pig and making the tastiest punches, raises money for charter schools nationally; so far over $125,000 in 2014. I have been involved with the group, volunteering my time cooking, and I tip my hat to them — true pioneers in our industry.
This event is followed by an "all-school assembly," where Lindsey addresses the student body about what to expect the rest of the week and to introduce us, the Lush Life team, Varsity team and JV team. The night then consists of an 80's-themed roller skating party, followed by one of the coolest things ever — the bar mash-ups! This is where bars from all over the country, two at a time, at a host venue, work together to create an experience that you would find in their host cities.
The next two days are filled with taking classes from respective "majors," such as Bar Ownership, Advanced Craft Cocktail Bartending, Beyond the Bar or Innovation and Development. Monday night features major dinners; this is where all students go to dinner with everyone in their majors and their sponsor. Tuesday night hosts the second round of bar mash-ups after an amazing Crown Royal event, where four local chefs team up with bartenders to create a cuisine and cocktail pairing, allowing attendees to vote for their favorite pair.
Wednesday is field trip day. Students are allowed to choose from 13 different field trips provided by sponsors. I am one of the lucky few selected to go skeet shooting with Jimmy and Eddie Russell of Wild Turkey for Jimmy's 60th Year Anniversary with Wild Turkey. It is a real treat to meet and talk with these men, true legends.
Thursday is the final full day at PDXCW. This is the day that everyone looks forward to: the Bacardi Bar Build and United States Bartender's Guild (USBG) cocktail showcase. I was one of the 40 bartenders selected nationally to participate in the Bacardi Bar Build. Four teams of ten have eight hours to build the ultimate bar from initial concept, cocktail list, social media promotion and profitability plan. The teams appoint different tasks to one another and present the concept to a shark tank of judges comprised of the nation's leading bartenders and bar professionals. I am proud to say that I was on the winning team this year, a bar called Pipeline, a northwest-themed surf lounge that served elevated tiki cocktails.
After celebrating our huge win, we are taken back to the Jupiter for the USBG event: 44 chapters nationwide each served a cocktail showcasing ingredients and inspiration from their hometowns, a true testament to the craft cocktail scene that is taking our nation by storm. I salute everyone who was there representing their chapters.
Friday marks the day that all students leave Portland. I depart with a heavy heart. For a small town Connecticut kid who was welcomed with open arms to help with this great event, I only hope that more bartenders from our great state get involved and have an experience of a lifetime like I did.
To experience PDXCW is like no other event in our nation, the amount of education provided by the sponsors is second to none. You leave Portland with the sense that you will use what you learned in your day-to-day professional life and pass that knowledge onto others. You also take with you a vast network of like-minded individuals who are all striving for the same goal, to make bartending an honorable profession once again.
Although it is not necessary to be a USBG member to attend PDXCW, being affiliated with a chapter certainly helps promote comradery To sign up for the USBG CT chapter, please visit www.usbg.org.
Dimitrios Zahariadis, co-founder of Cocktail Chemists and vice president of the United States Bartenders Guild Connecticut chapter, is an award winning bartender and pioneer in the craft cocktail movement in the state. He spends his time traveling for continued education and raising awareness of the state's bartending talent when not behind the bar.