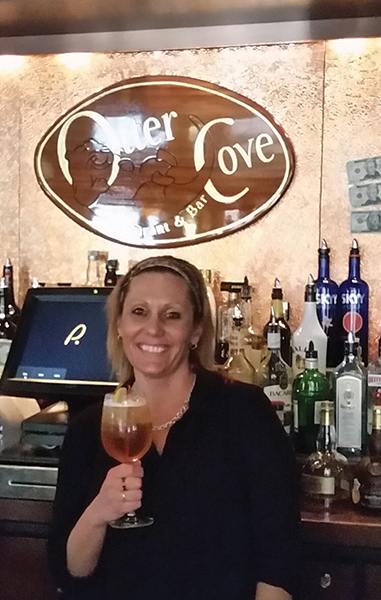 Otter Cove
99 Essex Road
Old Saybrook, Connecticut
Otter Cove is a semi-casual seafood and American fare restaurant, offering everything from fresh oysters and Atlantic lobsters to cheeseburgers to butternut squash ravioli — and of course, plenty of creative cocktails.
Mixologist: Anthony DeSerio
Pictured: Missy Guillet
Cocktail: Charlotte's Garden
Recipe: Mix,
1.5 oz. Hendrick's Gin
1 oz. honey/lavender chamomile syrup*
1 oz. fresh-squeezed lemon juice in a cocktail shaker
Add ice and shake. Strain into wine glass filled with ice. Top with 3 to 4 oz. Fever Tree Elderflower Tonic Water. Garnish with lemon or lemon twist.
*Syrup: In a pint glass, mix 1/3 honey to 2/3 hot tea, steeping with four lavender chamomile tea bags (any brand). Stir until honey dissolves. Let the tea steep to room temperature. Remove bags, cover and refrigerate (will keep for a month).
"It's light, crisp, sweet and floral. The honey and lemon bring out the cucumber from the Hendrick's gin while the elderflower and chamomile bring out the aroma of the rose. A perfect summer cocktail," said DeSerio.