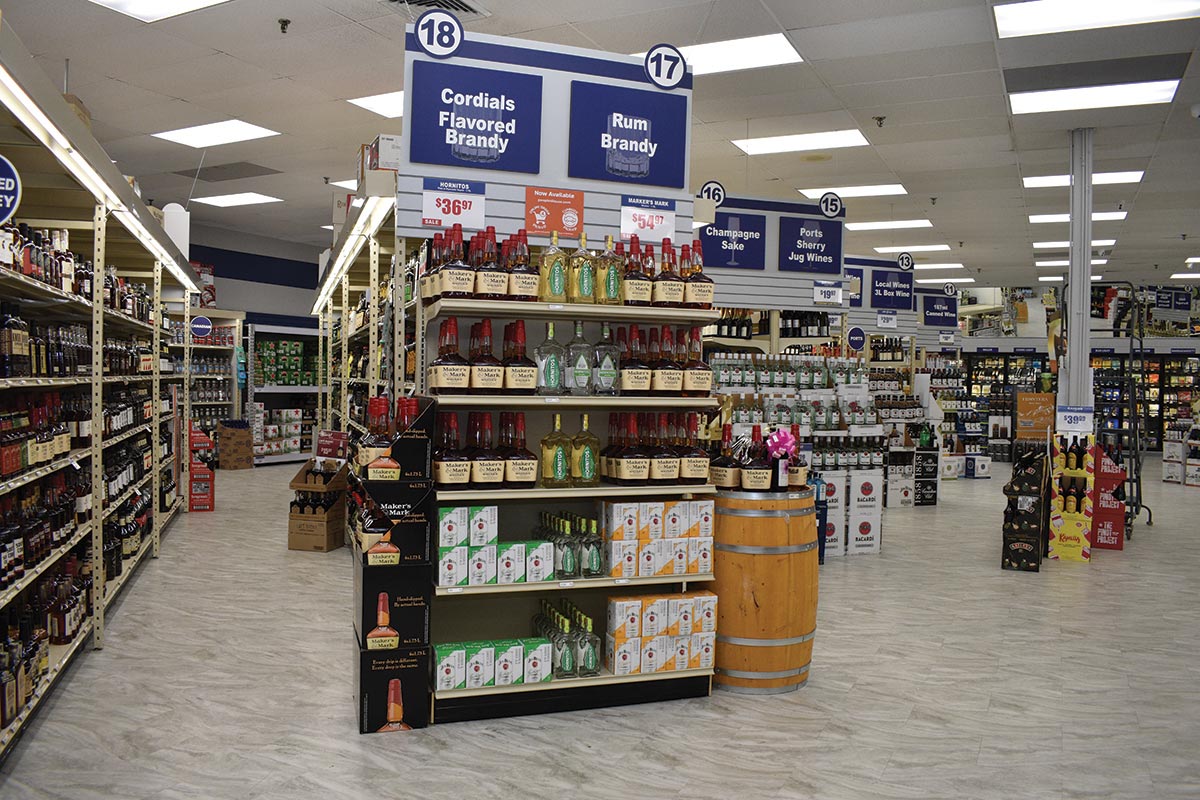 People's Liquor Warehouse
1350 Greenwich Avenue
Warwick, RI
Square footage: 13,000
Years in operation: 24
By Sara Capozzi
People's Liquor Warehouse lives up to its name in more ways than one. Not only does the store offer a warehouse-sized selection within its 13,000 square feet, but the customer experience is priority number one, explained the team of General Manager Joe Bianco and Wine Manager Jim Morrison.
"We're hands-on," Morrison said. "It starts when [customers] get into the parking lot. Everything is about presentation and serving the customer; and it starts with a clean store and effective lighting, all that integrates together. We really put a big effort into training our cashiers to be personable and smile, so that's very important in this store."
Staff at People's focus on getting to know customers and their preferences in order to give them personalized recommendations, while making browsing streamlined through design. Keeping the store's presentation and arrangements of items fresh through frequently changing inventory placements and outfitting endcaps with different seasonal displays or themes creates an organized and interesting shopping experience.
"I take advantage of our size and add additional products when it's possible and keep the mix going," Morrison said. "We've got a well-rounded selection in general. Rarely does a customer come in and ask me for something that we don't have, or if that does happen, I can at least recommend something like it."
People's competitive prices help to draw shoppers from Warwick and the neighboring towns of Cranston and East Greenwich. When curating the store's wine selection, Morrison said, "We like to keep it current, keep it trendy, but at the same time keep the mainstays. We sell a lot of bulk wines, a lot of the 1.5Ls, a lot of Barefoot or Yellowtail. But for our more eclectic customer, we also have some hard-to-find products and unique stuff that you're not going to find at other stores."
Sales of bourbon barrel-aged wines have also picked up according to Morrison, with the store going from carrying two or three such brands to 12 currently. Organic, biodynamic, sustainable and low-calorie categories are also making a strong sales showing.
Spirits sales at People's run the range, as top-shelf brands and allocated whiskies alongside category leaders such as Tito's Handmade Vodka are popular choices. In keeping with convenience trends, cocktails are available in ready-to-drink formats and canned seltzers. The team sees increasing sales of nonalcoholic beer, wine and spirits, with many brands selling out more quickly than expected.
Bianco spoke of the shift in customer shopping habits beginning during the COVID-19 pandemic which he expects to continue, including curbside pickup and ordering delivery through Drizly. Through People's own app and website, clientele can access quick and convenient ordering directly without the third-party vendor, too.
"There are multiple ways a customer can purchase from us, so I think that separates us from the competition, as well," Bianco said. "It's not just coming into the store and picking up a bottle anymore. You can use our app or go online."
The store's Cheers Direct Program as part of the Wines & Spirits Retail Marketing Group offers still more incentives. Plentiful gift baskets and cigar selections enhance beverage purchases, along with in-store tastings on the weekends, all of which keep the people coming back to People's.