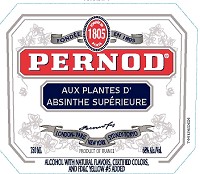 Pernod Absinthe, the first-ever absinthe commercially produced and sold, announced the re-launch of its original formula.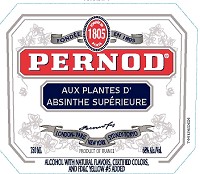 Available on- and off-premise in October 2013, the change marks a new chapter in the brand's history. The formula was developed during a two-year process using the few remaining records of how Pernod Absinthe was made in the 1800s. The 1912 ban on absinthe in the United States was lifted in 2007.
The recipe change features three marked differences. First, the base spirit will shift from a neutral grain to a neutral wine spirit, staying true to the traditional and most authentic way of making absinthe. Grapes are sourced from Region 5 "Languedoc" as noted in the original manuscript. Next, the grande wormwood, the key element to creating absinthe, will be cultivated in Pontarlier, France, the historical home of Pernod Absinthe where the original factory was founded in 1805. Lastly, the spirit will be colored naturally through maceration of green nettles, instead of added dyes and artificial colors.
"Pernod Absinthe has a rich history that helped shape an era, and a return to the original Pernod Absinthe formula marks a historic time for both the brand and its heralded past," says Clare Kanter, VP, Category Marketing (Gin, Tequila & Exports) at Pernod Ricard USA. "As we pay homage to the brand's past, we look forward to introducing Pernod Absinthe for the world to enjoy as it once did."