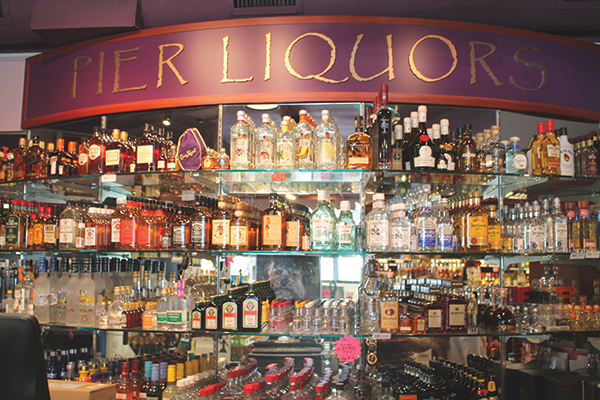 Pier Liquors
29 Pier Market Place
Narragansett, RI
Square footage: 2,200
Years in operation: 8
By Savannah Mul
Pier Liquors first opened on Memorial Day weekend, 2007. With a prime location a few miles from the beach, residents and tourists received the store with open arms. Mother-daughter team Debra Manni, owner, and Dina Lindia, store manager, attribute the level of success to their customer service.
"We are a customer service based business," Lindia said. "I want to go a step above and make sure when you come here, you leave satisfied." Most recently, a goal of Lindia's was realized when Rhode Island Monthly named Pier Liquors the "Best Wine Shop in South County" in 2014.
This recognition affirmed for Lindia that customers appreciate the service and knowledge they offer. Pier Liquors staffs 10 part-time and full-time employees. Lindia ensures when customers come in the store, her staff is knowledgeable about the products they sell.
"We make sure that we know a little bit of everything," Lindia explained. If a customer inquires about product information or availability that an employee is unfamiliar with, the staff will work with the customer, and use online resources as well help from sales representatives to track the product down to get it in the store.
Each season brings new favorites for customers at Pier Liquors. "This time of year we stock up on a lot of boat brews, like canned items, things that are fun to drink and something you can grab and go," Lindia said.
Pier Liquors have about four doors of chilled wines, 12 doors of craft beers and five doors of imported beers and ciders. They also have a large gravity cooler for bigger production microbrews. Lindia said the store carries a large variety of local beers, wines and spirits, too. Local wines are always a popular purchase for tourists.
Manni said during December into January business can be a slow, but the store uses this time to do in-store promotions to attract customers. In the past, they have featured Bud Light promotions, craft beer and wine tastings. Pier Liquors has an active Facebook page and uses social media to help spread the word for store events, products and promotions.
Pier Liquors is also located about 15 minutes away from The University of Rhode Island, and many students rent out houses and apartments in the area. Manni explained when the tourism season is ending as summer comes to a close, students and faculty are returning to the area, which helps boost business.
Lindia said they also offer sales throughout the week. "There's a 10-percent wine discount on Mondays and five-percent off on beer and liquor on Thursdays." Pier Liquors also offers seasonal holiday baskets and will place large orders for parties and events.