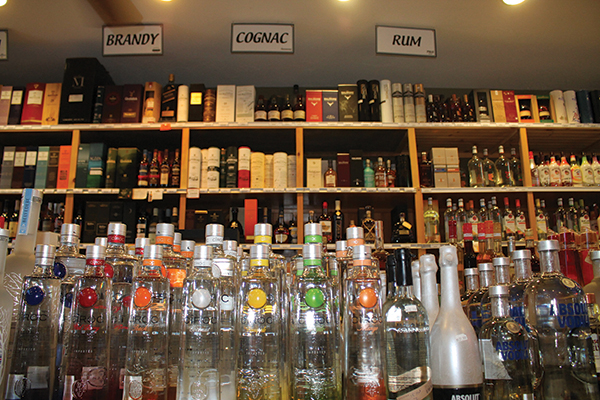 The Pit Stop Spirit Shop
712 Norwich Road
Plainfield, CT
Square footage: 3,000
Years in operation: 5 ½
By Savannah Mul
Mihir Shah wants his customers to know when they shop at The Pit Stop Spirit Shop, they will find variety coupled with good service. With over 9,000 SKUs of product, customers can peruse and choose from a careful collection ranging from the accessible to exotic, local and national craft beers or high-end whiskies including Dalmore 25 Year Old and Glennmorangie's Pride of 1978.
"It's all about the variety," said Shah. When he purchased the store in 2011 with his wife Krupa, inventory was low. He expanded the offerings and created tall, floor-to-ceiling wooden shelves on two walls to house them. "It's a constant shuffle," he said. "I try to rotate the product displays as much as I can. There are new items coming out every other week and there is so much to try," he said.
The feedback he receives from his customers affirms his model. "Our main goal is to keep our customers happy," Shah said. Store employee Taylor Jackola said another way they accommodate their customers is by offering mix-a-six packs. "It opens up a lot of avenues for them to try a variety of beers," said Jackola.
The store's beer selection can also be seen on Untappd, the app that allows consumers to view their selection, and leave tasting notes and reviews on products and places. With the upsurge of products in the market, social media apps build another level of marketing and product awareness to help sell, Jackola said, adding that the data helps them properly stock the store.
The Pit Stop Spirit Shop also hosts in-store tastings on the weekends to introduce new products. Jackola said they use social media, such as Facebook, to promote in-store tastings, featured products and promotions.
Store employee James Medley said he sees more customers viewing the store as "not just a liquor store," but a place to learn about the production, history and story behind the products. Krupa Shah said, "We're a friendly store in a small town and treat our customers and employees like family."
About three months ago, Shah was looking to expand and purchased his second liquor store, Putnam Wine and Spirits, a 2,500 square foot store about 20 miles away. When speaking about the industry as a whole, he said, "It's not the same old boring routine."