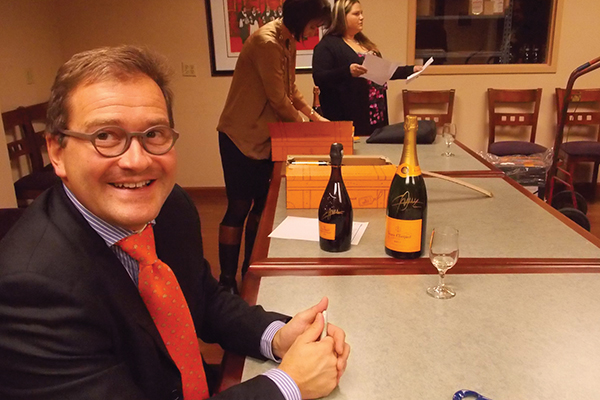 By Lauren Daley

There was a time when Champagne was saved for New Year's Eve, job promotions and weddings. Not so any longer. With more people popping the cork for everyday dinners and desserts, a whole new world of food pairings has popped open. While consumers may think about pairings when it comes to wine and more recently craft beer, champagne offers still newer territory.
What better time to explore than the holiday season and apply beyond the peak.
A recent seminar at Slocum & Sons, featuring Cyril Brun, winemaker for Veuve Clicquot Champagne, opened up the opportunity. The Beverage Journal spoke with a few participants from the October 26, 2013 Connecticut trade event.
Ashok Patel, owner of Liquor Outlet in Southington and a board member of the Connecticut Package Store Owners Association said that December is a huge champagne month for his store; he estimated that 70 percent of all the champagne he sells in a year is sold in December. Patel said he appreciated learning which champagnes pair well with Indian food and which pair with desserts.
"You've got to be a student of the business. That's the way you make it on our (retail) end. You want to get educated," Patel said. "That's the reason you go to these events; to find and learn about good quality products." It's easier to make suggestions to customers when he's tasted the product himself, Patel said.
"The opportunity to taste the Champagnes comparatively, back-to-back, really helped me to decide what to purchase for our store," said Donna Taylor, general manager of Addison Fine Wine & Spirits in Glastonbury. "When you can taste comparatively, as opposed to just one, you can distinguish what you want to bring in for the holidays. To do them back to back, you can see which one is crisper, which is yeastier, fruitier. The comparative tasting is the big key, because when I find out what the consumer is looking for, it's easier for me to help when I've tried the whole line. I feel the tasting, and that knowledge that comes with it, is my job."
Taylor also learned about food pairings, another take-away that will help her to help her own customers. "If a customer comes in and I know they have a very good palate, I may say to them, 'Instead of that California Cab, try this vintage Rosé Champagne with your filet mignon instead." She said, "I learned that the Vintage Rosé pairs with red meat and main courses. That's something new I took out of the day. The Demi Sec, which is the sweeter, goes with a cheese plate after the meal. And the Grand Dame goes with shellfish, scallops, seafood, creamy sauces. These are tips I can pass on."
Noah King-Smith, Key Account and Spirits Manager at Slocum & Sons said Champagne is "definitely becoming more of an everyday drink. The people that think nothing of opening a $30 to $40 bottle of wine for a Tuesday night dinner are now saying, 'Why not a Champagne?'" Smith-King said people are also realizing how great Champagne pairs with everyday foods.
"Traditionally, Champagne has been paired with rich dishes with buttery sauces and stronger cheeses, even more exclusive ingredients like caviar and oysters—but have you ever tried Champagne with potato chips or butter drenched popcorn? Champagne's high acidity and carbonated nature is perfect for salty snack foods," he added.
While some customers may be looking to pair Champagne with snacks, Sanjay Shah, who owns Buy Rite Liquors in Wethersfield, said others are interested in the health benefits of Champagne and sparkling wine grapes. Indeed, Mireille Guiliano, former CEO of Clicquot, Inc., the U.S. subsidiary of Veuve Clicquot Ponsardin and author of the bestseller "French Women Don't Get Fat," has stated that many of Champagne's health benefits are due to its trace minerals such as magnesium, potassium, zinc, and lithium.
The Journal of Agricultural and Food Chemistry published the results of a joint study by the University of Reading and University of Cagliari in 2007 that showed moderate consumption of Champagne may help the brain cope with the trauma of stroke, Alzheimer's, and Parkinson's disease. The research noted that the high amount of the antioxidant polyphenols in sparkling wine can help prevent deterioration of brain cells due to oxidative stress.
"I think people are reading those articles, or maybe they just want a change from wine," said Shah.