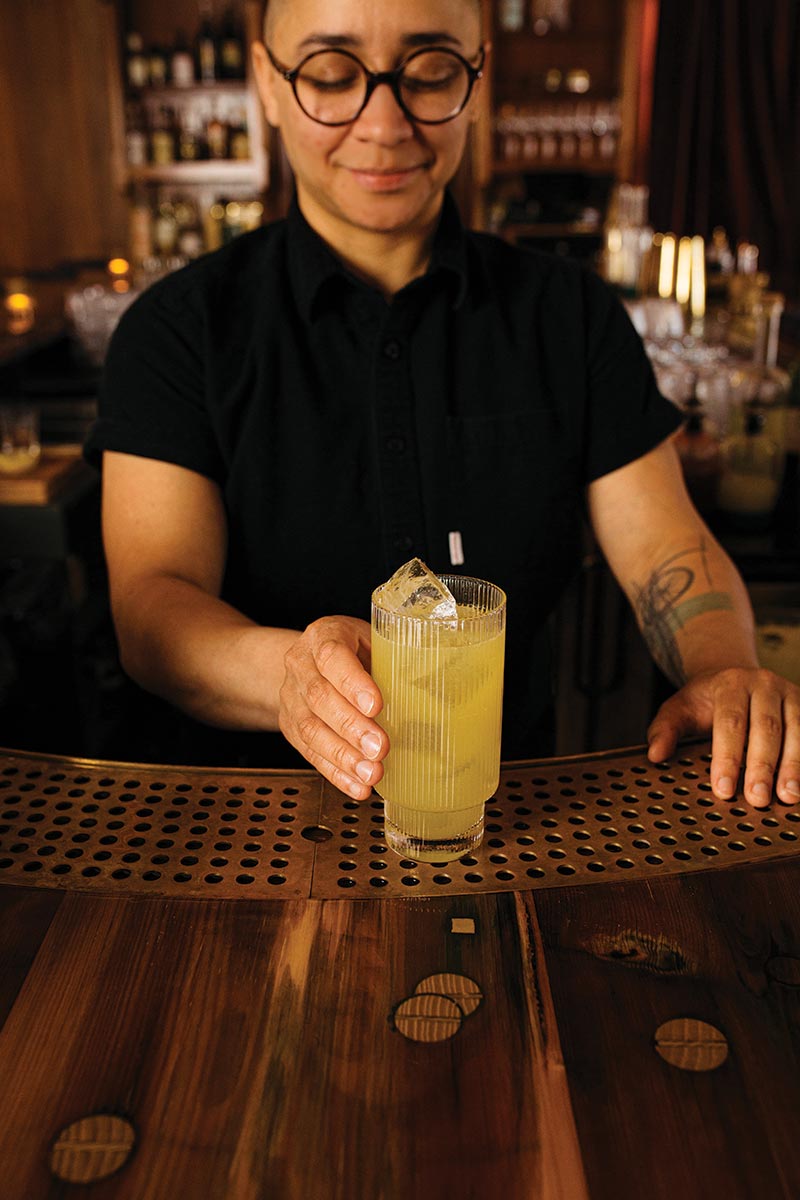 The Port of Call
15 Water Street
Mystic, CT
Opened in May 2022, The Port of Call is a nautical-themed venue situated in the picturesque seaside town of Mystic. A collaboration between Mystic-based restaurant group 85th Day Food Community — known for operating the acclaimed Oyster Club and Engine Room — and locally founded The Real McCoy Rum, the Water Street locale is a stylish cocktail lounge and a restaurant. Its upper saloon offers an upscale bar experience, where guests can enjoy craft cocktails with small plates. Dive, located on the lower level, is a casual pub with shuffleboard and vintage arcade games. The Port of Call celebrates the area's rich nautical history through its construction. The floorboards are salvaged teak deck boards from the historic Joseph Conrad sailing ship and the horseshoe bar top is made from exterior hull planking of the wooden whaling ship, the Charles W. Morgan; each vessel is on exhibit at the nearby Mystic Seaport Museum. Food and drink menus are influenced by flavors of South America, Southeast Asia, Puerto Rico and the Mediterranean, featuring locally sourced, seasonal ingredients. Select wines are available by the bottle and glass, with a focus on organic and biodynamic selections, as well as local craft beer. The venue offers an inventive craft cocktail menu, spearheaded by Beverage Director Jade Ayala. Cocktails are listed with recommended food pairings and each has been created with a different "port of call" or port city in mind. In just its short time since opening, Esquire magazine has named it "One of the Best Bars in America."
Beverage Director: Jade Ayala
Cocktail: The Middle Child
Ingredients:
» 1.75 oz. The Real McCoy 3 Year Rum
» .25 oz. Hampden Estate Rum Fire
» .5 oz. lime juice
» 4 dashes Elemakule Tiki Bitters
» .75 oz. sour orange/fennel turbinado syrup mix*
Method: Add all ingredients to a shaker and shake well. Double strain the mixture into a Collins glass and serve on the rocks.
The Middle Child, a daiquiri featuring a blend of The Real McCoy Rum, Hampden Estate Rum Fire, sour orange, fennel, lime and Tiki bitters, was created in honor of Bridgetown, the capital city of Barbados. "The Middle Child is The Port of Call's funky and tart play on the otherwise bright and clean classic daiquiri," Ayala said. "The 'funk' comes from the Jamaican rum and the tartness from the acid-adjusted orange juice. We named it The Middle Child because daiquiris often tend to be forgotten or overlooked. But when they're made right, with quality ingredients and elevated flavors, you're reminded of how great they can be. Forgotten, but actually your favorite: The Middle Child."
* To make the Fennel Syrup: Toast 425g fennel seeds over low heat for 10-12 minutes. Add toasted fennel seeds to Turbinado Syrup. Let sit overnight. Strain out fennel seeds and store up to 5-7 days in refrigerator.
*To make the Acid Adjusted OJ: 33 oz. fresh squeezed orange juice and 22 grams citric acid
Directions: Mix citric acid directly into orange juice.
*To make the Turbinado Syrup: 15 oz. turbinado sugar and  15 oz. water
Directions: Combine in small sauce pan and stir until sugar is dissolved. Remove from stove and store up to 5 days in the refrigerator.