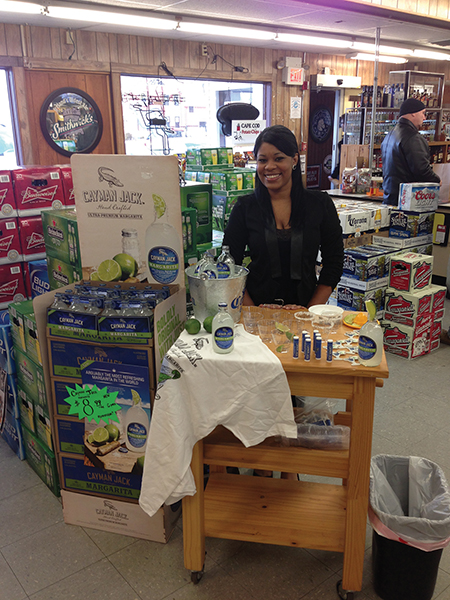 In-store sales increase with sampling
By Lauren Daley
When a supplier launches a new product, consumer sampling gets brand buzz going. Where the customer first gets the chance is often at the point of sale, both on-premise and off. When a package store owner wants to showcase and move a product, creating a fun and friendly vibe at an in-store tasting can yield instant bottle sales. And that is why promotional companies continue to be an expanding sector of the beverage industry.
Full-service promotional companies, such as Big Orange in Pawtucket, R.I., create sales for both distributors and store owners as an immediate effect, and create loyal and informed consumers in the long-run, through tastings led by trained, knowledgeable and personable brand ambassadors.
Suppliers benefit because the company's friendly and knowledgeable brand ambassadors "act as the face of their brand and assist in educating customers and selling their product," said Samantha D'Amico, director of operations at Big Orange Productions. She said the promotions also "cement the relationship" between suppliers and accounts.
"A great deal of time and money is spent getting products on the shelf or behind the bar, and sampling events help to support the marketing efforts of both the brand and the account. Our brand ambassadors provide customers with an experience that connects them to the brand in a way that will keep them coming back for more," explained D'Amico.
As for the benefits to package stores and other venues, D'Amico said, "Simply put, we create excitement and sell product. Our brand ambassadors greet customers, offer them a sample and educate them about a brand, which makes for a much more memorable experience than a regular trip to the package store. Since customers are more likely to purchase products they have sampled, we drive sales throughout the tasting event — and in the months to come," she said. "Sampling not only increases sales during the event time but also [afterwards, as] customers come back to purchase again."
D'Amico cited a 2009 study that found in-store sampling not only has dramatic sales impact on the day of the sampling event, but also increases sales of established products and line extensions, as well as new products, for at least 20 weeks following the event.
Conducted by independent research firm Knowledge Networks-PDI and commissioned by PromoWorks, the independent study used frequent shopper data to follow consumer behavior of more than 16 million households long after the day of the sampling event to test the impact on sales. Among other findings, the study found:
Sampled items showed an average of 475 percent cumulative sales lift on the day of event.
In-store sampling drives additional repeat purchases for the brand franchise over a 20-week period.
The sampling was found to have a significant impact for the parent brand of the sampled products, with a 107 percent average sales lift on the day of event and 21 percent average sales lift after a 20 week period.
Big Orange is a nationwide promotional agency based in Rhode Island. Since 2003, they've grown to employ more than 60,000 people throughout the United States, with a core group of some 75 brand ambassadors representing beverage clients in Rhode Island. D'Amico said Rhode Island ambassadors work with wholesalers including Rhode Island/C&C Distributing and Horizon Beverage, representing brands such as Yuengling, Coors, Blue Moon, Mike's Hard Lemonade, Woodchuck Cider, Brancott Estate Wines, Malibu, Brugal Rum, Absolut, Jameson and Bird Dog Whiskey, among many others.
"We fully educate [our ambassadors] on all of the products they're representing," she said, adding that the brand ambassadors are also trained in how to make quick and conversational sales pitches to consumers, briefing potential buyers with key facts, "Where the product is made, how it is produced, the price point, and tasting notes are all great talking points for a quick conversation that can lead to a sale," D'Amico continued. "Safe serving practices and a general knowledge of the industry are, of course, also important for all our staff to know."
Christina Leigh has been a brand ambassador at various agencies for 11 years, including six years at Big Orange, she said. Leigh does 12 to 15 tastings a week and has worked for "every brand you can ever imagine. I even did Lil' Jon's birthday party; a Jack Daniels rep asked me. I just love what I do and it shows. I love interacting with people on a daily basis, I'm enthusiastic; I make an atmosphere fun, but I'm also knowledgeable about the product and know how to push sales."