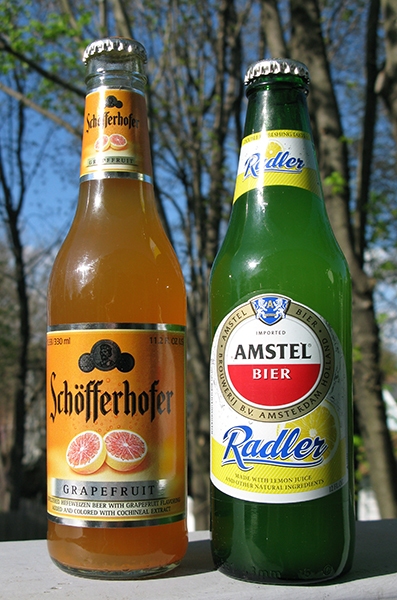 By Jack Kenny
A few weeks ago I brought home a 12-ounce bottle of Schöfferhofer Grapefruit, an unfiltered wheat beer from Frankfurt, Germany. The label says that the contents are 50% hefeweizen ale and 50% grapefruit flavoring, and that the alcohol content is 2.5% by volume. I presented it, well chilled, to my wife, she of the discerning palate. "Keep a supply of this on hand until the Fall," she said.
Last month's Beer Column explored session beers, those of moderate strength (under 5%) and full flavor for the craft brew lover who wants to have a few during an evening without benefit of taxi. Here we address another low-alcohol style, one that has been popular in Europe for nearly a century and which is showing up with increasing frequency on our shores. It's called radler.
After World War I, cycling caught on as a hobby in southern Germany; the German word for cyclist is radler. The story goes that Franz Xaver Kugler, who had a biergarten called Kugleralm about 12 miles outside of Munich, arranged for a bicycle trail to be constructed between the big city and his front door. His trouble began when the trail was completed in June 1922. Thirteen thousand bicycle riders showed up at Kugleralm, all of them thirsty for beer. To stave off a crisis, Kugler turned to his stash of thousands of lemon soda bottles, which no one had purchased, and blended them 50-50 with his lager. He called it radlermass – the cyclist's liter – and claimed, of course, that he had created the drink just for the bike folk.
Not only did Kugler get himself out of that crisis, he succeeded in creating demand for a new beverage style. In the north of Germany the new drink came to be called Alsterwasser (water from the Alster river) and was marketed to boaters.
Lemon dominates the radler market, but other citrus flavors are popular. Schöfferhofer Grapefruit is superb: Crisp, refreshing, drinkable, and finely balanced between the fruit and the beer. The alcohol is imperceptible. This is a truly social beer.
Amstel, a Heineken brand, recently introduced its lemon radler to the US market. This is a 2% abv drink with a lemon soda character that the original Kugler beverage might have offered. The fruit, I found, is up front, with little or no beer character in the taste.The radler is a low-alcohol shandy. Bars and stores in the U.S. have been pouring and selling shandy beers for the past few years, and the category is settling in as a preferred style. Most popular are those flavored with lemon, but the door to shandy enjoyment is open to many flavors. Peach, raspberry, cola, grenadine, gooseberry, ginger, and orange are among the many flavors that, added to beer, create a refreshing and low-strength beverage.
The beer underlying these delightful drinks is lager, a straightforward, conservative brew. Ales, which tend toward more involved flavors, don't usually play a role in the shandy recipe. The exception is wheat ale, whose clean, delicate body invites the addition of the right fruit.
Commercial brewers have been quick to capitalize on the shandy thirst among consumers. Leinenkugel from Wisconsin, a Miller brand, is one of the best sellers in these parts. Anheuser-Busch's Shock Top Lemon Shandy is also popular. Smaller brewers offer their own versions, such as Saranac, in upstate New York.
Harpoon, in its UFO (UnFiltered Offering) series, has introduced Big Squeeze for the warm months. It is a grapefruit wheat beer at 4.5% abv that has whole-fruit flavor nicely balanced with the delicate wheat beer. In my view, fruits and other natural ingredients should enhance the beer subtly, not overpower it.
New Orleans brewer Abita offered a Grapefruit IPA during the winter months. That was a terrific beer, and they should consider making that a year-round product. For this season they brew a refreshing strawberry ale, but that particular fruit tends to take over the conversation.
Shandy-style beers are tailored to regions in various parts of the world. The michelada has many incarnations from Mexico south throughout Latin America. The drink is concocted with beer, lime juice and the sauces, spices and peppers preferred in whatever region the libation is prepared.
It's a hot day. I'll have another.
Jack Kenny has been writing The Beer Column for The Connecticut Beverage Journal since 1995. Write to him at thebeercolumn@gmail.com.